Review: Lush Chris the Camel Bath Bomb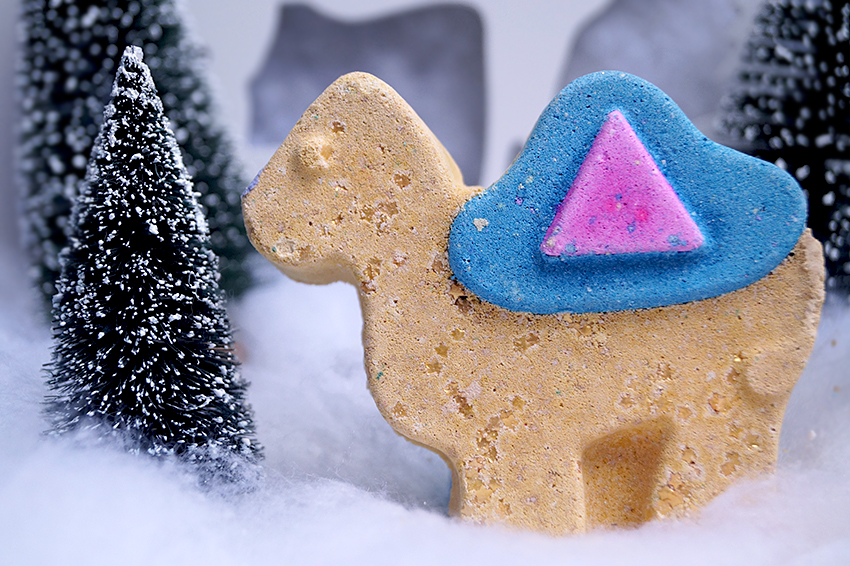 Meet Chris, onze flamboyante kameel dit seizoen. Beplakt met sterretjes en bekleed met een kleurrijk dek op z'n bult, is hij er klaar voor om ons bad te vullen met geur en kleur. Het is één van de vele, leuk gevormde bath bombs dit seizoen. Omdat Chris nogal spicy is, besloot ik hem gisteren in bad te mikken. Het was koud en regenachtig buiten, ik was rillerig en toen aan een lekker warm bad. Ben je benieuwd wat ik van Chris the Camel vind, lees dan verder!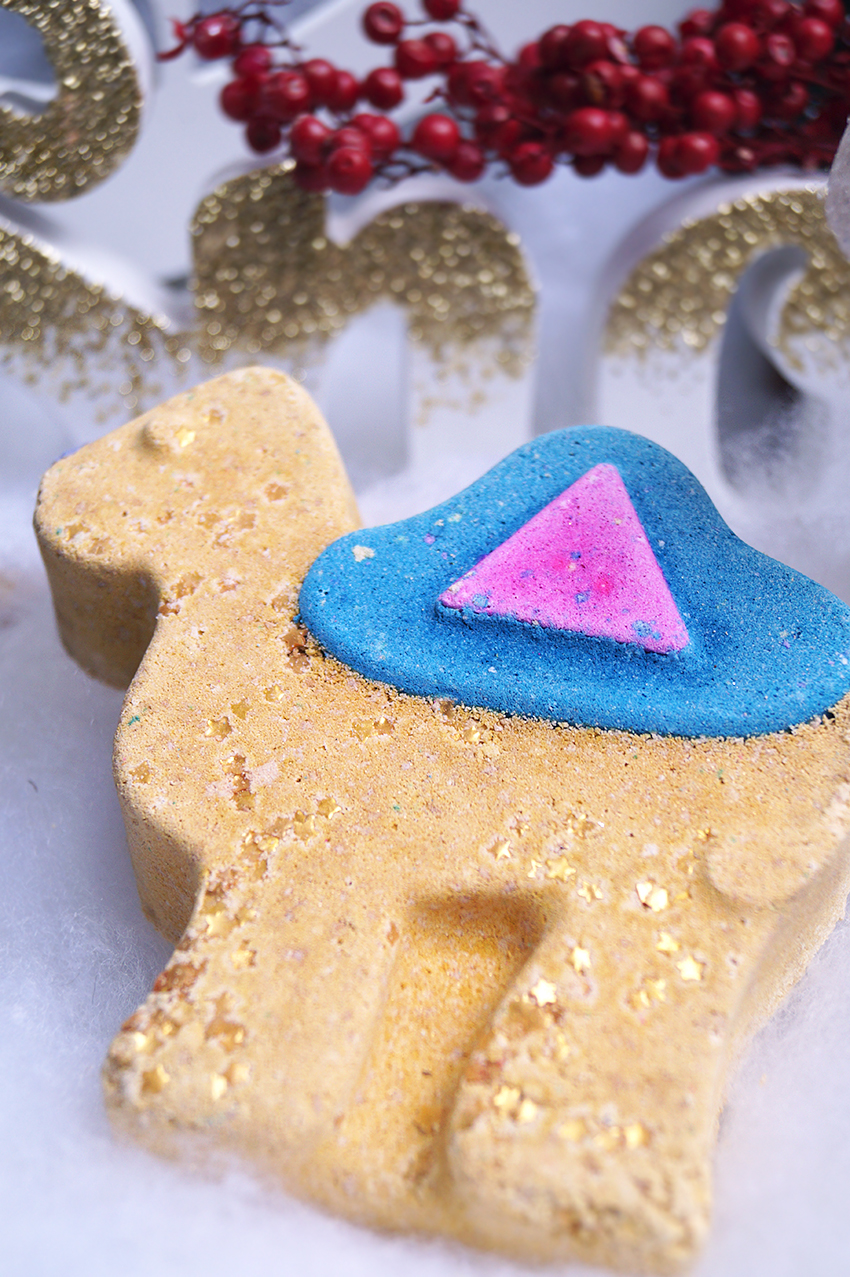 Wat is het?
Ingrediënten: Natrium Bicarbonaat (Sodium bicarbonate), Citroenzuur (Citric acid), Parfum, Gardenia-extract, Zwarte Peperolie (Piper nigrum), Kaneelbladolie (Cinnamomum zeylanicum), Kruidnagelolie (Eugenia caryophyllus), Braziliaanse Sinaasappelolie (Citrus sinensis), Wijnsteenzuur (Potassium bitartrate), Titanium Dioxide, Dadelsiroop, Water (Aqua), Glycerine, Natrium Coco Sulfaat, Synthetische Fluorflogopiet, Cocamidopropyl-betaïne, Hydroxy propyl methyl cellulose, Natrium Carboxy Methyl Cellulose, Dipropyleen Glycol, Tinoxide, *Citral, *Eugenol, *Limonene, *Linalool, Kleurstof 77491 (Cl 77491), Kleurstof 77492 (Cl77492), Kleurstof 42090, Kleurstof 60725 (CI 60725), Kleurstof 17200, Kleurstof 42053, Kleurstof 45410, (CI 45410), Kleurstof 45410:2, Kleurstof 45410:1
Lush Chris the Camel Bath Bomb kost €6,50 en is onderdeel van de Kerstcollectie. Deze bath bomb heeft het uiterlijk van een kameel, zó schattig met z'n blauw en roze dekentje bovenop. Er zitten allemaal kleine, gouden sterretjes over Chris verspreid. Onze vriend houdt wel van flamboyant zijn. Chris bevat een heleboel ingrediënten die je gegarandeerd op zullen warmen. Kortom, perfect voor een écht koude dag, wanneer je het bad op graadje hel zet.
Om te beginnen bevat Chris zwarte peperolie, wat verwarmend en stimulerend is. Kaneelbladolie stimuleert de bloedsomloop en verwarmt de huid. Kruidnagelolie werkt ook verwarmend en stimulerend, maar heeft dankzij de eugenol erin ook een verzachtende en verfrissende werking. Sinaasappelolie is ontstekingsremmend en antiseptisch. Dadelsiroop is goed voor de droge huid, want hij hydrateert deze goed.
Chris ruikt heerlijk kruidig. Niet zwaar kruidig, maar precies goed gekruid. Je ruikt de kruidnagel erin heel goed, maar niet te overheersend. Hij heeft een zoet tintje door de sinaasappelolie. Hierdoor komt de geur helemaal in balans en is het een kruidige geur dat iedereen wel kan waarderen. De geur lijkt verre familie van Glögg te zijn, de beste winterse douchegel van Lush, als je 't mij vraagt. Alleen ruikt Chris iets subtieler, iets minder kruidig. Maar alsnog heerlijk.
Speel het filmpje af in 2160p kwaliteit en op volledig scherm voor de beste ervaring! Het filmpje speelt zich versneld af.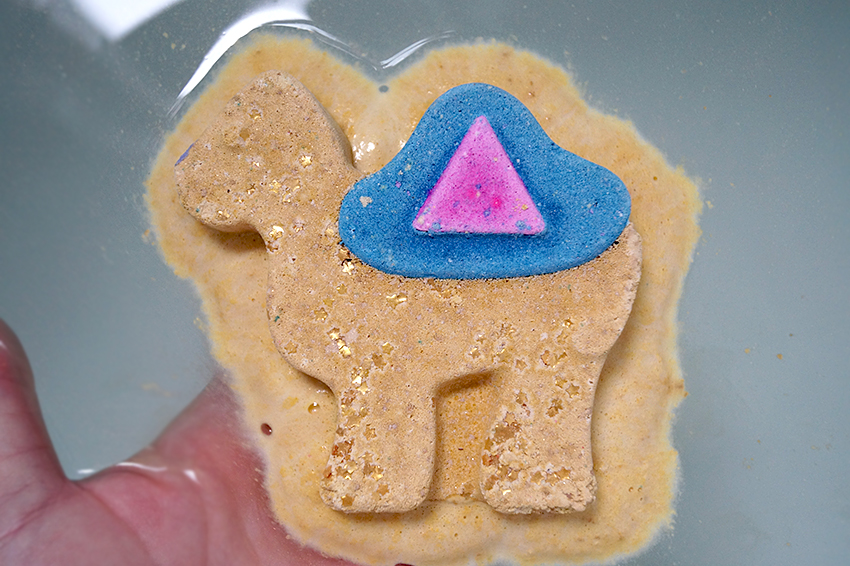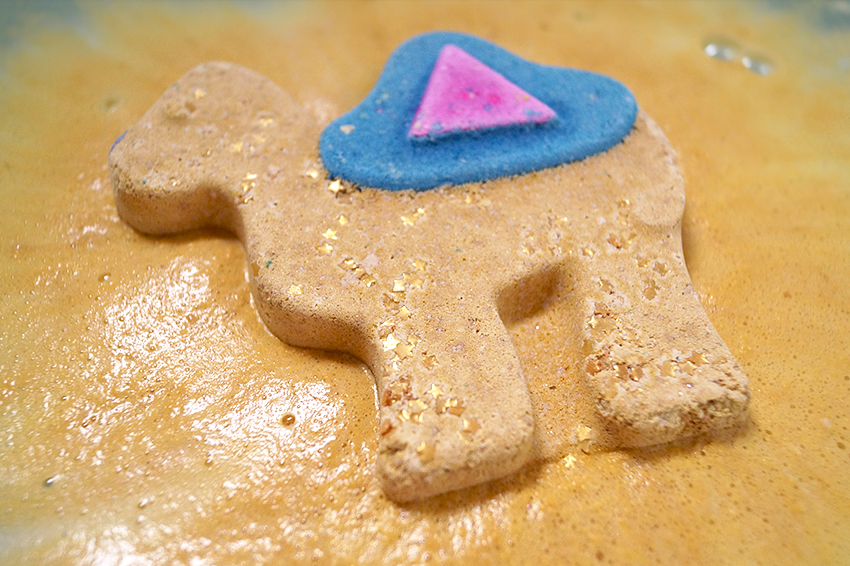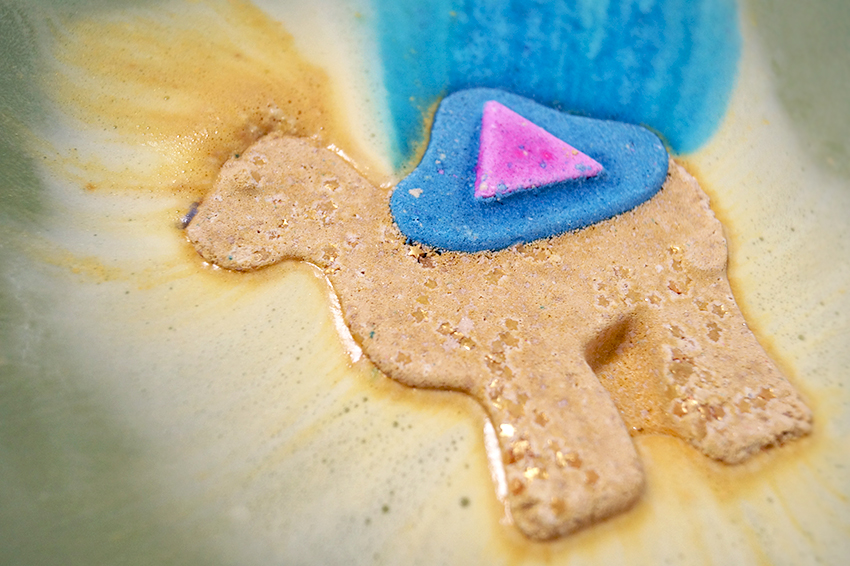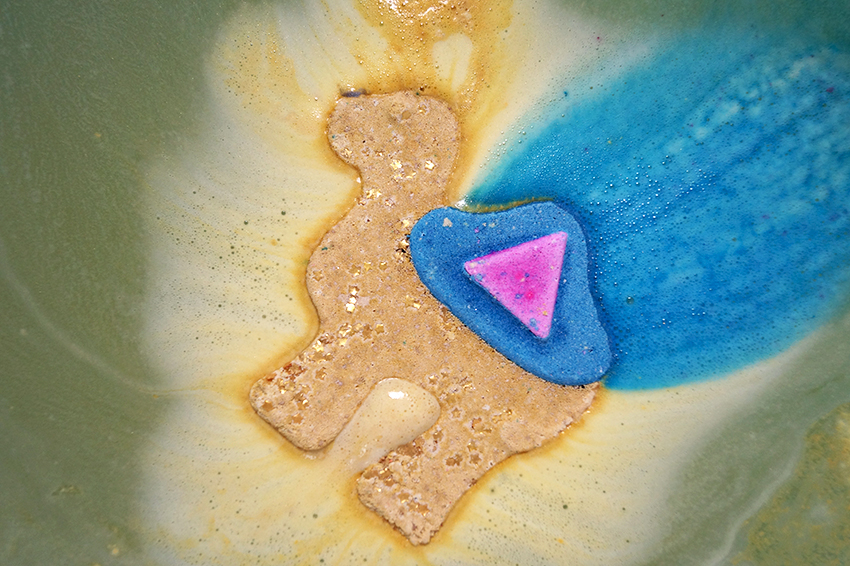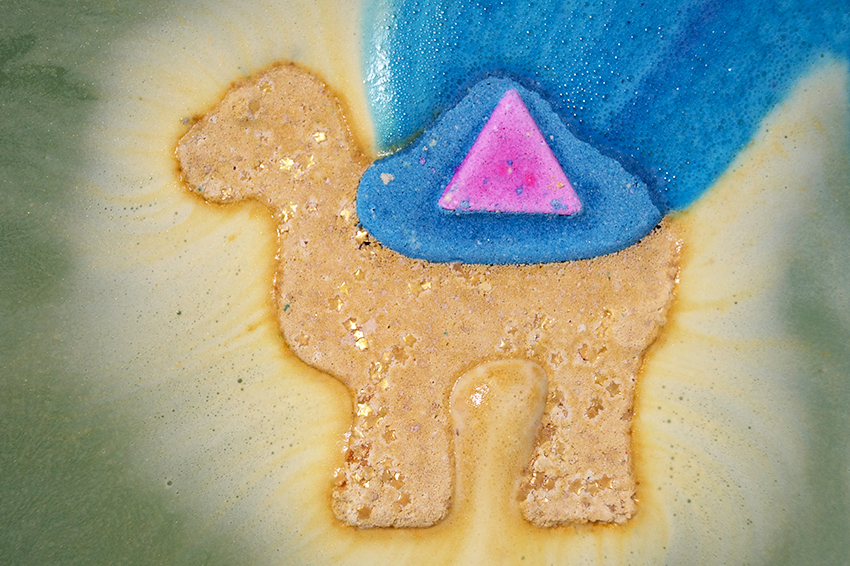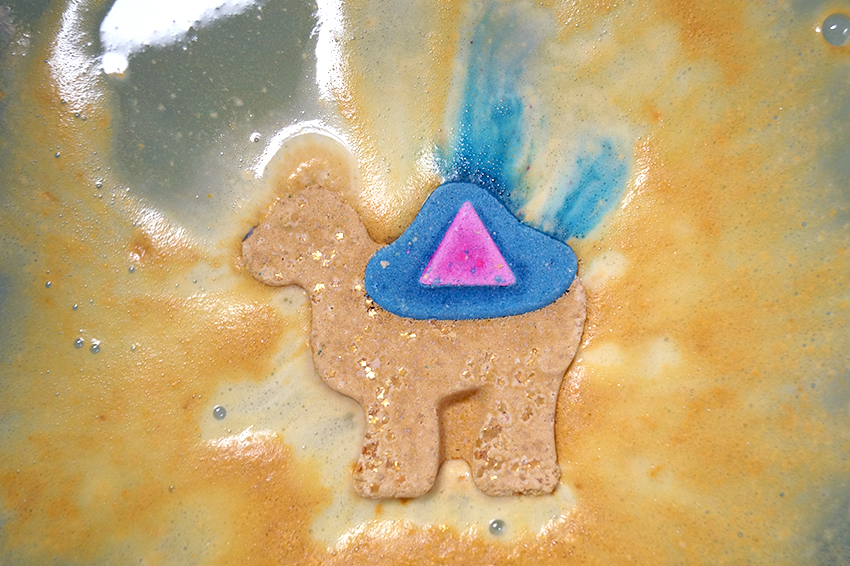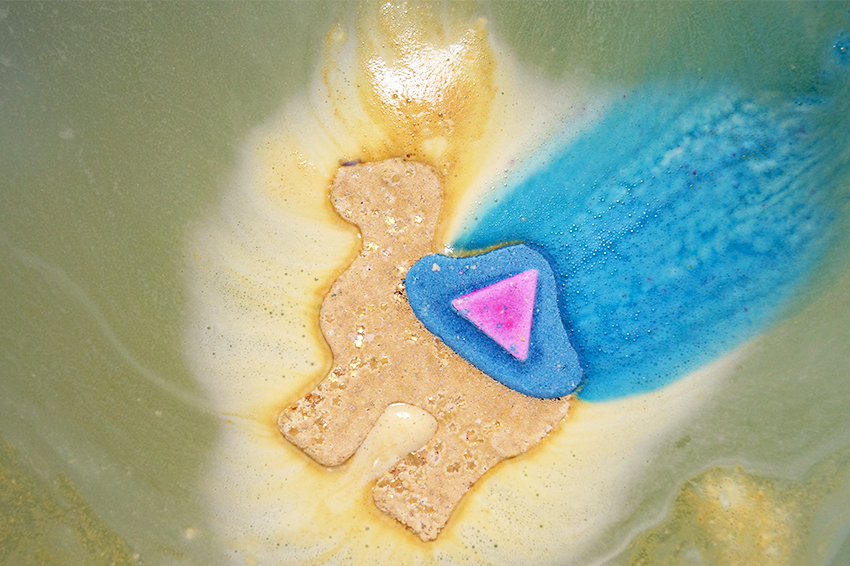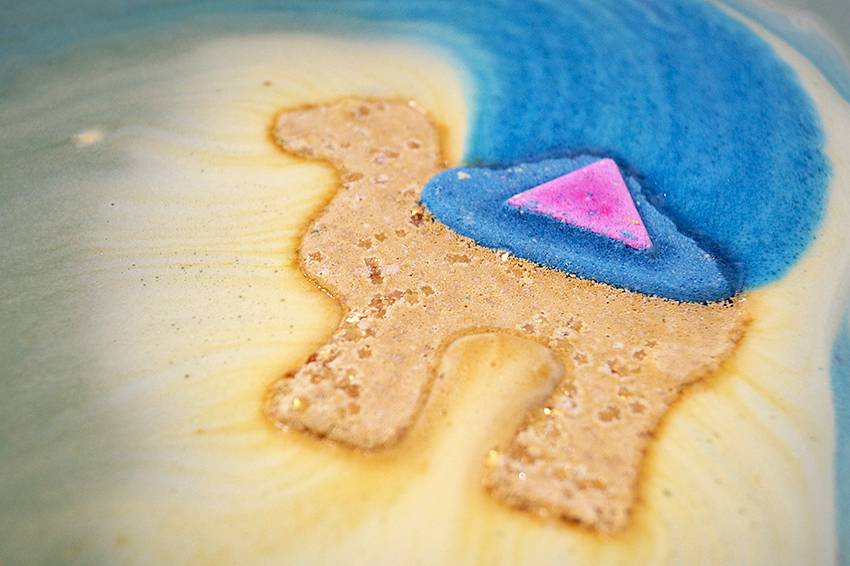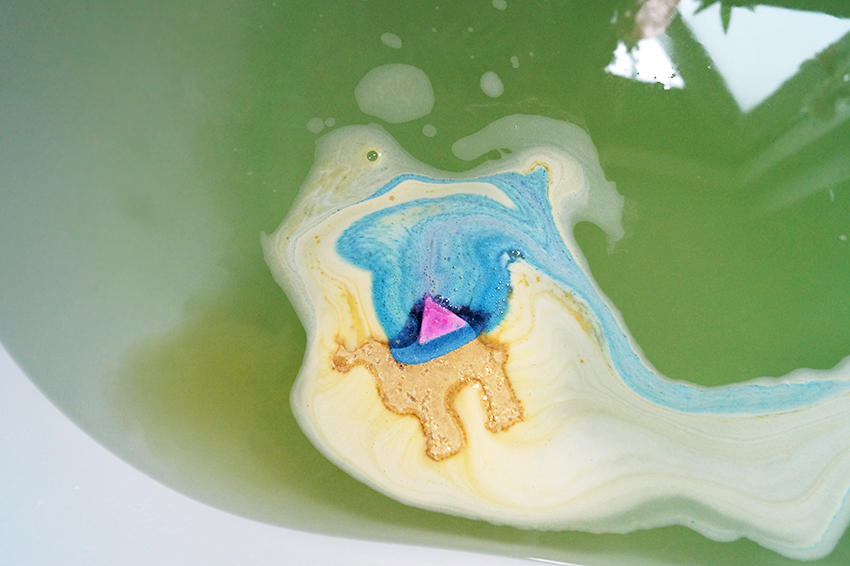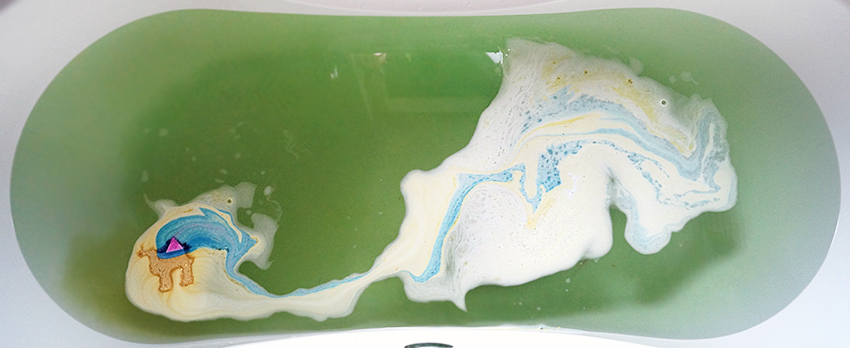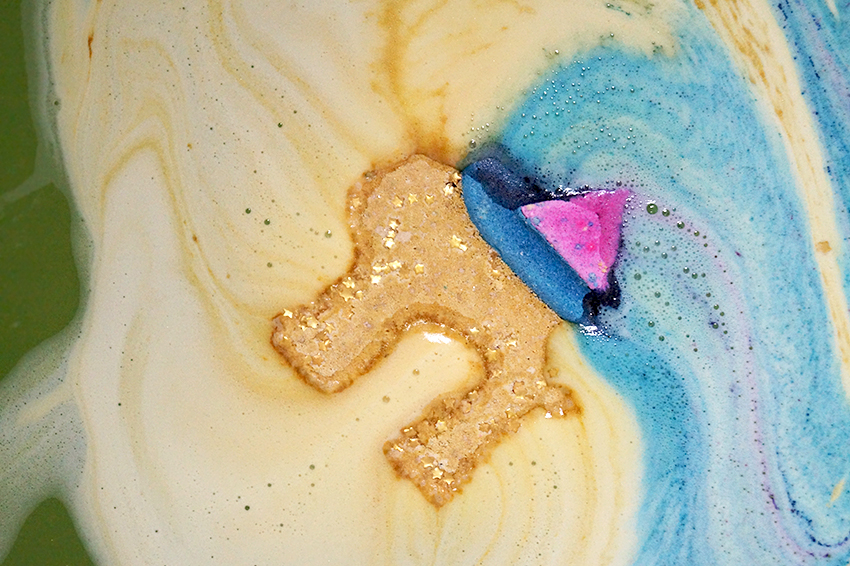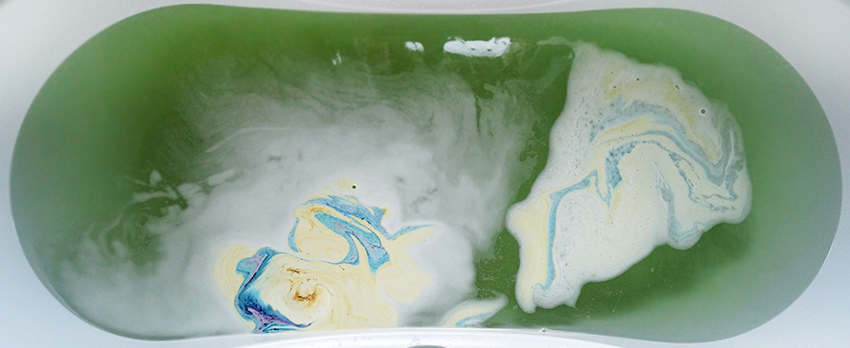 Mijn ervaring
Chris begint in het water meteen geel en oranje schuim af te werpen. Ook een beetje blauw, dat komt van z'n dek af. Bij elkaar worden deze kleuren, geel en blauw, onder de oppervlakte samengevoegd tot een groene kleur. Mooi om te zien hoe de blauwe wolken onder water op lossen in de rest! Ook de gouden sterretjes komen los en drijven door het bad heen. Chris zelf drijft ook door het water, en neemt hier goed de tijd voor. Nee, Chris heeft geen haast hoor. Die heeft er in totaal zo'n 14 minuten over gedaan om volledig op te bruisen. Bijkomend voordeel is wel dat de geur extra goed aanwezig was. De badkamer werd omgetoverd in een winters tafereeltje. Heerlijk.
Na het opbruisen (RIP Chris) is het water een groene tint, vrijwel doorzichtig. Er zit allerlei gouden glitters onder water, prachtig om te zien! De gouden glans onderwater zweeft met iedere bewegingen van het water. De kruidige geur is subtiel aanwezig, en het was een heerlijk, ontspannen bad. Het was niet zo zeer de temperatuur van het water dat me opwarmde (ik kan niet tegen heet water, dus mijn bad is altijd gewoon 'warm') maar eerder de ingrediënten die zowel mij als m'n spieren ontspanden.
Zou ik Chris opnieuw aanschaffen? Ja, absoluut. Zijn geur is heerlijk en de gouden glans onderwater is magisch. Dit is typisch zo'n bath bomb waarvan ik voel wat de ingrediënten met me doen. Ik raad je ook zeker aan deze schat eens te bekijken in de winkel, als je de kans hebt!

Lush Chris the Camel Bath Bomb kost €6,50. Hij behoort tot de Kerstcollectie.
4 Responses to Review: Lush Chris the Camel Bath Bomb