Review: Lush Tea and Sympathy Bath Bomb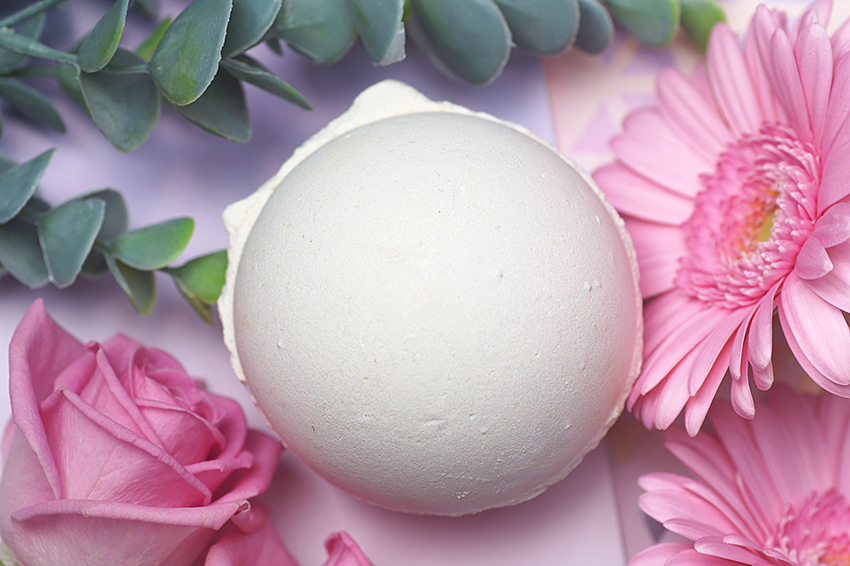 Lange dag gehad? Of ben je gewoon toe aan een koppie thee? Vergeet dan niet behalve water op te zetten, ook warm water in je bad te laten lopen. Tea and Sympathy is misschien geen spectaculaire bath bomb om te zien, hij weet precies hoe hij jouw koppie weer even moet resetten. Ik dook, samen met een kop thee, in bad met deze bath bomb en vertel je er graag meer over.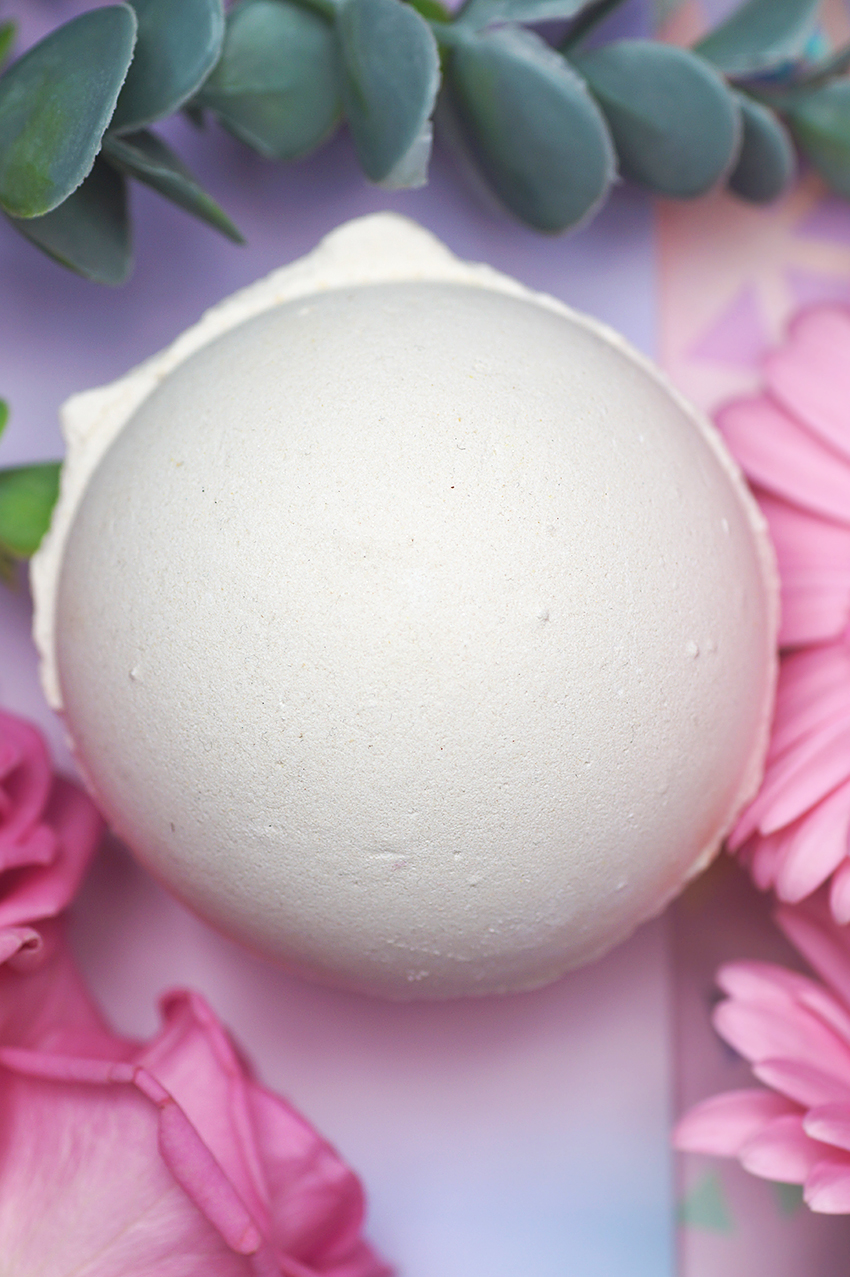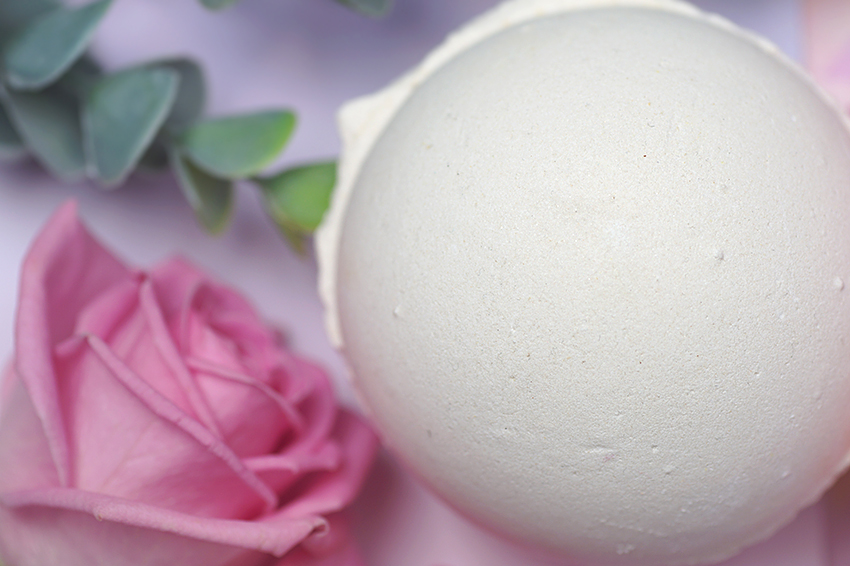 Wat is het?
Ingrediënten: Natrium Bicarbonaat (Sodium bicarbonate), Citroenzuur (Citric acid), Sojameel, Kalamijnpoeder (Calamine), Parfum, Water (Aqua), Dipropyleen Glycol, Blauwe Kamille-olie (Chamomilla recutita), Olibanumolie (Boswellia carterii), Scharlei-olie (Salvia sclarea), Kamilletheezakje, *Limonene, *Linalool, Kleurstof 42090, Kleurstof 19140
Lush Tea and Sympathy Bath Bomb kost €5,50 en is onderdeel van de tijdelijke Harajuku collectie, bestaande uit uiteenlopende 54 bath bombs. Tea and Sympathy is een vrij simpele, witte bath bomb. Niets boeiends aan het uiterlijk. Hij is ook puur aromatisch bedoeld, niet voor z'n effecten of de bath art. Hij is ook iets goedkoper dan de gemiddelde Harajuku bath bomb.
Binnenin zit sojameel, in contact met water ontstaat er een melkachtige vloeistof, die een verzachtende en verzorgende werking heeft op huid. Kalamijnpoeder (niet te verwarren met karmijn, kleurstof van luizen) is een zacht verstrakkend en ontstekingsremmend ingrediënt. Blauwe kamille olie is verzachtend, herstellend en kalmerend en heeft bovendien een rustgevende geur. Olibanumolie is een geweldig ingrediënt, het ruikt puur naar het bos! Ook heeft het aanspannend en verzachtend effect op de huid. Scharlei-olie, een krachtig antioxidant, heeft een kalmerend effect op de huid en gaat irritaties tegen. Er zit ook een kamilletheezakje in, dit had ik zelf nog niet gezien vooraf, dus dat was een verrassing!
De geur is bloemig, maar ook iets poederig. Een warme geur, de olibanum erin zorgt voor een heerlijke, warme ondergrond. Kamille is ook goed te ruiken, maar niet overheersend. Hij geeft een bloemige tint aan de bath bomb, en lijkt toch compleet in balans te zijn met de andere ingrediënten. Bloemig, warm, poederig dus.
Speel het filmpje af in 2160p kwaliteit en op volledig scherm voor de beste ervaring! Het filmpje speelt zich versneld af.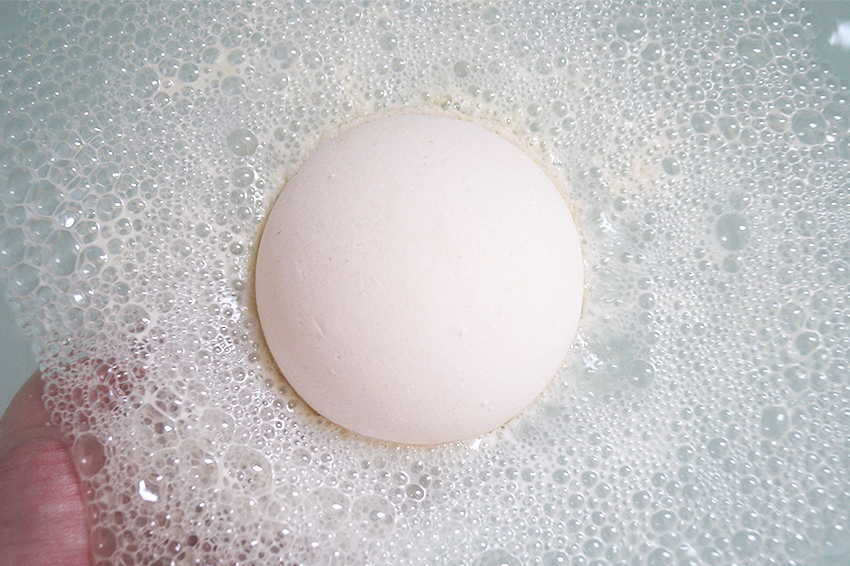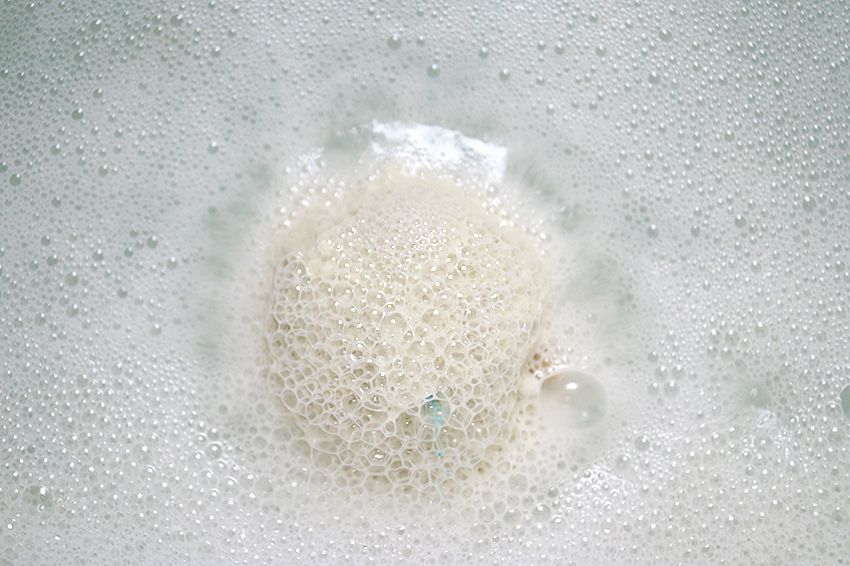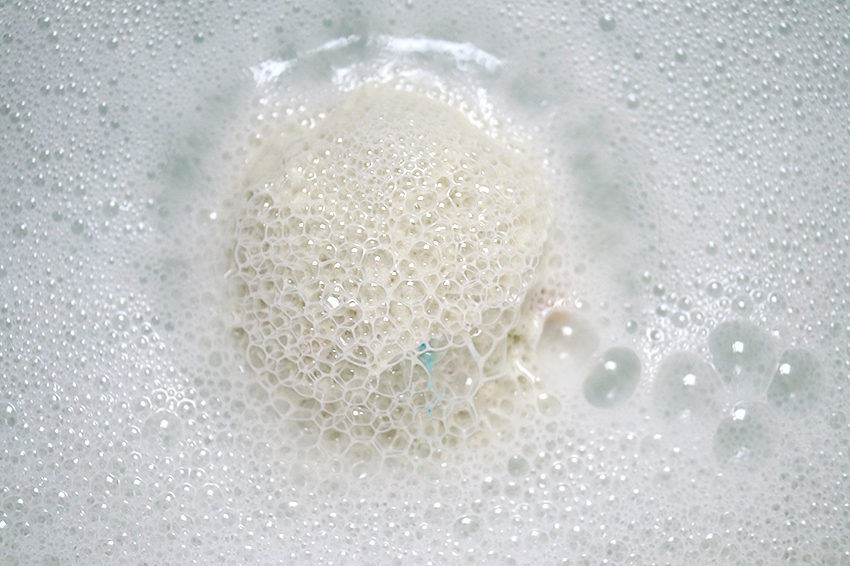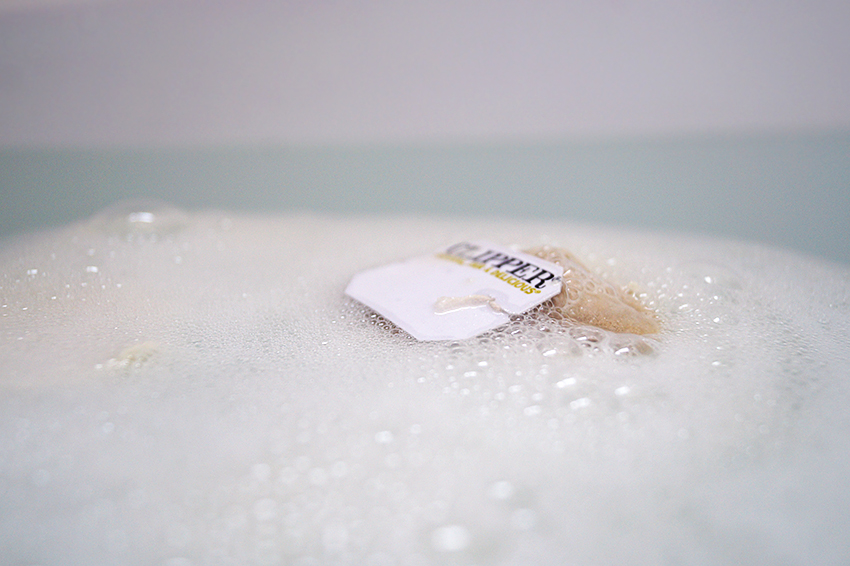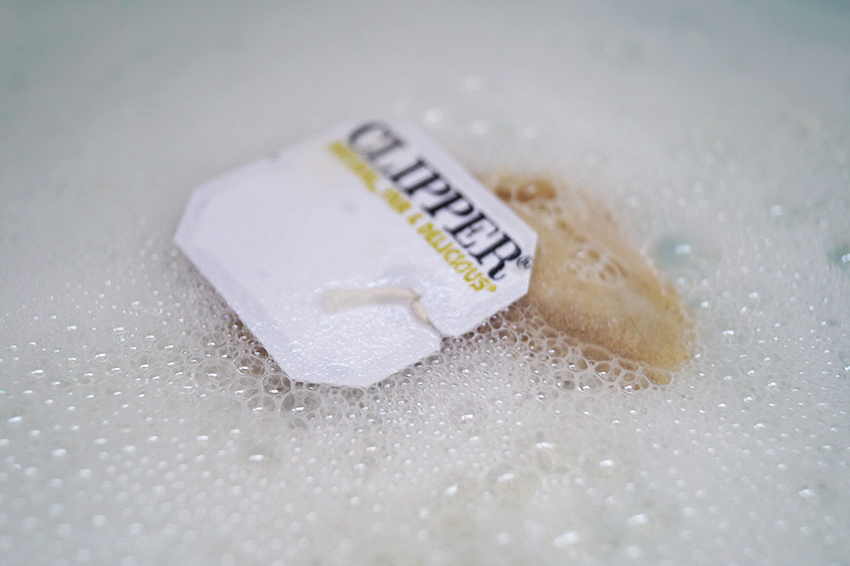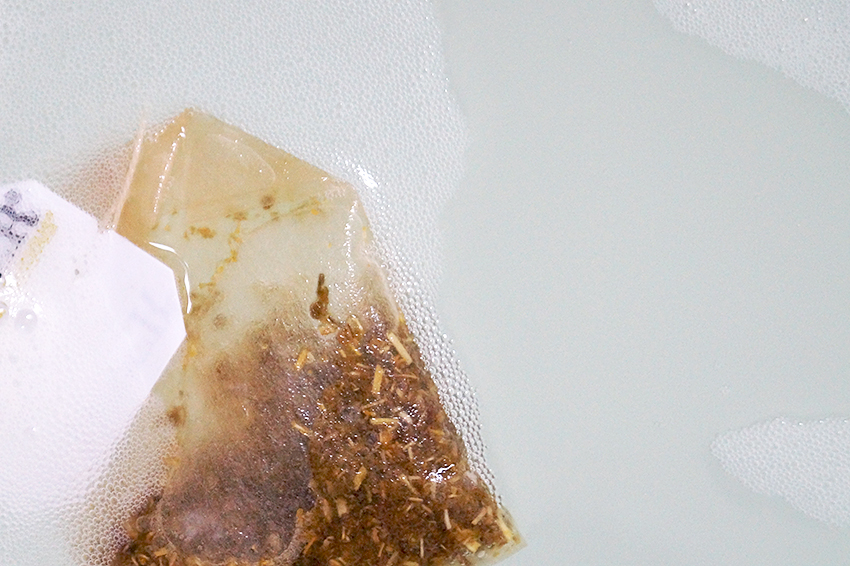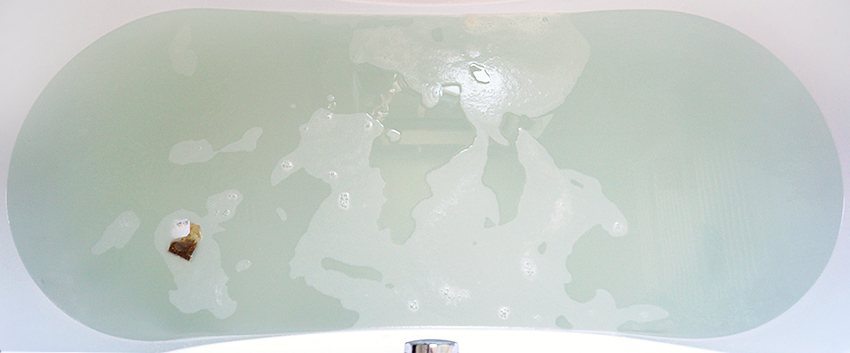 Mijn ervaring
Eenmaal in bad begint hij flink te bruisen, en al schuimend doet hij een rondje door het bad. Hij bruist vrij snel, en zoals verwacht geeft hij voornamelijk wit af. Er komt een melk-achtig laagje in het water, waardoor het water iets troebel wordt. Op gegeven moment zie ik een beetje lichtblauw uit de bath bomb komen! Wait, what? Het heeft totáál geen effect op het -al behoorlijk- witte water, maar het schijnt te kloppen: Kleurstof 42090 is blauw, Kleurstof 19140 is geel. Er zat dus ook een beetje geel in. Altijd leuk die verrassingen, alleen jammer dat je er niets van terugziet in het water. Wat ik wel duidelijk terugzag, niet te missen, is het theezakje! Er komt gewoon een compleet theezakje uit de bath bomb 😂 Ik had dit niet verwacht, dus ik keek even heel raar. Het is wel echt hilarisch, Lush is zo geniaal wat dat betreft.
Ondanks het gebrek aan kleurtjes en effecten was dit een heerlijk bad. Soms is een aromatische bath bomb gewoon even lekker, als je geen zin hebt in allerlei poespas. De sojameel zorgde voor een troebel, wittig water en de geur was constant aanwezig. M'n huid voelde na afloop enorm zacht aan en lijkt ook soepeler aan te voelen. Ik ben weer helemaal zen.

Lush Tea and Sympathy Bath Bomb kost €5,50. Hij behoort tot de tijdelijke Harajuku collectie.
2 Responses to Review: Lush Tea and Sympathy Bath Bomb