Review: Lush #Gains Protein Spray
Read this post in
Engels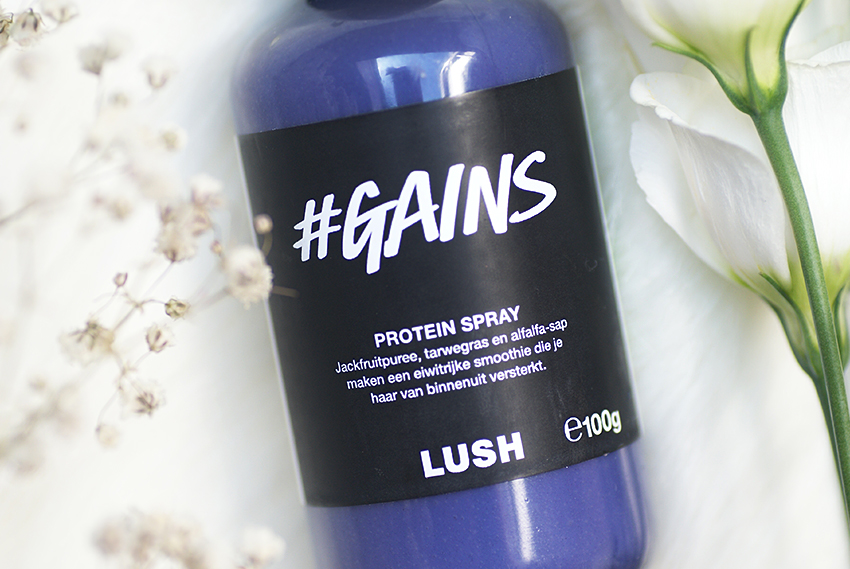 Vergeet proteïne shakes, proteïne sprays zijn hélemaal 2019. Lush Liverpool verraste ons met deze proteïne spray voor het haar, voor sterker en gezonder haar. Ik testte hem uit, want zoiets klinkt natuurlijk wel erg aanlokkelijk voor mijn beschadigde haar. Ik heb al een aantal geweldige haarproducten van Lush gekocht de laatste tijd, maar #Gains moest natuurlijk ook even getest worden. Na hem wekenlang te hebben gebruikt, kom ik vandaag met m'n oordeel. Lees je mee?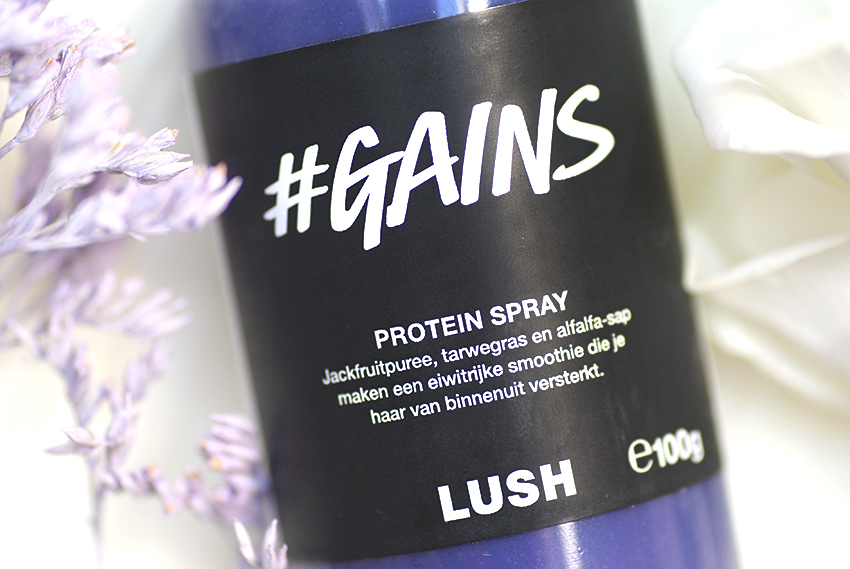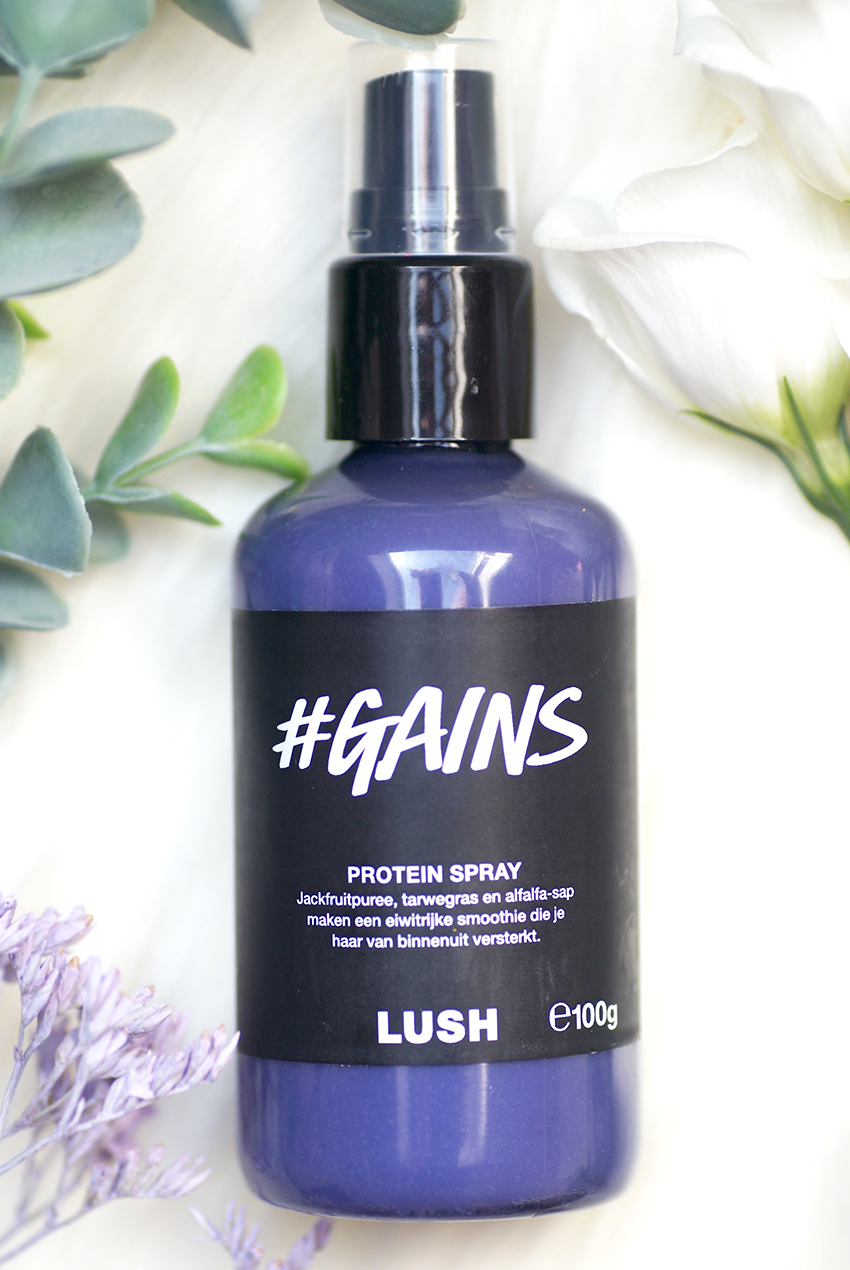 Wat is het?
Lush #Gains Protein Spray kost €19,95 (of £14.95) voor 100 gram. Het is een spray, en je spray't het direct op handdoekdroog haar. Eigenlijk is de verpakking hetzelfde als Super Milk en Willow The Wisp, ook zijn het dezelfde formaten. Gains maakt je haar sterker, omdat er veel eiwitrijke ingrediënten in zitten. Ook zou het je haar ontknopen (dat kan ik als de beste testen), bereidt het je haar voor op styling, en het beschermt je haar gedurende de dag.
De geur kon ik in eerste instantie moeilijk beschrijven, totdat iemand zei dat hij naar banaan rook. Sindsdien ruik ik niets anders meer dan banaan! Of beter nog, banaansnoepjes. Weet je, die van Haribo? Het is een erg zoete geur, je zou zelfs kunnen zeggen bubblegum-zoet. Toch heeft hij ook wel een ietwat warme, kruidige achtergrond. Hoe dan ook, ik vind de geur heerlijk, zeker om dit de hele dag subtiel in m'n haar te ruiken! Deze shit is B-A-N-A-N-A-S!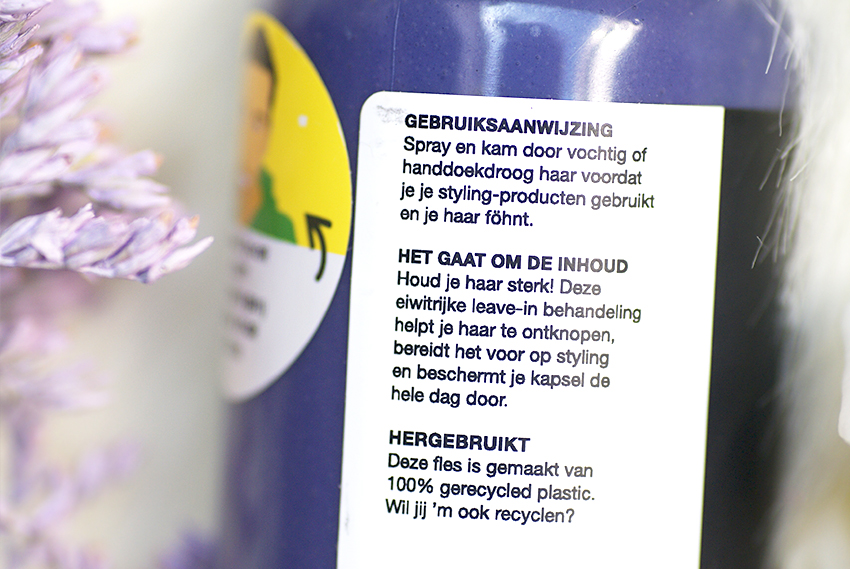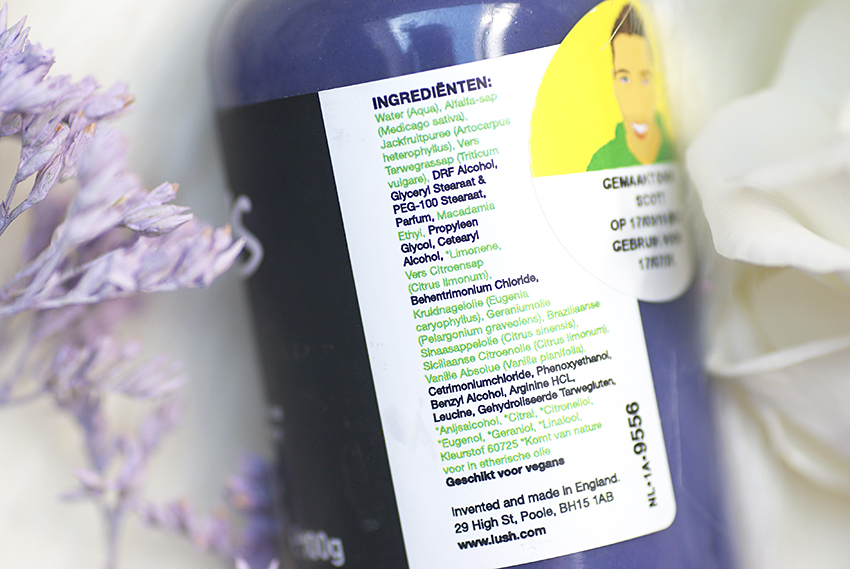 Wat zit erin?
Ingrediënten: Water (Aqua), DRF-alcohol, Alfalfa-sap, Jackfruitpuree (Artocarpus heterophyllus), Vers Tarwegrassap (Triticum Vulgare), Glyceryl Stearaat en PEG-100 Stearaat, Parfum, Macadamia Ethyl, Propyleen Glycol, Cetearyl Alcohol, *Limonene, Vers Citroensap (Citrus limonum), Behentrimonium chloride, Kruidnagelolie (Eugenia caryophyllus), Geraniumolie (Pelargonium graveolens), Braziliaanse Sinaasappelolie (Citrus sinensis), Siciliaanse Citroenolie (Citrus limonum), Vanille Absolue, Cetrimoniumchloride, Phenoxyethanol, Benzyl Alcohol, Arginine HCL, Leucine, Gehydroliseerde tarwegluten, *Anijsalcohol, *Citral, *Citronellol, *Eugenol, *Geraniol, *Linalool, Kleurstof 60725 (CI 60725)
Een flinke ingrediëntenlijst, maar dat mag ook wel met zulke beloftes. Behalve water en DRF-alcohol (denatured alcohol), zit er alfalfa-sap in. Alf-watte? Alfalfa! Zeg dit maar eens 10x snel achter elkaar. Anyway, alfalfaflalalfa-sap zit vol mineralen, vitamine A en D en bevat acht verschillende belangrijke aminozuren. Ook heel fijn voor gezonde haargroei! Jackfruitpuree is een natuurlijke bron van plantaardige proteïne, dat je haar versterkt. Vers tarwegrassap bevat 70% chlorophyll, oftewel bladgroen — de groene bladkleurstof van planten. Het bevat vitamines, mineralen en proteïnen. Het is een goed ingrediënt voor haar en huid, omdat het voedt en kalmeert. Macadamia Ethyl wordt vaak gebruikt als een alternatief voor siliconen, het legt een beschermend laagje om de haar zonder het te verzwaren. Vers citroensap reinigt zeer goed, maar geeft ook een mooie glans. Kruidnagelolie stimuleert de bloedsomloop van de hoofdhuid, maar ook de geraniumolie doet dit. Braziliaanse sinaasappelolie is ontstekingsremmend en antiseptisch, de Siciliaanse citroenolie heeft ook anti-bacteriële eigenschappen, maar zorgt ook voor een portie glans. Vanille kennen we vanwege de heerlijke geur, maar hij werkt ook verzachtend én is ook ontstekingsremmend.
Verder zitten er nog wat moeilijke-woorden-ingrediënten in, die ik ook even kort uitleg. Cetrimoniumchloride vermindert staticiteit van het haar en heeft een verzorgende werking, tevens fungeert het als een conserveringsmiddel. Glyceryl Stearaat en PEG-100 Stearaat zijn emulgators — een stof die helpt bij het mengen van twee stoffen die normaal gesproken niet of moeilijk mengbaar zijn. Phenoxyethanol is een vloeibare chemische verbinding dat op milde wijze bacteriën doodt, ook is het een conserveermiddel. Arginine HCL bevordert de bloedcirculatie, hoofdhuid en daardoor de haargroei. Het hechten zich aan de keratine in de haarschacht waardoor gespleten haarpuntjes (tijdelijk) aan elkaar plakken.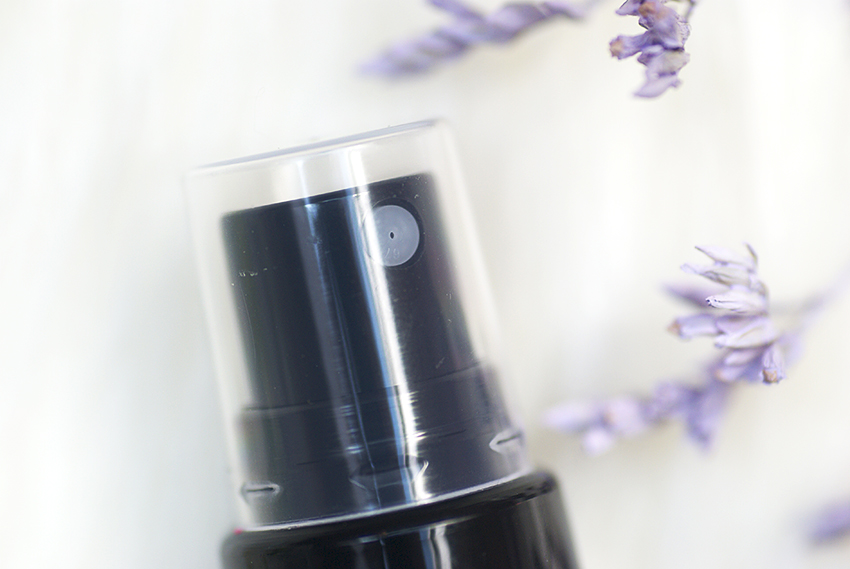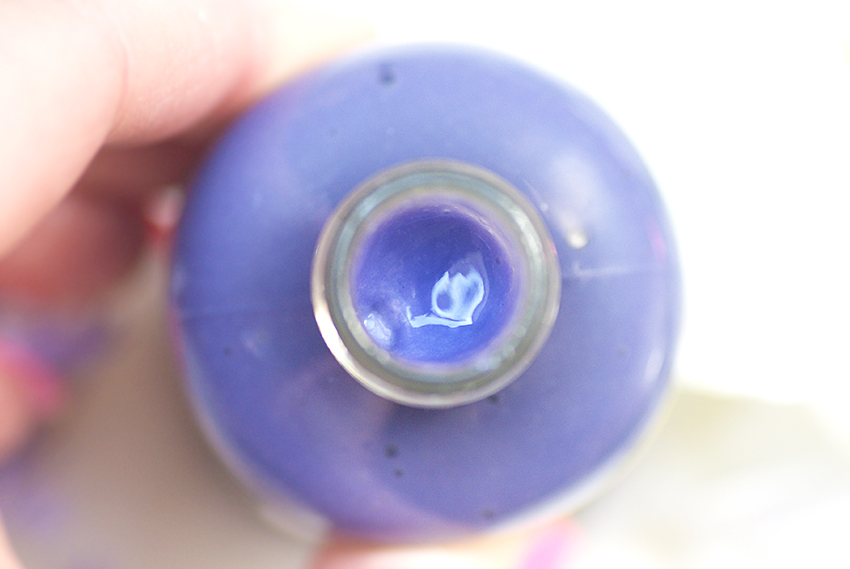 Mijn ervaring
In het begin is het eventjes uitproberen hoeveel spray'tjes je nodig hebt van dit product. Ik heb gemerkt dat ik gemuiddeld zo'n 6 spray'tjes gebruik, maar ik heb dan ook wat langer haar. Ik spray het voornamelijk op de onderste 20 centimeter van m'n haar, zodat het het haar niet verzwaart. Het is dan belangrijk om je haar door te kammen, anders droogt het niet mooi uit — mijn haar voelde klitterig (klittig?) en erg droog aan. Eenmaal goed geborsteld is m'n haar onwijs zacht, volumineus en vol. Het is niet echt pluizig meer, wel vind ik dat het m'n haar het tegenovergestelde van glad maakt. Ook vind ik het wat dof ogen. Hoewel het dus erg veel volume geeft, heeft de spray voor mij ook wat nadelen. Daarom duurde het ook zo lang voordat ik dit product echt kon reviewen, want ik wist gewoon niet goed wat ik er nu van moest vinden.
Verder ruikt m'n haar onwijs lekker gedurende de dag. Pluspunt! Het is ook absoluut sterker geworden de afgelopen weken — ik heb Gains vrijwel iedere dag gebruikt, en ik heb minder haaruitval. Het lijkt veel minder af te breken. Wel vind ik de spray erg snel op gaan. Ik heb hem nu, al met al denk ik 14 dagen gebruikt, en er is al zo'n 30 ml uit — bijna een derde. Ook heb ik per ongeluk één keertje naast m'n haar ge-spray't, waardoor er nu kleine, paarse vlekjes op m'n douchecel-deur zitten. Het zat ook op de tegels, maar daar veegde ik het zo van af. Op kunststof (denk ik) krijg ik het er amper af.
M'n haar danst door de lucht en laat daarbij een vleug zoete geur achter. Het is zo vol en luchtig, het valt gewoon prachtig in model. Ik vind alleen wel dat het m'n haar doffer laat ogen, dus dat is wel een klein minpuntje. De twee grootste pluspunten is dat hij m'n haar heerlijk laat ruiken, en dat hij m'n haar sterk maakt. Daardoor zal ik hem met liefde gebruiken tot hij op is, maar ik zal geen nieuwe kopen. Daarvoor vind ik de prijs ook iets te hoog.

Lush #Gains Protein Spray kost €19,95 en bevat 100 ml. Het is een Liverpool exclusive, maar momenteel te koop in de Lush Labs.
7 Responses to Review: Lush #Gains Protein Spray