Review: Lush Love Boat Bath Bomb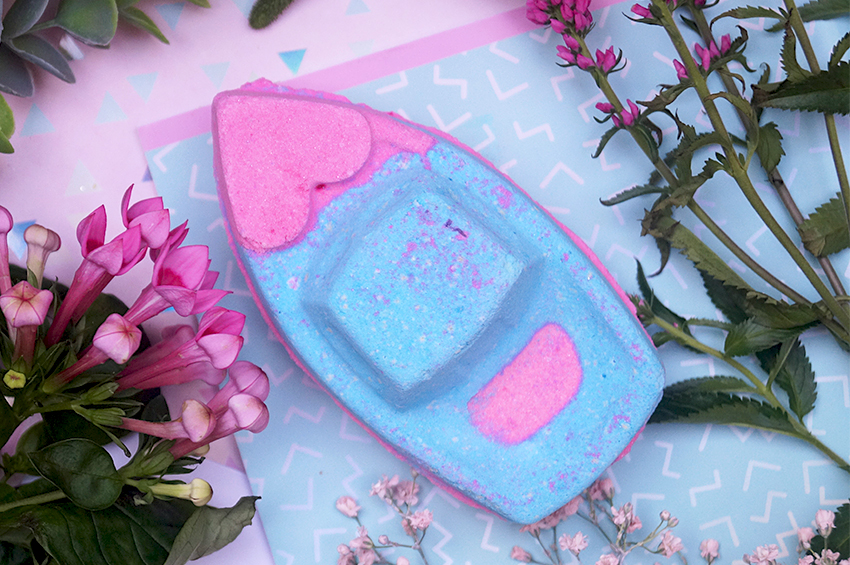 All aboard the Love Boat! Deze schattige bath bomb is onderdeel van de Valentijnsdag collectie, en z'n vrolijke kleuren zijn erg uitnodigend aan om boord te stappen. Bovendien is dit schatje nog niet zo bizar duur als sommige andere bath bombs (Floating Flower is bijvoorbeeld van €7,50 naar €8,50 gegaan in één jaar tijd) dus: dit is er eentje om te koesteren. En in te slaan. Maar eerst, tijd voor een review!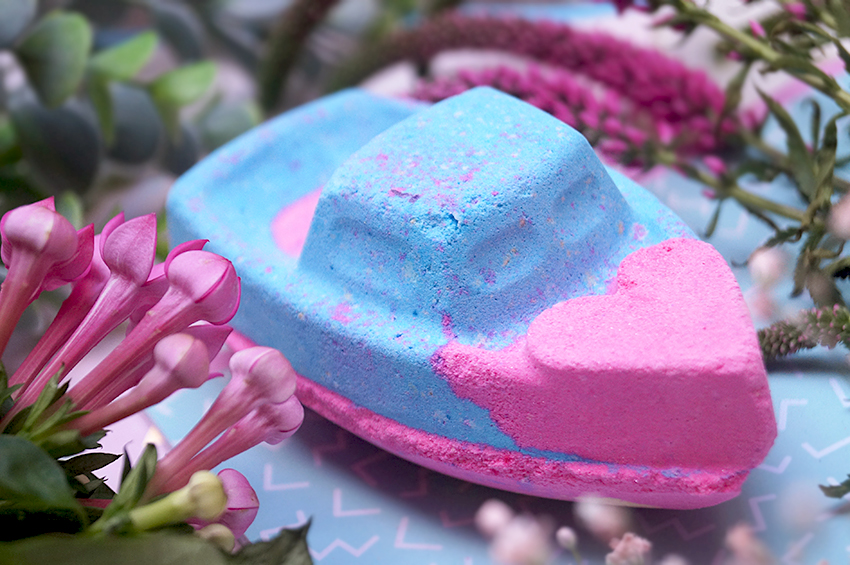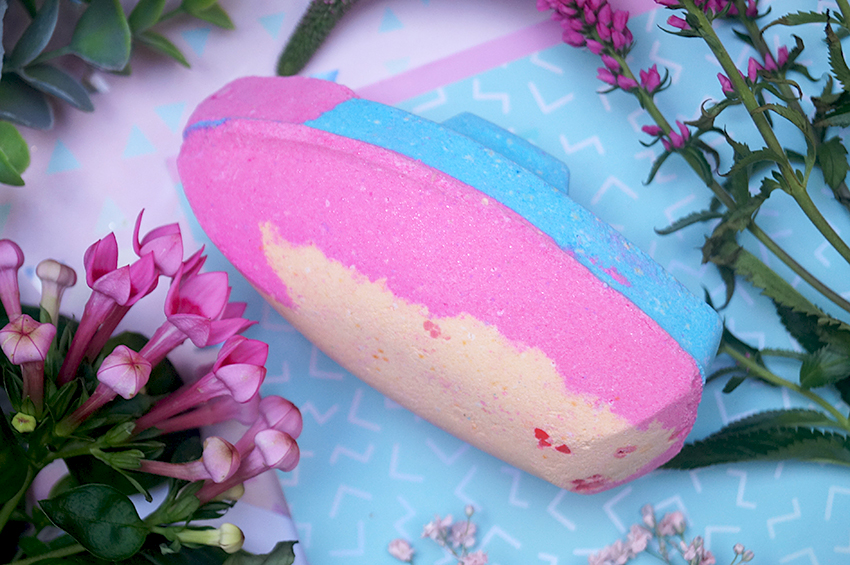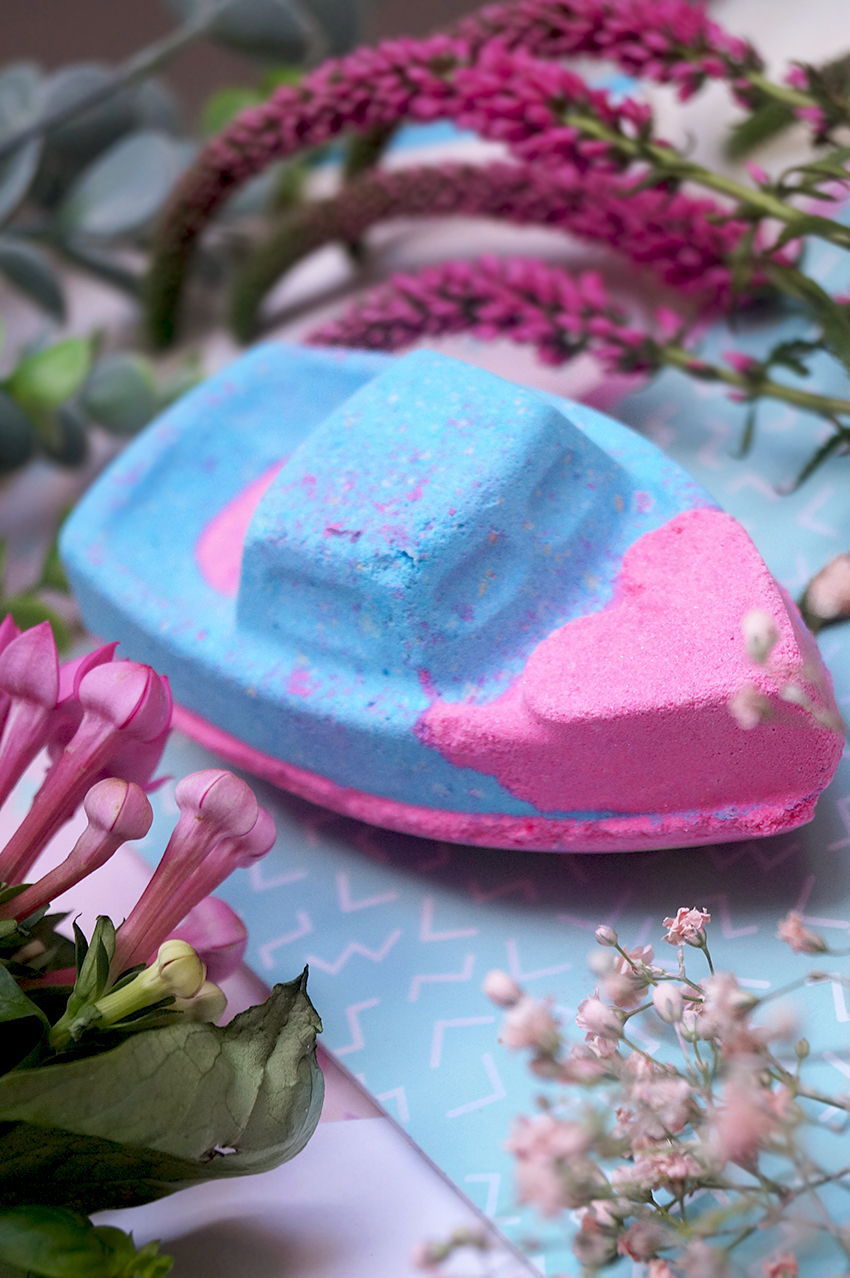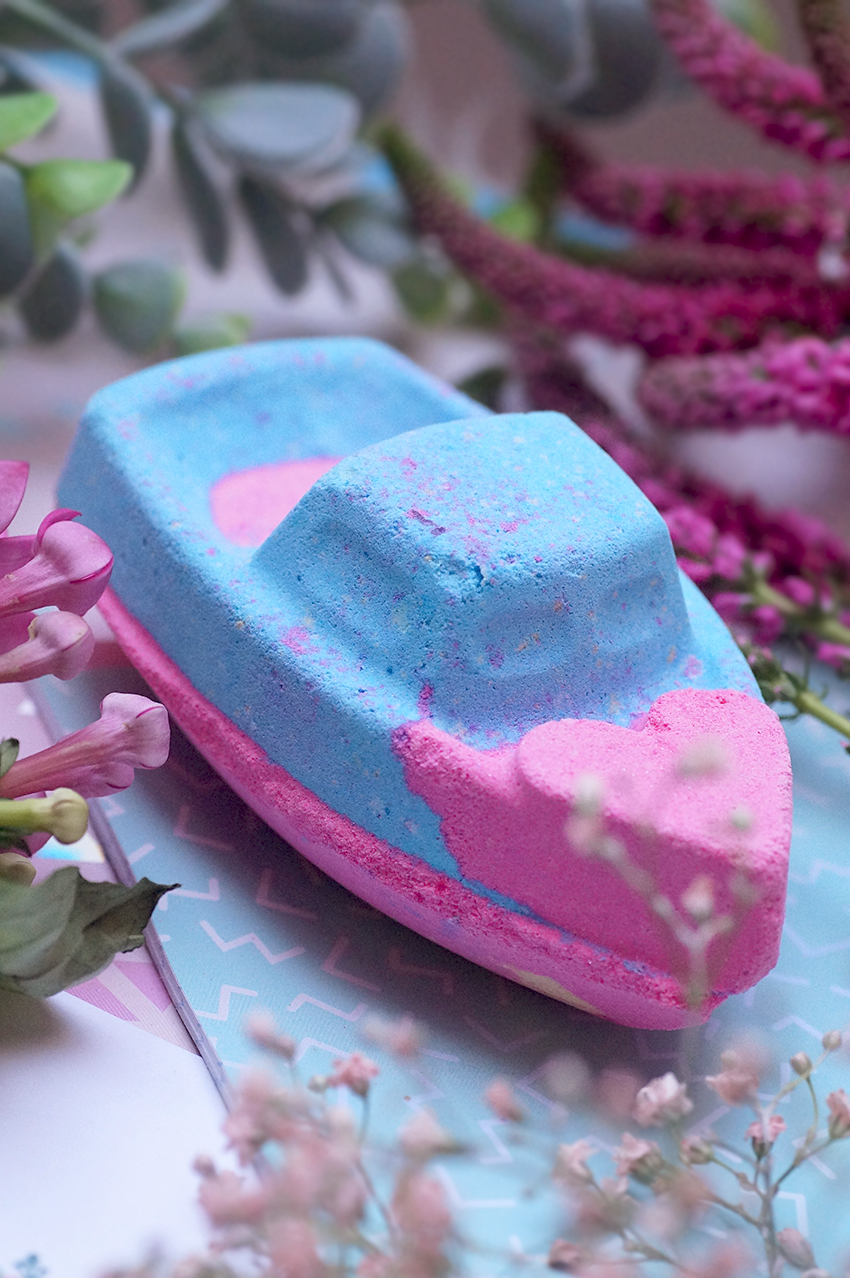 Wat is het?
Ingrediënten: Natrium Bicarbonaat (Sodium bicarbonate), Citroenzuur (Citric acid), Siciliaanse Citroenolie (Citrus limonum), Biologische Zoete Sinaasappelolie (Citrus sinensis), Rozenolie (Rosa damascena), Wijnsteenzuur (Potassium bitartrate), Water (Aqua), Titanium Dioxide, Natrium Coco Sulfaat, Synthetische Fluorflogopiet, Tinoxide, Cocamidopropyl-betaïne, Propyleen Glycol, Hydroxy propyl methyl cellulose, PEG 400, Natrium Carboxy Methyl Cellulose, Dipropyleen Glycol, *Citral, *Limonene, *Linalool, Parfum, Kleurstof 77491 (Cl 77491), Kleurstof 15850:1, Kleurstof 45410:1, Kleurstof 16255, Kleurstof 45410 (CI 45410), Kleurstof 42090, Kleurstof 42090:2, Kleurstof 45350, Kleurstof 19140:1(CI 19140:1)
Lush Love Boat Bath Bomb kost €5,95 en is onderdeel van de Valentijnsdag collectie. Dit is nu het 3e jaar dat hij uitgebracht wordt, en ik ben blij om te zien dat de prijs nog niet omhoog is gegaan, in tegenstelling tot een hoop andere bath bombs. Qua uiterlijk vind ik deze bath bomb echt geweldig: leuke kleuren, een leuk design en kleine hartjes onderop.. hoe schattig! De onderkant van de boot is perzik-kleurig, ik ben benieuwd hoe dit uitpakt in bad.
Love boat heeft een heerlijke, typische Lush-geur. Hij is fris en citrus-achtig dankzij de citroenolie en de sinaasappelolie, maar de rozenolie erin geeft het citrus-geurtje een warme en bloemige ondergrond. De sinaasappelolie erin maakt hem fruitig en zoet. Het is de perfecte balans tussen fruitig en bloemig. Hij doet me denken aan fruitige snoepjes, heerlijk. Hij heeft dezelfde geur als Rose Lollipop Lip Balm, maar volgens mij deelt hij ook z'n geur met de Amandopondo producten en de Rose Bubble Bar van 2014. Hoe dan ook, ik vind dit écht een typische Lush geur. 😍
Speel het filmpje af in 2160p kwaliteit en op volledig scherm voor de beste ervaring! Het filmpje speelt zich versneld af.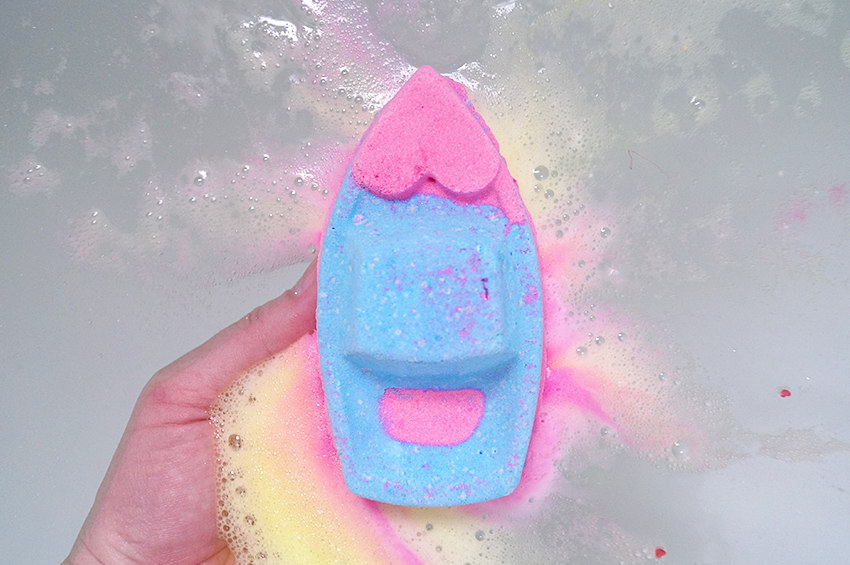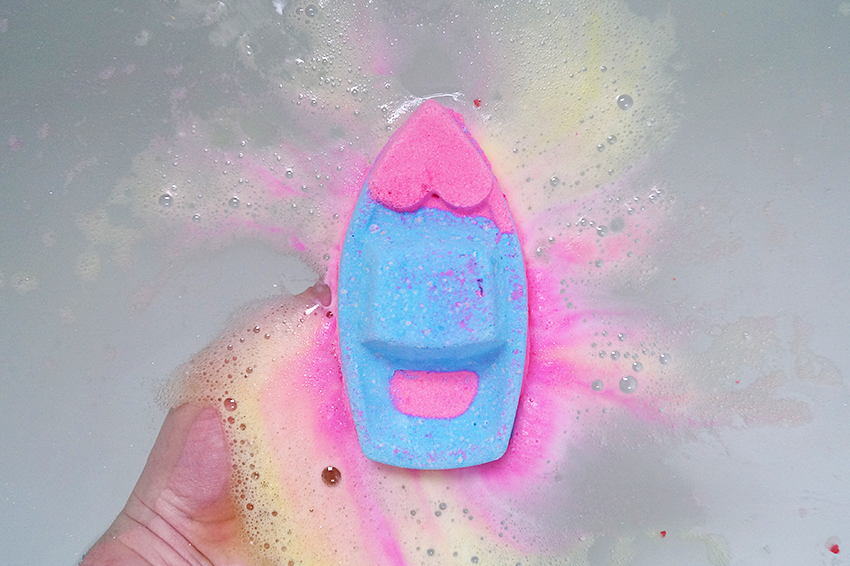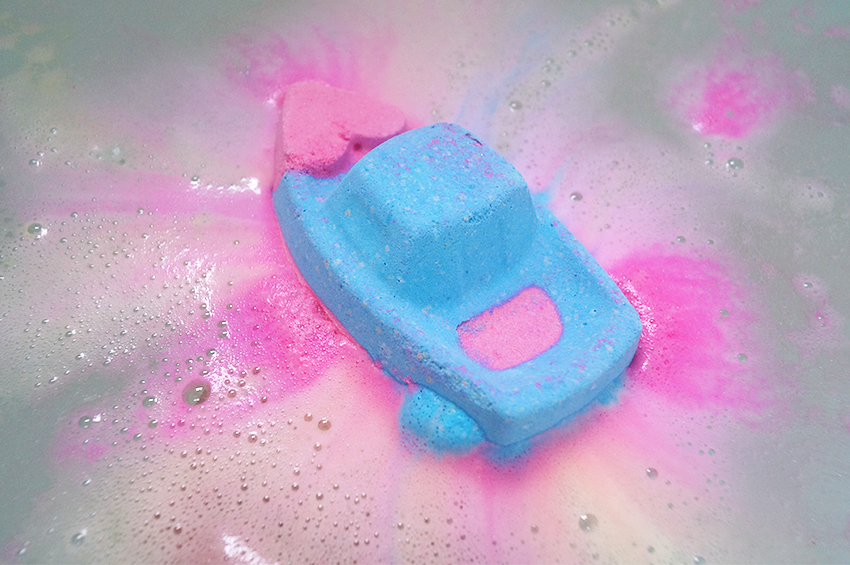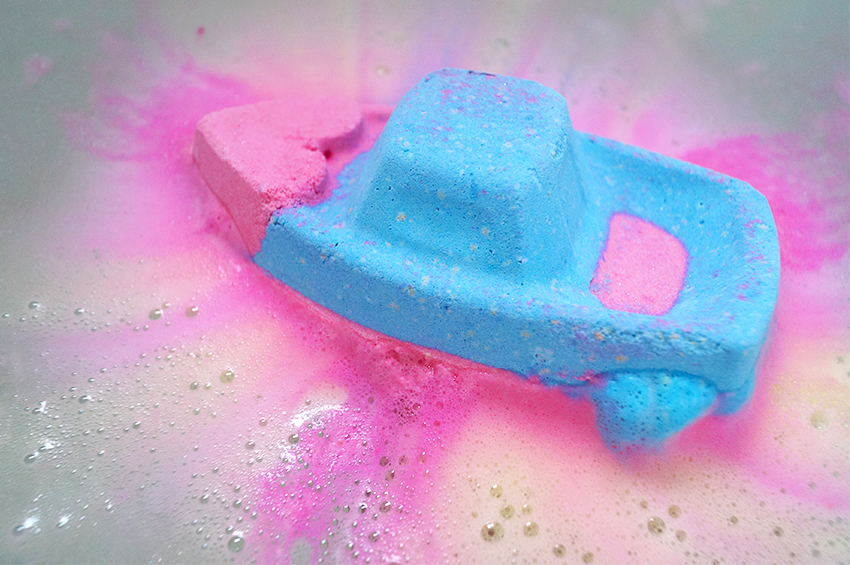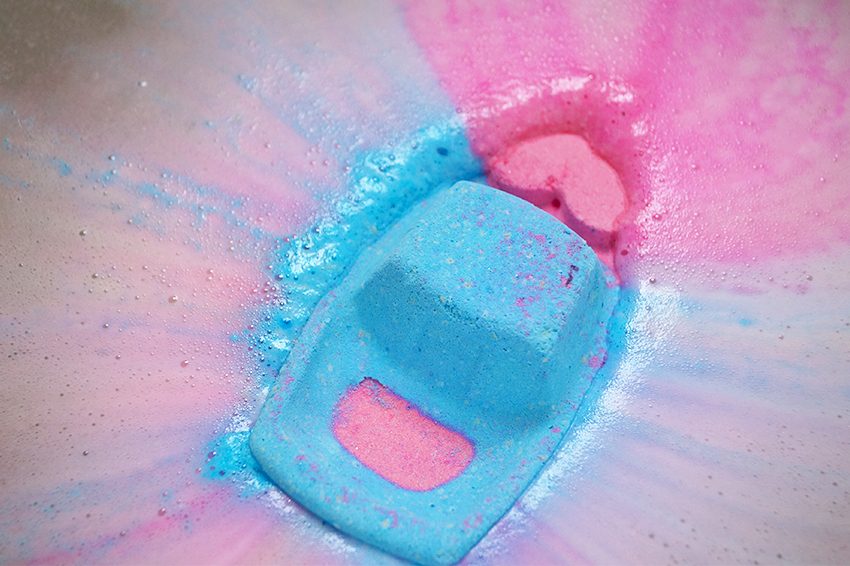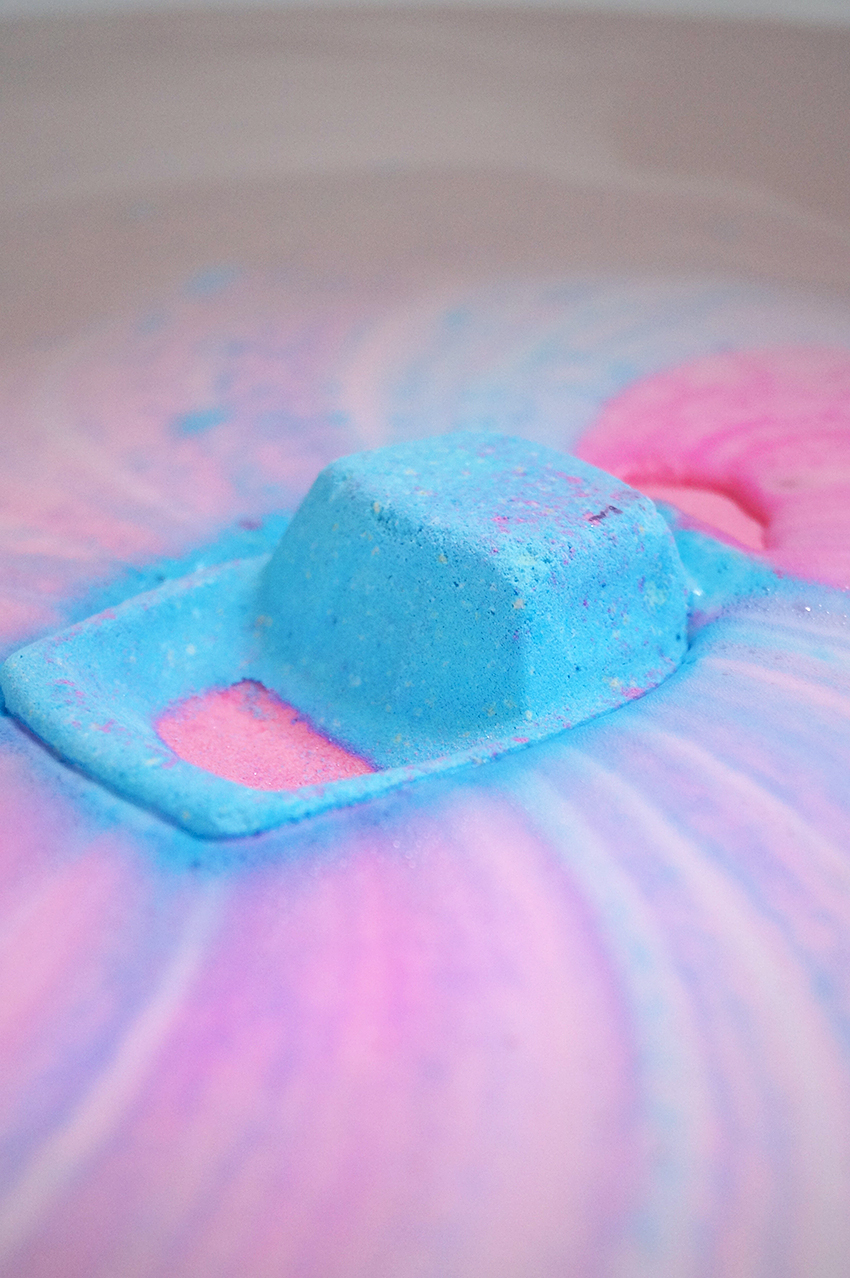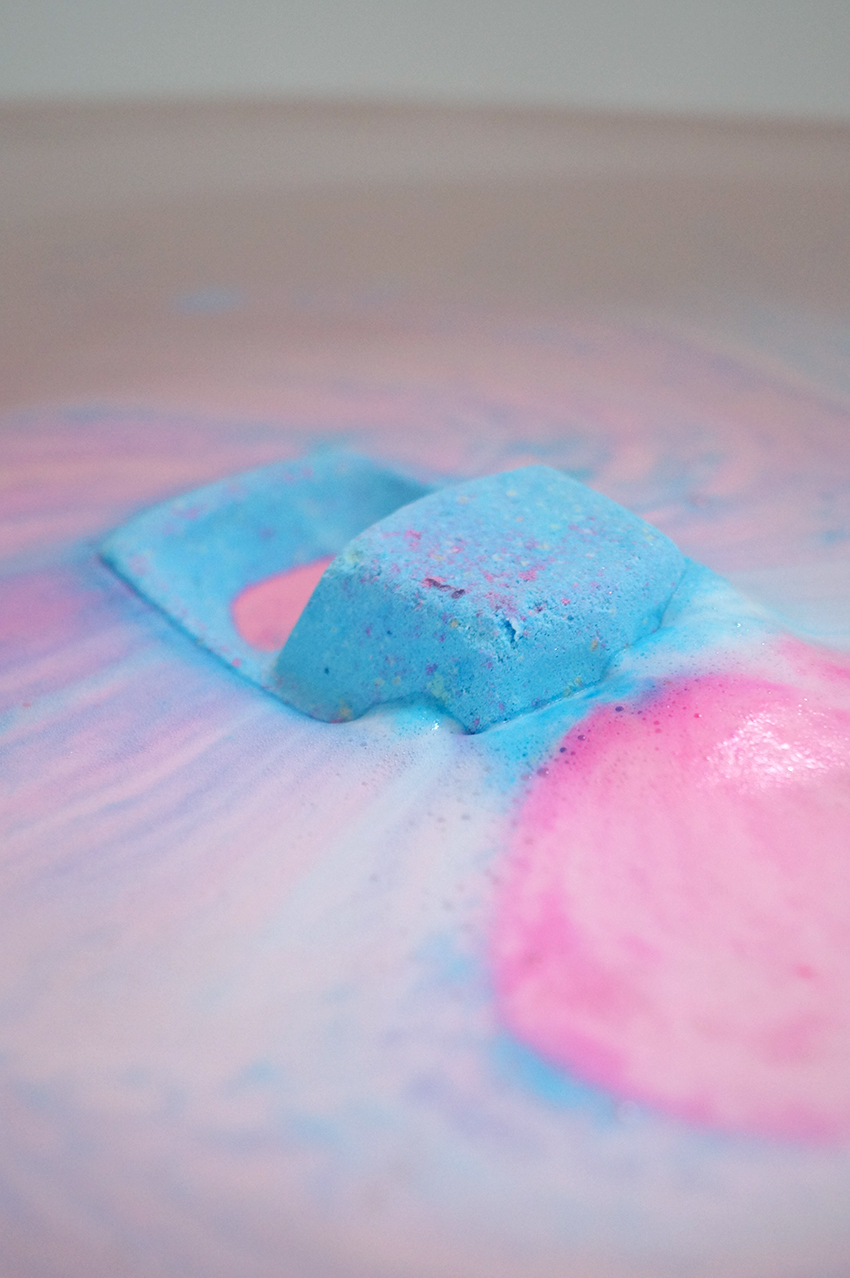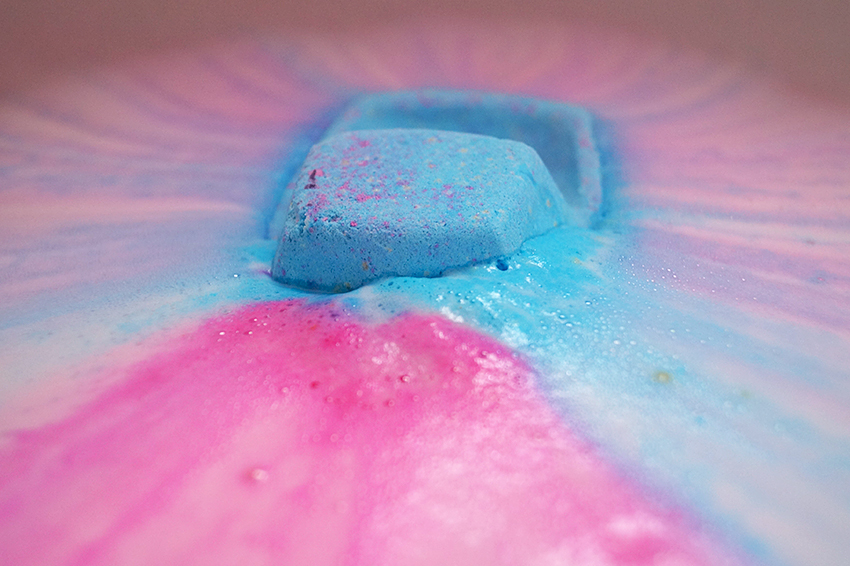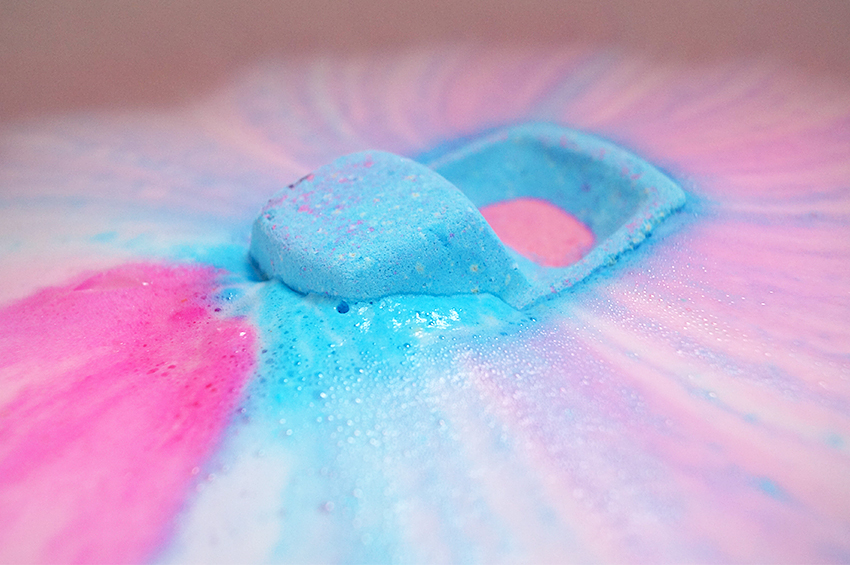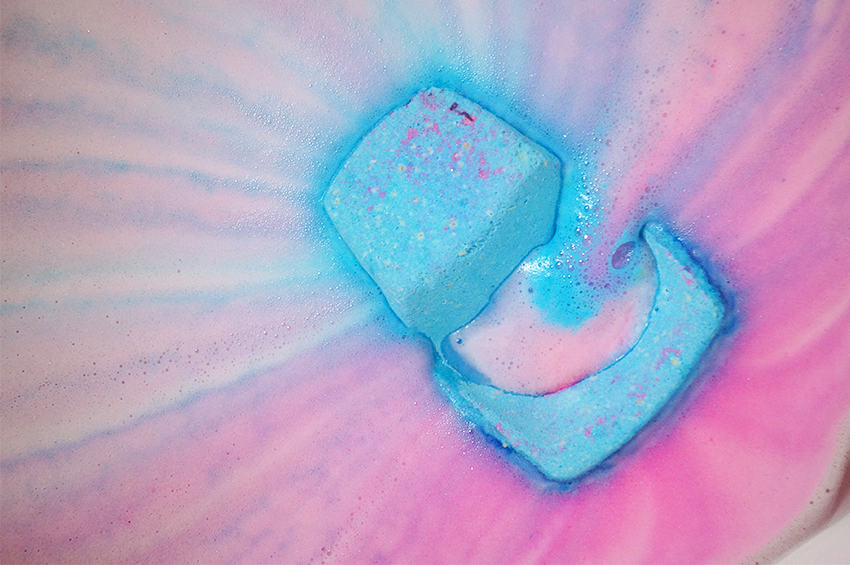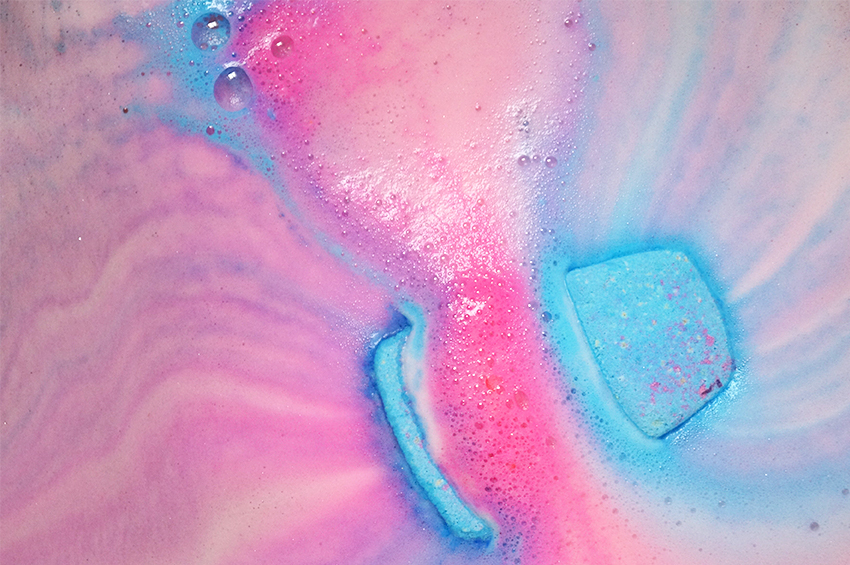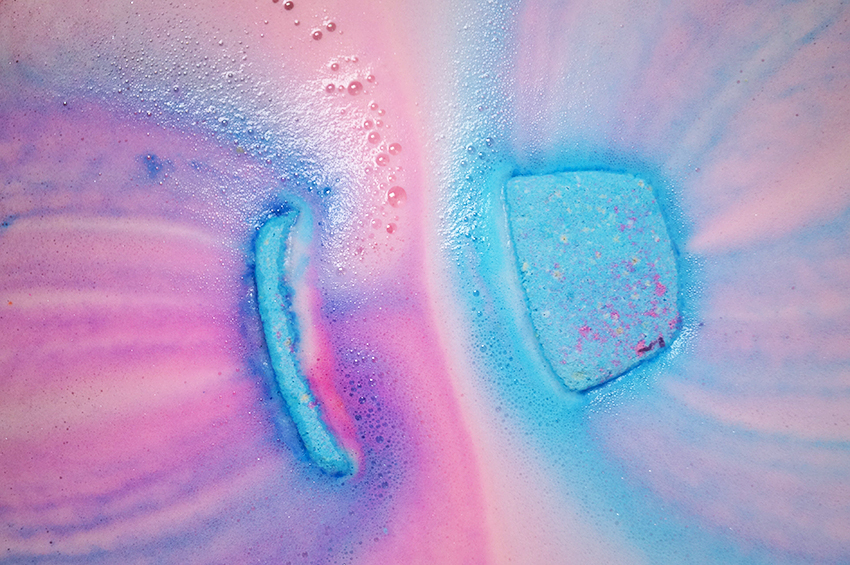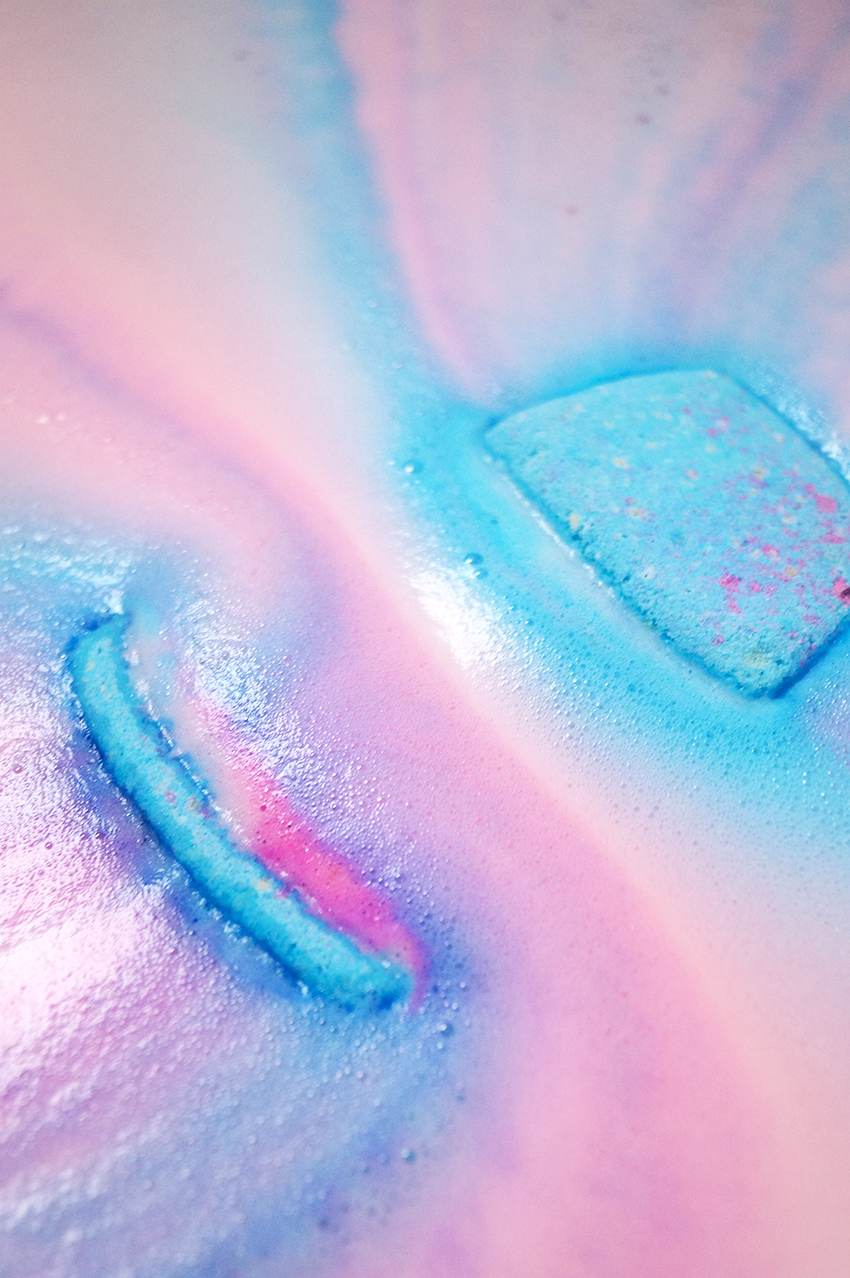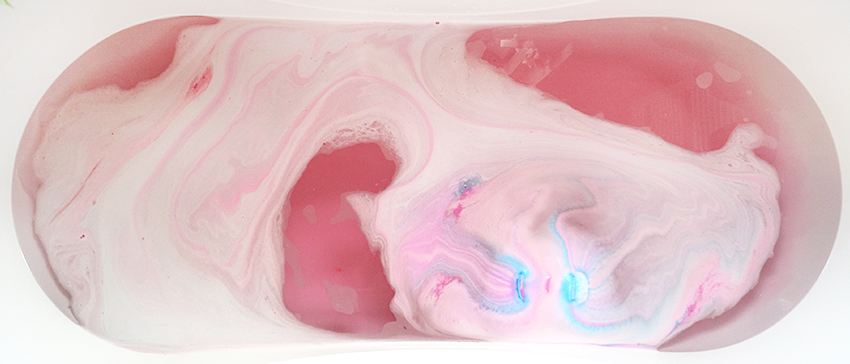 Mijn ervaring
Hoop foto's, ik weet het! Hoe meer foto's, hoe mooier de bath art, toch? Bij Love Boat ontbreekt er dan ook écht geen bath art. Hij begint met het uitspuwen van geel en roze schuim — een heel dik, rijkelijk schuim omsingeld het bootje. Kleine, rode hartjes zwemmen de oppervlakte op en een vleug van de heerlijke geur komt me tegemoet. Eenmaal losgelaten dobbert hij als een vissersbootje rustig op het water, inmiddels spuwt hij ook wat blauw schuim uit, niet veel later gevolgd door paars. Het bootje gaat het hele bad door en laat daarbij prachtige, vrolijke kleuren achter in het water. Terwijl hij doet, kleurt het water roze, gevuld met ieniemini glittertjes. Na enkele minuten komt er ook felroze schuim uit de boeg, en dan plots beginnen de Titanic-taferelen: de boot begint langzaam te zinken. Eerst gaat de boeg ten onder, vervolgens loopt het bootje vol, en voor je 't weet is de boot compleet gezonken. Gelukkig waren er geen mensen aan boord.
De geur van de bath bomb was continu heerlijk aanwezig, het eindwater was een mooie tint roze vol glittertjes en op de oppervlakte lag een dun laagje schuim. En dat terwijl deze bath bomb nog best betaalbaar is! Mocht je dus bij Lush zijn de volgende keer: neem dit leuke bootje zeker mee! Ik wil er eigenlijk stiekem nog een stuk of 15 van inslaan. Al is het alleen al voor de geweldige geur!

Lush Love Boat Bath Bomb kost €5,95. Hij behoort tot de Valentijnsdag collectie.
3 Responses to Review: Lush Love Boat Bath Bomb