Review: Golden Egg Bath Bomb Melt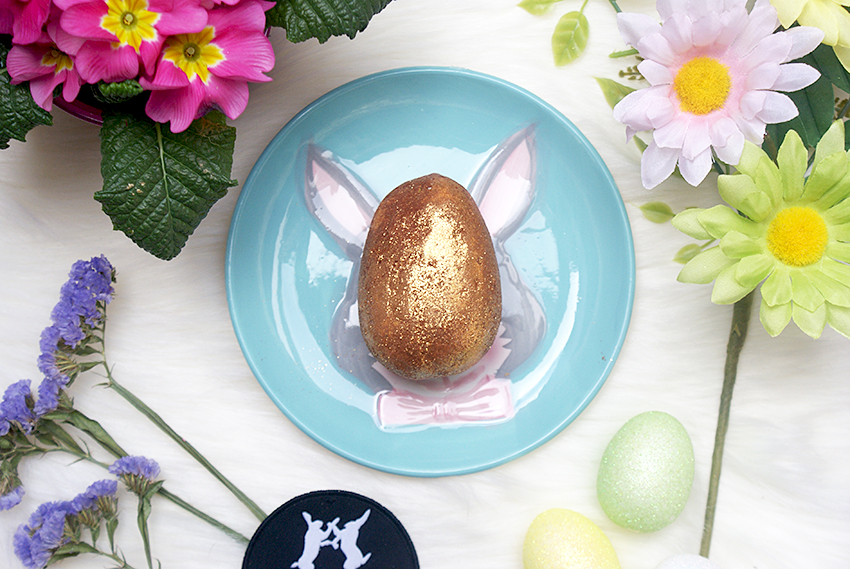 Ik kan niet geloven dat dit alweer de laatste bath bomb uit de Paascollectie is die ik ga reviewen! Dit glitterende ei is een bath bomb dat ook smelt. Resultaat: een bad vol glitters, jij vol glitters, alles vol glitters. Ik kan me geen betere badsessie wensen.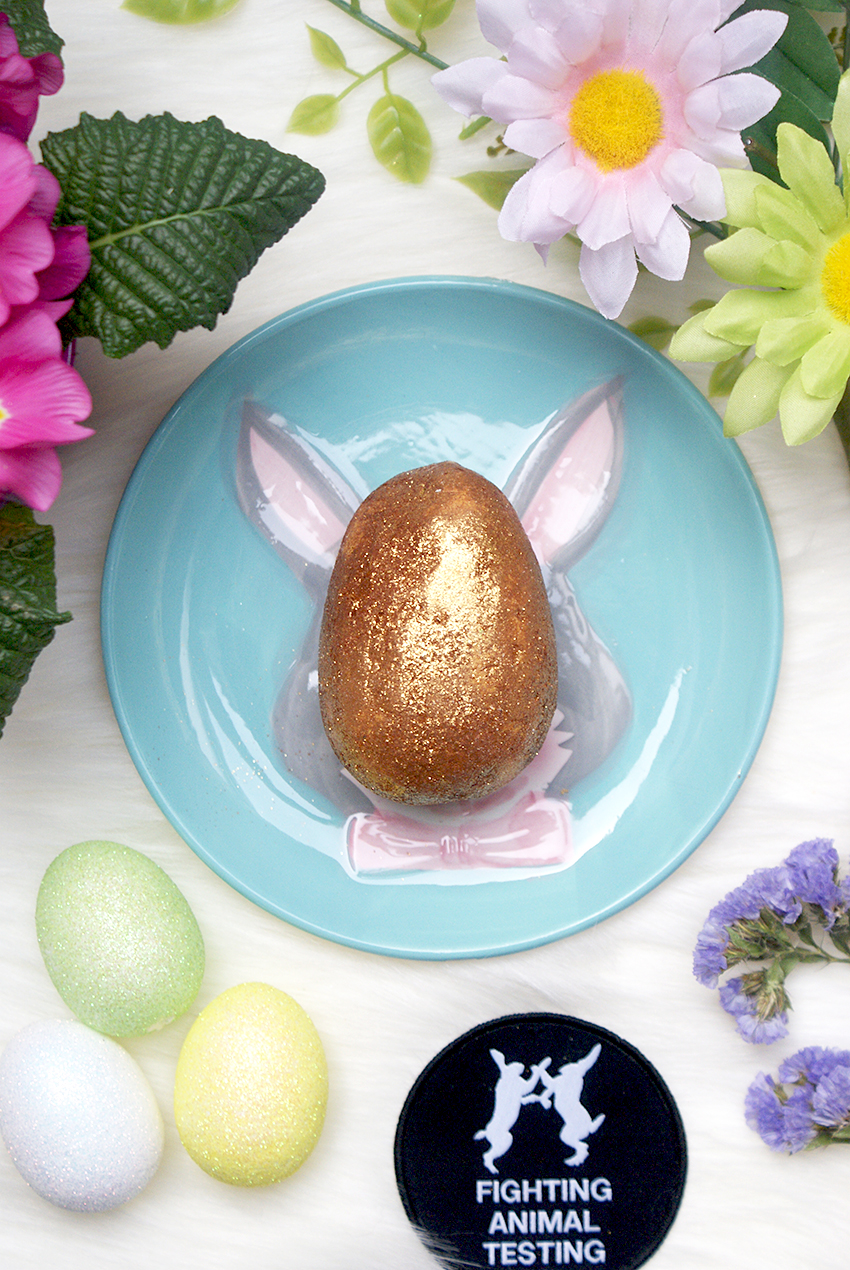 Wat is het?
Lush Golden Egg Bath Bomb Melt kost €6,95 (edit: in 2020 is de prijs verhoogd naar €7,50 🙄) en is onderdeel van de Paascollectie. Zoals je al kan zien aan de naam, is het een bath bomb én melt in één. Als je deze besteld in de webshop, en je hebt je pakket thuis, bereid je dan maar voor op het openmaken.. aangezien alle bad producten zonder verpakkingen worden verstuurd, zit álles onder de glitters. De doos, de overige producten, jij. Mocht ik nu gecremeerd worden, besta ik niet uit as maar uit glitter. Maar wél biologisch afbreekbaar.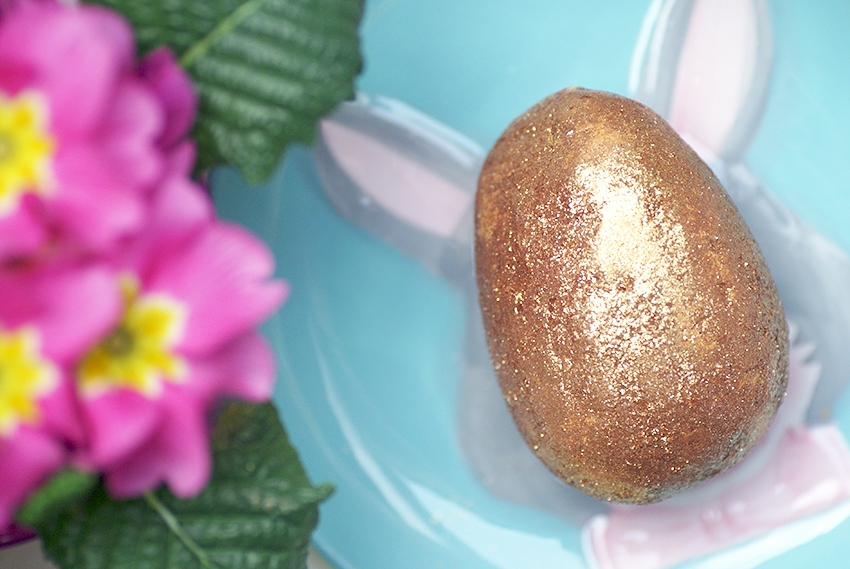 Wat zit erin?
Golden Egg bevat véél boters en oliën. Hij staat dan ook bekend om z'n enorm hydraterende eigenschappen. Cacaoboter, Braziliaanse sinaasappelolie, bergamotolie, olijfolie, amandelolie en gardenia-extract. De glitters waar Golden Egg in gehuld zijn, zijn van synthetische fluorflogopiet, een biologisch afbreekbaar soort glitter. Dus nee, niet een soort nieuwe Zwarte Piet. Hoe dan ook, Golden Egg ziet eruit alsof hij uitgekakt is door een glitterkip. Echter is dit alleen de buitenste laag, zodra die eraf is, heb je een gele bath melt over.
De geur is heerlijk — honing en sinaasappel. Er zit geen honing in, dus wel gewoon veganistisch. Hij deelt z'n geur met Honey I Washed The Kids, één van de lekkerste geurlijnen van Lush. De geur is warm, maar je ruikt ook goed het fruitige van de sinaasappel erin. Romig, zoet, en ik vind Golden Egg meer boterig ruiken dan andere Honey I Washed The Kids producten. Houd 'm alleen niet te dicht tegen je neus aan, anders lijkt het alsof je glitter hebt gesnoven. Staat zo raar als je een half uurtje de hond gaat uitlaten met glitter onder je neus.
Speel de filmpjes af in 2016p kwaliteit en op volledig scherm voor de beste ervaring!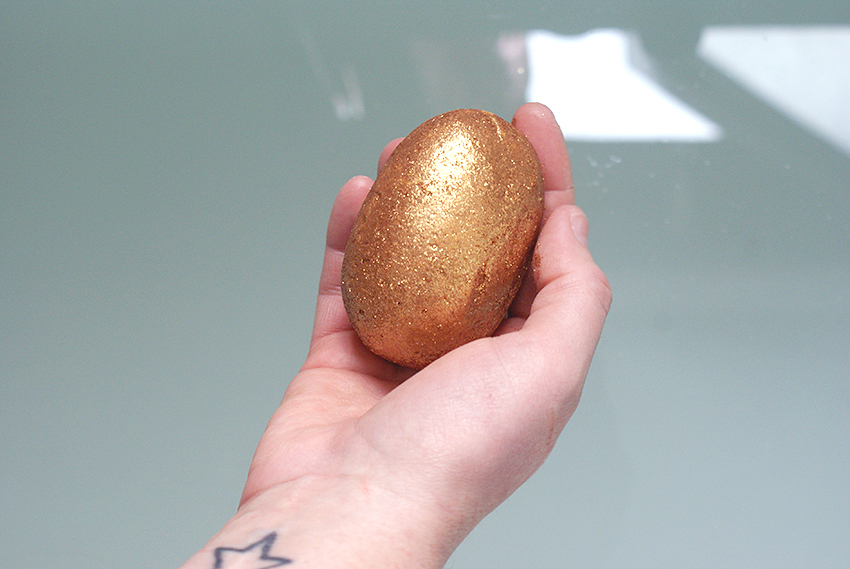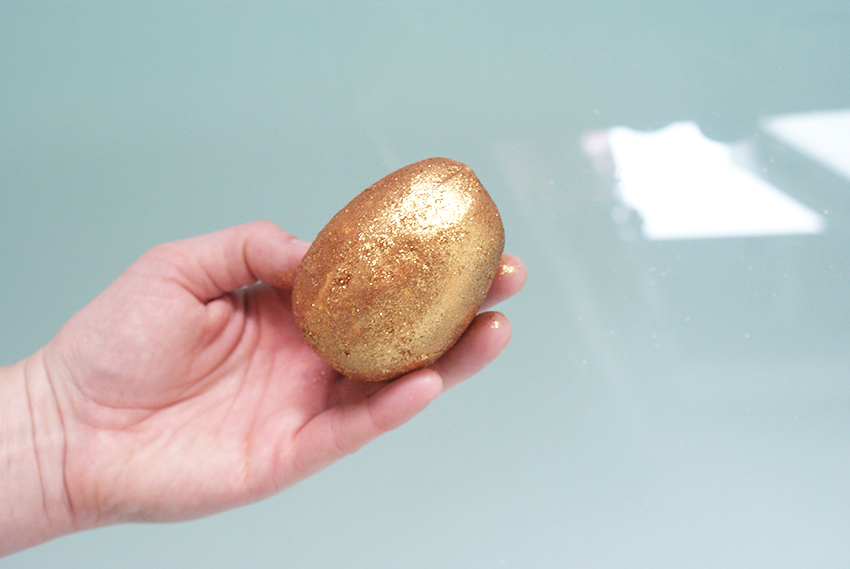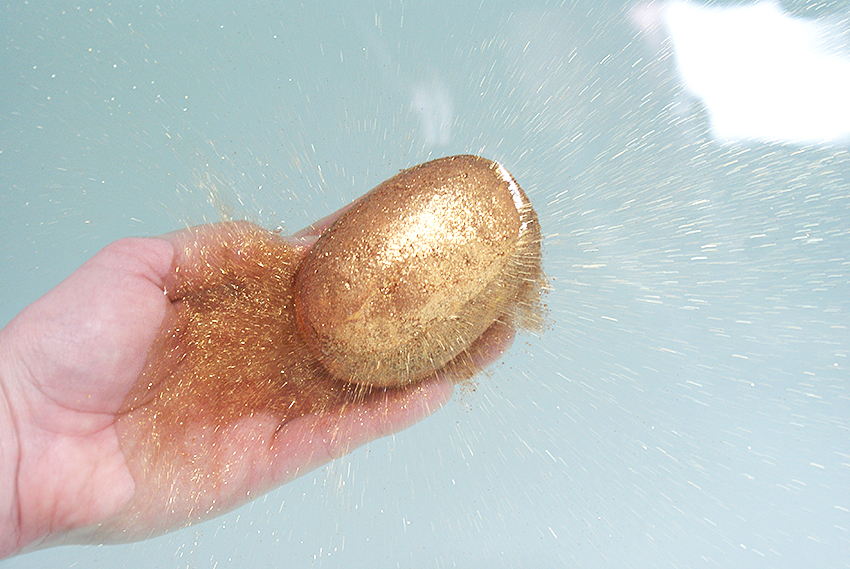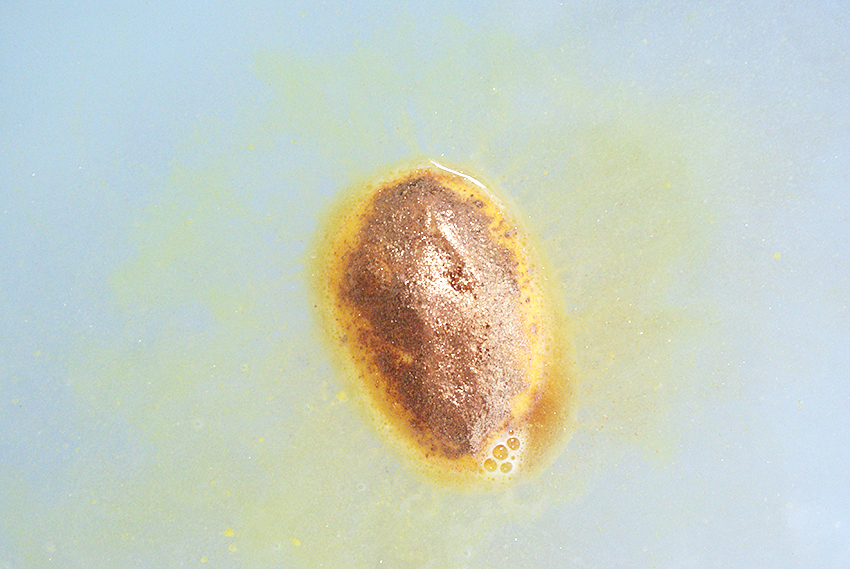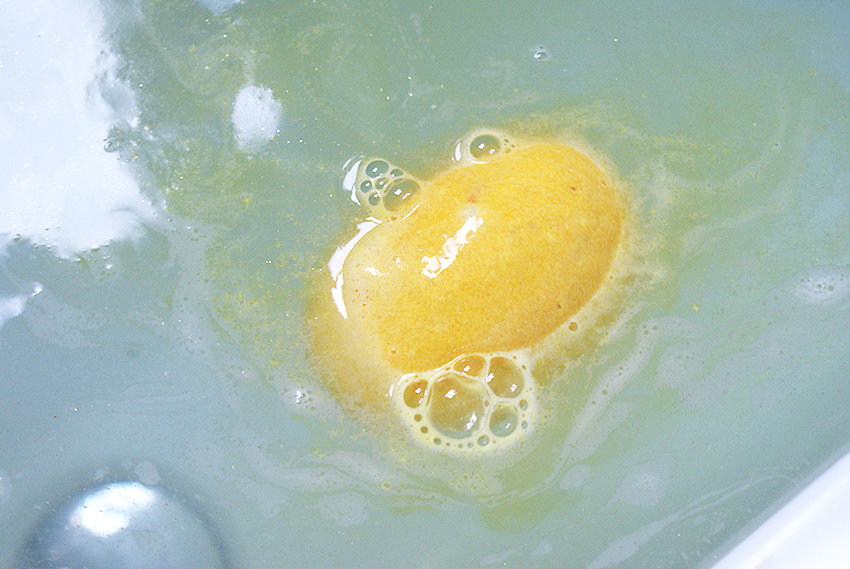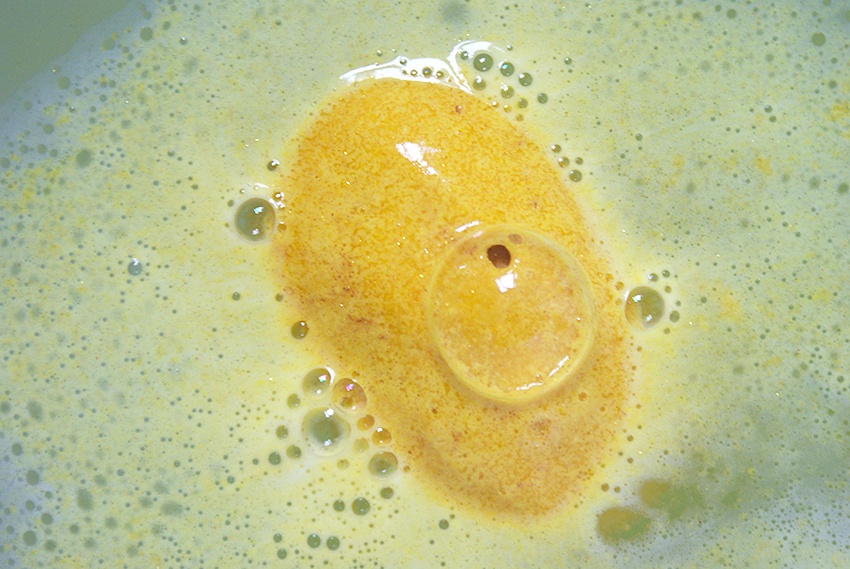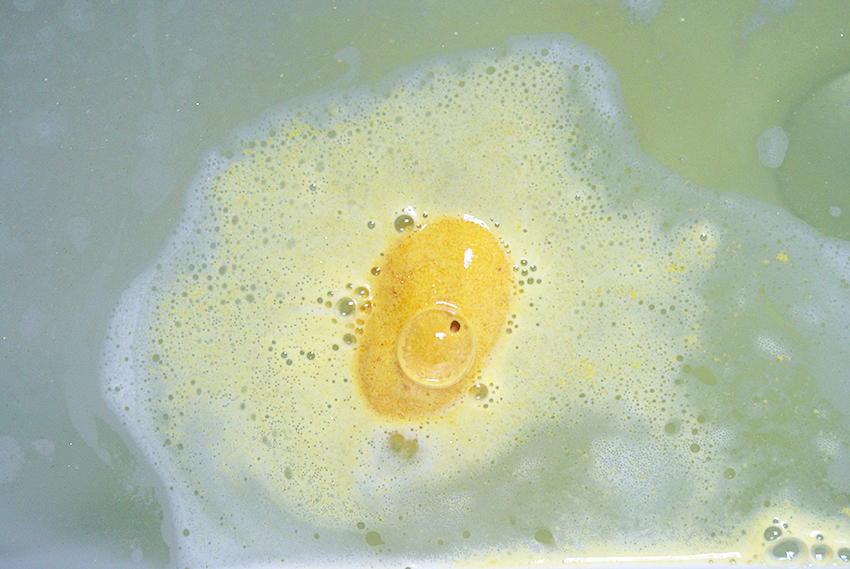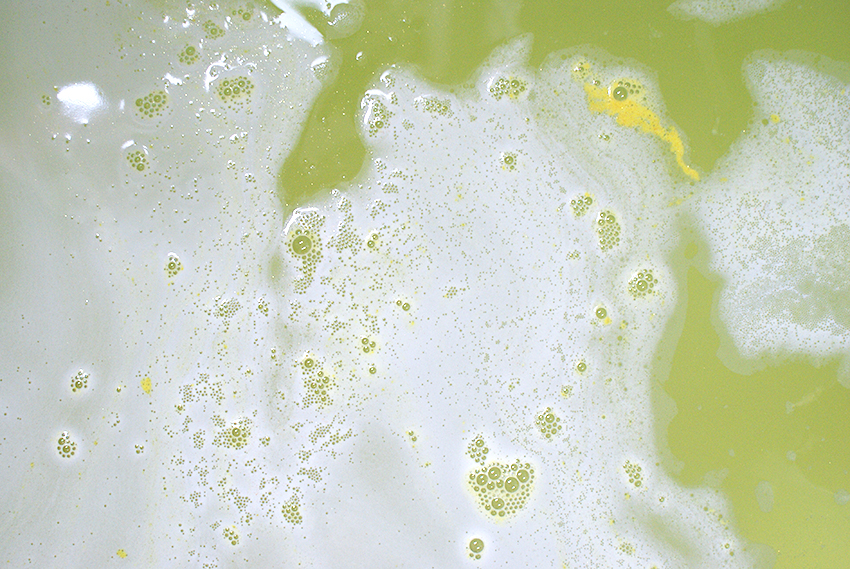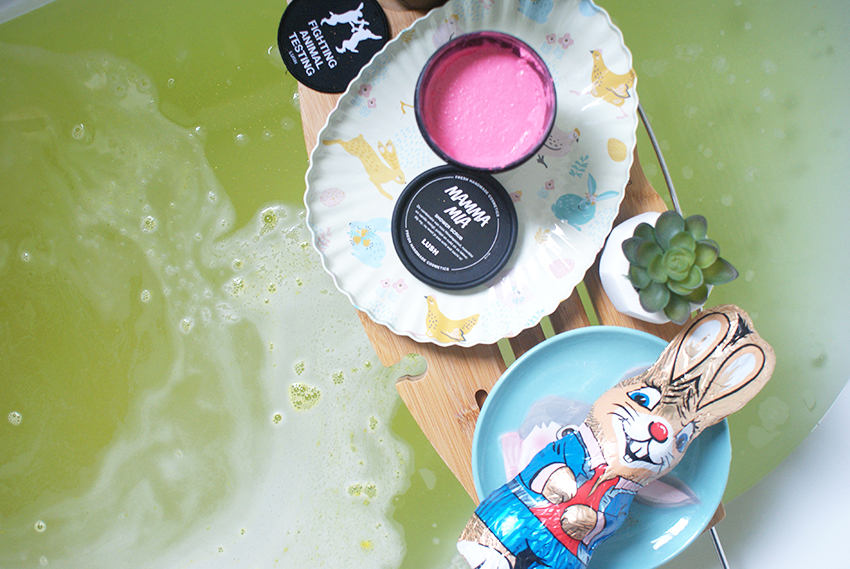 Mijn ervaring
Zodra je Golden Egg in het water laat zakken, vliegen de glitters alle kanten op het water door. Terwijl het buitenste glitterlaagje zich verspreid door het bad, ontpopt Golden Egg zich tot een geel ei, dat er zacht en boterachtig uitziet. Hij drijft langzaam door het bad en transformeert daarbij het water in een gele tint. Na een paar minuten door het bad te hebben gedreven, begint hij te rollen. Ah, dáár is het bath bomb gedeelte! Binnenin zit het bruisende gedeelte wat ervoor zorgt dat hij begint te draaien.
Onder water zie ik één en al gouden glittertjes. De kleur van het bad is niet heel aesthetisch, maar de glitters maken een hoop goed. Ook zie ik op de oppervlakte de oliën drijven. M'n huid voelt na afloop enorm zacht aan, veel elastischer en gezonder. Dit is echt één van de meest hydraterende bath bombs die ik ken van Lush.
Het was een heerlijk bad, m'n huid voelde na afloop nog uren lang zacht an soepel aan. Alsof het was ingesmeerd met een boterachtige substantie, maar dan zonder een voelbaar laagje! Het viel trouwens ook erg mee met het bad schoonmaken na afloop. Ik kon de glitters vrij makkelijk wegspoelen. Dat ik er zelf na afloop uitzie als een stripper, neem ik maar voor lief.

Golden Egg Bath Bomb Melt kost €6,95. Hij behoort tot de Paascollectie.
7 Responses to Review: Golden Egg Bath Bomb Melt