Review: Lush Flight Bath Bomb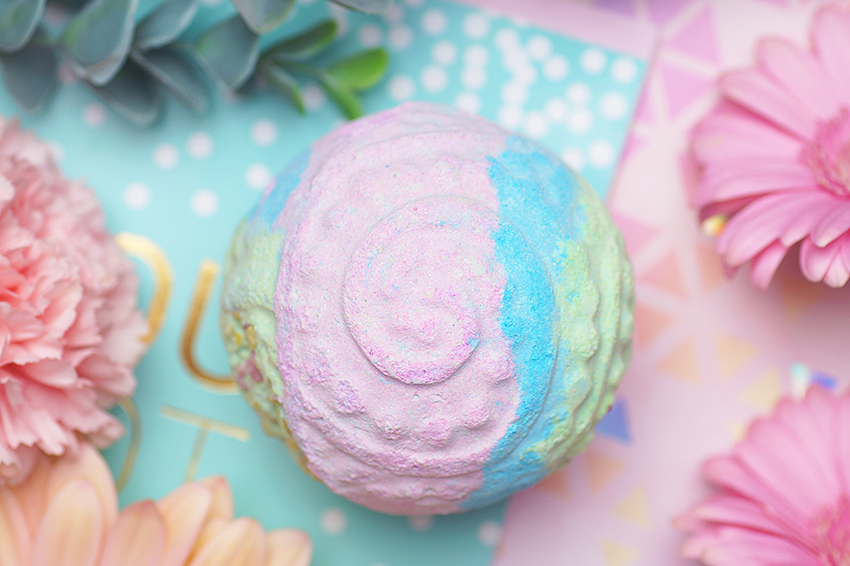 Gisteren vertelde ik het al — ik had drie Lush bath bombs gewonnen op Instagram, drie die alleen in Harajuku in Japan te koop zijn. Ik reviewde meteen Temple in the Skies, maar vandaag laat ik je Flight zien! Ergens vind ik het onwijs jammer om ze meteen in bad te 'moeten' gooien, maar aan de andere kant ben ik ook reuze benieuwd hoe ze presteren in bad. Ben jij ook benieuwd, kijk dan snel verder.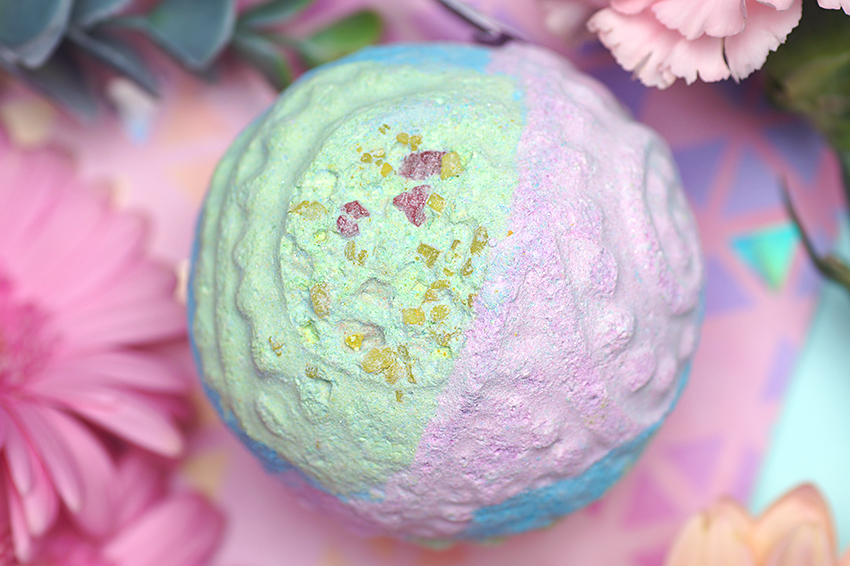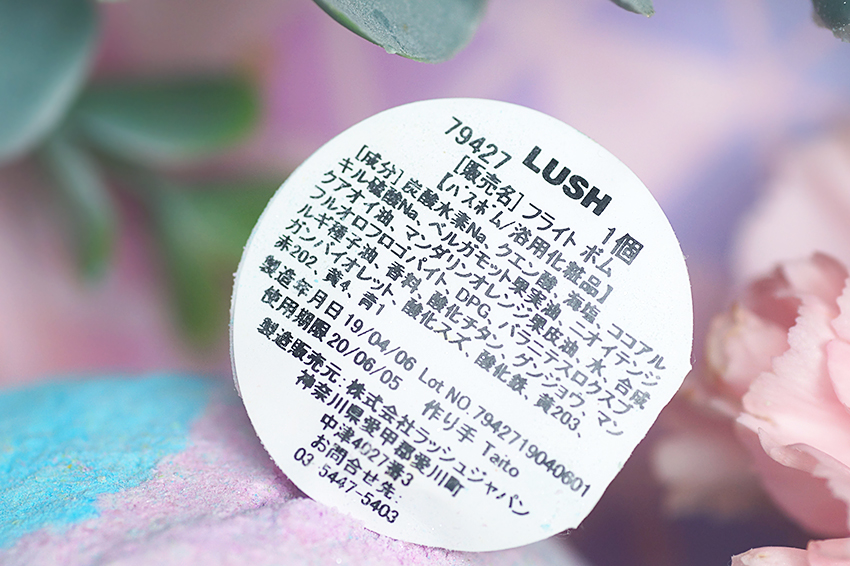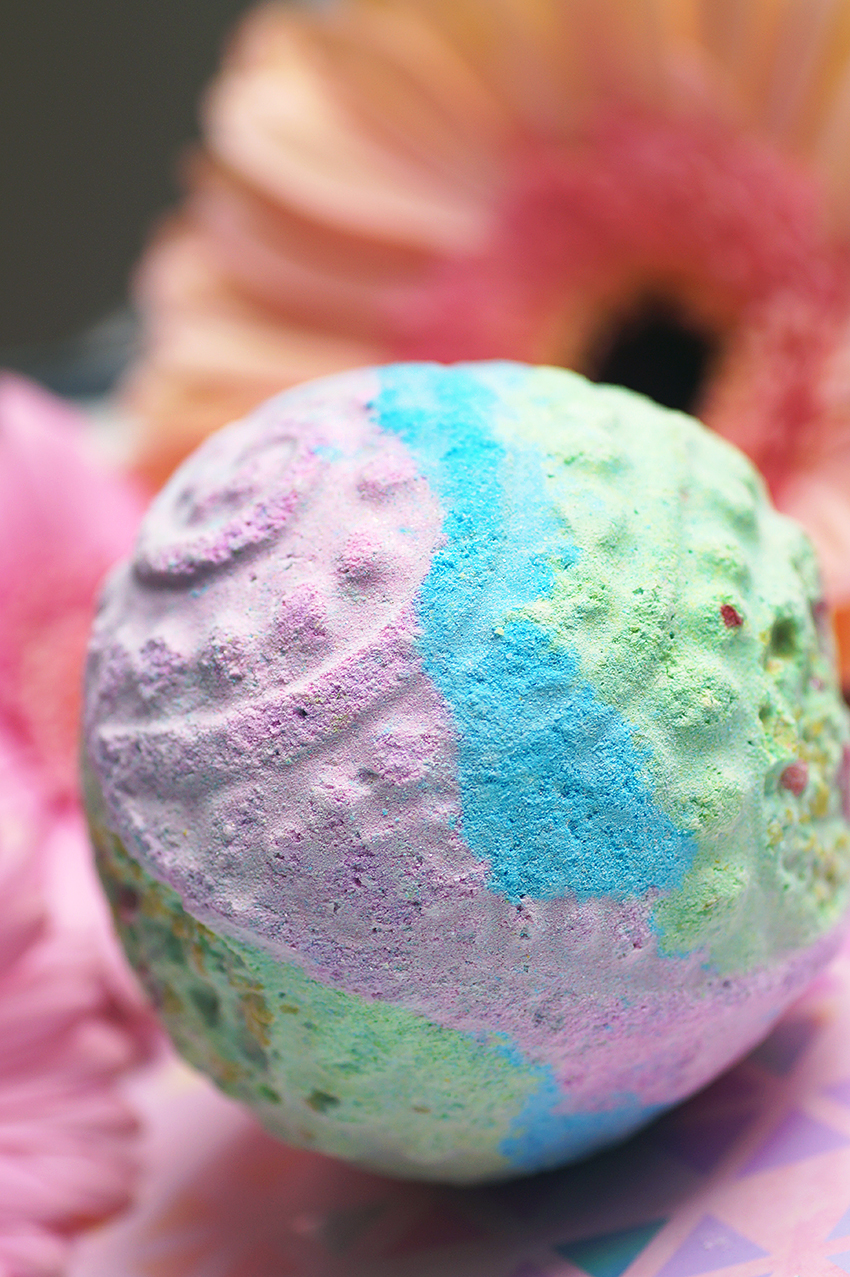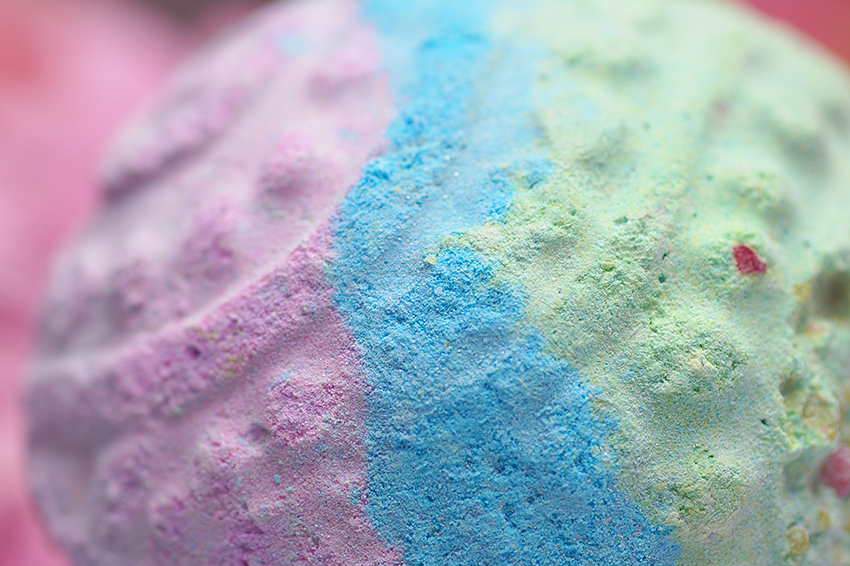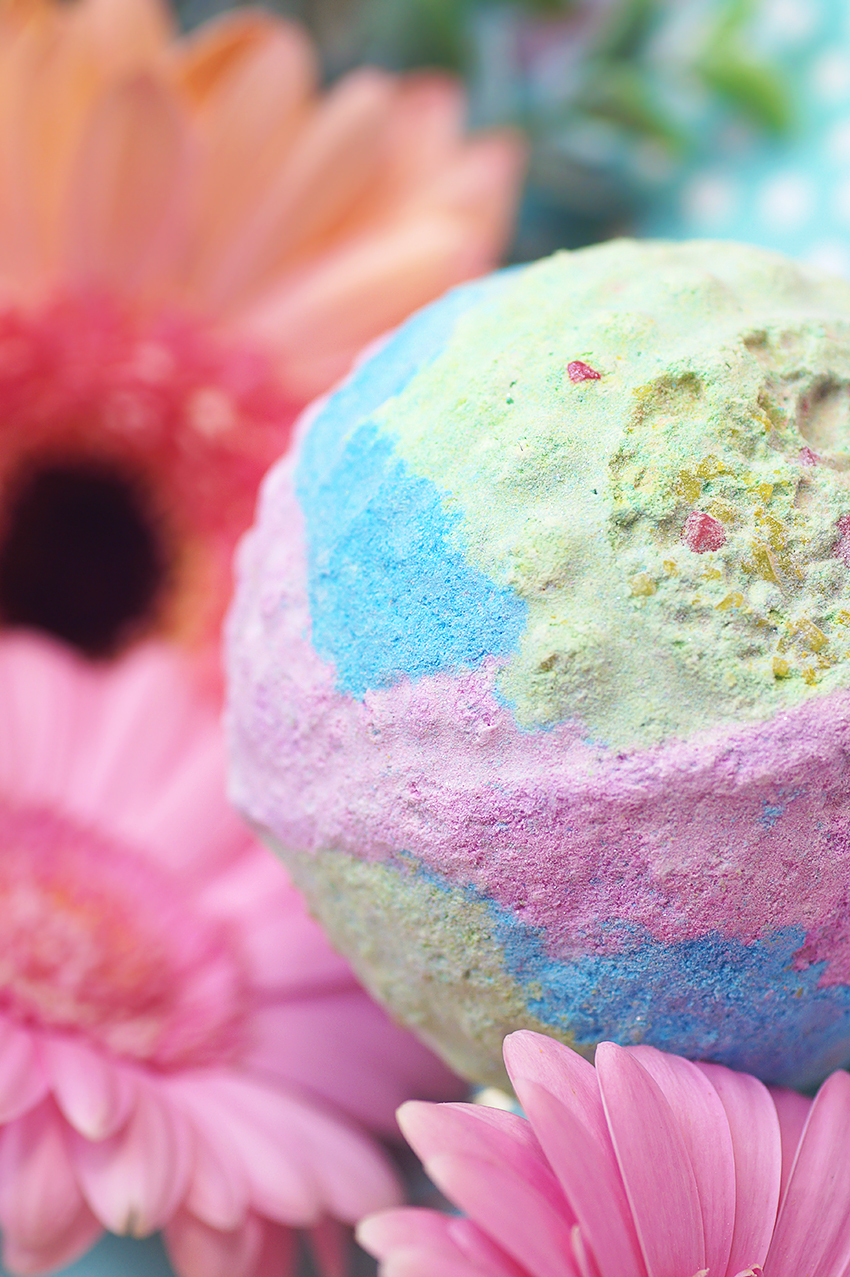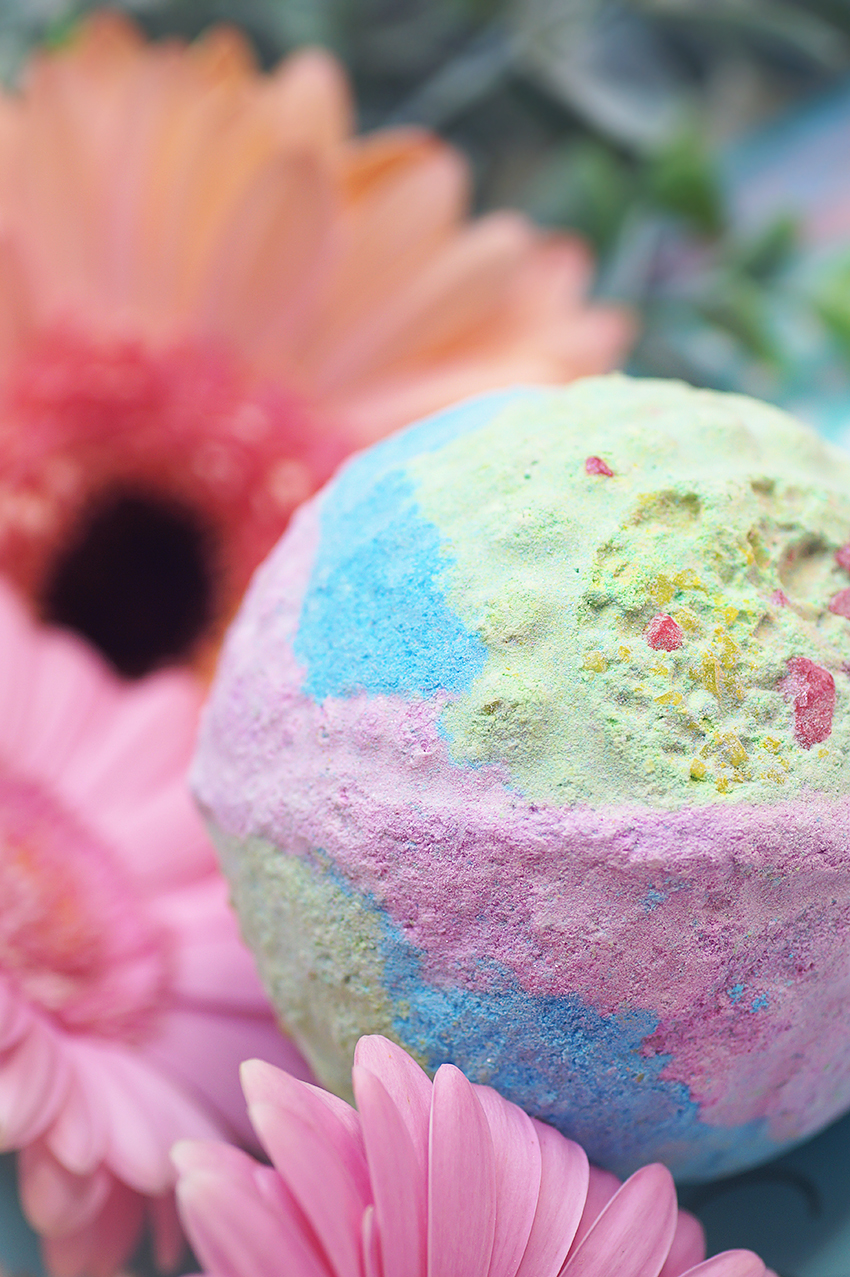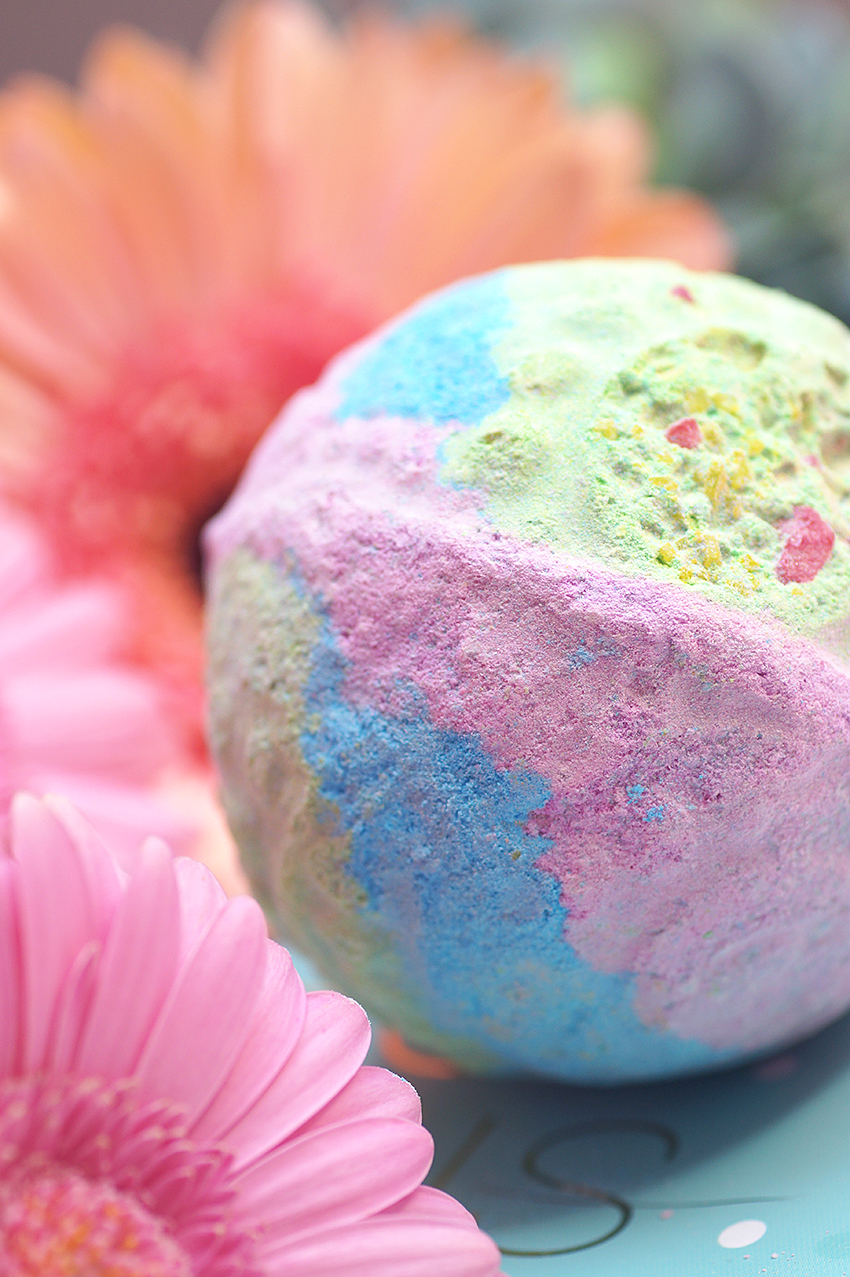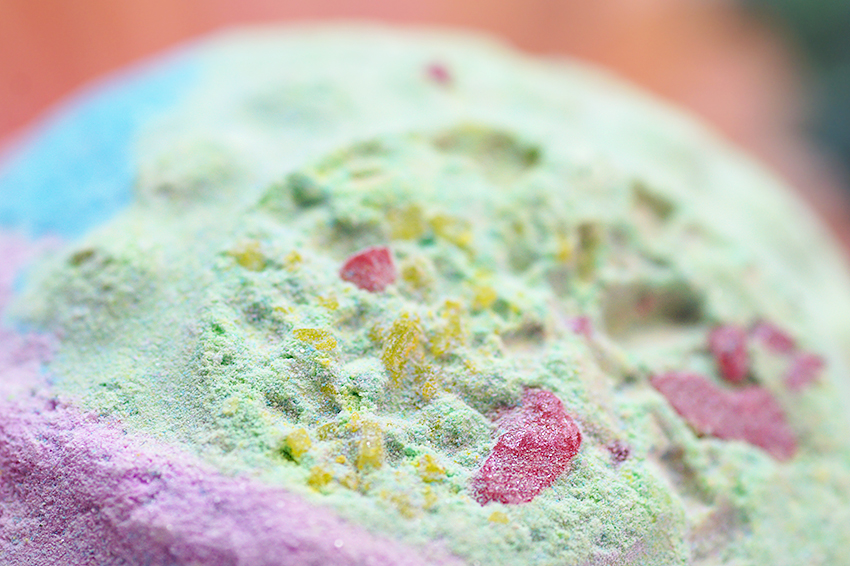 Wat is het?
Ingrediënten: Sodium Bicarbonate, Citric Acid, Coarse Sea Salt, Sodium Coco Sulfate, Bergamot Oil (Citrus aurantium bergamia), Geranium Oil (Pelargonium graveolens), Sicilian Red Mandarin Oil (Citrus nobilis), Titanium Dioxide, Water (Aqua), Balanites Oil, Synthetic Fluorphlogopite, Dipropylene Glycol, Tin Oxide, Amyl Cinnamal, Benzyl Alcohol, Citral, *Limonene, Perfume, Color 77742, Color 77007, Colour 47005, Colour 19140, Colour 77491, Colour 15850:1, Colour 420+0
Lush Flight Bath Bomb is een exclusieve bath bomb, die je alleen in de Harajuku winkel in Japan kunt kopen. Het is één van de 89 bath bombs die eerder dit jaar gelanceerd werden, ter ere van Lush hun 30-jarig bestaan. (In 1989 opgericht, vandaar 89 bath bombs) Gisteren liet ik Temple in the Skies al zien, maar vandaag is het beurt aan Flight! Deze bath bomb bestaat uit een aantal prachtige kleuren — lila, groen en blauw. Aan twee kanten zitten gekleurde stukjes zeezout. De hele bath bomb bevat een reliëf en het is gewoon een pareltje om te zien.
Flight bevat bergamot, geranium, Siciliaanse rode mandarijnolie en 'balanites oil', dit ingrediënt kan ik niet vinden in de webshop, maar kennelijk is het een woestijndadel. Hij deelt z'n geur met Yummy Mummy — een geurfamilie waar ik niet echt dol op ben, maar op de één of andere manier vind ik het bij een bath bomb niet vervelend. Het is dan minder sterk en aanwezig. Het is een fruitige geur, maar met een warme, iets poederige basis. Ik vind die combinatie normaliter wel lekker, ik ben dol op de Celebrate geurfamilie (warme citrusgeur), maar Yummy Mummy heb ik nu in douchegel-versie en in jelly-versie geprobeerd, en beide vind ik gewoon echt niet lekker. Máár ik weet dat Yummy Mummy heel veel fans heeft. En Flight ruikt verder gewoon prima — fruitig, maar ook warm. Een lekkere, typische Lush geur.
Speel de filmpjes af in 2160p kwaliteit en op volledig scherm voor de beste ervaring! Het eerste filmpje speelt zich versneld af.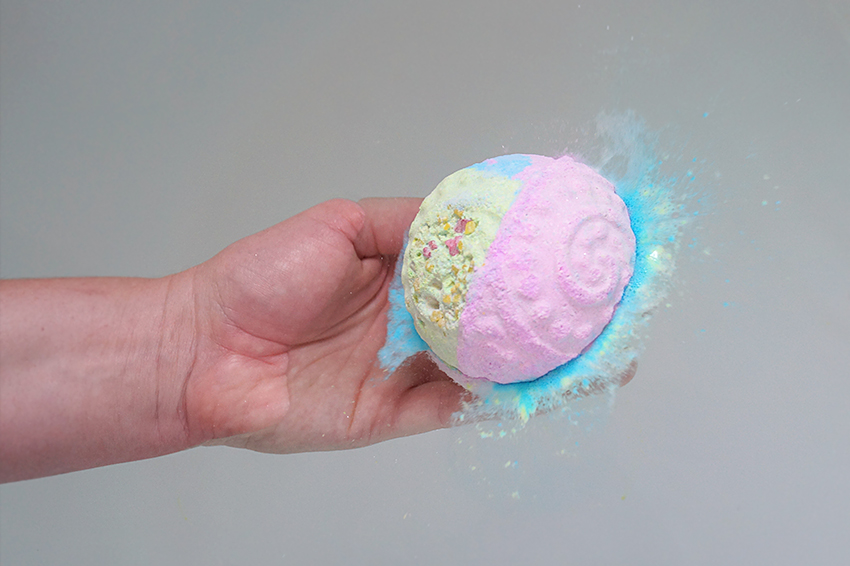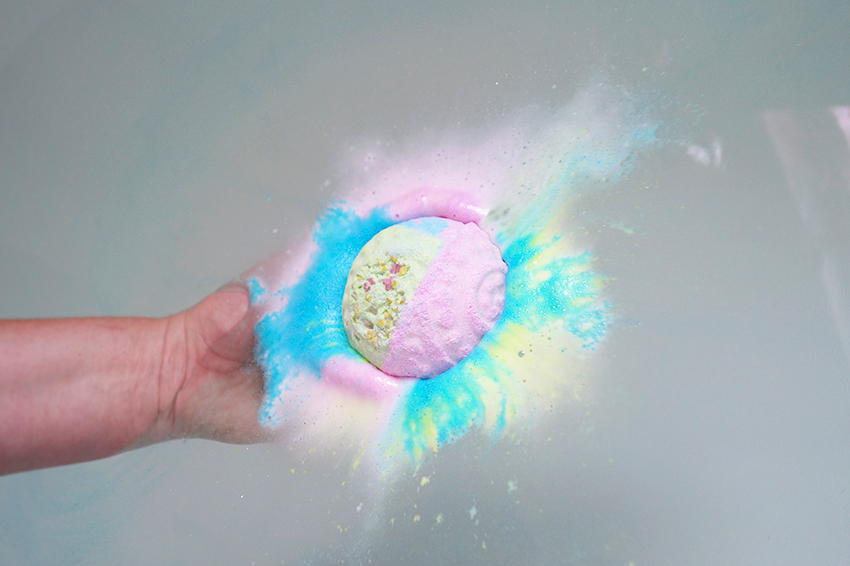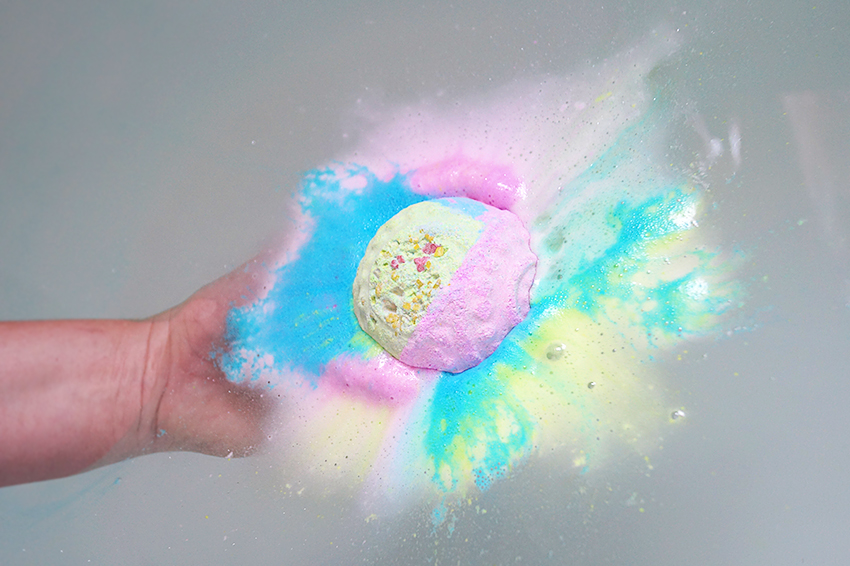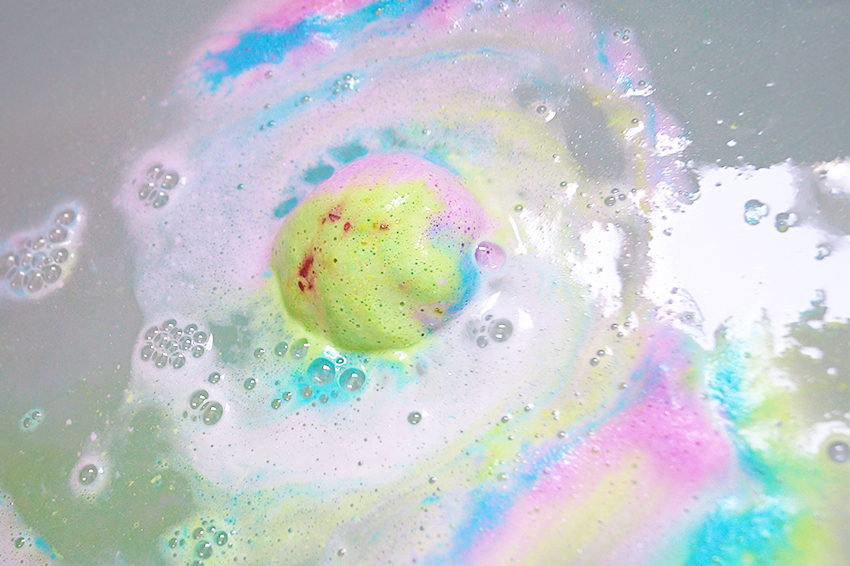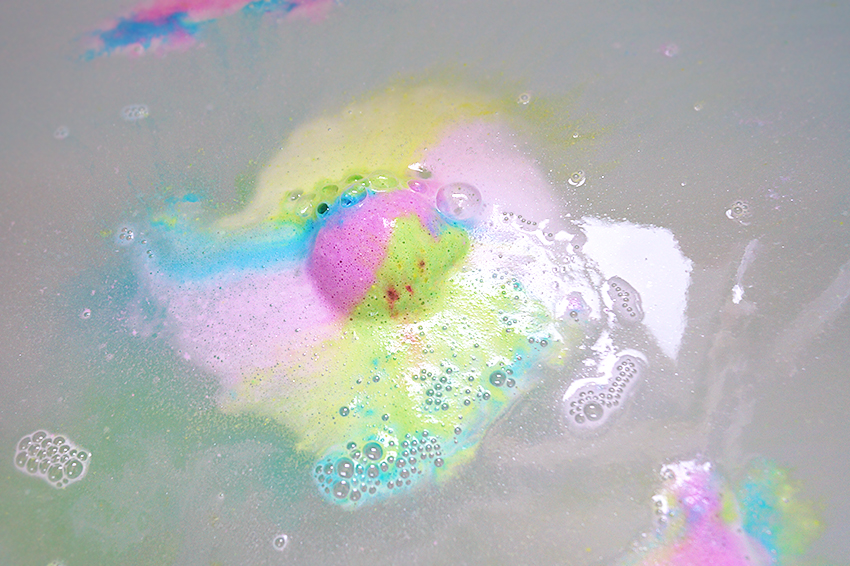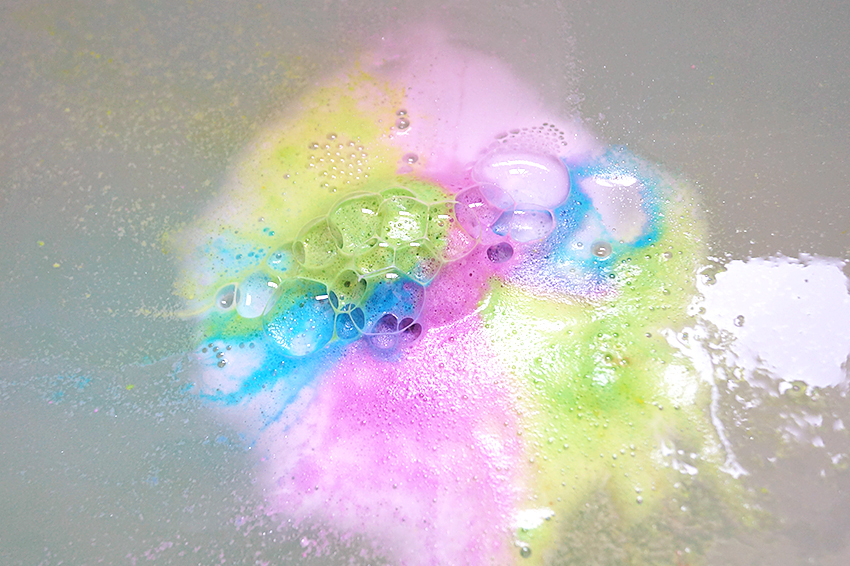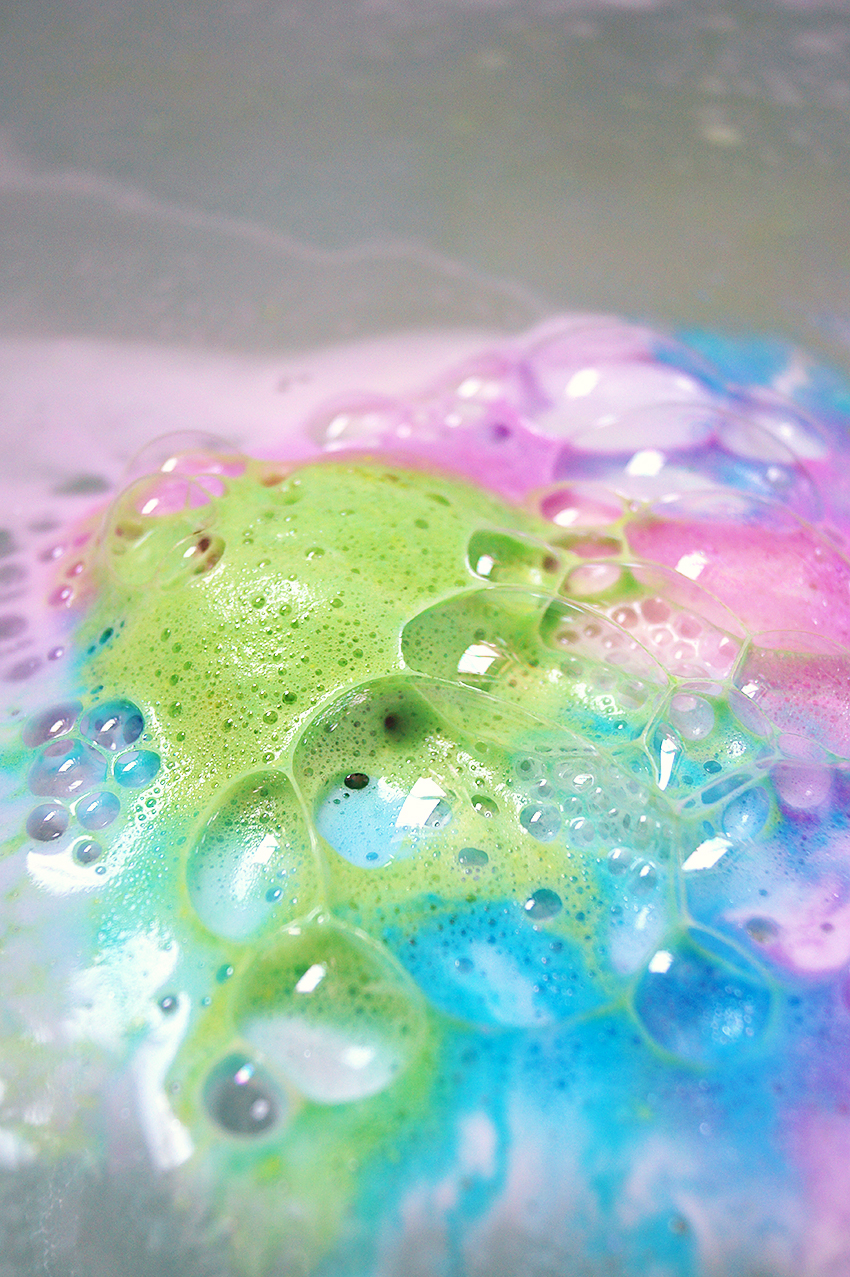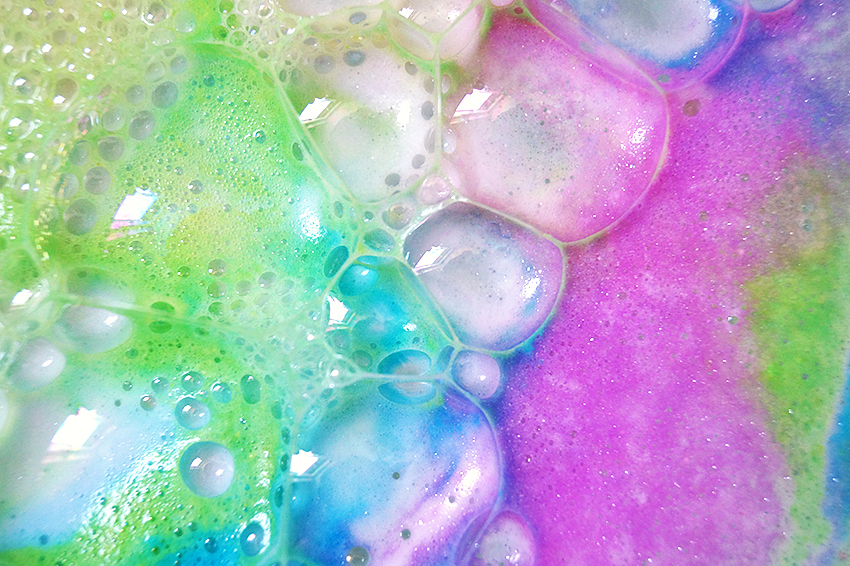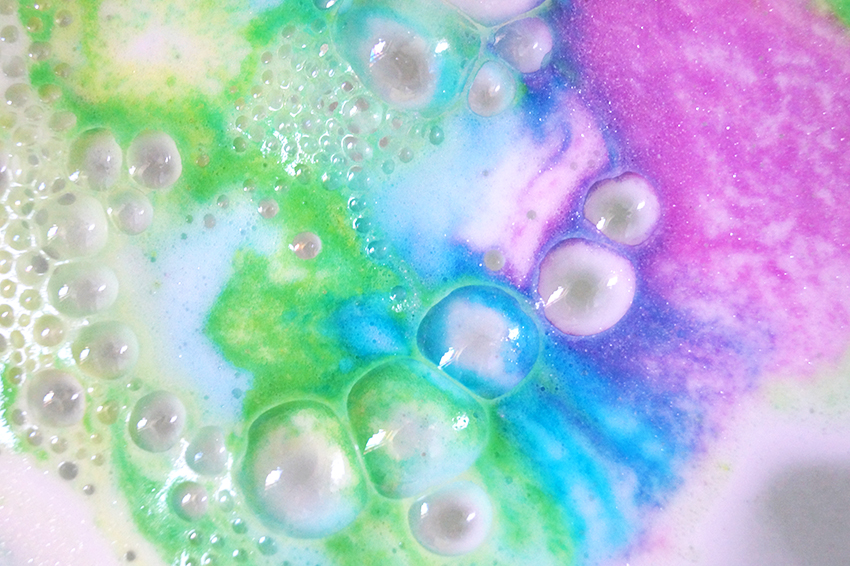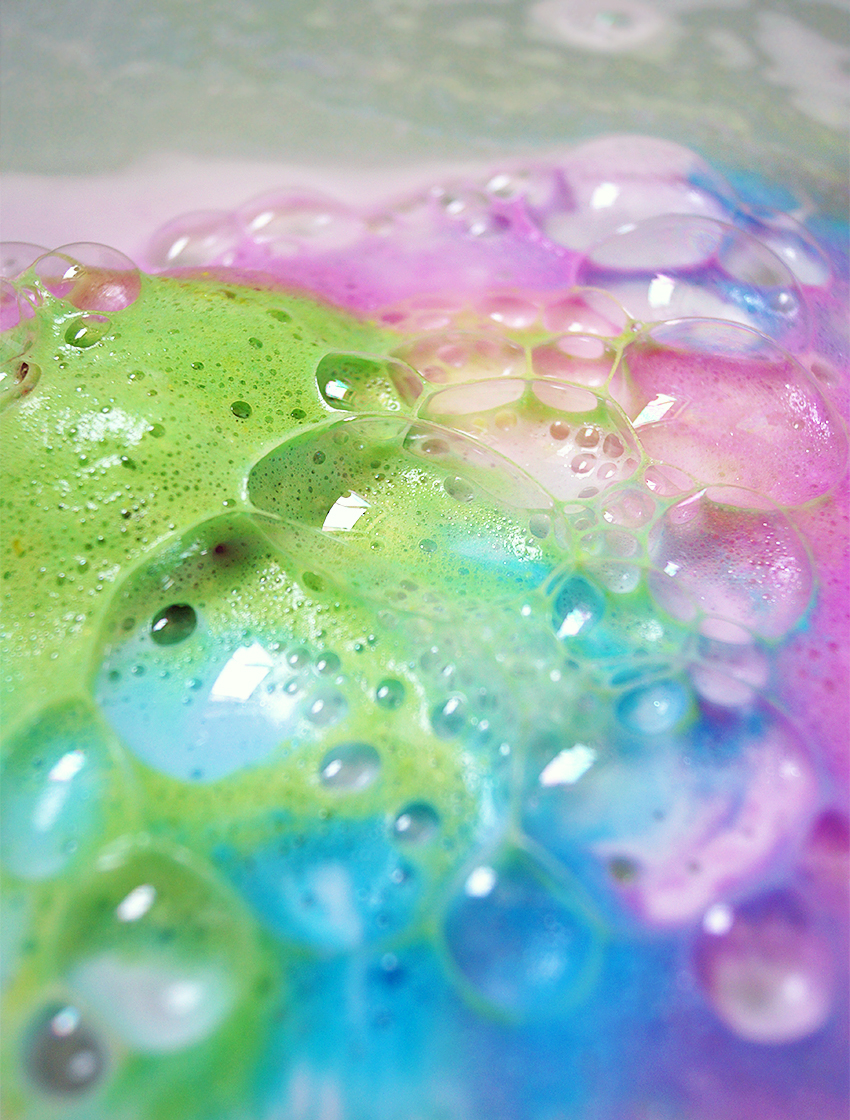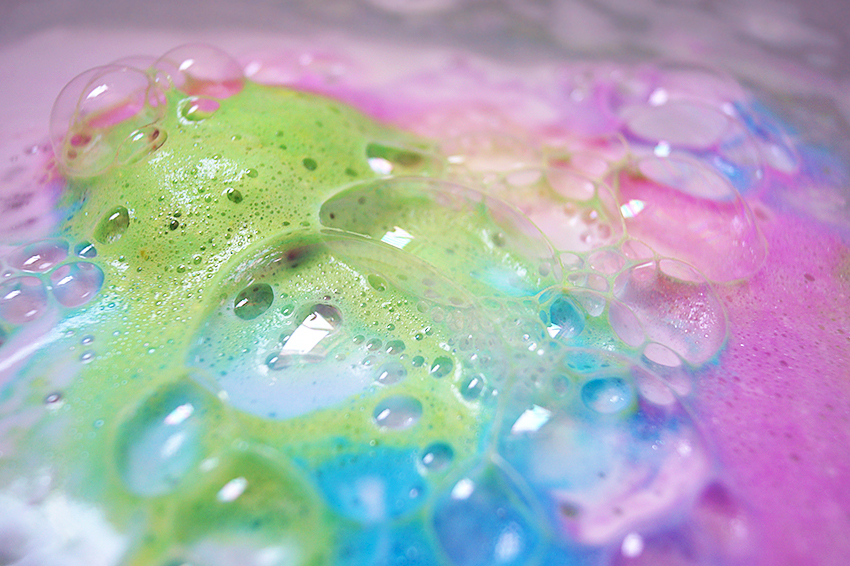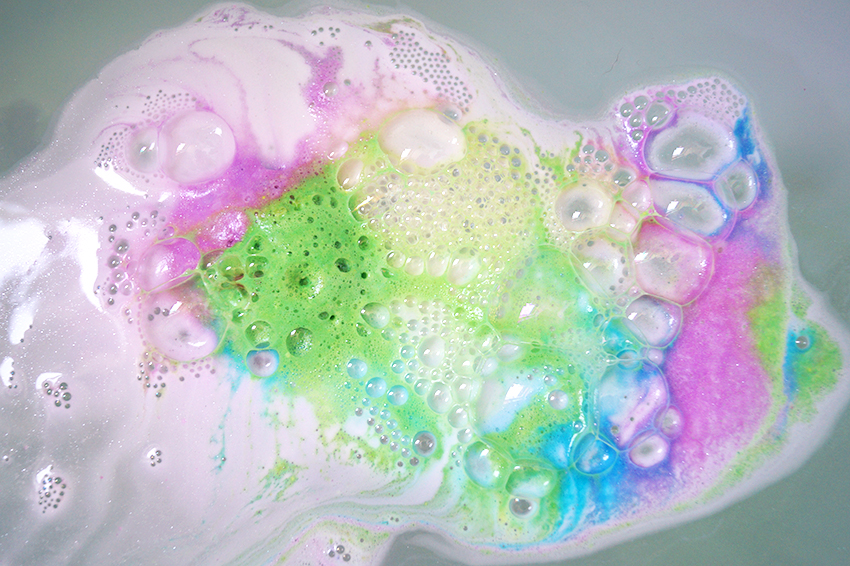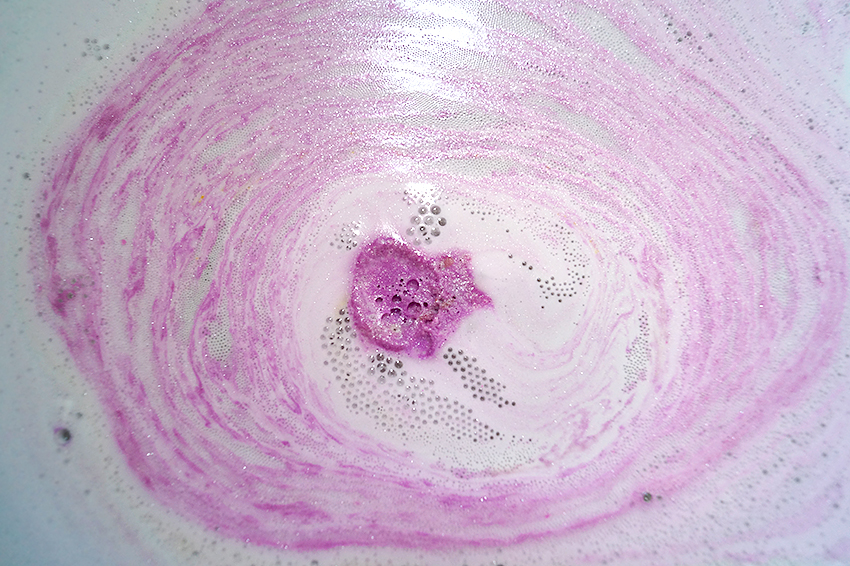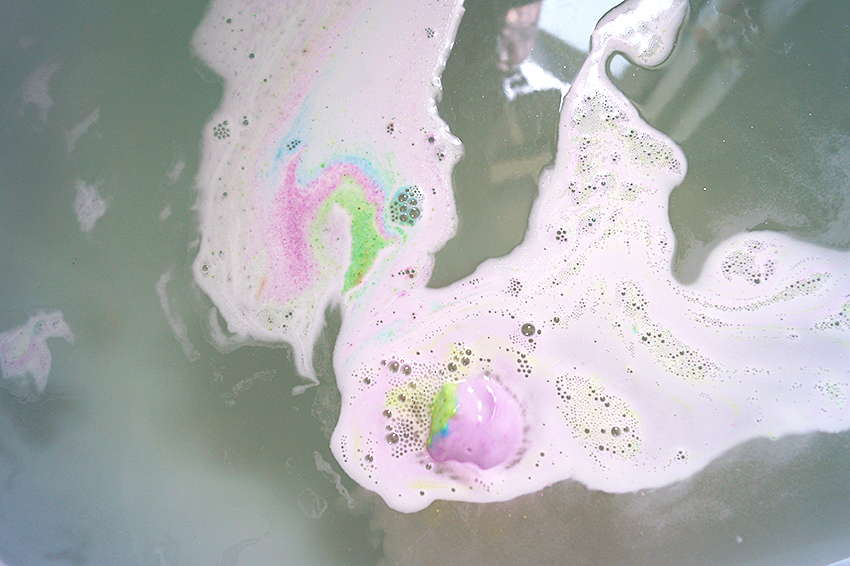 Mijn ervaring
Volgens mij heb ik zelden een bath bomb meegemaakt van Lush die zulke levendige, heldere en felle kleuren uitspuwde. Ik heb echt verliefd staan toekijken! De bath bomb begint met een dikke laag blauw en geel schuim, daarna komen ook lila en groen om de hoek kijken, en daarna zie ik ook nog een échte paars kleur voorbij komen. Al deze prachtige pastelkleuren zorgen voor een waanzinnig bath art, heel kleurrijk. De kleuren zijn zo levendig, alsof er een regenboog in je bad heeft gescheten.
Maar oef, wat valt dat einde tegen. Onder de vrolijk gekleurde buitenste laag, zat een lila kern met wat groene stukjes erin. Deze lila kern zorgt ervoor dat het bad een lelijke eindkleur kreeg. Heel vaal, eigenlijk is het niet eens een kleur. Het bevatte wel talloze zilveren glitters, maar de 'kleur' van het water had van mij een anders gemogen. Flight begon heel spectaculair, maar eindigde een beetje suf. Desondanks heb ik heerlijk gebadderd! De geur kon ik niet heel goed oppikken helaas. Er lag wel een olie-achtig laagje op de oppervlakte dat m'n huid zijdezacht maakte na afloop.
Alleen al voor de prachtige regenboogkleuren in het begin, zou ik hem wel aanschaffen als 'ie naar Europa komt. Maar dan zou ik wel een andere bath bomb toevoegen zodat de uiteindelijke kleur van het water anders wordt, of er een bubble bar bij gebruiken. Dan zie je het water toch niet meer door de bergen schuim! 😂 Maar hoe dan ook, ik zou hem zeker nog eens willen proberen.

Lush Flight Bath Bomb is alleen te koop in de Harajuku winkel in Japan.
2 Responses to Review: Lush Flight Bath Bomb