DIY: Maak een douchegel van een bath bomb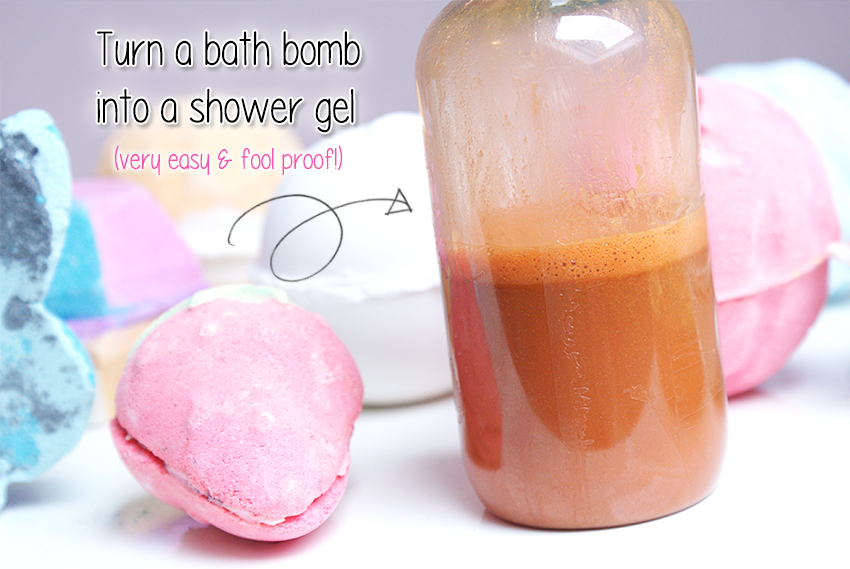 Ja, je leest het goed. Een bath bomb transformeren in een douchegel, het kan echt. En het is echt mega makkelijk. Waarom zou je dit doen? Nou, wellicht heb je nog een bath bomb liggen die je ooit hebt gekregen, en kun je er niets mee, want je hebt geen bad (meer). Dan is het gewoon leuk om een keertje zo'n DIY te hebben gedaan! Mocht je dus nog een bath bomb hebben liggen ergens die je ooit voor Kerst hebt gekregen van een vervelende tante, pak 'em erbij want dit experiment is te leuk om niet te proberen. Vandaag laat ik je zien hoe je het doet!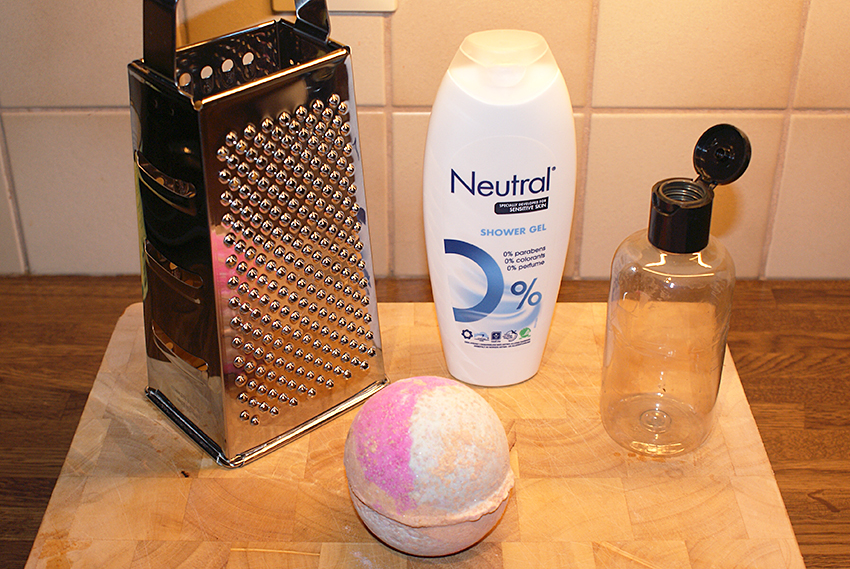 Wat heb je nodig?
Voordat we beginnen, is het handig om alvast wat dingen klaar te zetten op het aanrecht.
Ook handig om te hebben; een lege kom of schaal, een maatbeker, een lepel en een trechter.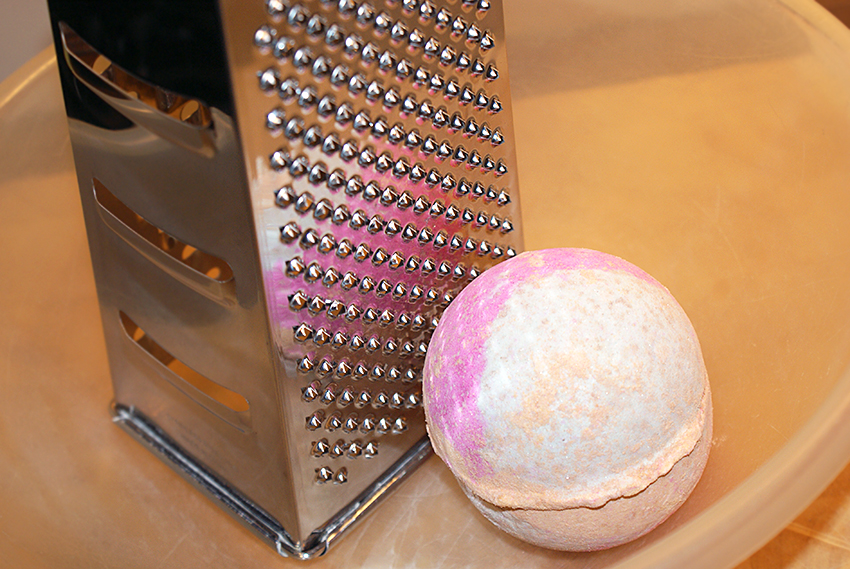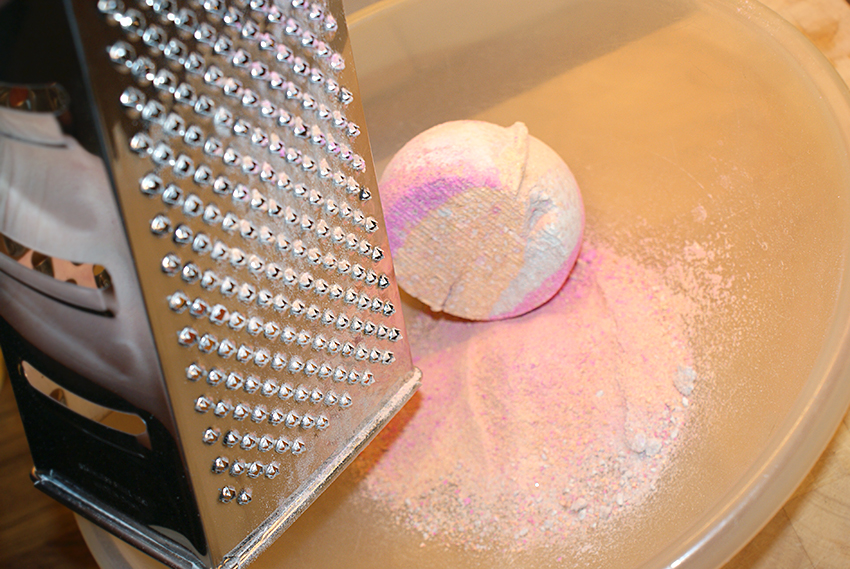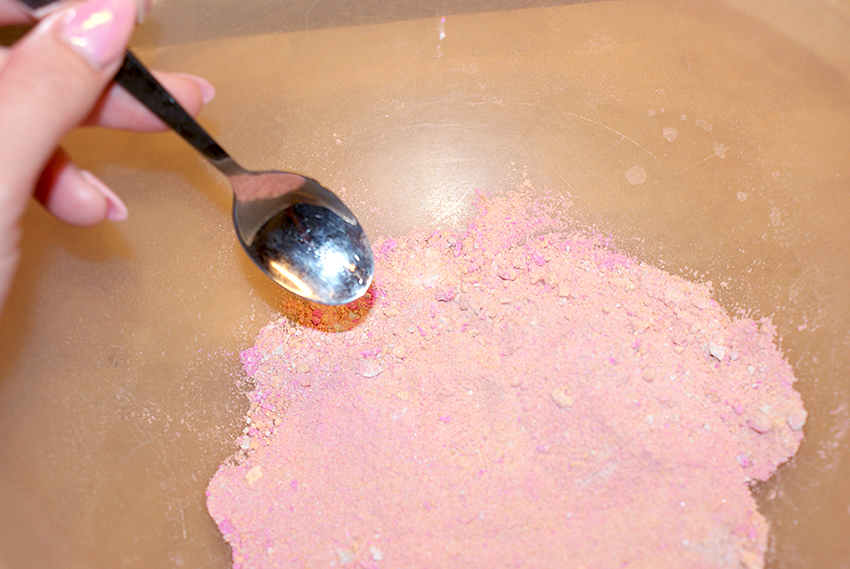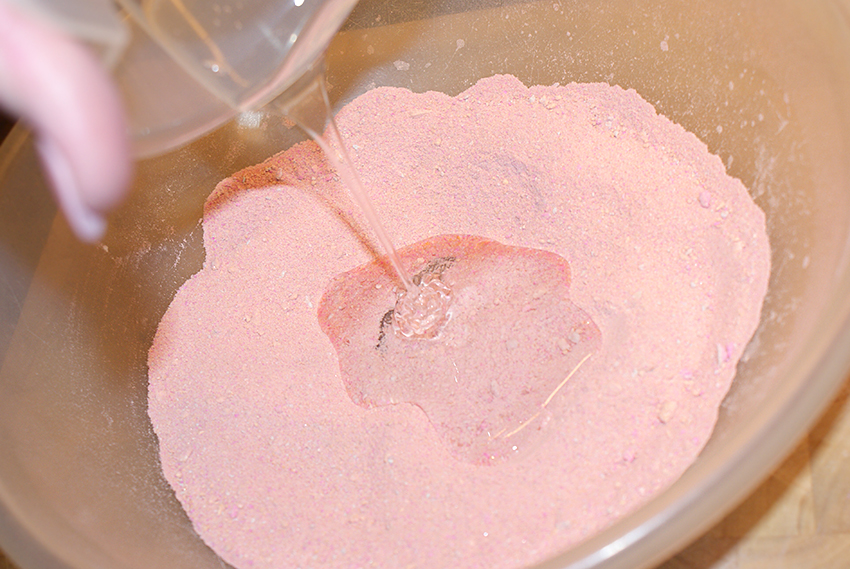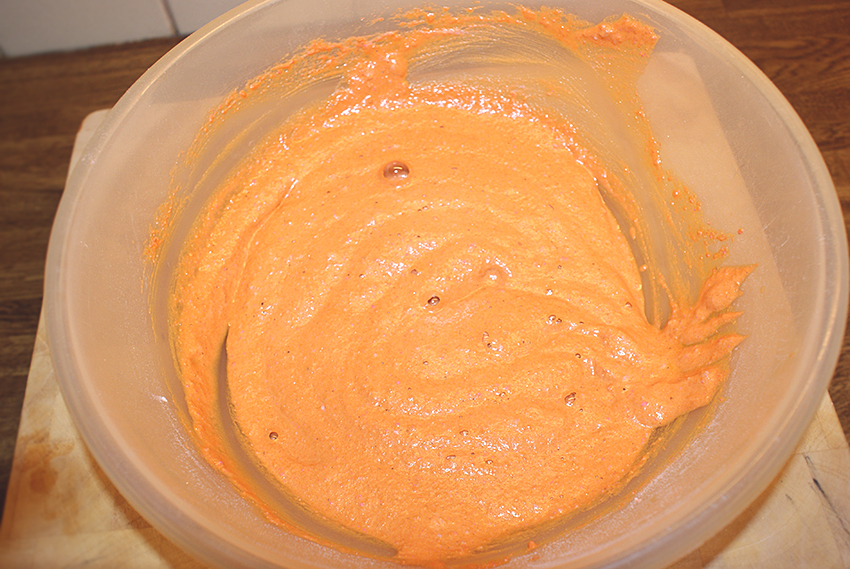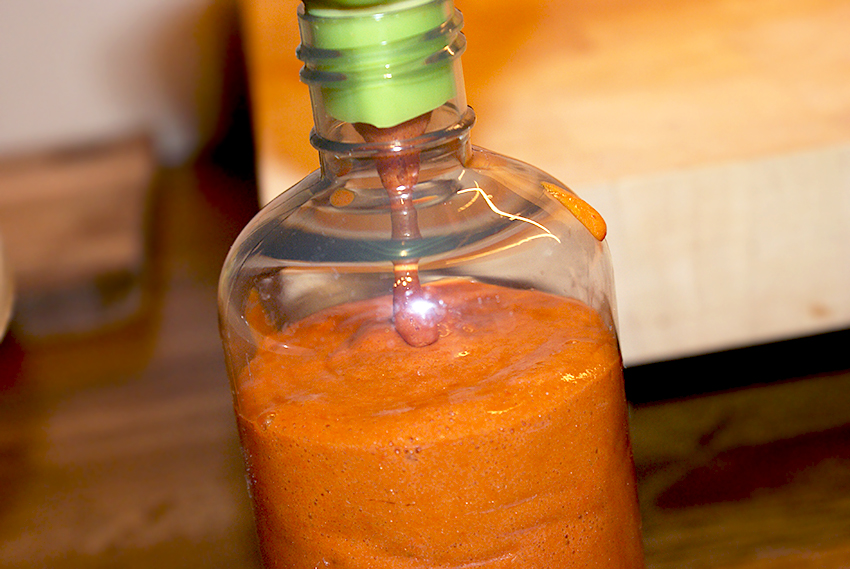 Hoe maak je het?
Je kunt hierboven op de foto's al zien hoe ik het maak. Makkelijk hé? Ik zal nog even, stap voor stap, uitleggen wat je nu precies doet.
Rasp de bath bomb helemaal tot fijne kruimels. Mocht je grovere stukjes overhouden, dan kun je deze pletten met een lepel.
Giet nu 150 ml neutrale douchegel bij het 'stof'.
Ik gebruikte een bath bomb die volgens mij 180 gram weegt, het is de gemiddelde grootte van een Lush bath bomb in ieder geval. Mocht je dus een kleinere bath bomb gebruiken, dan gebruik je ook minder douchegel. Ik zou zeggen dat de verhouding aardig 1:1 is. Gebruik echt niet teveel douchegel, of juist te weinig, anders krijg je heel rare verhoudingen.
Je zult zien dat de verkruimelde bath bomb wat gaat schuimen, dankzij de douchegel erbij. Dit zakt na een half uur weer in, dus ga in de tussentijd iets leuks doen. Zoals mijn blog lezen, ofzo.
Na een half uur is je nieuwe douchegel qua structuur al iets dunner geworden, als het goed is. Zet een trechter op de opening van een lege fles en giet of schep het brouwsel in de lege fles.
Na zo'n 12 uur zul je merken dat de douchegel wat dunner is geworden. Wanneer het schuim opgelost is, houd je iets minder douchegel over, dit is dus normaal. Het is ook normaal dat de kleur anders is dan de bath bomb zelf. Ik gebruikte zelf Harajuku, en hoewel die in bad echt prachtig is qua kleuren, is de douchegel een mega ranzige kleur geworden 🙈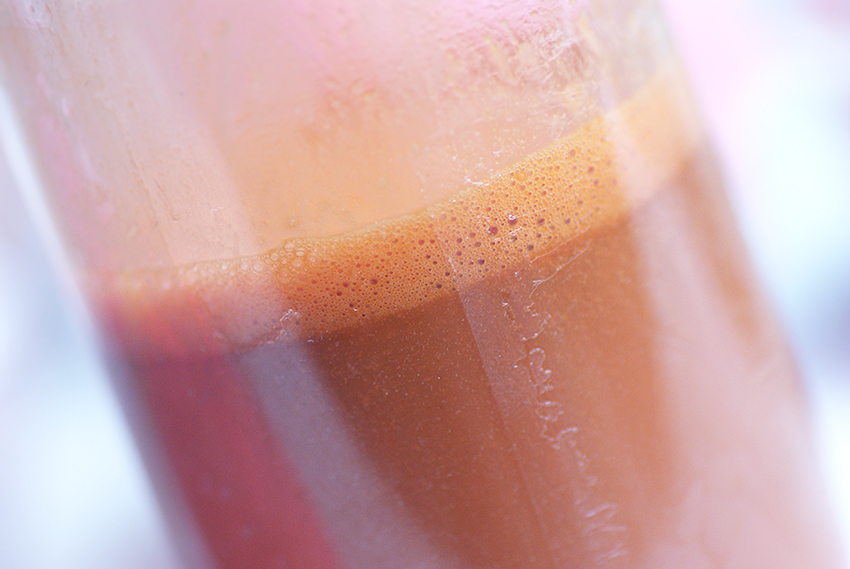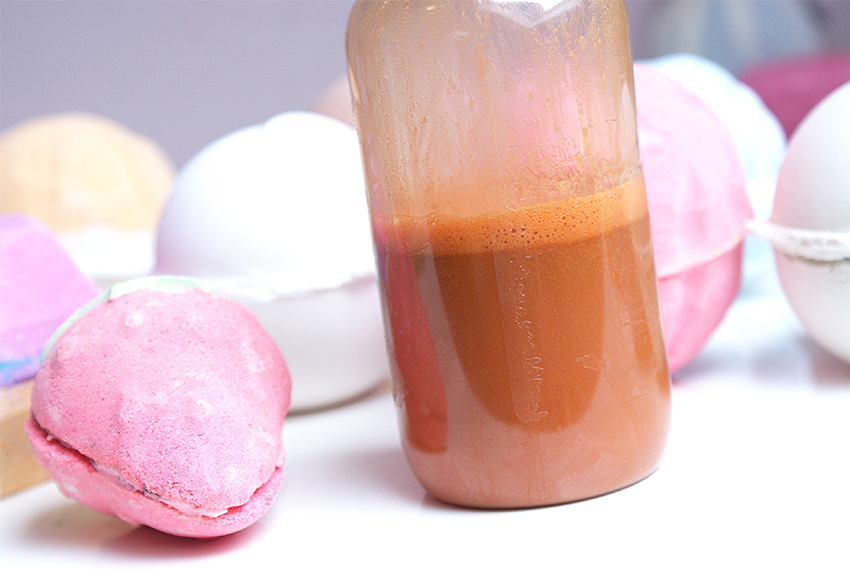 De douchegel is heerlijk onder de douche! Er zit nog wat gruis in de douchegel — dit zorgt voor een milde scrub tijdens het douchen. De geur is goed aanwezig en de hele badkamer zal ruiken naar je nieuwe douchegel. Let wel op, dat er geen conserveringsmiddelen in de douchegel zitten. Gebruik hem dus bij voorkeur binnen 4 weken, daarna weet ik niet hoe de kwaliteit gaat zijn.
Hopelijk vond je deze DIY leuk. De volgende keer ga ik een douchegel van een bubble bar maken, maar mocht je zelf ook nog ideeën hebben voor een DIY, laat het vooral weten! Succes met het maken van je douchegel en mocht je vragen hebben, stel ze gerust in de reacties 😊
4 Responses to DIY: Maak een douchegel van een bath bomb