Review: Lush Cinnamon Orange Bath Oil Tablet
Read this post in
Engels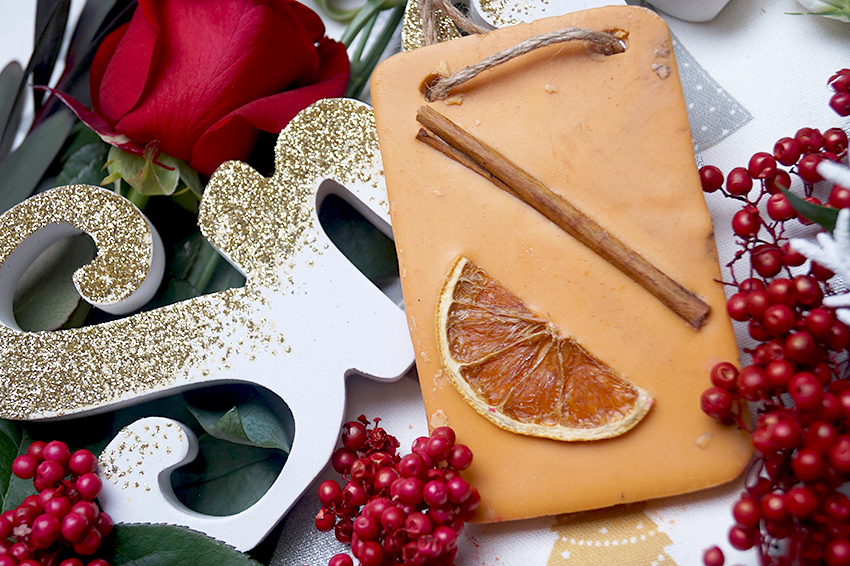 Hoewel ik in eerste instantie niet van plan was de bath oil tablets te kopen, vond ik ze in de winkel er toch wel heel leuk uitzien! Ik besloot om Cinnamon Orange mee te nemen. De geur kun je wel een beetje raden, natuurlijk — een heerlijke, winterse geur. Komt altijd van pas. Ik nam hem dus mee en vandaag review ik hem voor je! Ben je benieuwd, lees dan verderrr.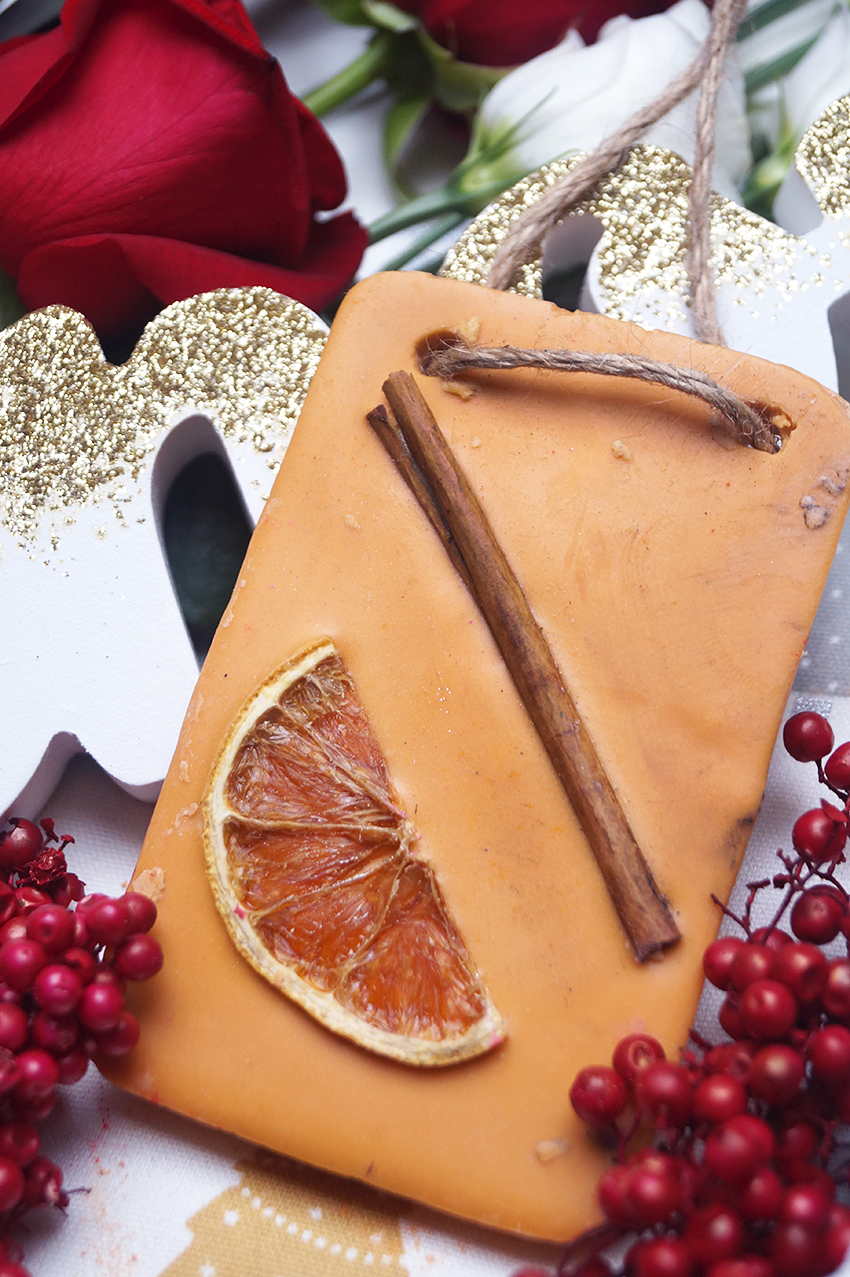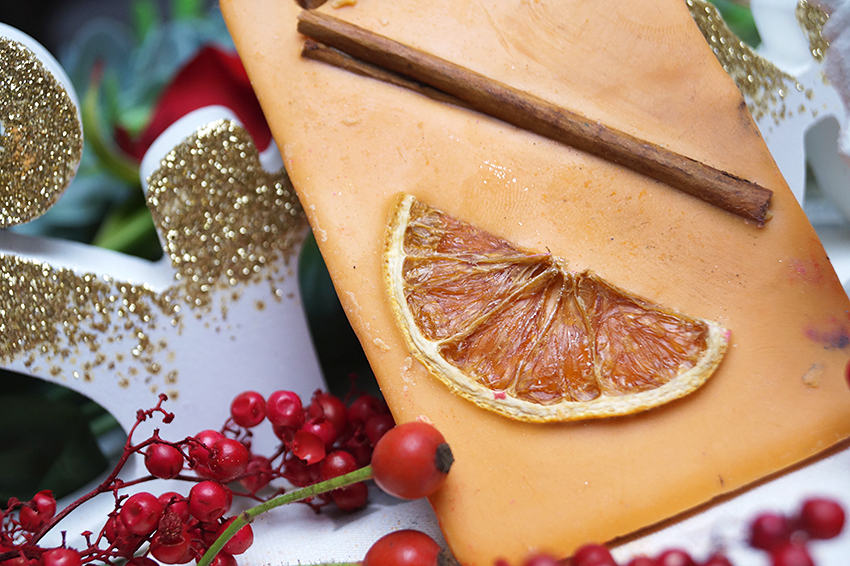 Wat is het?
Ingrediënten: Fair Trade en Biologische Cacaoboter, PEG-7 Glyceryl Cocoaat, Natrium Bicarbonaat (Sodium bicarbonate), Wijnsteenzuur (Potassium bitartrate), Fair Trade Sheaboter (Butyrospermum parkii), Carnabauwas, Biologische Teunisbloemolie (Oenothera biennis), Parfum, Benzoëhars (Styrax tonkinensis), Kaneelbladolie (Cinnamomum zeylanicum), Kruidnagelbladolie (Eugenia caryopyllus), Limoenolie (Citrus aurantifolia), Braziliaanse Sinaasappelolie (Citrus sinensis), Patchouli-olie (Pogostemon cablin), Paprika Oleoresin, *Benzyl Benzoaat, *Benzyl Cinnamaat, *Cinnamal, Coumarine, *Eugenol, *Limonene
Lush Cinnamon Orange Bath Oil Tablet kost €9,00 en is onderdeel van de Kerstcollectie. Een bath oil tablet is eigenlijk gewoon een bath oil, maar dan in de vorm van een tablet. Vierkant en dun, en een stuk groter, maar door de dikte eigenlijk net 'zoveel' als een gewone bath oil. Ze hangen aan een jute touwtje, zodat je hem kunt ophangen aan de kraan in bad. Of kunt vasthouden. Je dumpt hem in ieder geval niet zomaar in bad, tenzij je een paar ledematen wilt breken omdat het bad spekglad is. Ook is hij bedoeld voor meerdere keren gebruik. Je kunt een stukje afbreken en dat in bad keilen, of hem een minuutje onder de kraan houden voor extra zacht en hydraterend water.
Cinnamon Orange bevat een basis van cacaoboter, maar er zit ook sheaboter en carnaubawas in. Deze boters en was zorgt ervoor dat het product smelt in aanraking met (warm!) water. Uiteraard zijn de ingrediënten ook onwijs goed in het hydrateren en verzorgen van de huid! Teunisbloemolie bevat een hoog vetgehalte, waardoor het ideaal is voor de droge huid. Ook kalmeert het de gevoelige en geïrriteerde huid en beschermt het tegen schadelijke invloeden van buitenaf. Benzoëhars reinigt en kalmeert de huid, maar ontspant ook spieren. Zowel kaneelbladolie als kruidnagelbladolie stimuleren de bloedsomloop en verwarmen de huid. Limoenolie bevat enzymen die helpen dode huidcellen te verwijderen, maar heeft ook een positieve uitwerking op de geest. Sinaasappelolie heeft dit ook, maar is ook nog eens ontstekingsremmend en antiseptisch. Patchouli-olie is reinigend en verzachtend en heeft een balancerende uitwerking op de geest.
De geur
De geur is eigenlijk precies zoals je verwacht: kruidig met een tintje sinaasappel. Het is letterlijk kaneel met sinaasappel. Ik vind het een heerlijke geur — niet zo zwaar kruidig, maar goed in balans door de toevoeging van sinaasappel. Volgens mij is de geur exact hetzelfde als Hot Toddy! Ze bevatten in ieder geval allebei vrijwel dezelfde oliën, en ik ruik weinig verschil tussen de twee. Misschien dat de sinaasappel in Cinnamon Orange iéts meer aanwezig is. Maar het is hoe dan ook een geweldige geur.
Speel het filmpje af in 2160p kwaliteit en op volledig scherm voor de beste ervaring! Het filmpje speelt zich versneld af.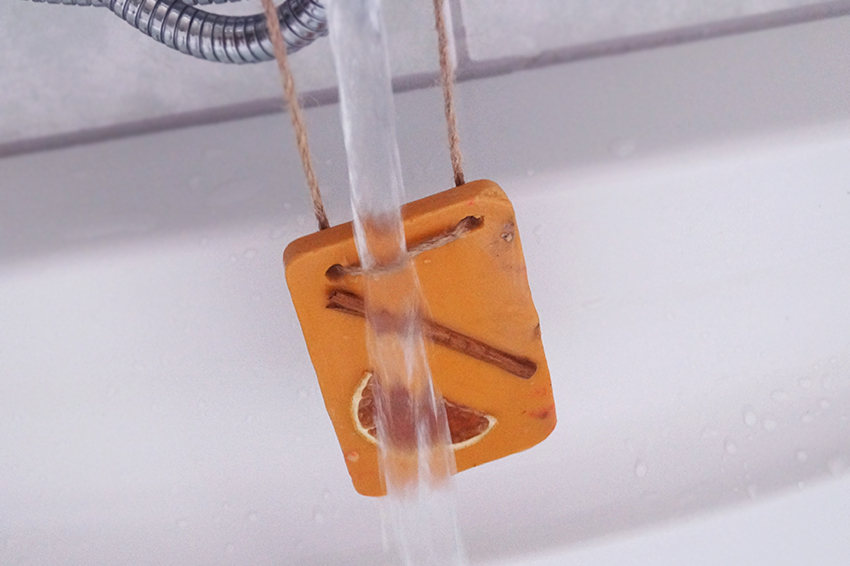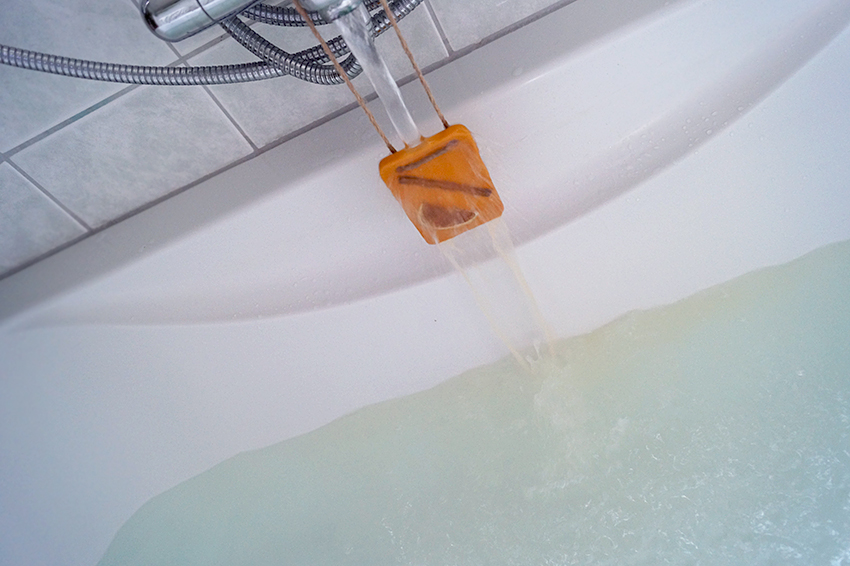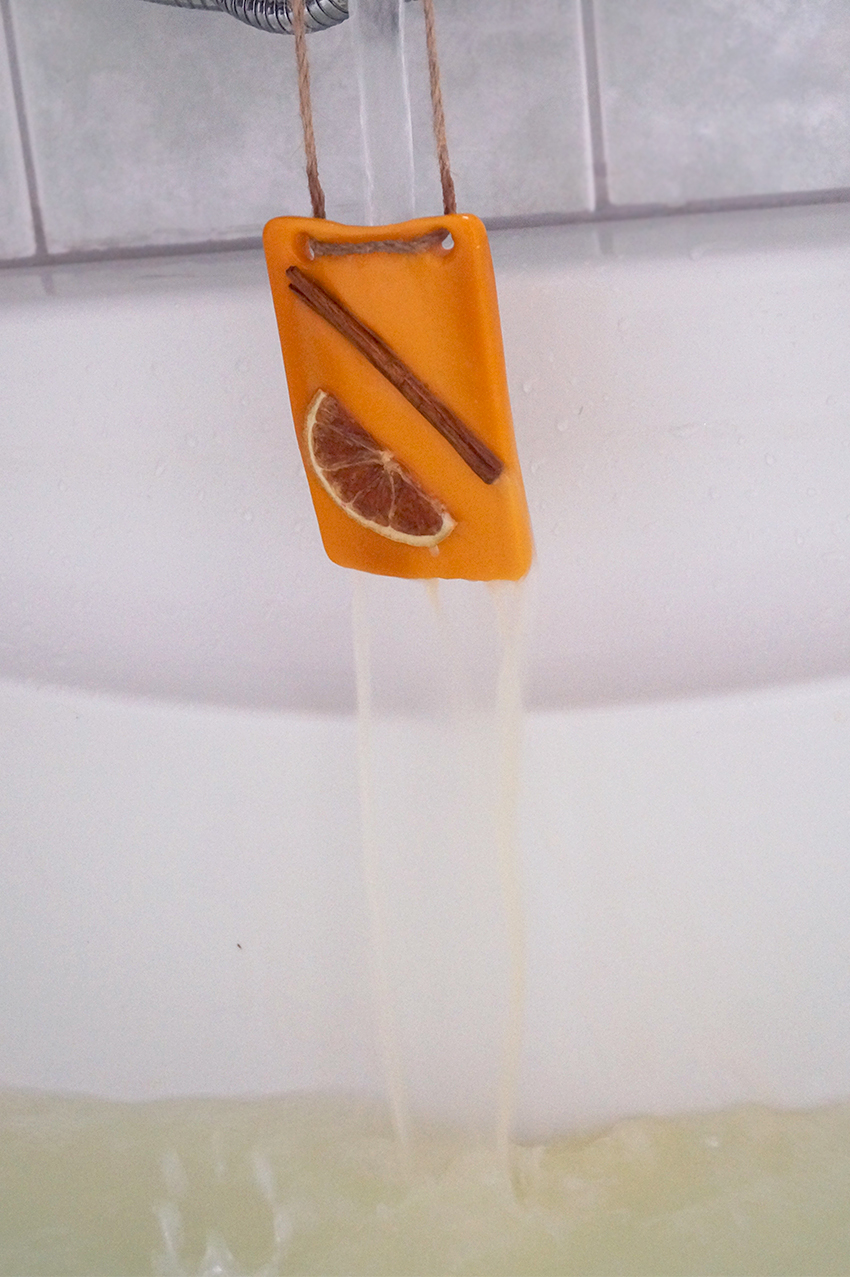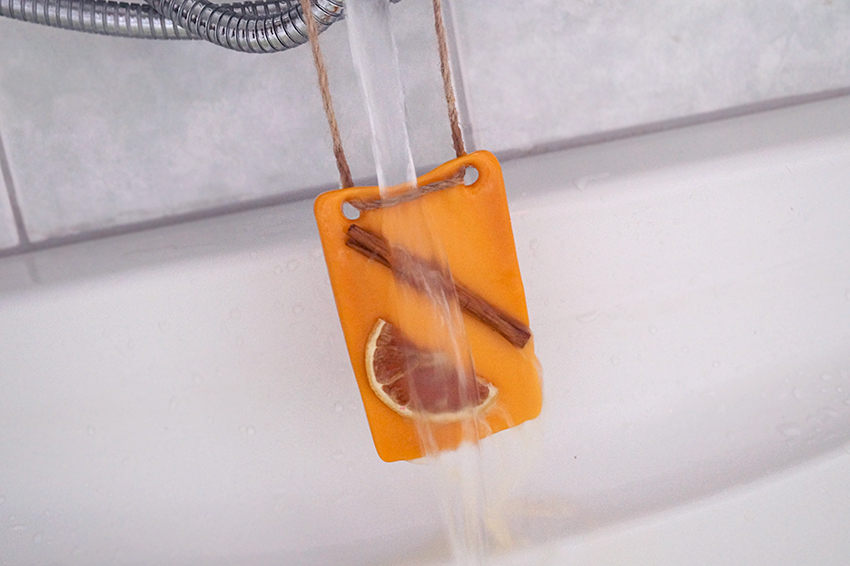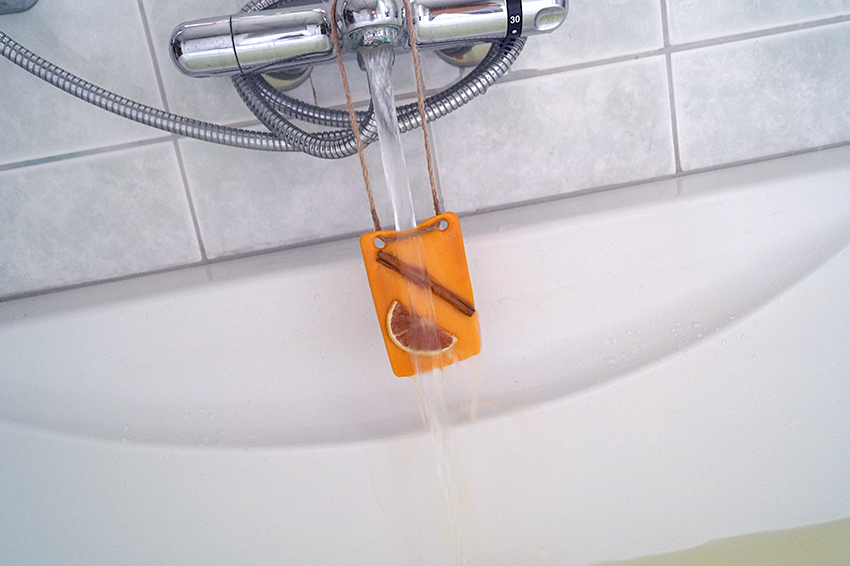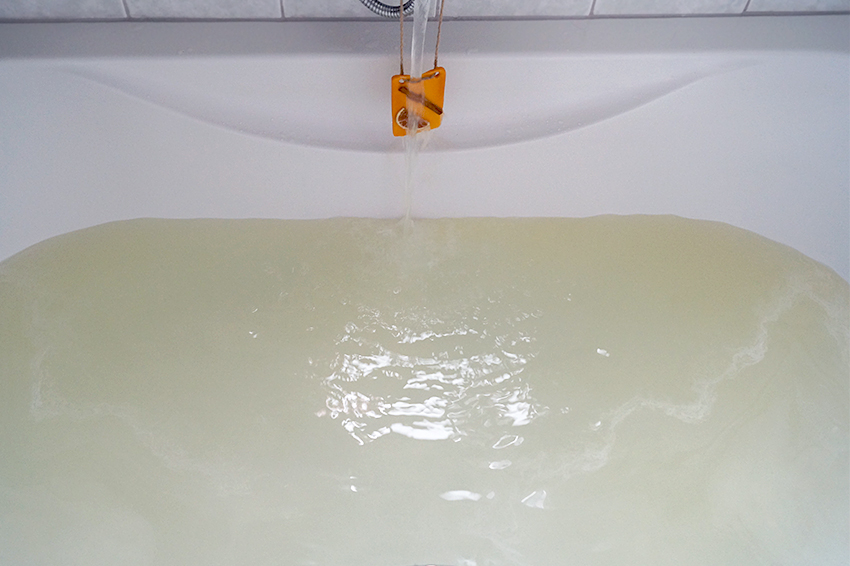 Mijn ervaring
Ik had net een flinke wandeling achter de rug door de regen en wind, dus bij thuiskomst was er geen twijfel aan mogelijk: bad vullen en Cinnamon Orange aan de kraan hangen. In het begin wiebelt hij flink heen en weer door de kracht van het vallende water, maar eventjes goed positioneren en daar gaan de oliën — ze glijden van de bath oil tablet zo in het water. Na ongeveer een minuut is er al zodanig veel van de tablet afgesmolten door het warme water, dat wanneer ik hem pak, de tablet losschiet van het touwtje en in het water valt. Niet zo erg, maar wees dus gewaarschuwd dat hij érg snel smelt — ik denk dat hij na één minuut in het warme water al voor de helft op is!
Het water zelf is niet aantrekkelijk. Lichtbruin, heel vettig — hoewel dat juist is wat mijn droge huid wel fijn gaat vinden. Mijn bad echter niet, want na afloop zit er een vet gore, plakkerige, vette rand ter hoogte van de oppervlakte van het water. Maar goed, dat nemen we maar voor lief — mijn huid is in ieder geval goed opgeknapt na een halve Cinnamon Orange tablet. Een licht vettig laagje blijft er achter op m'n huid, dat er nog uren blijft zitten. M'n huid voelt soepel, zacht en gehydrateerd aan en zowel m'n huid als de badkamer ruikt nog naar heel lang naar Cinnamon Orange. De badkamer rook zelfs na 8 uur nog naar Cinnamon Orange, waarschijnlijk door het plaklaagje in bad.
Ik zou zelf aanraden om een kwart af te breken en dat in het warme water te leggen. Wanneer je de tablet aan de kraan hangt, komt er al snel te veel af. Lekker voor je huid, maar niet voor je bad. Als je een kwart gebruikt, doe je er 4 keer mee, dus €2,25 per bad. Combineer hem wel met een bath bomb, want zo alleen is hij erg saai in bad. Het is ideaal om toe te voegen aan een bad wanneer je extra hydratatie wilt!

Lush Cinnamon Orange Bath Oil Tablet kost €9,00. Hij behoort tot de tijdelijke Kerstcollectie.
3 Responses to Review: Lush Cinnamon Orange Bath Oil Tablet