Review: Lush Strawberry Hill en Beak Street Shower Bombs
Read this post in
Engels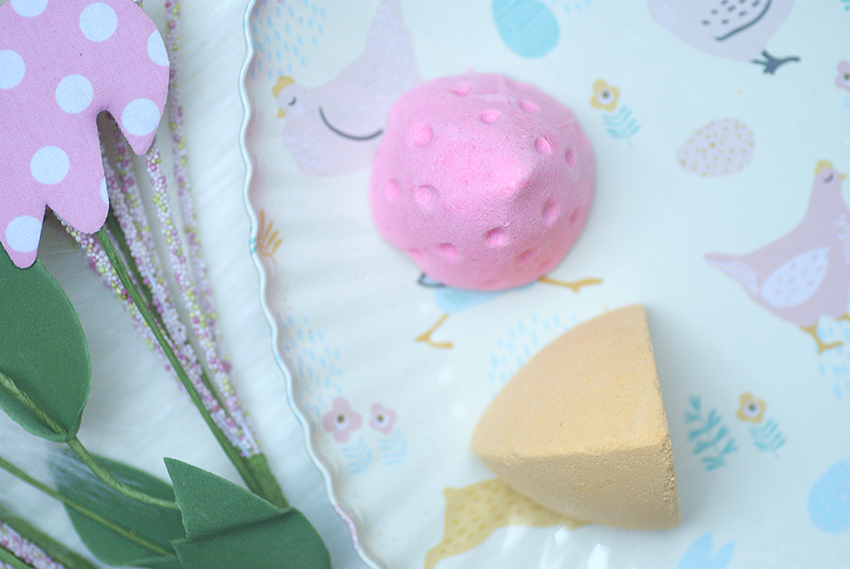 Shower bombs, ik hou van ze. Ik heb er al een aantal gereviewed, dus als het goed is heb je al kennis kunnen maken met deze nieuwe naked doucheproducten. Zo niet, leg ik het nogmaals met liefde uit! Ze zijn namelijk echt de moeite waard om te leren kennen. In zowel de Paascollectie als in de Moederdag collectie zat een shower bomb, dus dat vraagt natuurlijk om een review. Hoe kon het ook anders.
Lees je verder?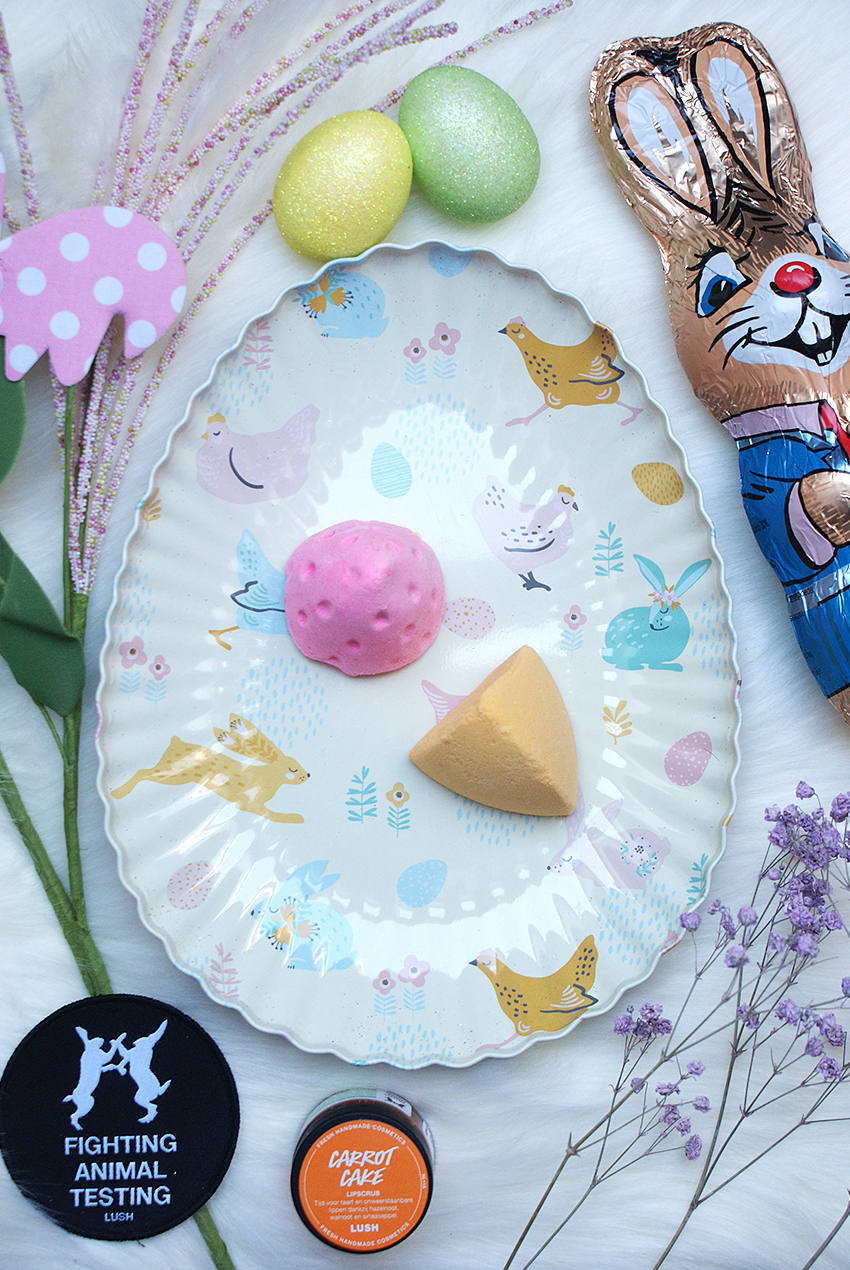 Wat is een shower bomb?
Lush shower bombs kosten €2,95 per stuk. Zo ook dus deze Strawberry Hill (Moederdag collectie) en Beak Street (Pasen collectie). Je neemt ze mee onder de douche, in aanraking met water begint de shower bomb te schuimen — er ontstaat een romig en dik schuim, waarmee je jezelf in smeert. Een luxe manier van douchen, dus! Je kunt hem ook meerdere keren gebruiken, dat leg ik uit in dit artikel. Het zijn heerlijke doucheproducten, en dat zonder verpakking. Je betaalt er iets meer voor, maar het is dan ook wel harder genieten dan een douchegel, vind ik.
Op dit moment zitten er vier shower bombs in het vaste assortiment. Drie daarvan heb ik getest: Koyaanisqatsi, Not Sleepy en Sleepy. Van de vierde, Karma, komt nog een review.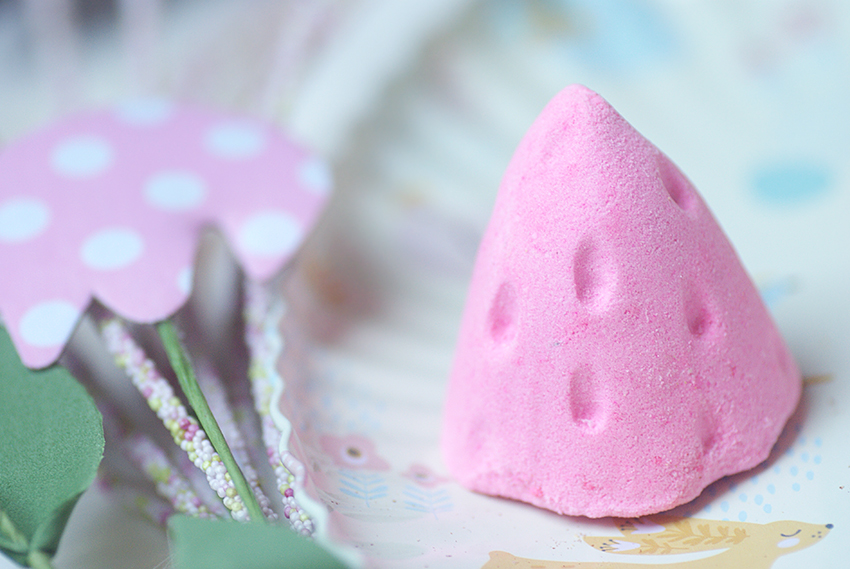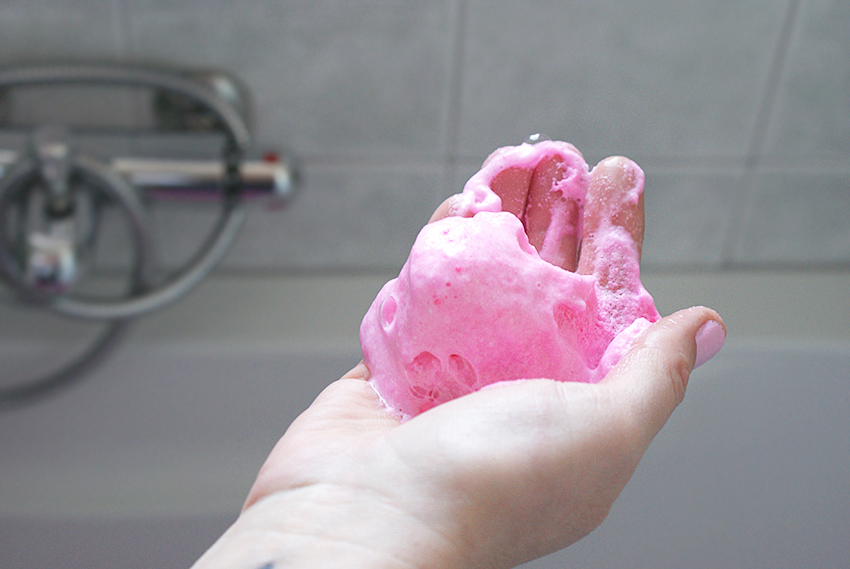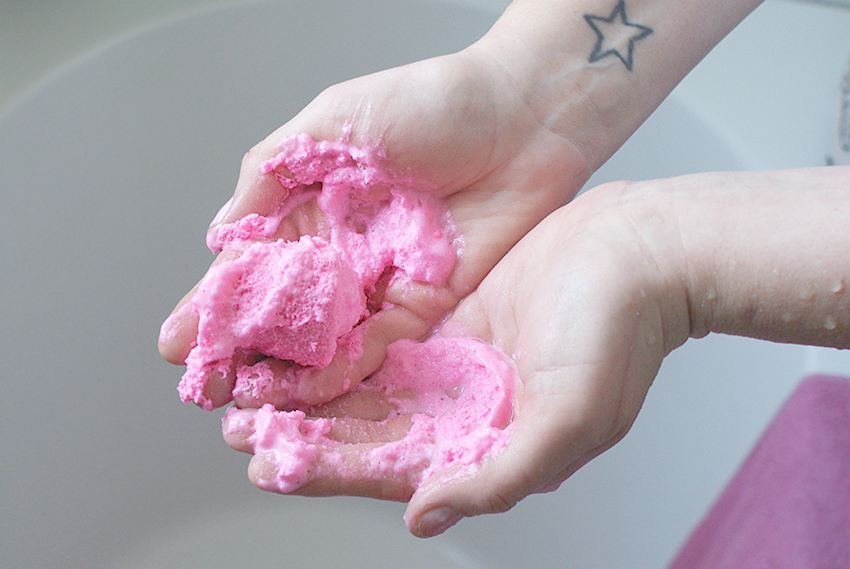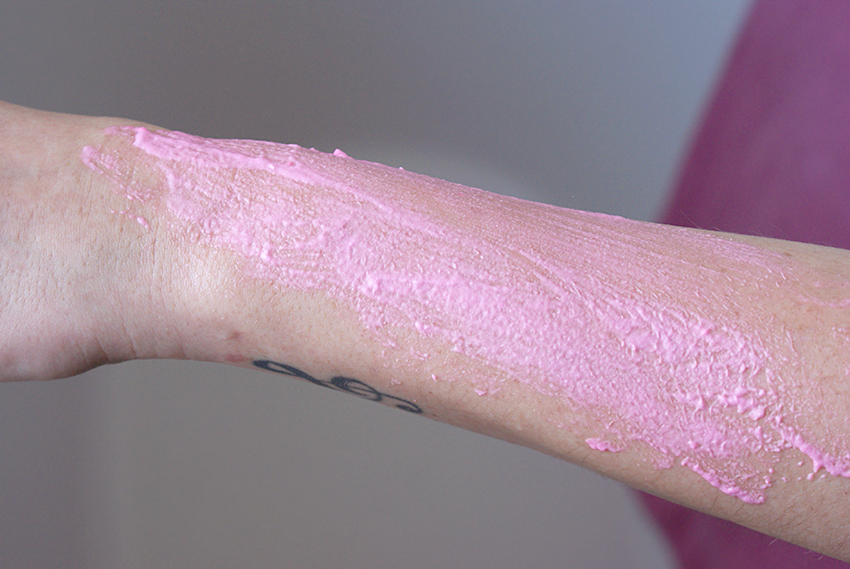 Strawberry Hill
€2,95 – link
Een superdeluxe douche-toetje, aldus Lush. Vanille absolue, zoete wilde sinaasappelolie en roos absolue zorgen voor een zoete, fruitige geur die ook iets warms over zich heen heeft dankzij de rozen erin. Ik had de geur iets opvallender verwacht, als ik zo aan de shower bomb ruik vind ik de geur wat subtieler. In de douche komt er een roze mousse vrij, hiermee smeer je je lijf in. Mijn ervaring is dat je van één shower bomb onwijs veel schuim (mousse) creëert, dus je kunt hem aan de kant leggen om te laten drogen.
Deze roze shower bomb schuimt flink wanneer de waterdruppels hem raken, de geur is nu iets meer aanwezig (ik vind hem nu wat bloemiger ruiken) en de mousse die eraf komt is hemels — heel romig en dik. Het voelt heerlijk aan, maar smeert ook erg prettig uit. Ik voel onder de douche al hoe zacht m'n huid is, maar na het afdrogen voelt hij helemáál megazacht aan!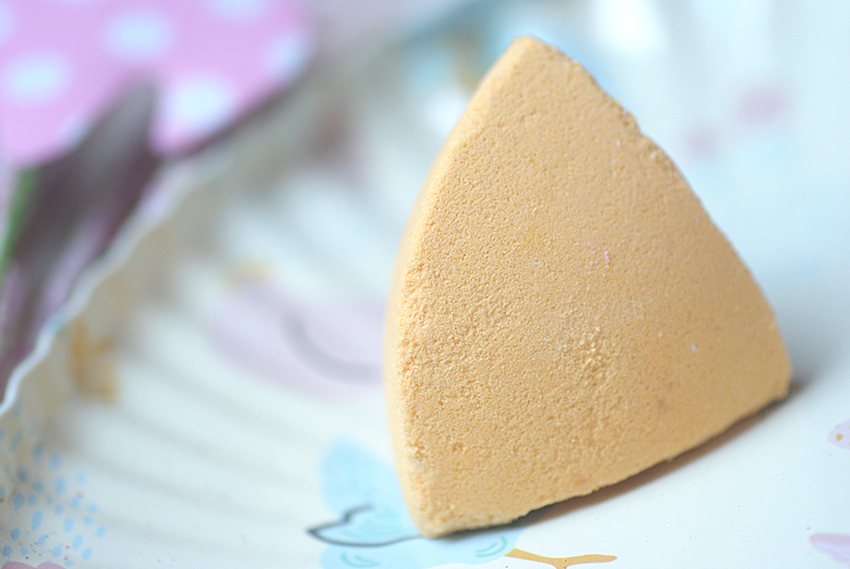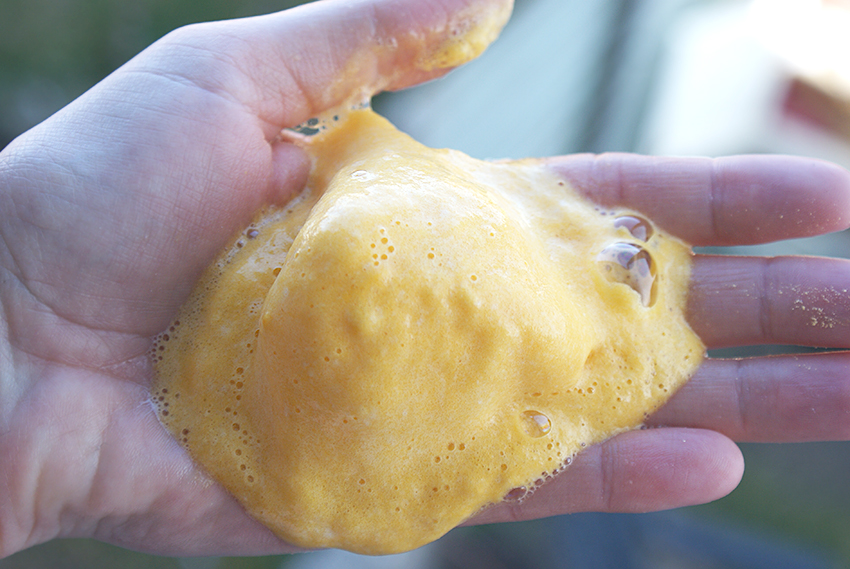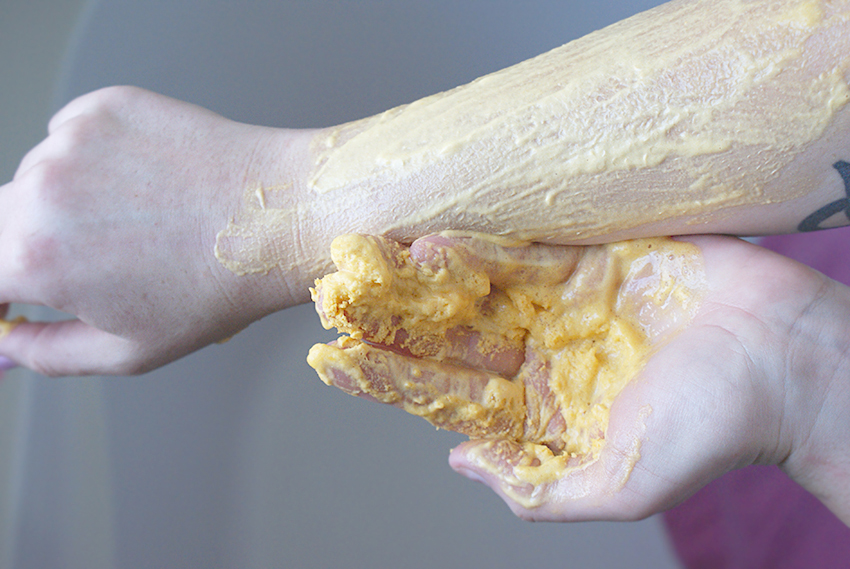 Beak Street
€2,95 – link
Mocht je je afvragen wat een rare vorm dit is; het moet een snavel voorstellen. Pasen enzo. 🐣 Hij bevat geen natuurlijke oliën of absolue zoals Strawberry Hill, iets wat niet vaak voorkomt bij Lush. Het verschil met andere shower bombs, is dat deze eigenlijk alleen maïsmeel bevat. Maar.. niet getreurd, want hij heeft de geur van Let The Good Times Roll!! En dat is één van m'n favorieten producten van Lush. Deze heeft een goddelijke, boterige en zachte popcorngeur. Beak Street dus ook — maar ook weer heel subtiel, ik moet echt m'n best doen om iets te ruiken. Hopelijk is dat in de douche anders.
Beak Street schuimt nog harder dan alle andere shower bombs die ik heb gehad. Je hoeft op deze maar een beetje water te laten vallen, en hij explodeert tot een grote dot mousse in je hand — met daarin ergens een verdwaalde shower bomb. Er zit een milde scrub in, dus tegelijkertijd kun je de huid heerlijk scrubben. De geur is beter aanwezig en verspreidt nu door de hele douche. Ik ruik nu ook duidelijk de romige geur van popcorn 😊 De huid voelt na afloop erg zacht aan, dus ondanks het gebrek aan oliën in de shower bomb, verzorgt en verzacht hij de huid wel. Ik voel duidelijk verschil, in ieder geval!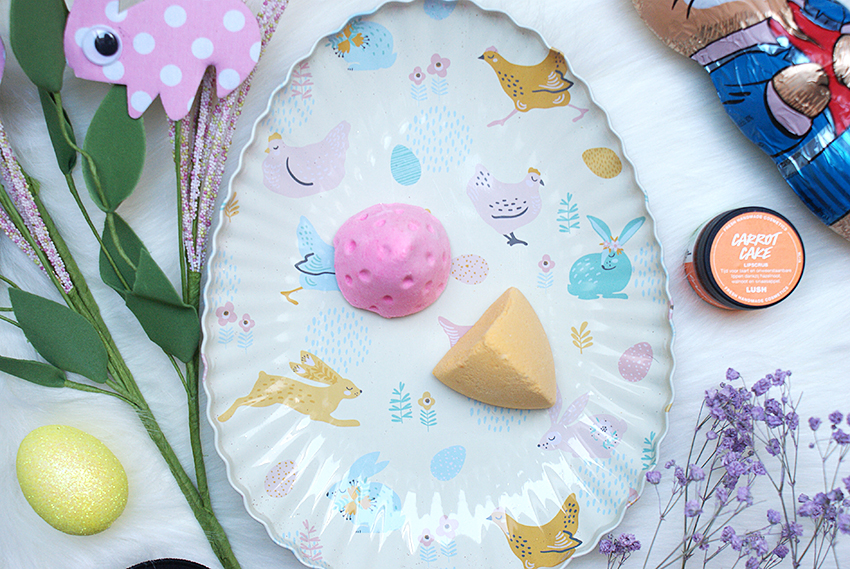 Conclusie
Lovend was ik al over de shower bombs, maar over Beak Street ben ik het meest tevreden. De geur is heerlijk (popcorn!) en het is echt een genietmomentje in de douche wanneer ik deze gebruik. Ik gebruik hem meerdere keren, want er komt genoeg mousse vanaf voor drie lichamen. Strawberry Hill vond ik ook heerlijk, maar die zal ik niet opnieuw kopen. Dan vind ik de geur van Beak Street net even wat lekkerder!
Spreekt dit product je aan? Dan raad ik je aan om zeker even langs Lush te gaan en te ruiken welke je het lekkerste vindt. 😊
11 Responses to Review: Lush Strawberry Hill en Beak Street Shower Bombs