Review: Lush Dragon's Egg Bath Bomb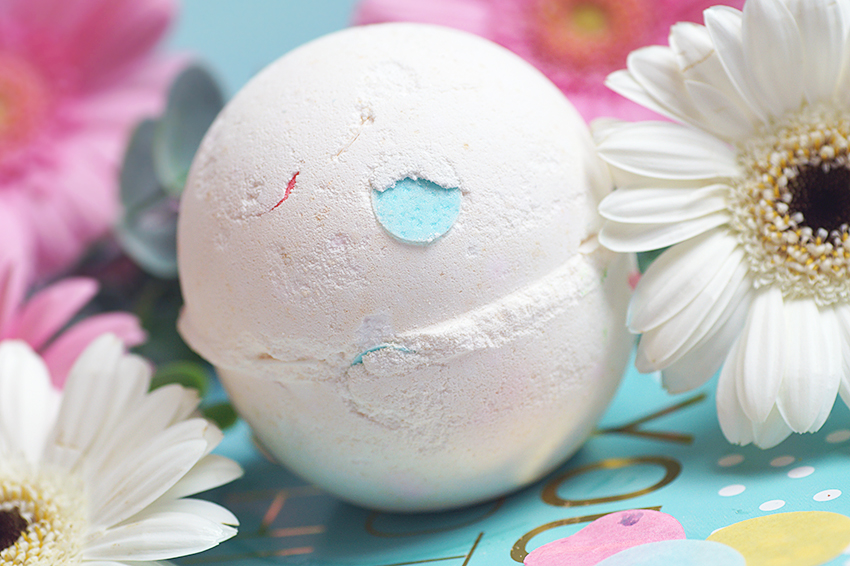 Dragon's Egg is een bath bomb die ik altijd maar over 't hoofd zag. Veel te druk bezig met de Harajuku bath bombs, zullen we maar zeggen. Nu ik vrijwel alle Harajuku bath bombs heb gereviewed die ik wilde testen, is het tijd voor de reguliere bath bombs. Ik had hem ooit wel eens gehad in 2015, maar vond hem kennelijk niet spannend genoeg om daarna nog eens te kopen. Nu dat ik meer reguliere bath bombs aan het testen ben, is het tijd om Dragon's Egg nog eens te testen. Lees je mee?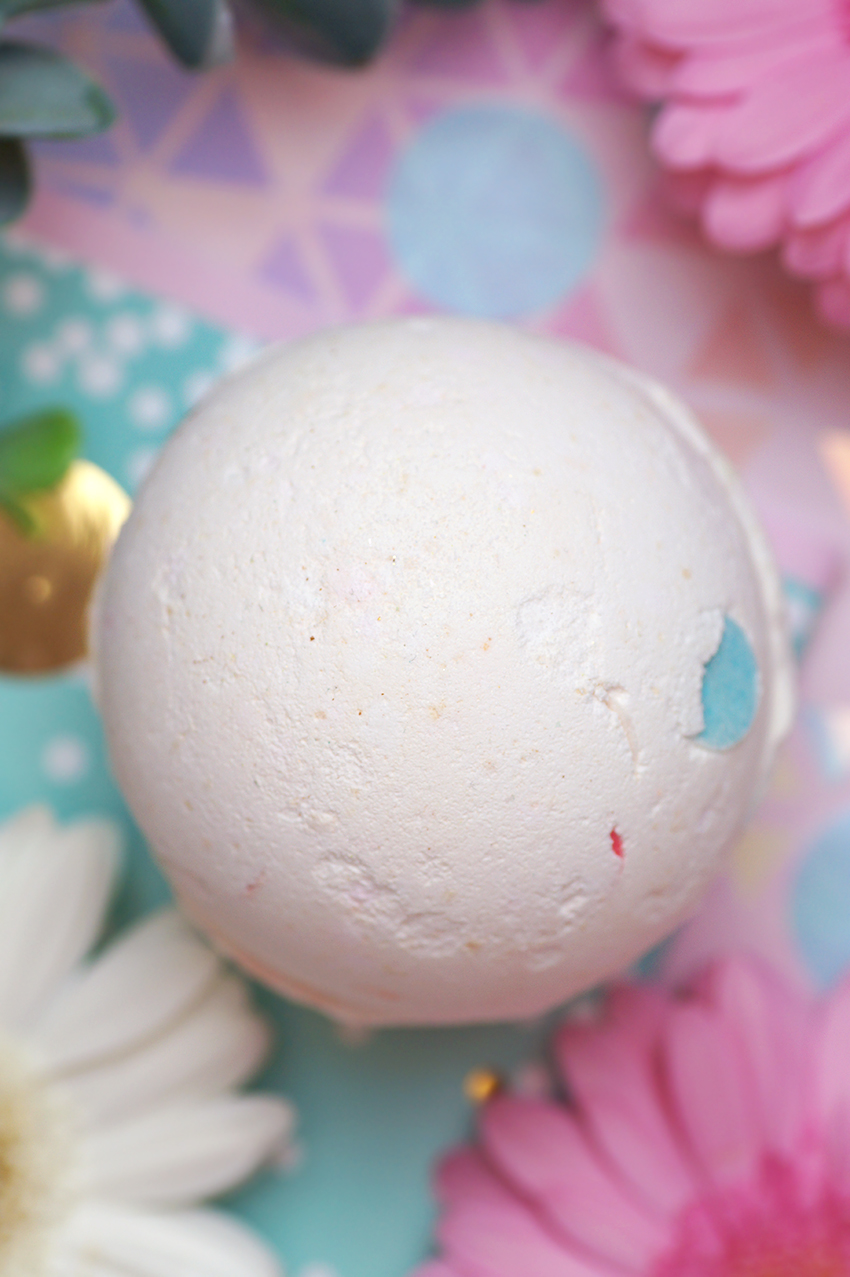 Wat is het?
Ingrediënten: Natrium Bicarbonaat (Sodium bicarbonate), Citroenzuur (Citric acid), Parfum, Knettersnoep, Citroenolie (Citrus limon), Bergamotolie (Citrus aurantium bergamia), Jasmijn Absolue (Jasminum Grandiflorum), Wijnsteenzuur (Potassium bitartrate), Water (Aqua), Gardenia-extract, Natrium Laureth Sulfaat, Laurylbetaïne, Propyleen Glycol, *Citral, *Limonene, *Linalool, Radiant Gold Glanspoeder; Goud Glanspoeder (Potassium Aluminium Silicaat), Titanium Dioxide, Tinoxide, IJzeroxide, Synthetische Fluorflogopiet, Silica, Kleurstof 77491, Kleurstof 77492) Silica, Kleurstof 15510 (CI 15510), Kleurstof 17200, Kleurstof 14700, Kleurstof 45410, Rijstpapier
Lush Dragon's Egg Bath Bomb kost €5,50 en is onderdeel van het vaste assortiment. Hij draait al jaren mee, het is één van de klassiekers bij Lush. Hij bevat citroenolie, bergamotolie, jasmijn absolue en gardenia extract. Deze ingrediënten reinigen, verzachten en verfrissen de huid. Wat betreft z'n uiterlijk is het niets spannends. Zoals ik al zei, het is een bath bomb die je snel over het hoofd ziet. Er zit gekleurd confetti op, gemaakt van rijstpapier, en ook bevat de bath bomb knettersnoep. Altijd een leuke verrassing.
De geur is onwijs fris en citrusachtig — geen wonder met citroenolie en bergamotolie als voornaamste ingrediënten! Toch merk je dat er ondanks de dominante, aanwezige geur van de citroen, er ook een wat warmere, bloemige geur te ruiken is. Het bloemige van de jasmijn zorgt ervoor dat de citroen en bergamot niet overheersen, waardoor de geur iets minder scherp wordt. Deze combinatie zorgt voor een lekkere geur, hij is perfect in balans! Het is een frisse, verkwikkende en vrolijke geur. Voor zover bekend, deelt dit product alleen z'n geur met FUN With a Twist.
Speel het filmpje af in 2160p kwaliteit en op volledig scherm voor de beste ervaring! Het filmpje speelt zich versneld af.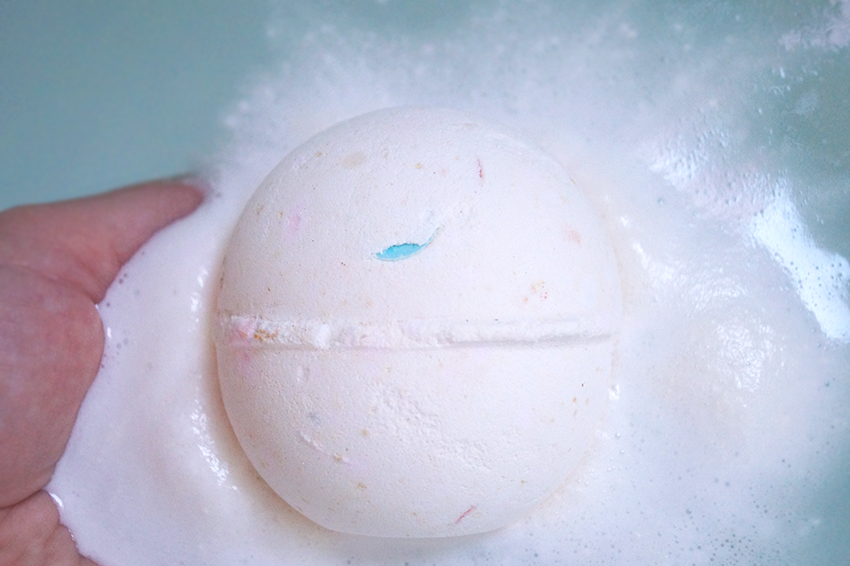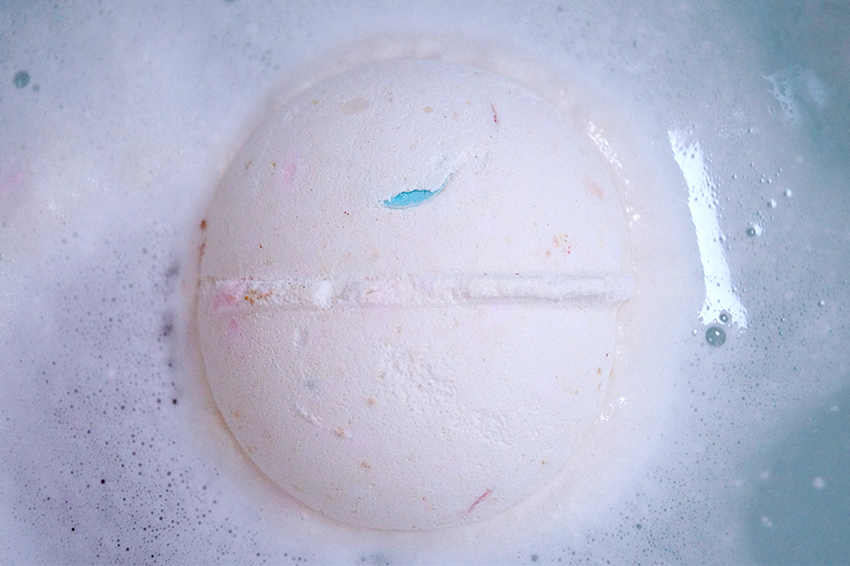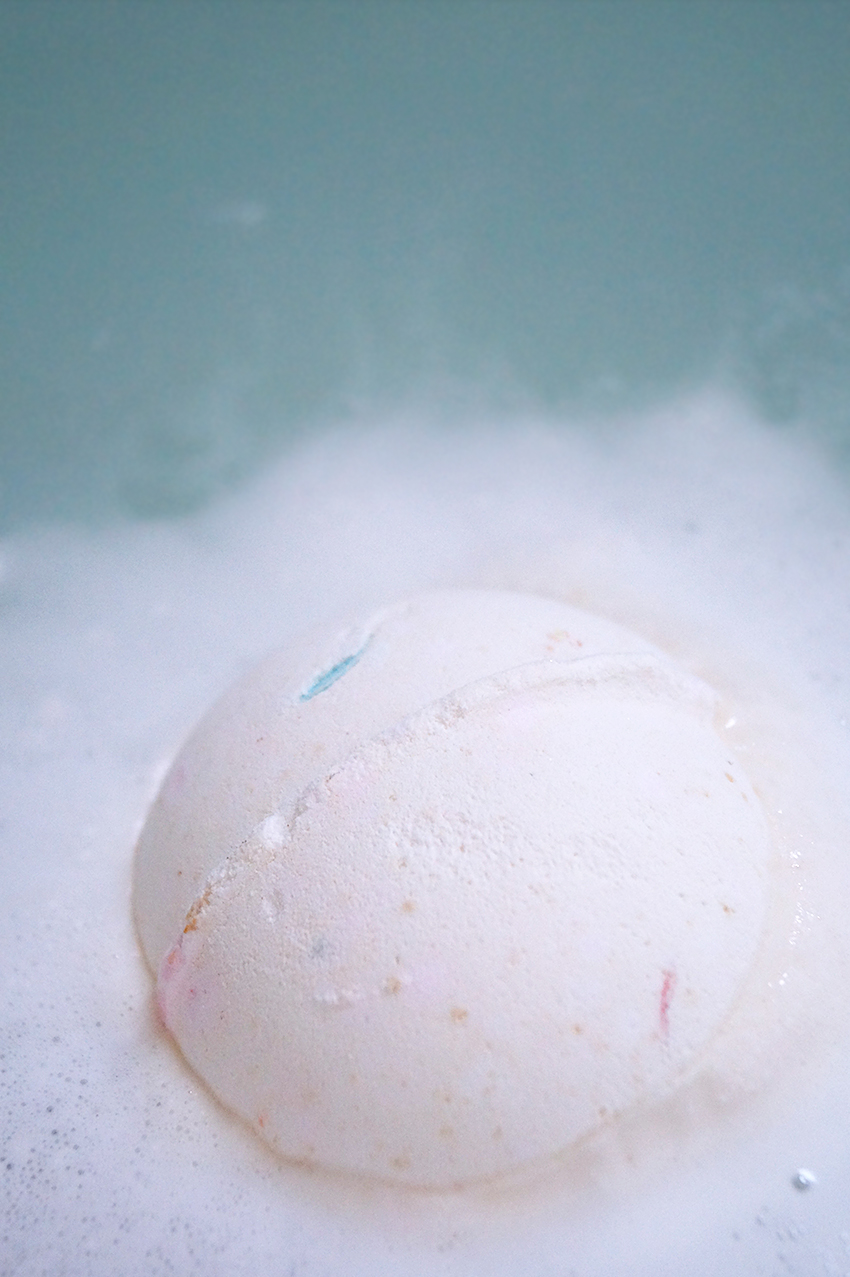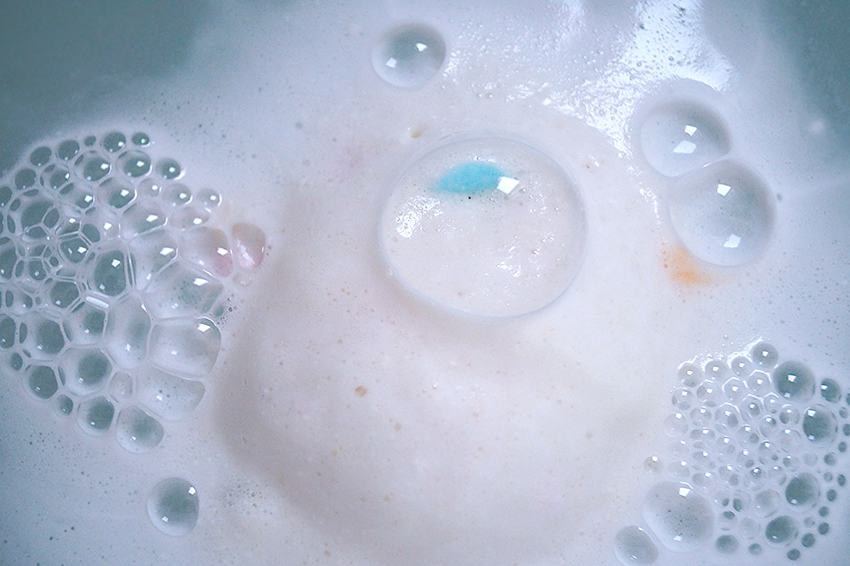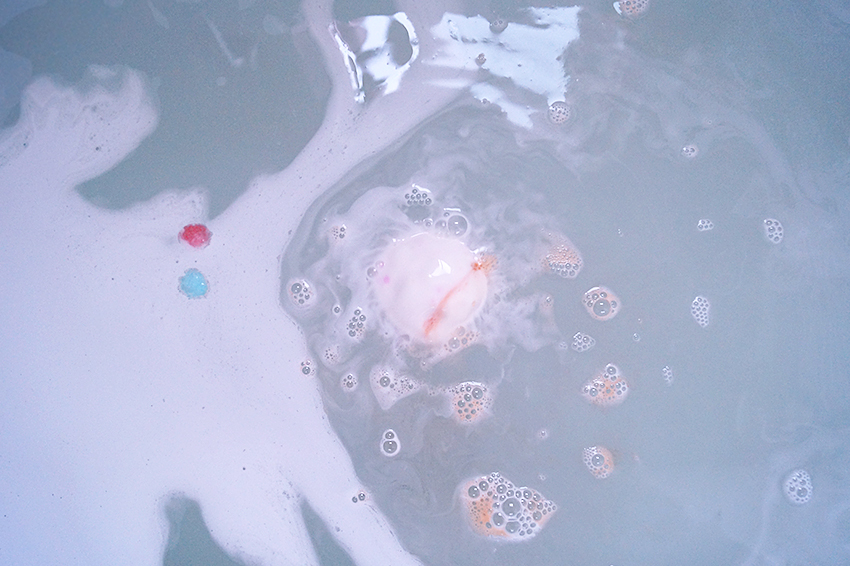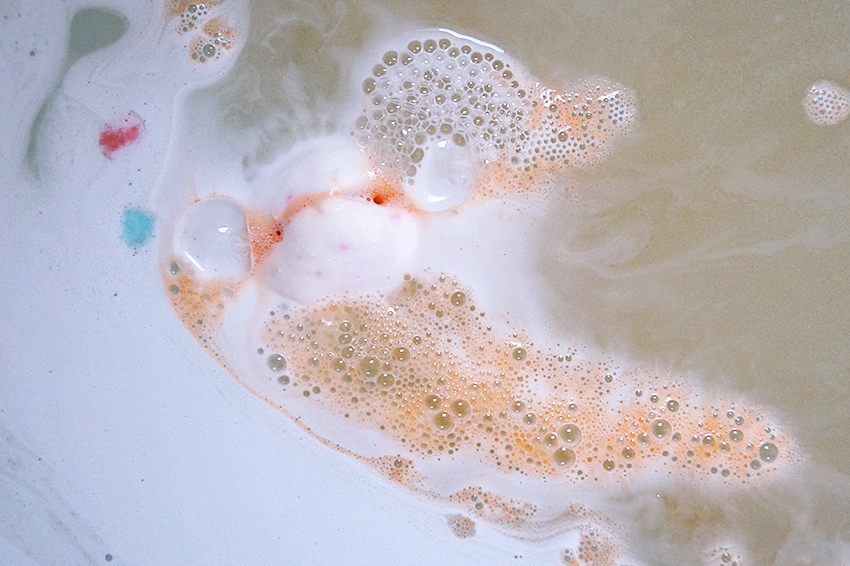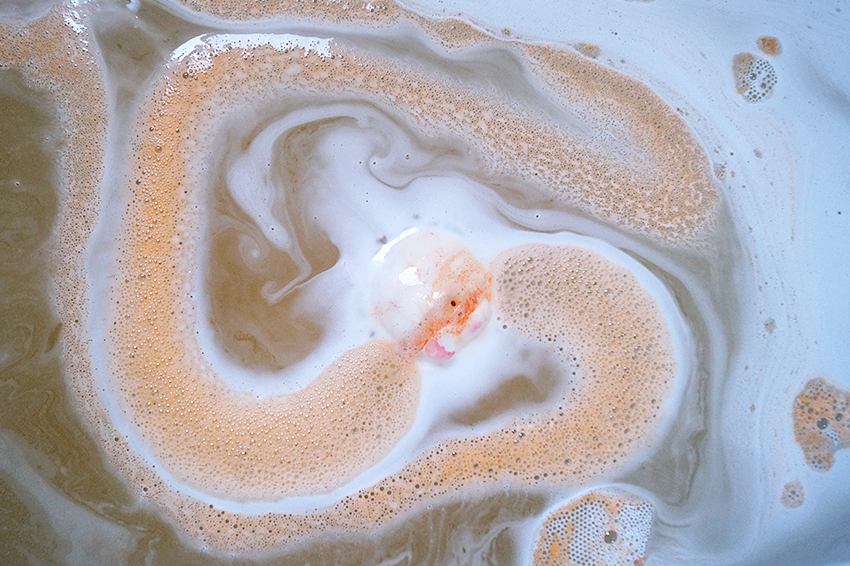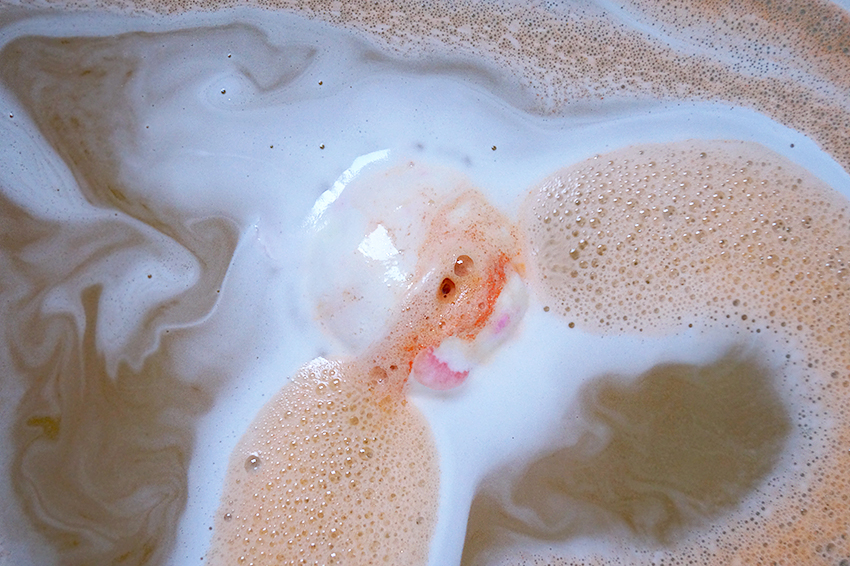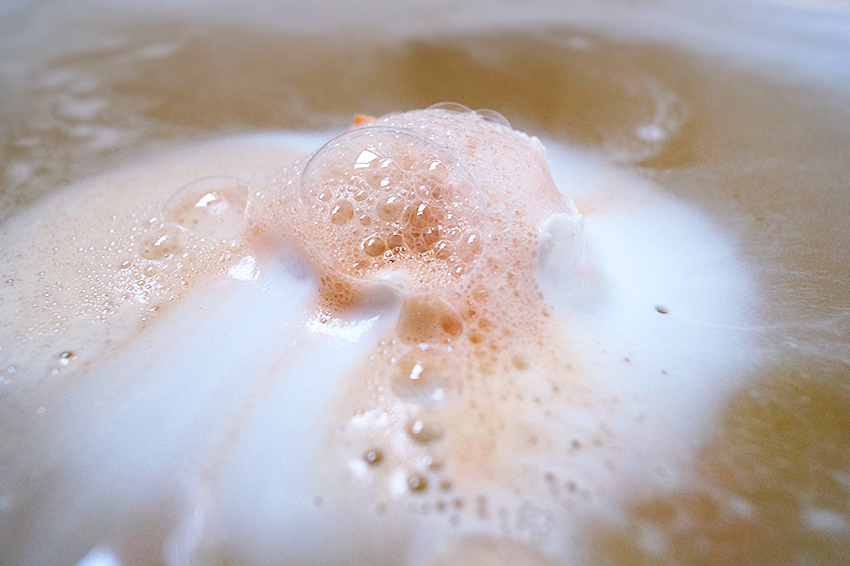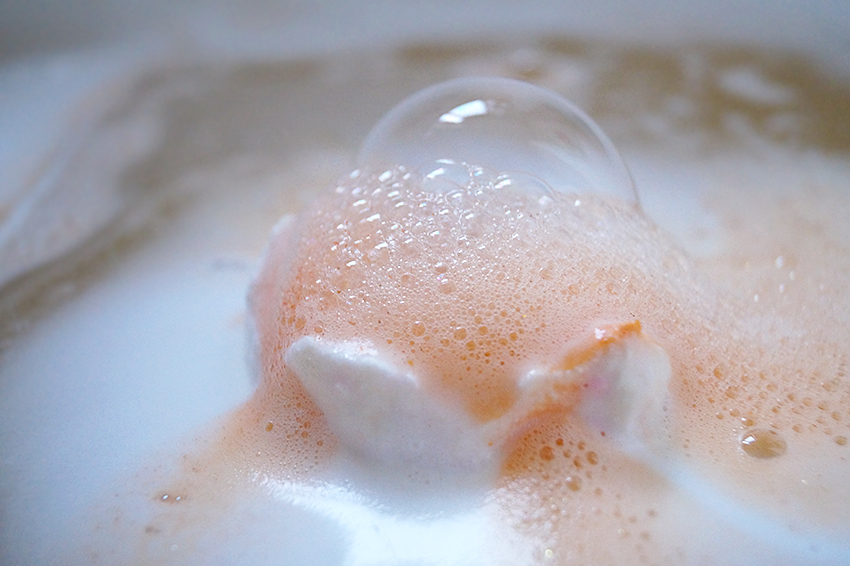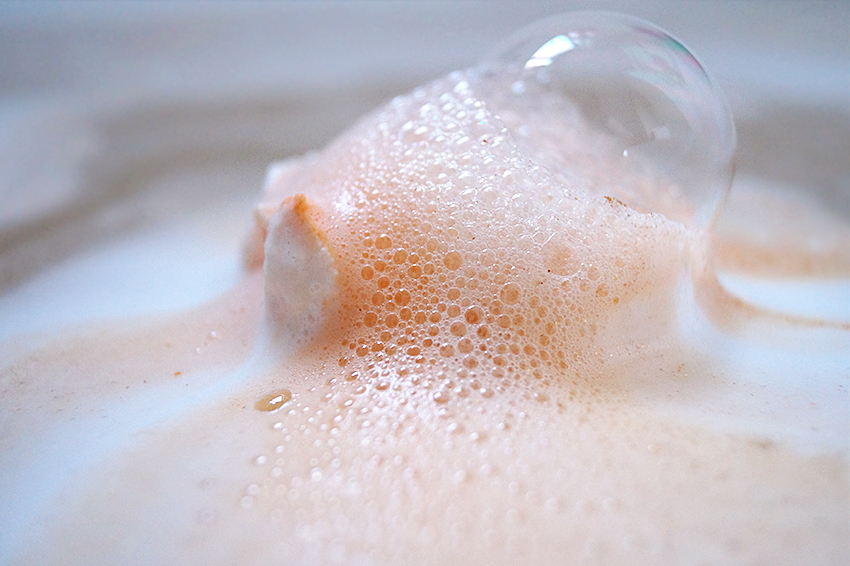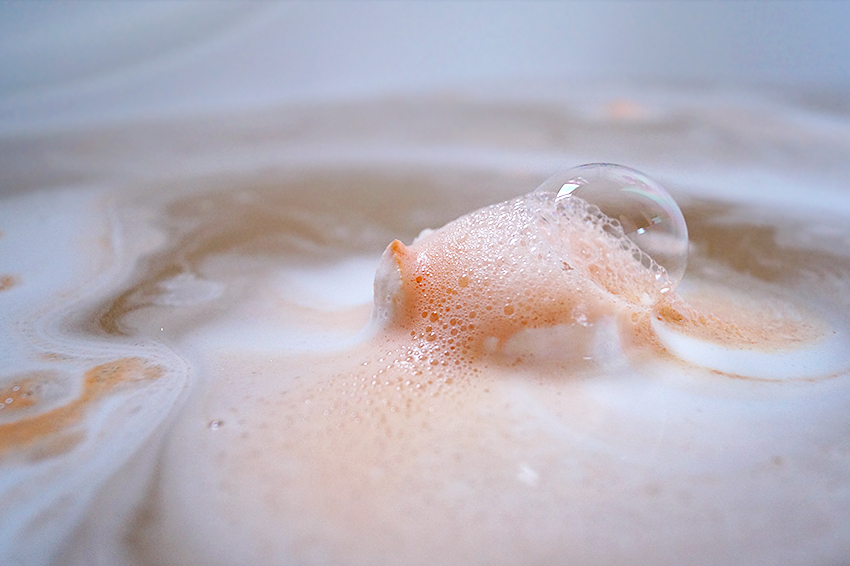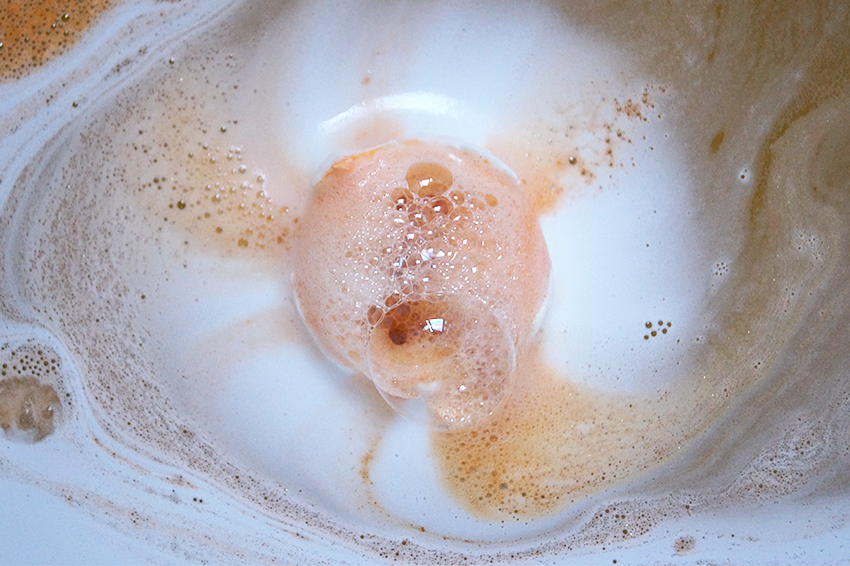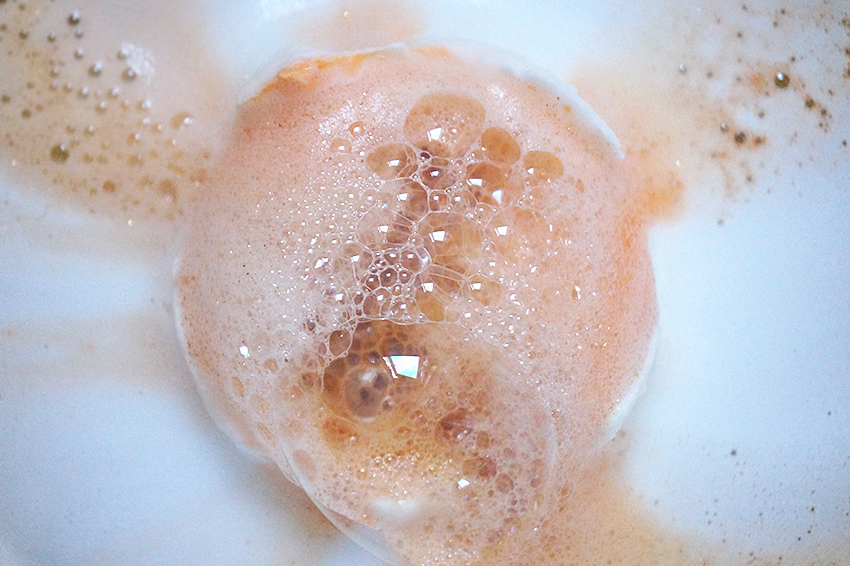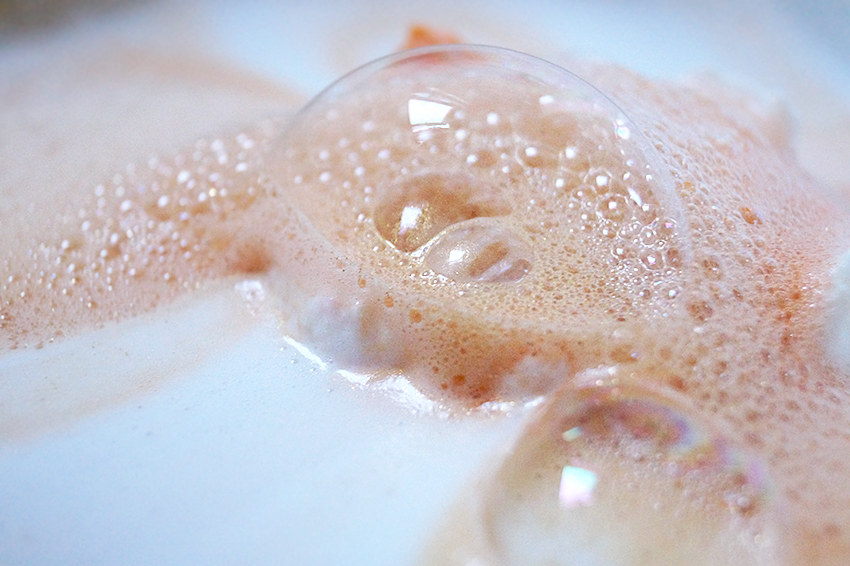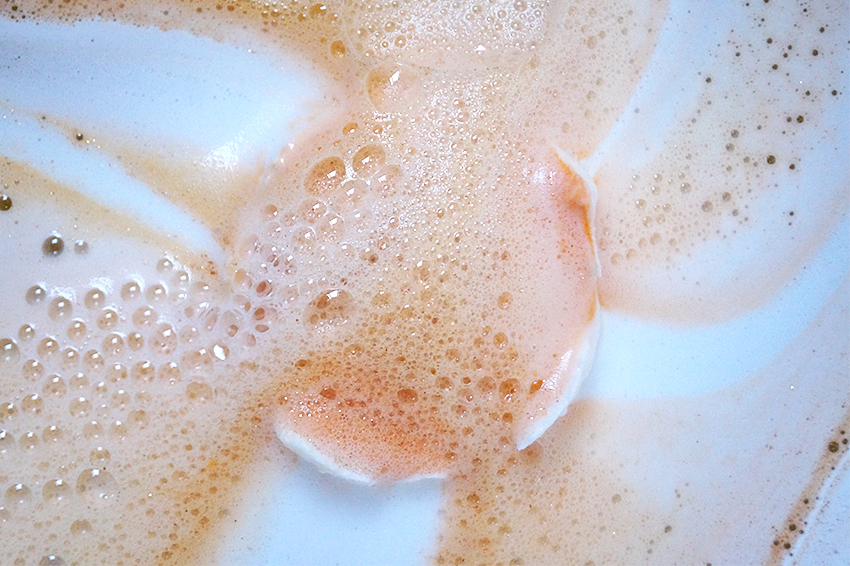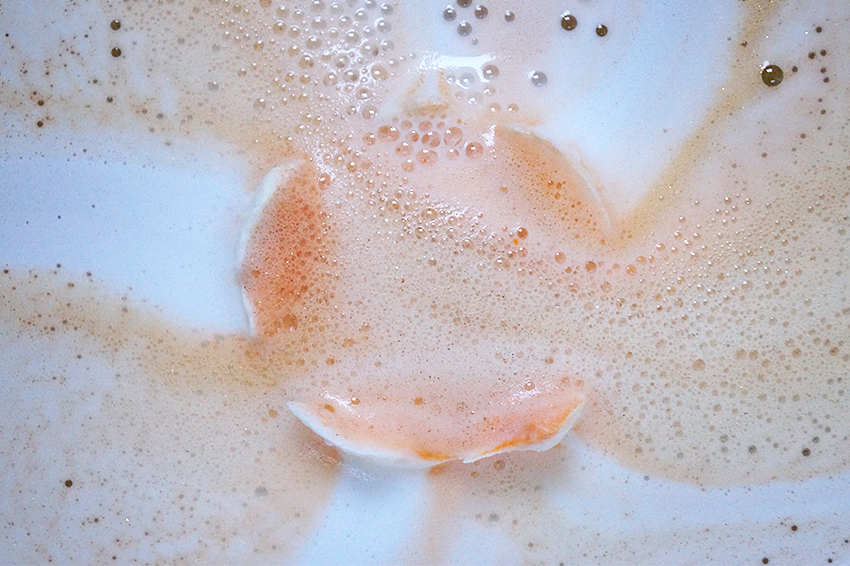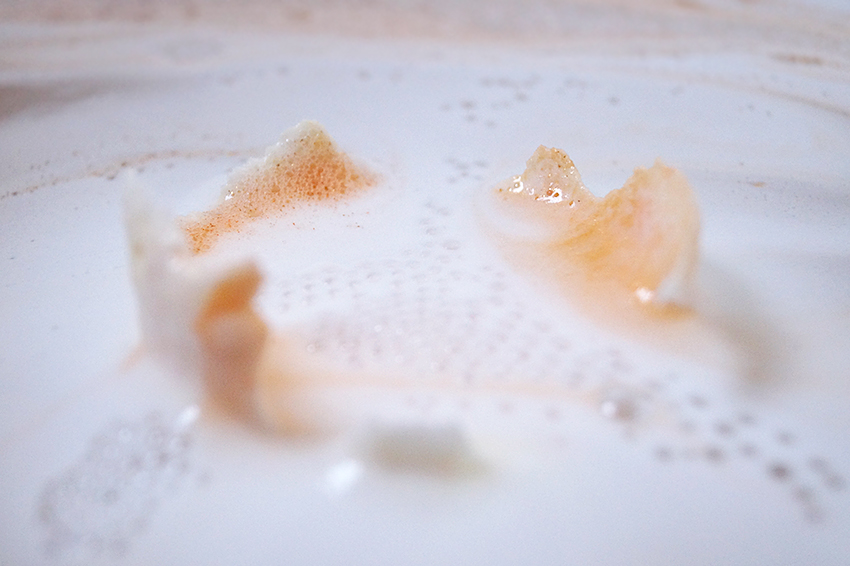 Mijn ervaring
Als ik de bath bomb in het water laat zakken, begint hij heel voorzichtig en langzaam te schuimen. Wait, what? Ik ben gewend dat ze meteen gaan bruisen! Deze neemt echter z'n tijd, en heeft dan ook zeker 10 minuten nodig om helemaal op te bruisen. Er komt een soort dik, wit schuim uit de bath bomb — maar na een paar minuten begint hij opeens als een gek te tollen. Oh, ook goedemorgen! Krachtig spuwt hij oranje slierten schuim alle kanten op, en ook het knettersnoep komt nu aan bod. Geknetter vanaf de oppervlakte, terwijl Dragon's Egg al tollend en fel bruisend door het bad heen vliegt. Hij bedekt de hele oppervlakte met een deken van wit, zacht schuim. Net als een echt ei, blijft op gegeven moment alleen nog de schaal drijven, langzaam opbruisend.
De geur is inmiddels een stuk warmer en houtiger, lijkt wel. Ik merk weinig van het frisse citrusgeurtje wat hij voor heen had — tijdens het badderen ruik ik helemaal niks meer, jammer! Het water is een soort bronzen/gouden kleur geworden, vól glittertjes onder water. Het water is echt prachtig, het deken van wit schuim blijft nog een tijdje liggen totdat het helemaal opgelost is in het water. De gekleurde confetti drijven op de oppervlakte, en als je ze vastpakt zijn het net stukjes jelly — je kunt ze zo fijnknijpen. En dat voelt zo lekker. Of ben ik de enige die dat doet?
Ik vond het een héérlijk bad. Wat heb ik deze onderschat, zeg. Ik dacht dat hij niet veel aan zou zijn, maar hij heeft me positief verrast. M'n huid voelde zachter aan na afloop, maar ook gehydrateerder. In tegenstelling tot het gebrek aan geur tijdens het badderen, kan ik de geur heel licht terug ruiken op m'n huid. Het bad was makkelijk schoon te spoelen na afloop, en hij liet geen vlekken achter. Op m'n huid bleven er wat subtiele glittertjes achter, love it. Ja, deze ga ik vaker kopen!

Lush Dragon's Egg Bath Bomb kost €5,50. Hij behoort tot het vaste assortiment.
4 Responses to Review: Lush Dragon's Egg Bath Bomb