Review: Lush 7 to 3 gezichtsreiniger
Read this post in
Engels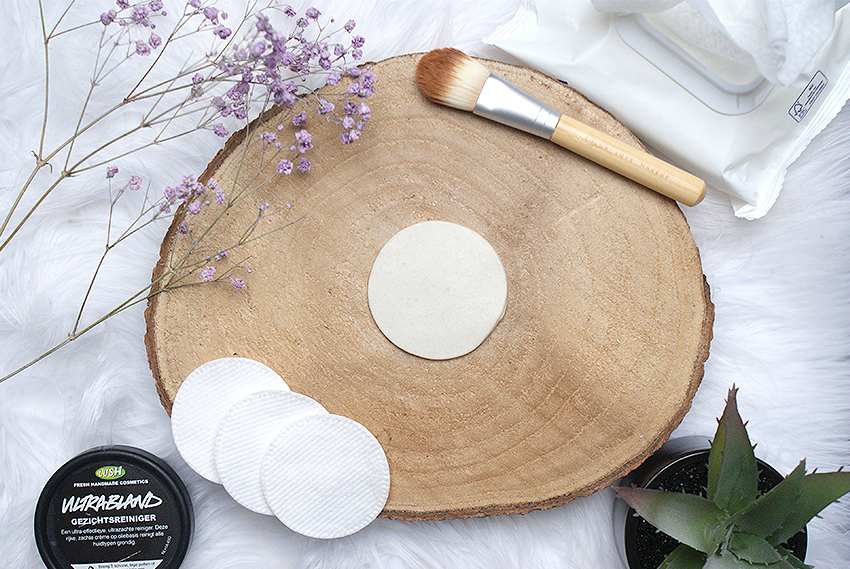 Sinds ik make-up op m'n kop smeer, gebruik ik reinigingsdoekjes om het er 's avonds weer af te halen. Er zullen door de jaren heen héél wat doekjes in de prullenbak beland zijn! Hoeveel zouden het er geweest zijn? Duizenden? Makkelijk. Echt biologisch verantwoord is dat niet helaas — reinigingsdoekjes beslaan 93% van alle materiaal dat voor verstopping zorgt in rioleringen. Vandaar dat ik reuze benieuwd was naar dit biologisch afbreekbare alternatief voor een reinigingsdoekje, genaamd 7 to 3 gezichtsreiniger. Helemaal naked. En vegan. En vandaag lees je of het ook werkelijk iets is!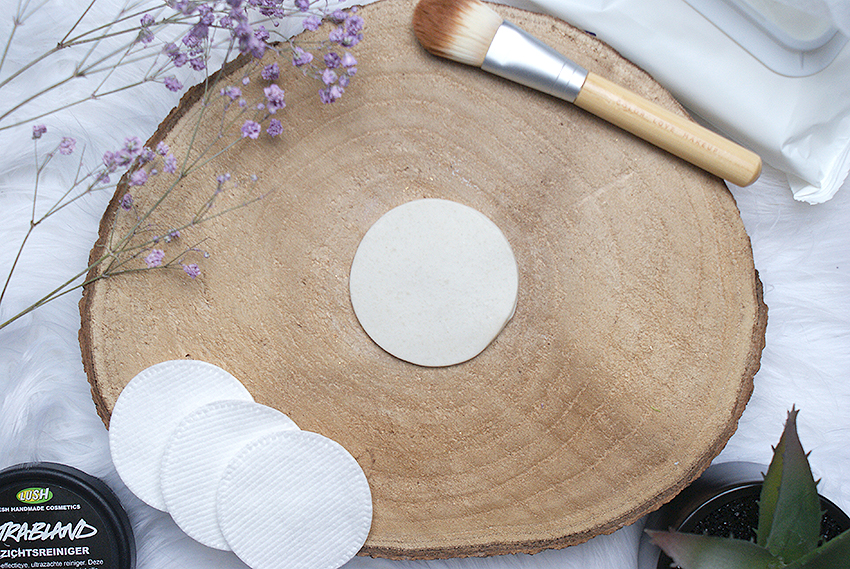 Wat is het?
Lush 7 to 3 gezichtsreiniger kost €2,50 en je doet er ongeveer 3 tot 5 keer mee. Het liefst gebruik je hem binnen één week, in verband met de houdbaarheid van het product. Daar is het eerste euvel al — het is niet goedkoop. Al zou je er 5 keer mee doen, dan kost het nog 50 cent om je gezicht schoon te maken. En ook al presteer je het wel om er langer gebruik van te maken, dan nog moet je hem eigenlijk weggooien na een week. Beter voor het milieu? Ja, want biologisch afbreekbaar. Beter voor je portemonnee? Dat dan weer niet. Als tip zou je misschien de pad in meerdere stukjes kunnen knippen!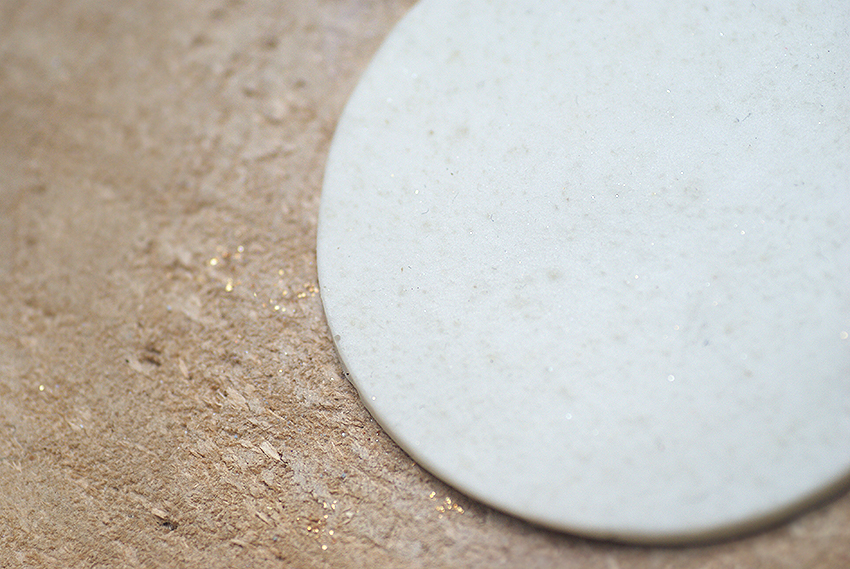 Wat zit erin?
Ingrediënten: Verse Duifjesorchidee-infusie, Talc, Glycerine, Natrium Lauroyl Sarcosinaat, Propyleen Glycol, Gemalen cannellinibonen, Carrageenextract, Strobloem Absolue (Helichrysum italicum), Ylang Ylang-olie (Cananga odorata), Alpha-isomethyl-ionone, Cinnamal Alcohol, Benzyl Alcohol, *Benzyl Benzoaat, Butylphenyl Methylpropional, Cinnamyl Alcohol, Citronellol, Geraniol (Geraniol), Hydroxycitronellal, *Linalool, Parfum
Het ziet eruit als een wattenschijfje, maar het voelt iets steviger en minder zacht. Hij is buigzaam en het is net alsof je een plakkaat klei of wax vast hebt. Het heeft een bloemige geur — als je een product zonder geur wilt, dan zou ik deze overslaan want de geur van ylang ylang en orchidee is goed aanwezig! Een medewerker bij Lush wees me erop dat één zijde wat grover is, deze kant is bedoeld om lichtelijk te scrubben.
Hoe te gebruiken, vraag je je af? Eigenlijk is dat best simpel. Je maakt je gezicht nat, maakt je handen droog (echt doen, anders glibbert hij uit je vingers) en wrijft met de 'pad' over je gezicht. Door de mix van bepaalde ingrediënten die in aanraking met water komen, laat het een soort crème achter. Dit smeer je uit over je gezicht, dit verwijdert tevens make-up — zelfs oogmake-up! Daarna spoel je alles af met lauw-warm water. Vergeet niet je pad schoon te spoelen met wat warm water, en leg hem vervolgens ergens op een droge plek om te kunnen drogen.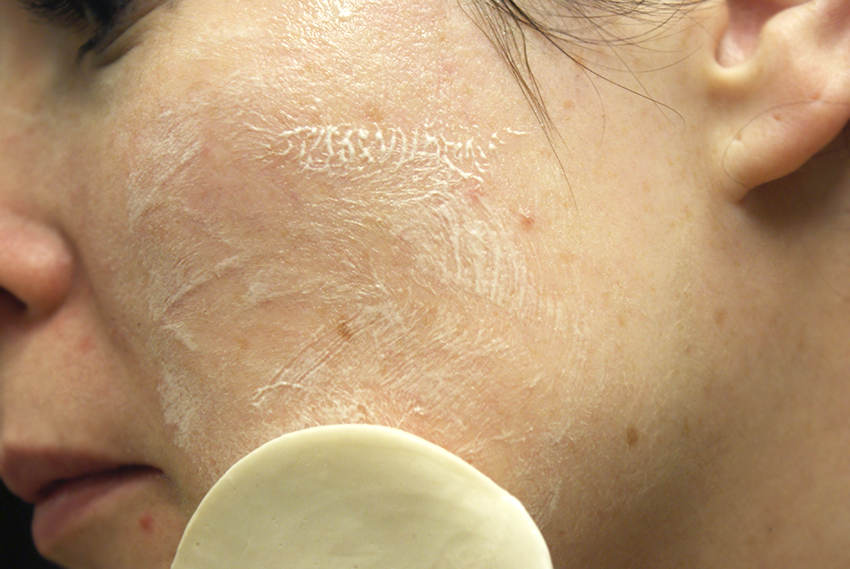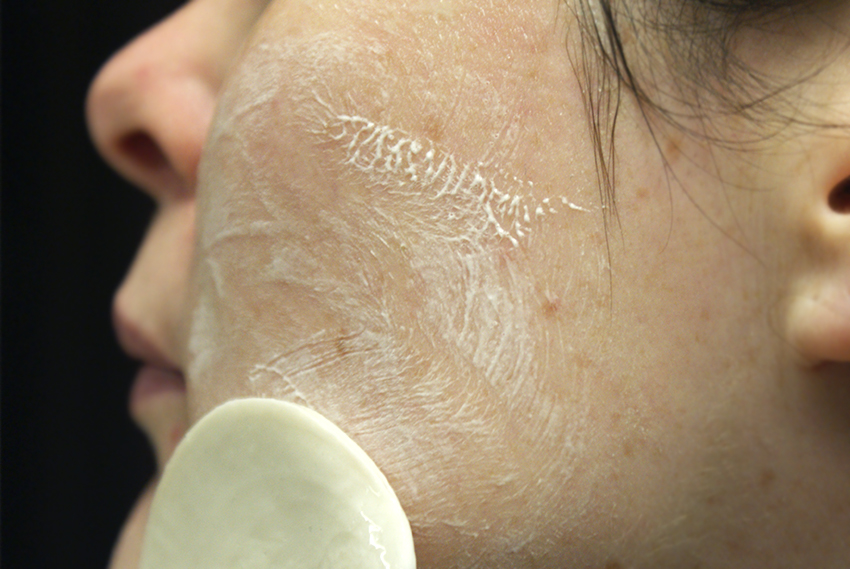 Mijn ervaring
Zoals je ziet begint de pad lichtelijk te schuimen. Hij glijdt makkelijk over de huid en houdt prettig vast, ik was toch wel bang dat hij uit m'n handen zou glippen steeds. Make-up verwijdert hij prima, oogmake-up ook. Verder heb ik ook nog wat toner op een wattenschijfje gebruikt om te checken of er make-up achterbleef op m'n huid, maar ik kon niets meer vinden!
Maar nu komt het: ik heb nog nooit een gezichtsreinigingsproduct (leuk woord voor Galgje) gebruikt die m'n huid ZO SCHOON MAAKTE! Ja, dat moet écht even in hoofdletters, want ik stond echt versteld. M'n huid voelde zo schoon aan. Het leek wel een spiegel, zo glanzend was hij. M'n huid voelde ook erg zacht aan. Dit is precies wat ik verwacht van een product dat m'n gezicht reinigt. Hij verwijdert ook voor zo'n 95% aan waterproof oogmake-up, zoals m'n eyeliner en mascara. Er blijft een héél klein beetje over, maar dat kun je alsnog weghalen met een toner. Overigens kun je ook veel langer dan 5 keer met een pad doen!
Veel pluspunten dus, maar toch ook wel een minpunt — als je iedere week zo'n pad moet kopen, is dat best prijzig. Ik snap dat we iéts moeten inleveren als we bewuster en milieuvriendelijker willen leven, maar niet voor iedereen is dit een optie.
Ik vind het concept wel echt onwijs tof. Dit is waarom ik zo gek op Lush ben; altijd vooruitstrevend en innovatief. En niet alles is altijd een succes, maar ze nemen wel risico's die veel andere merken niet nemen, en ze blijven proberen om hun producten nog beter te maken.
Ik zal dit product regelmatig mee bestellen met een bestelling. Ik ga hem niet steevast iedere dag gebruiken, maar aangezien ik elke maand toch wel een bestelling plaats in de webshop, is het wel fijn om er gewoon een aantal mee te bestellen. 😊 Ik ben heel benieuwd of jullie jezelf zo'n product zien gebruiken!

kost en bevat ml. Hij behoort tot de vaste collectie, maar is alleen online te koop.
13 Responses to Review: Lush 7 to 3 gezichtsreiniger