Review: Lush Calm A Llama Party Piñata Bath Bomb
Read this post in
Engels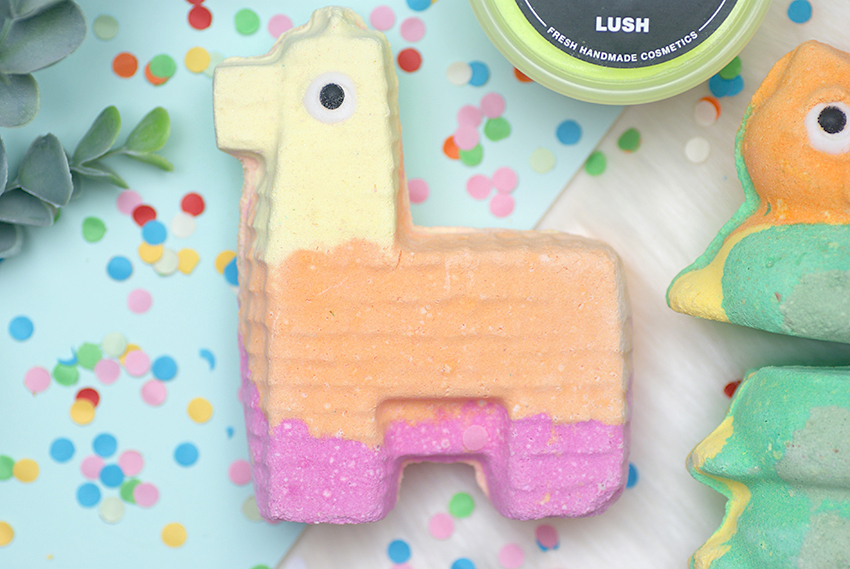 Toen ik een tijdje terug in Lush Liverpool was, had ik uiteraard de Party Exclusives al gespot. Aan de muur hingen ze, niet te koop. Enige manier om ze te krijgen is om een feestje te boeken bij Lush daar. Nu vier ik elke dag met Lush een feestje, maar voor deze heb minimaal 8 personen nodig, en zoveel vrienden heb ik lang niet 😂🤷🏻‍♀️ Ik verliet de winkel met een gigantische buit die dag, maar toch ergens nog steeds een beetje bedroefd dat deze leuke exclusives niet gewoon te koop zijn..
Tot twee weken geleden. Op Instagram zag ik iemand plaatsen dat ze nu tijdelijk te koop zijn in de Engelse webshop. Ik wist niet hoe SNEL ik de creditcard moest pakken boven (geloof mij, Usain Bolt is er niets bij) om vervolgens een aantal exclusives af te rekenen. Na láng wachten kwamen ze bijna twee weken éindelijk binnen. Drie keer de Crash jelly, één Cilla the Caterpillar en twee Calm A Llama Party Piñata. En met die laatste kun je vandaag kennis maken.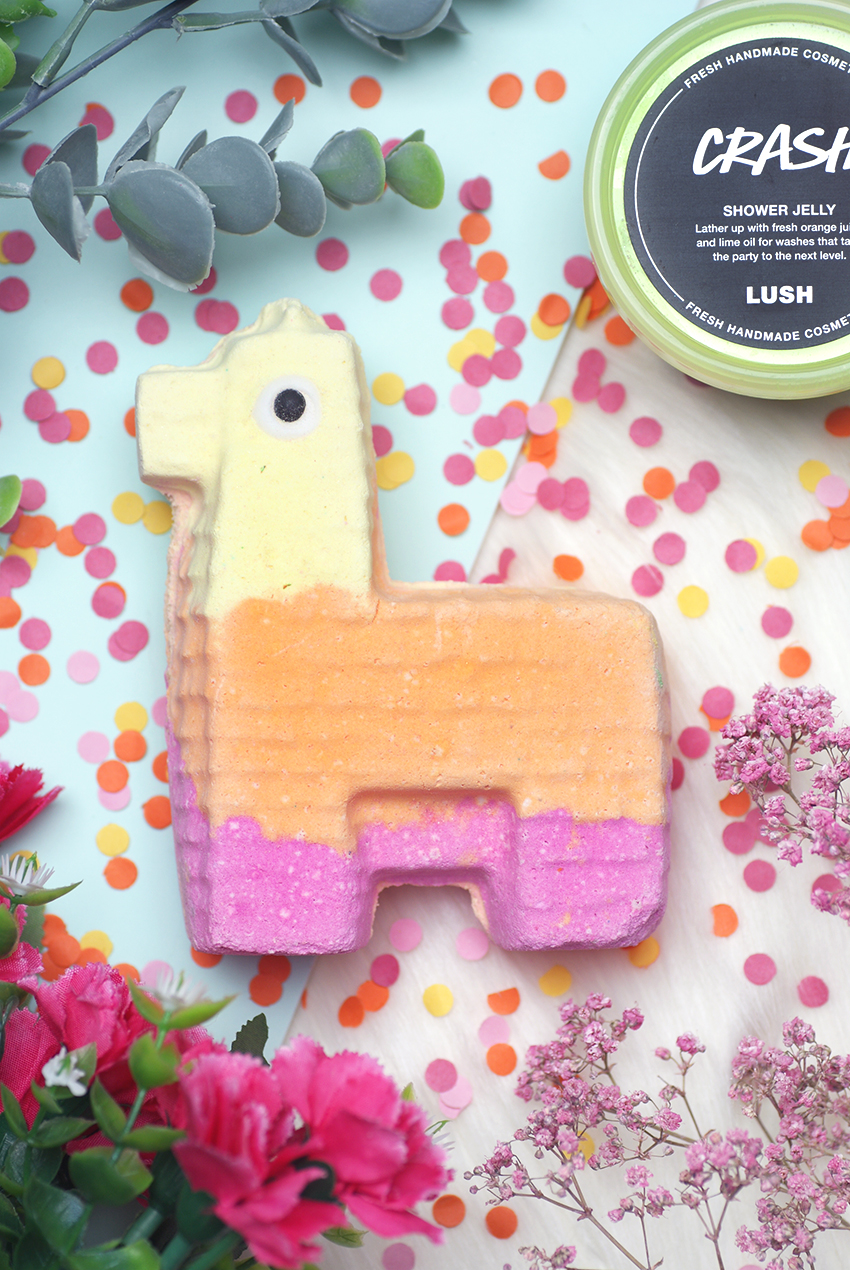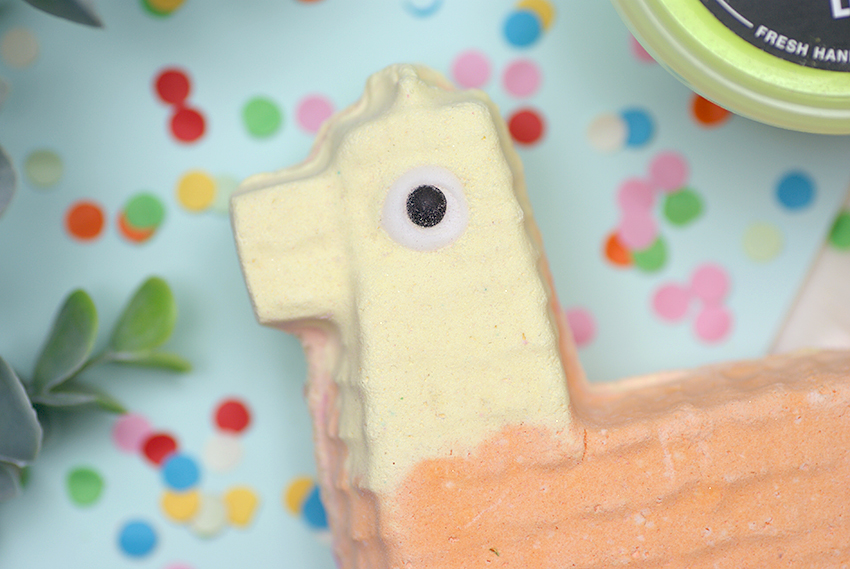 Wat is het?
Ingrediënten: Sodium Bicarbonate, Citric Acid, Lime Oil, Neroli Oil, Olibanum Resinoid, Cream of Tartar, Water (Aqua), Cornstarch, Glycerine, Titanium Dioxide, Popping Candy, Sodium Coco Sulfate, Cocamidopropyl Betaine, Dipropylene Glycol, Synthetic Fluorphlogopite, Hydroxy propyl methyl cellulose, Sodium carboxymethyl cellulose, *Citral, *Limonene, Alpha-Isomethyl Ionone, Benzyl Salicylate, Hydroxycitronellal, Perfume, Colour 45410:1, Colour 15510, Colour 47005, Colour 42090:2, Colour 47005:1, Colour 42090, Colour 16255, Colour 19140, Colour 77492, Candy Eyes
Lush Calm A Llama Party Piñata Bath Bomb kost £7.95 en is een Party Exclusive van Lush, dit zijn producten van Lush die je normaal gesproken alleen bij het houden van een party krijgt. Let wel, Calm A Llama Party Piñata krijg je niet in Nederland bij een Lush feestje, maar alleen in Lush winkels in Engeland. Het was dus ook echt een leuke verrassing toen deze opeens te koop waren in de webshop!
Calm A Llama Party Piñata is een bruisbal in de vorm van een llama. Geel, oranje en roze met twee oogjes. De ribbels op de bath bomb doen deze llama inderdaad lijken op een piñata! Ik vind hem ook wel een beetje lijken op de Fortnite lama. Hoe dan ook, een ge-wel-dig design, daar kunnen we het snel over eens zijn. Zo grappig en uniek. Ik kocht er 2, maar had er rustig 20 kunnen kopen. Ik ben dol op llama's en zou er alleen al eentje willen hebben om neer te zetten in m'n Lush stash.
Qua ingrediënten bevat deze llama o.a. limoen, neroli, olibanum, maïsmeel, glycerine en knettersnoep. Limoen, neroli en olibanum (ook wel frankincense genoemd) zijn de ingrediënten die toon zetten voor de geur. Limoen en neroli zijn citrusachtig, olibanum is kruidig en houtachtig. Deze interessante combinatie laat zich van zijn beste kant zien — een warme geur met een citrus tintje. Hij doet me een beetje denken aan Celebrate / Bubbly, een warme sinaasappelgeur en tevens één van m'n favoriete geurlijnen van Lush. Het is een heerlijke geur. Genoeg geluld, tijd om deze llama mee te nemen de badkamer in! Hopen dat 'ie kan zwemmen. (Latere update: kennelijk ruikt hij naar Calacas!)
Speel de filmpjes af in 2160p kwaliteit en op volledig scherm voor de beste ervaring! Het eerste filmpje speelt zich versneld af.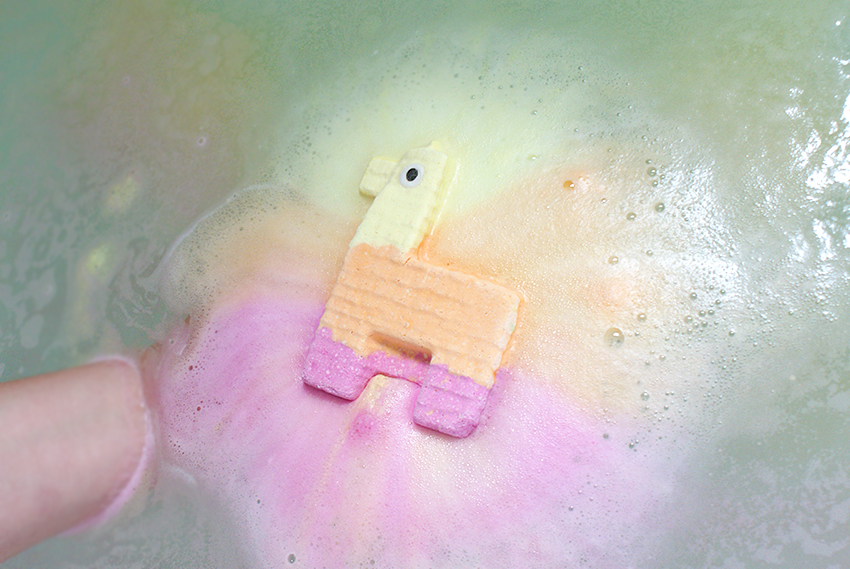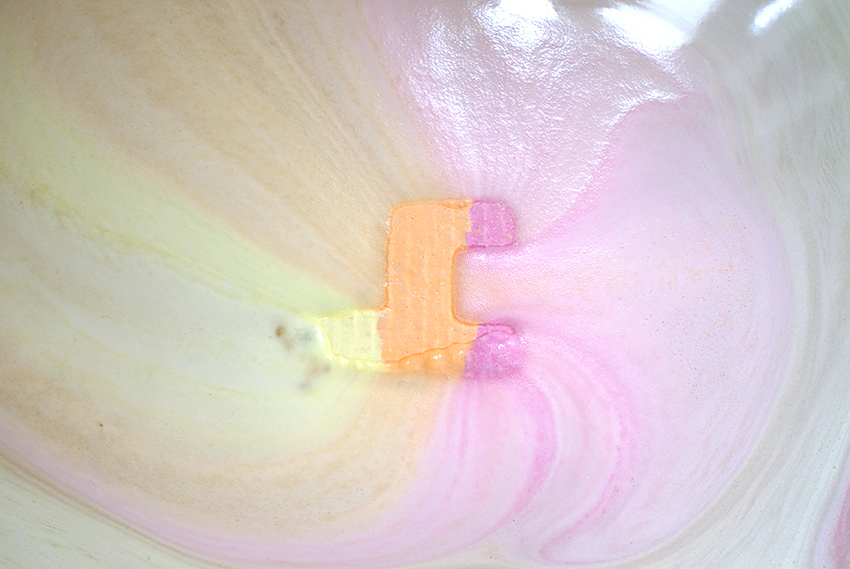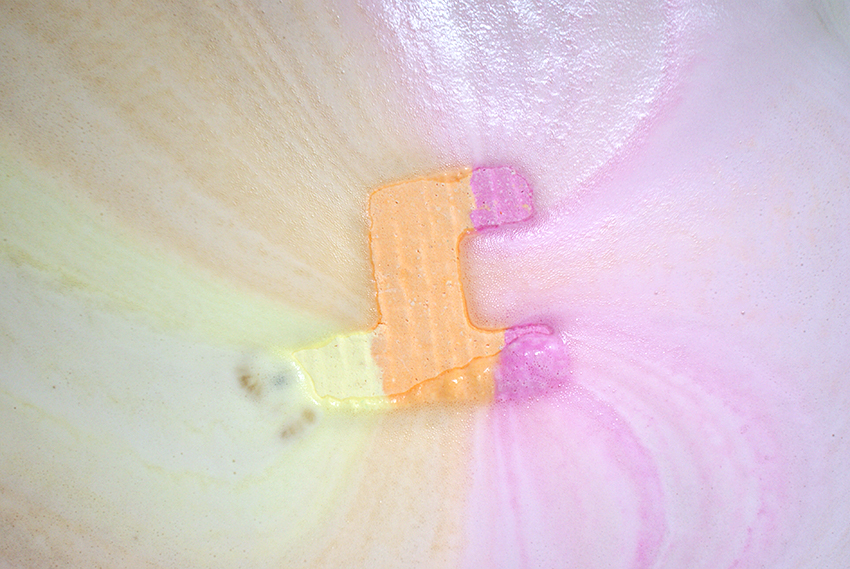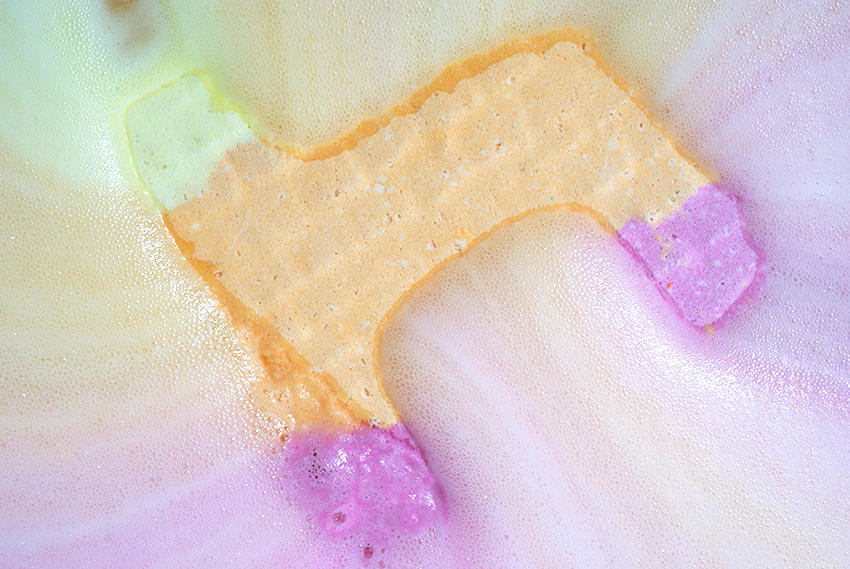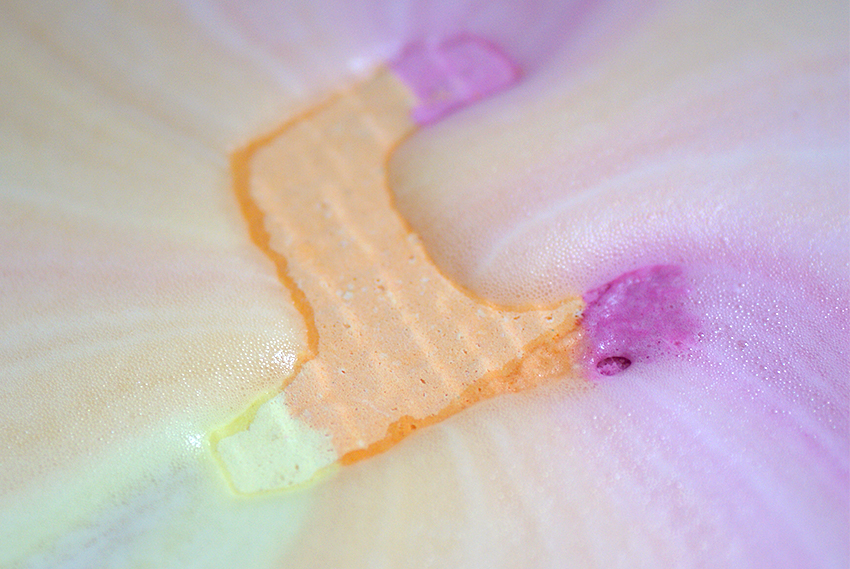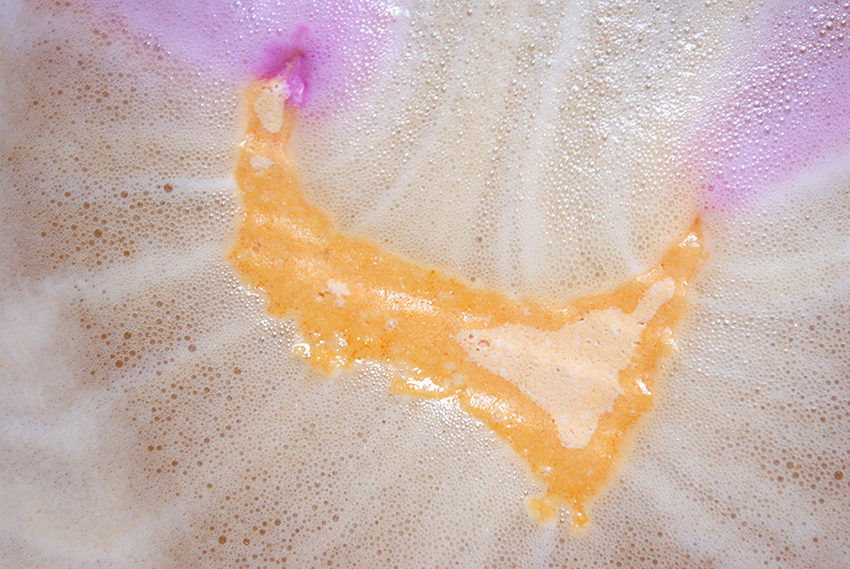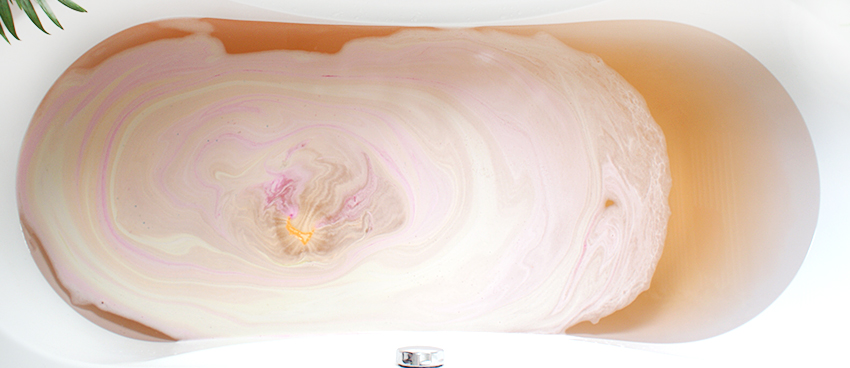 Mijn ervaring
Wanneer ik hem in het water laat zakken, komt er meteen aan alle kanten een enorme romige schuimlaag uit. Geel, oranje en roze schieten de oppervlakte op terwijl de llama rustig blijft drijven. Heel rustig dobbert hij door het water en laat daarbij een spoor aan rijkelijk schuim in mooie kleurtjes achter. Hij bruist uiteindelijk op tot ook het middelste gedeelte verdwijnt in het water, inmiddels is het water in een mooie oranje kleur veranderd. Ik hoor de knettersnoep en zie, in tegenstelling tot andere bath bombs met oogjes, nu gelukkig geen paar ogen me doods aankijken vanuit het water. Het is een langzame bruiser — met zo'n 8 minuten is hij opgebruist en houd je oranje water over met wat dunne laagjes schuim erop, die zich na een tijdje mengen met het water.
De geur van de bath bomb had van mij iets sterker gemogen, ik heb hem eigenlijk niet echt meer geroken tijdens het badderen. Nu ben ik wel nog wat verkouden, dus m'n reuk is iets verminderd momenteel. Pas toen ik het bad leeg liet lopen, zag ik kleine gekleurde bolletjes op de bodem liggen. Blauw, roze, en volgens mij ook geel. Ik heb deze dus niet gezien tijdens het badderen omdat ik er met m'n dikke reet op zat, maar het idee is wel leuk. Ik gok dat dit de inhoud van de piñata is. Misschien had ik toch z'n kop moeten inslaan.
Het was heerlijk badderen met deze llama! Ik ben blij dat ik er nog eentje heb. Ze zijn momenteel te koop in de Lush UK webshop, mocht hij uitverkocht zijn, blijf dan regelmatig kijken want ze vullen hem regelmatig weer aan. Tip: bestel dan ook meteen de Crash jelly mee, die is ook zó goddelijk. Daar komt één dezer dagen ook een review van online!

Lush Calm A Llama Party Piñata Bath Bomb kost £7.95. Je krijgt ze wanneer je een party boekt in één van de Engelse Lush winkels, maar is nu tijdelijk te koop in de Lush UK webshop.
4 Responses to Review: Lush Calm A Llama Party Piñata Bath Bomb