Review: Lush Royalty Bath Bomb
Read this post in
Engels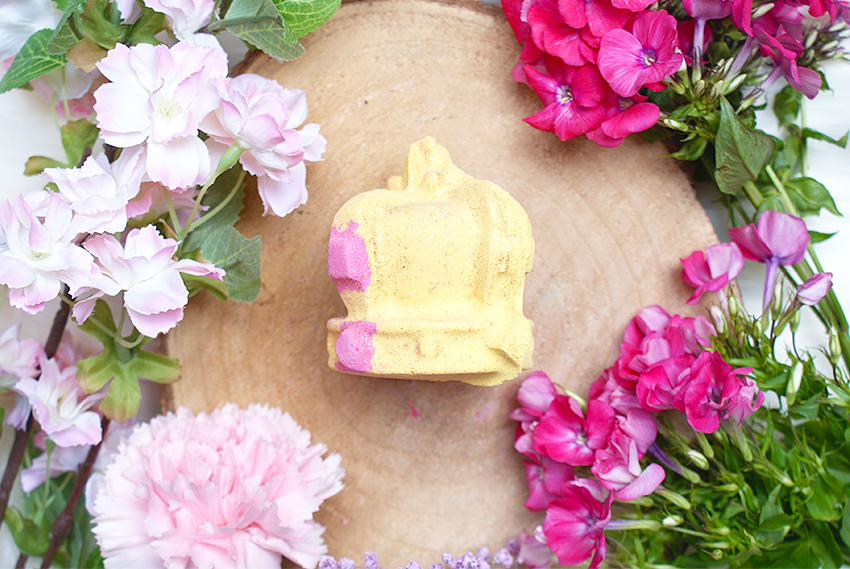 Worden jullie de dagelijkse bath bombs reviews al zat? Zo ja, sorry. Ik vind het ook totaal niet leuk om in dag in bad te móeten. Grapje natuurlijk. Maar ik wil gewoon graag zoveel mogelijk Harajuku bath bombs voor jullie uitproberen, zodat jullie precies weten welke wel, en welke juist níet, te kopen. Zo vertel ik je vandaag ook precies hoe ik denk over dit leuke kroontje. Is hij z'n geld waard? Of kun je beter één van de andere 53 bath bombs kopen? Je komt er vandaag achter… mits je doorklikt. Uiteraard.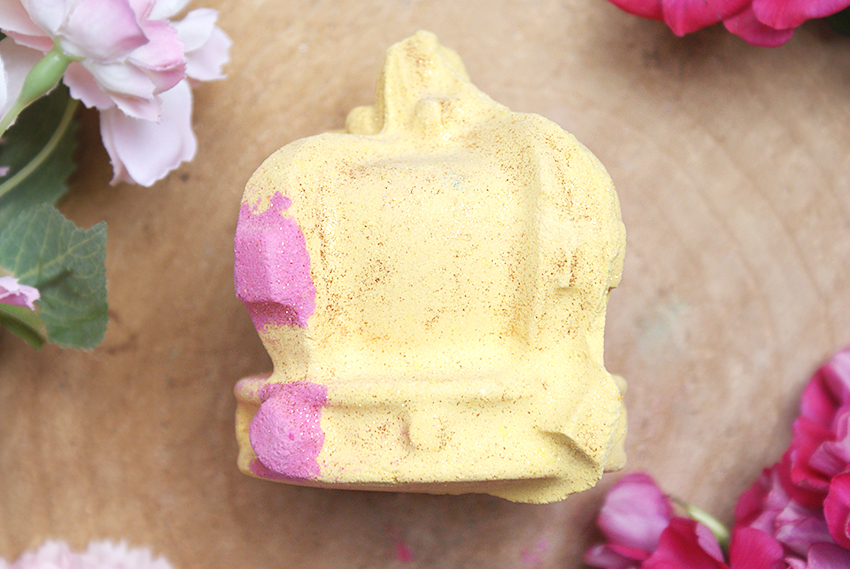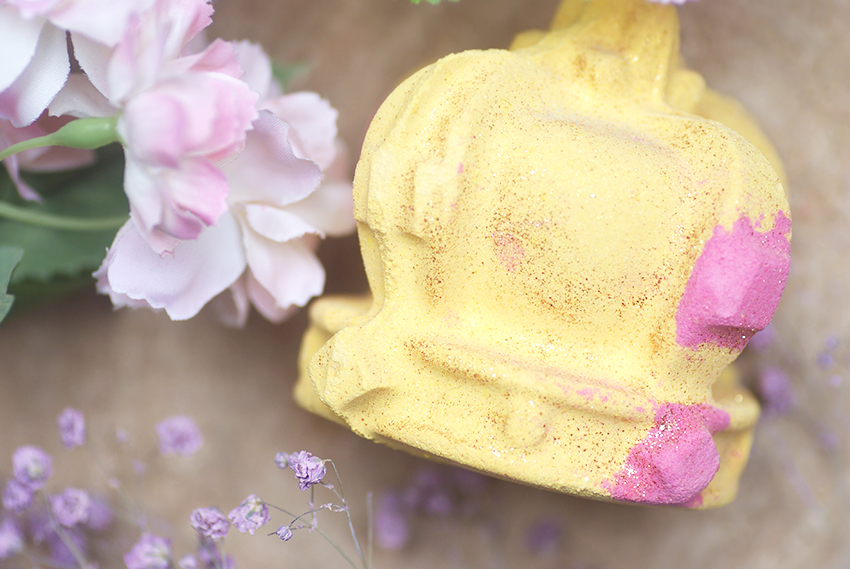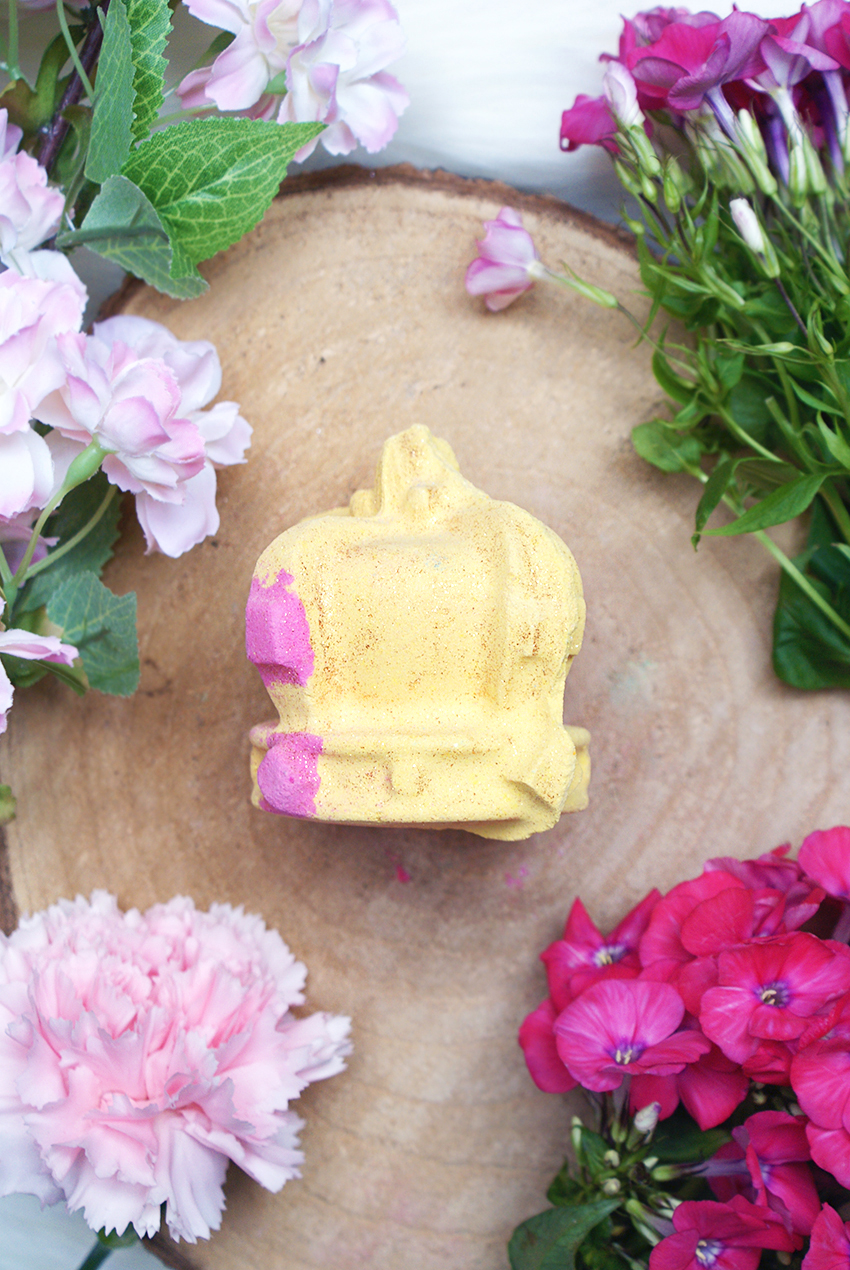 Wat is het?
Ingrediënten: Natrium Bicarbonaat (Sodium bicarbonate), Citroenzuur (Citric acid), Titanium Dioxide, Jasmijn Absolue (Jasminum Grandiflorum), Ylang Ylang-olie (Cananga odorata), Sandalwood Oil, Vanille Absolue, Water (Aqua), Wijnsteenzuur (Potassium bitartrate), Dipropyleen Glycol, Synthetische Fluorflogopiet, Tinoxide, Natrium Coco Sulfaat, Cocamidopropyl-betaïne, Silica, Propyleen Glycol, Coumarine, Geraniol (Geraniol), *Limonene, *Linalool, Parfum, Kleurstof 47005, Kleurstof 77491 (Cl 77491), Kleurstof 19140, Kleurstof 19140:1(CI 19140:1), Kleurstof 14700 (CI 14700), Kleurstof 45410 (CI 45410), Kleurstof 45350, Kleurstof 17200, Kleurstof 42090
Lush Royalty Bath Bomb kost €8,50 en is onderdeel van de tijdelijke Harajuku collectie, bestaande uit uiteenlopende 54 bath bombs. Royalty sprak me aan vanwege zijn leuke uiterlijk, het is namelijk een gele kroon met roze stukjes. Hij bevat jasmijn, ylang ylang, sandelhout en vanille. De geur is dan ook precies zoals je zou denken — bloemig, met een sandelhout tintje. Het is een lekkere geur, maar niet spectaculair. Hij bevat tevens sojamelk (glycine soja), een veganistisch ingredient dat vitamine B (een antioxidant) bevat en daardoor de huid zijdezacht maakt.
Speel de filmpjes af in 1080p kwaliteit en op volledig scherm voor de beste ervaring! Het filmpje speelt zich versneld af.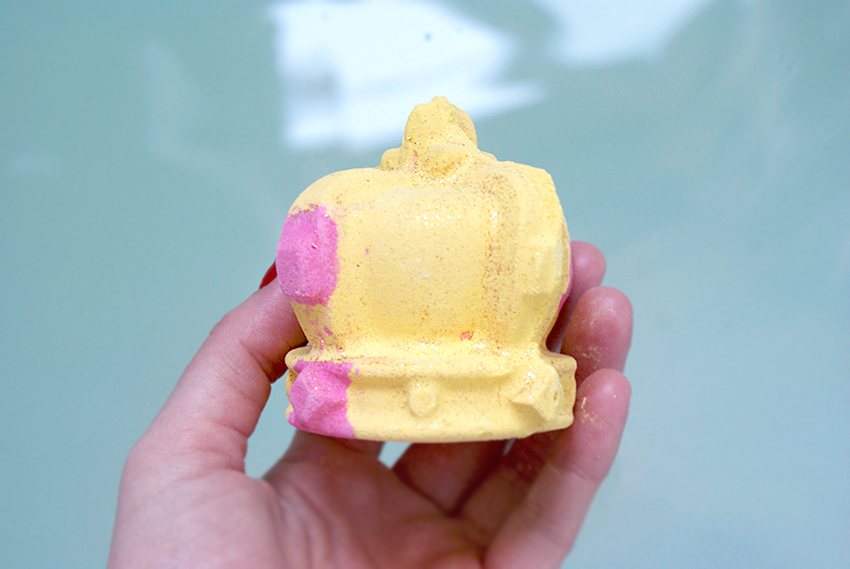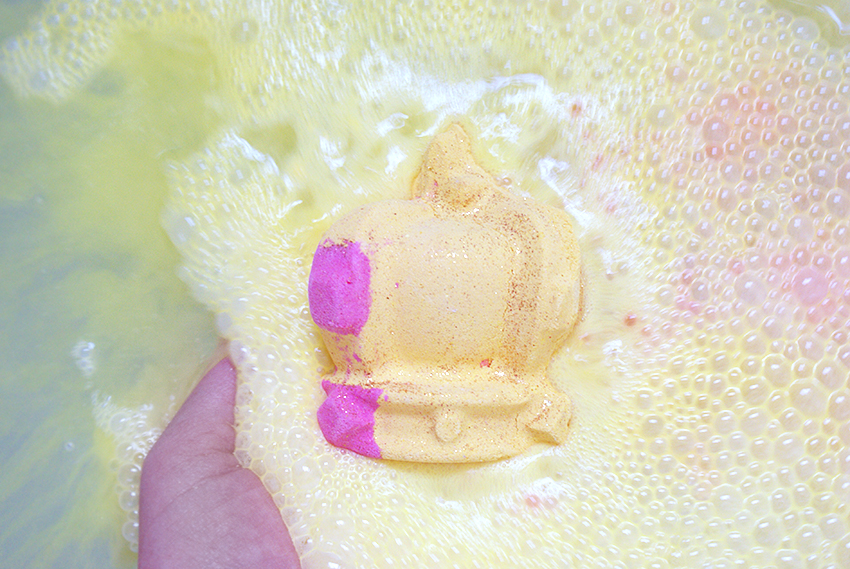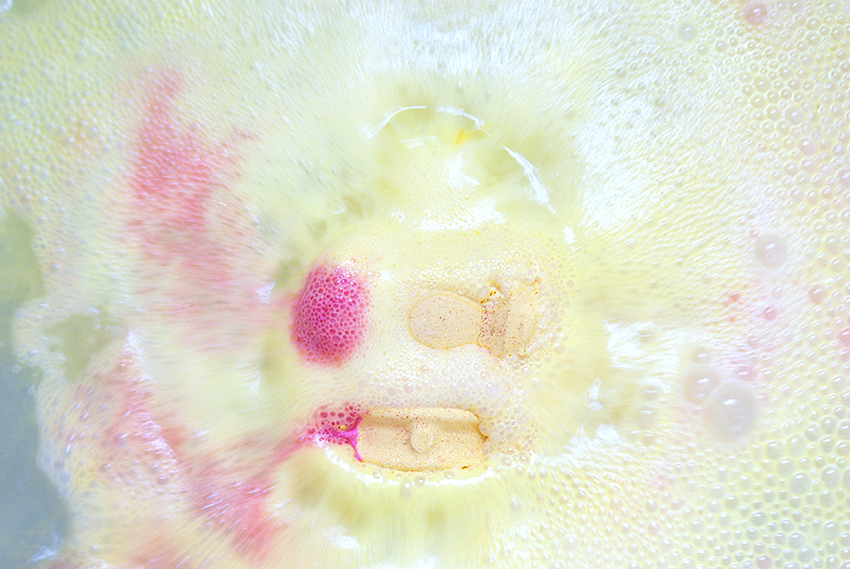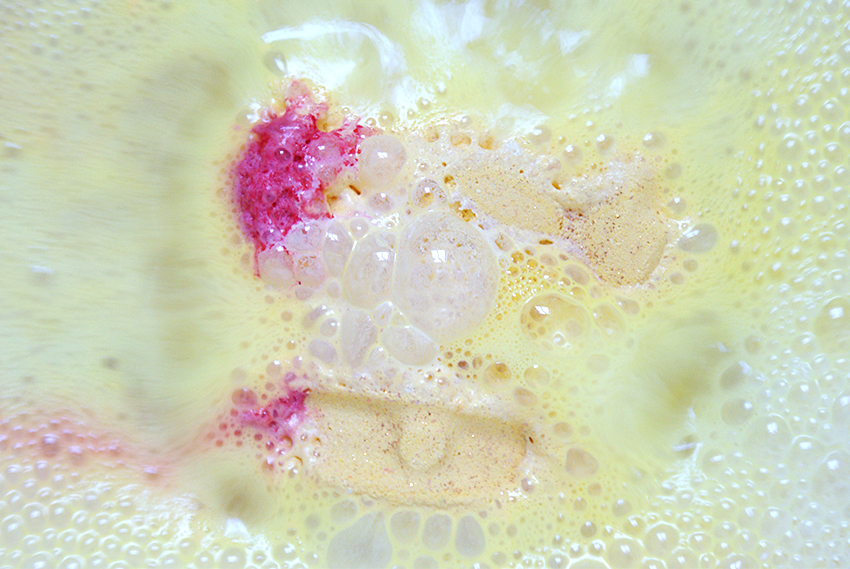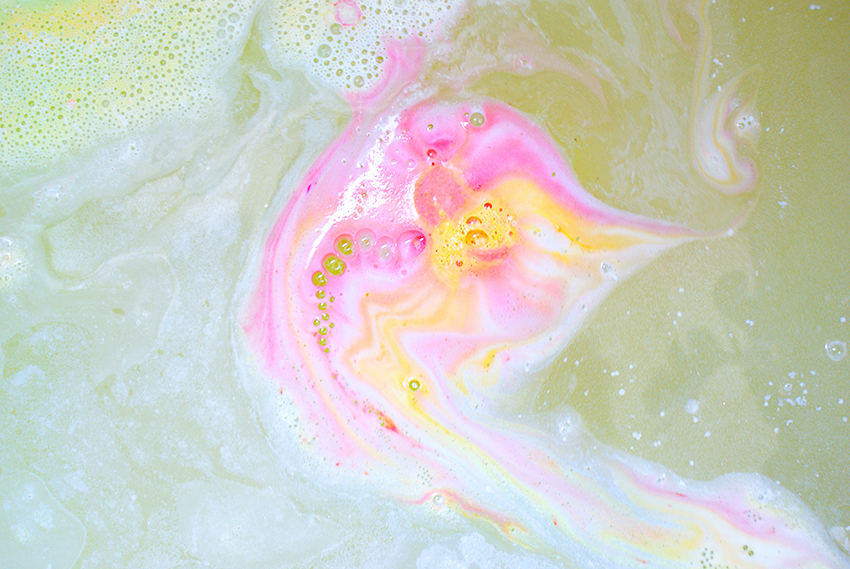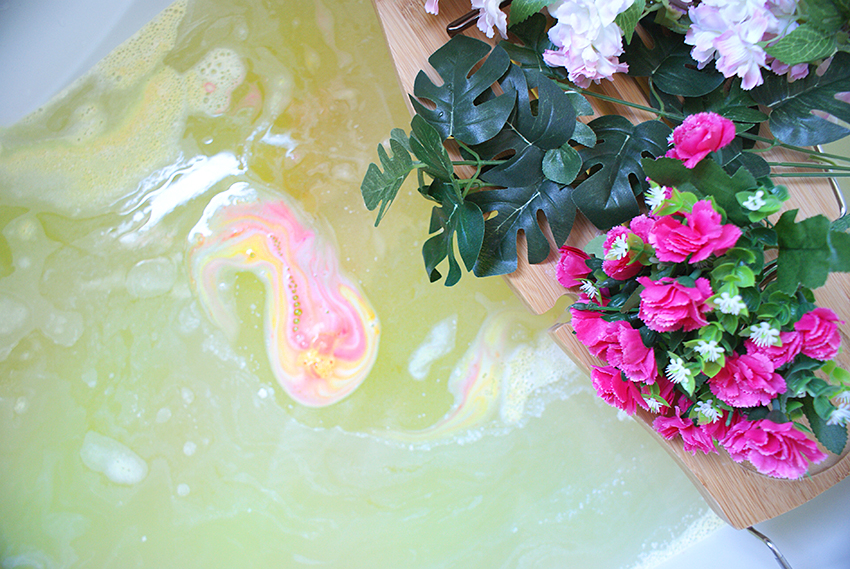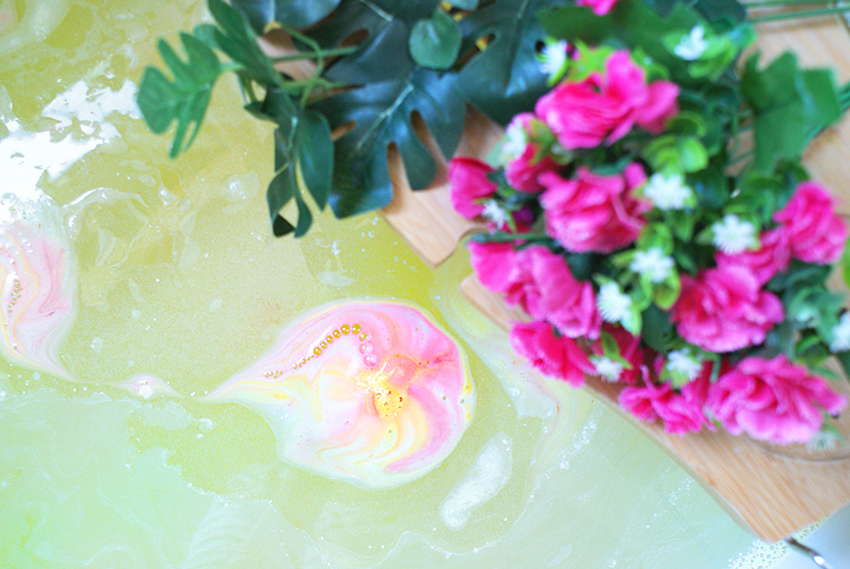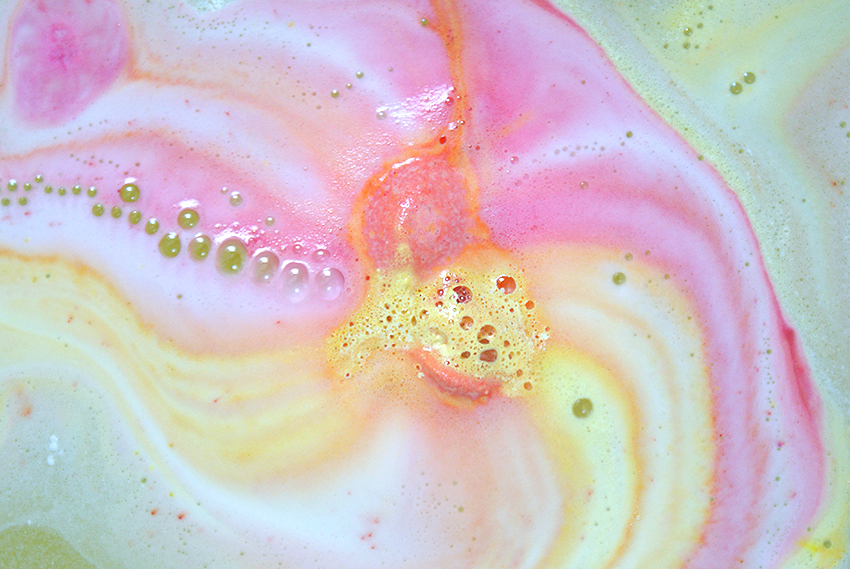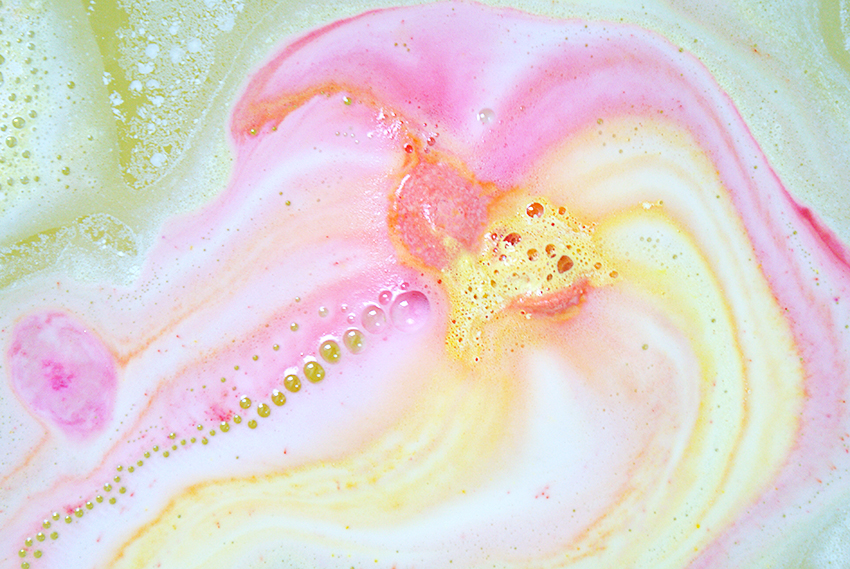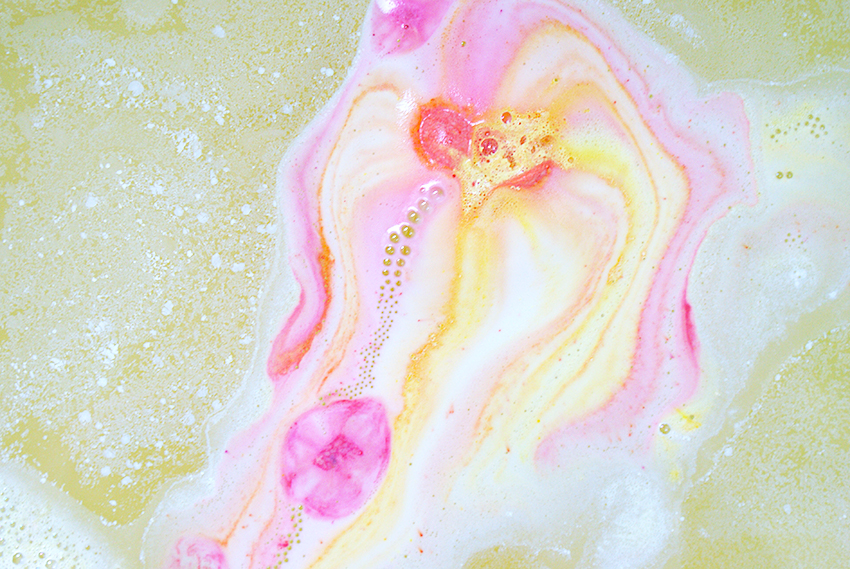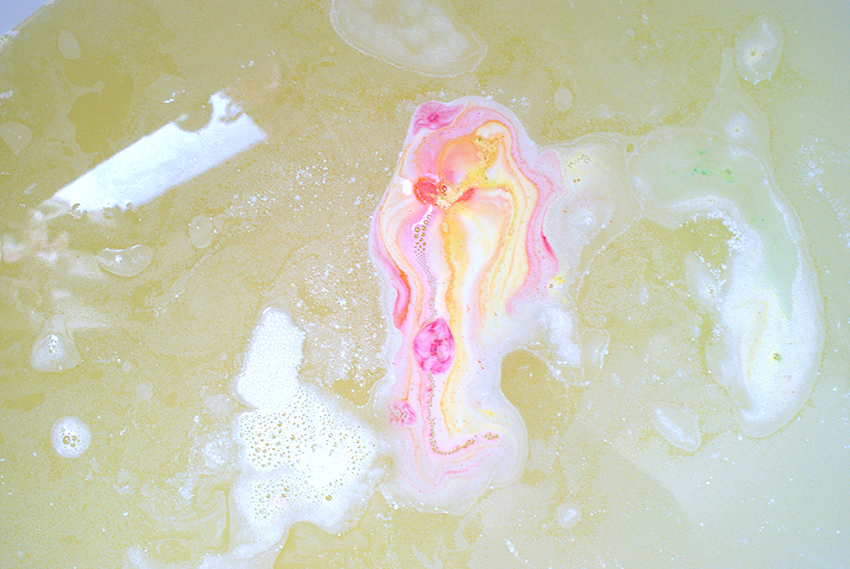 Mijn ervaring
Royalty is erg mooi in bad. Zoals verwacht, maakt hij het water geel — maar dan niet een vieze 'ik heb zojuist in bad m'n blaas laten leeglopen'-geel, maar écht een mooie, felle tint geel. Net zo fel als de bath bomb voordat hij ten onder ging. Onder water laat hij stofwolken van kleur achter, en uiteraard ook roze is te spotten in het water. Uiteindelijk komt er ook nog wat groen uitgespuwd. Er vormen zich roomwitte bubbeltjes op het water, in groepjes aan elkaar vastgeplakt als een groepje tieners op de middelbare school in een tussenuur. Dit zijn bubbeltjes sojamelk en wanneer je ze aanraakt, zit er een melkachtig laagje op je vingers. Ze maken het water heel zacht, het blijft alleen wel hier en daar achter in het bad. Het water heeft uiteindelijk een romige, gele tint met wat melkachtig laagjes op de oppervlakte.
Hoewel ik het een mooie bath bomb én een mooi bad vond, zou ik er niet nogmaals 8,50 voor neertellen. Daarvoor is hij toch gewoon niet speciaal genoeg. Ik had een portie glitters nog koninklijker gevonden, en wellicht was een meer gouden tint ook passender geweest? Maar het idee is leuk. M'n huid voelde iets zachter aan na afloop, maar ook iets droger. En dat terwijl sojamelk toch een hydraterende eigenschap zou moeten hebben 🤨 Voor dit geld had een flinke portie hydraterende ingrediënten van mij ook wel gemogen. Of ben ik gewoon verwend?

Lush Royalty Bath Bomb kost €8,50. Hij behoort tot de tijdelijke Harajuku collectie.
8 Responses to Review: Lush Royalty Bath Bomb