Review: Lush Comfort Zone Shower Bomb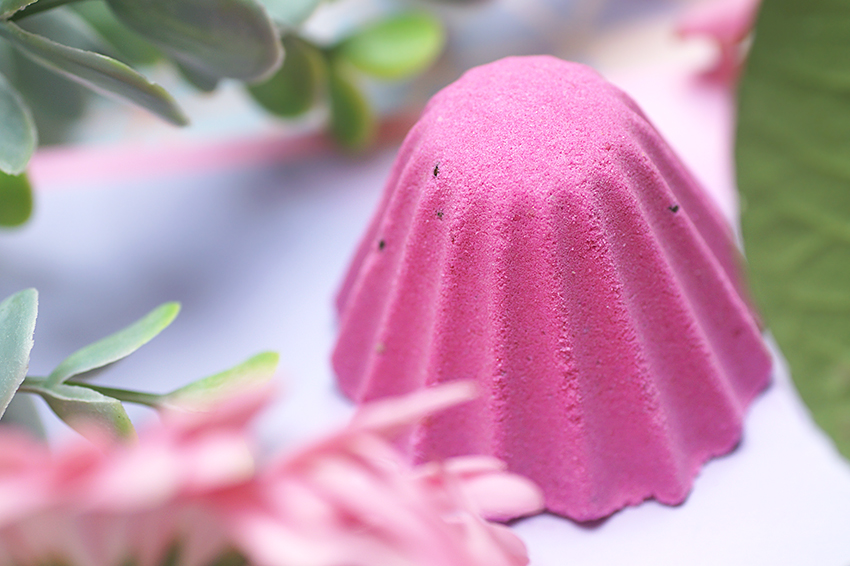 Ik ben dol op de shower bombs, dat is geen verrassing. Ik wil ze allemaal hebben geprobeerd, en daar hoort ook deze Comfort Zone bij. Een lieve, roze shower bomb met de geur van zwarte bessen. Oorspronkelijk was het een Liverpool exclusive, maar sinds kort is hij ook te koop in Nederland, als onderdeel van het vaste assortiment. Vandaag test ik hem voor je, dus ben je benieuwd, lees dan snel verderrr!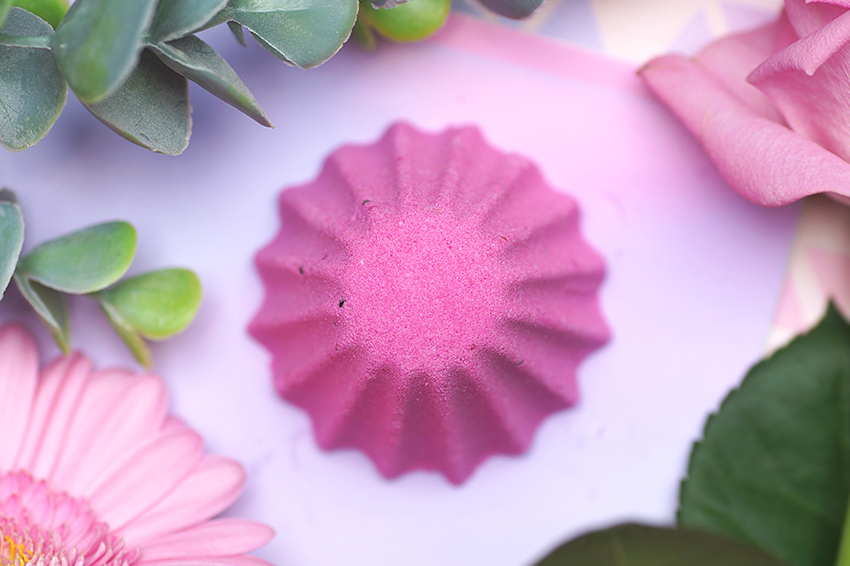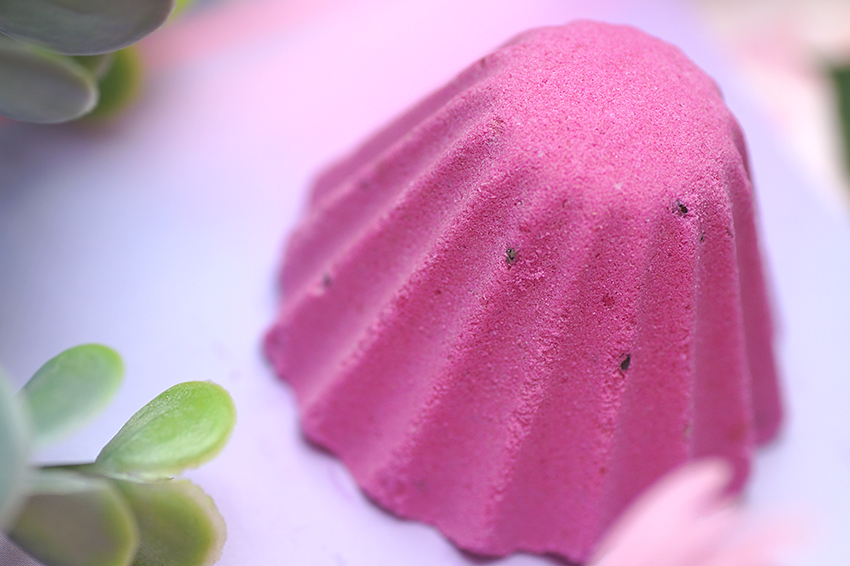 Wat is het?
Lush Comfort Zone Shower Bomb kost €3,00 en is sinds kort onderdeel van het normale assortiment. Een shower bomb is een kleine 'bruisbal' die je meeneemt in de douche en onder de straal houdt. Wanneer hij in aanraking komt met water, begint hij weldadig te schuimen. Dit schuim schep je er van af en daarmee smeer je jezelf in. Schuim is eigenlijk niet het juiste woord, het is meer een dik, zacht foam — een mousse. Als je het 'schuim' eraf hebt gepakt, houd je hem weer eventjes onder de straal zodat hij weer gaat schuimen. Met de meeste shower bombs doe je meerdere keren, afhankelijk van hoe royaal je jezelf insmeert — maar de bedoeling volgens Lush is om hem in één keer op te maken. Het product is naked, het heeft dus geen verpakking.
Je kunt hem droog wegleggen voor een volgende keer, maar je kunt hem ook vooraf in stukjes snijden. Zo doe je dus meerdere keren met één shower bomb. Lees hier meer daarover. Behalve Comforter Shower Bomb zijn er nog vee lmeer shower bombs, waaronder Sleepy, Not Sleepy, Koyaanisqatsi en nog meer.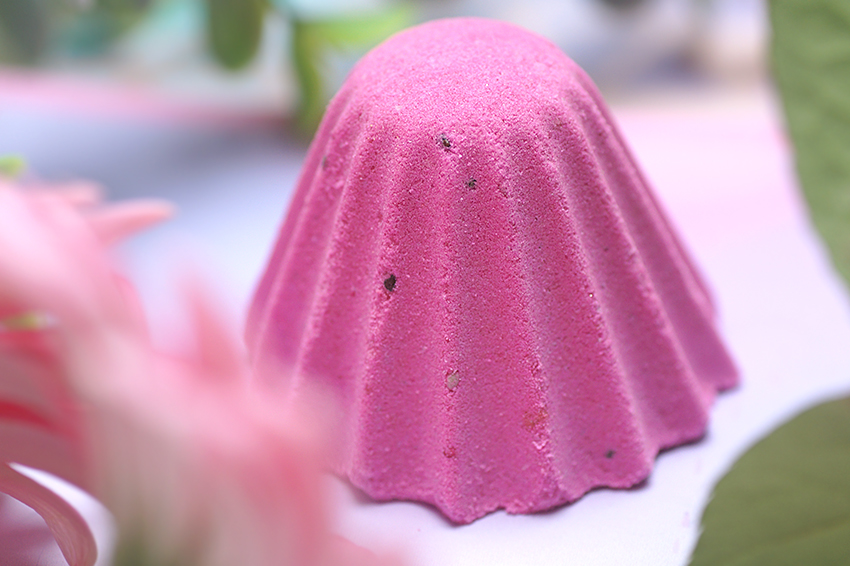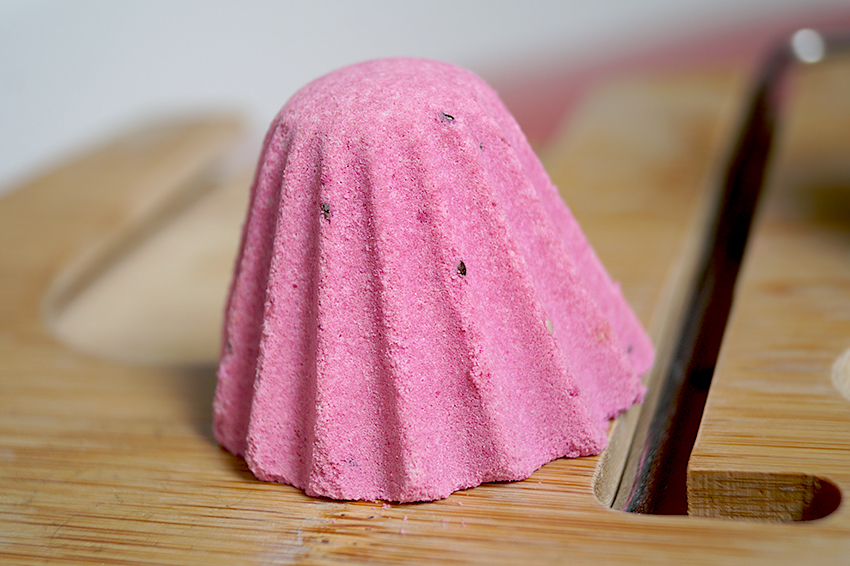 Wat zit erin?
Ingrediënten: Natrium Bicarbonaat (Sodium bicarbonate), Wijnsteenzuur (Potassium bitartrate), Citroenzuur (Citric acid), Aardappelzetmeel, Natrium Laureth Sulfaat, Calciumlactaat gluconaat, Natriumalginaat, Parfum, Cocamidopropyl-betaïne, Bergamotolie (Citrus aurantium bergamia), Zwarte Bessen Absolue (Ribes nigrum), Cypresolie (Cupressus sempervirens), Chiazaad, Verse Frambozen, Water (Aqua), Propyleen Glycol, *Limonene, *Linalool, Kleurstof 17200, Kleurstof 45410:1
Comfort Zone bevat bergamot, zwarte bessen, cypres en frambozen. Misschien weet je zwarte bessen al een populaire geurlijn van Lush te linken? The Comforter is de geurlijn waarmee Comfort Zone zijn geur deelt. Deze geurlijn is bekend om The Comforter bubble bar, maar heeft nog veel meer producten met deze geur. Deze shower bomb is daar nu ook aan toegevoegd!
Ik ben zelf nooit een groot fan van de geur van The Comforter geweest, maar ik weet wel dat het een onwijs populaire geurlijn is van Lush. Het is erg zoete, fruitige bessengeur. Ik vind de geur zelf vrij zwaar, hij is allesbehalve licht en subtiel. Het is een bessengeur in your face, alsof je een fles Cassis hebt opengemaakt terwijl je 10 minuten hebt staan schudden ermee. Ik vind hem te zwaar en te zoet, net als Snow Fairy, maar mijn mening valt in het niet bij de populariteit van dit product. Never mind me, dus.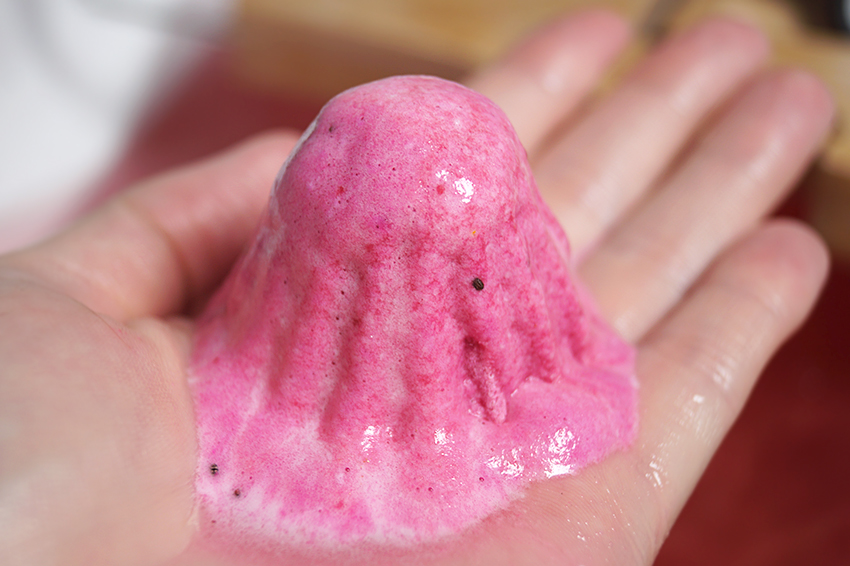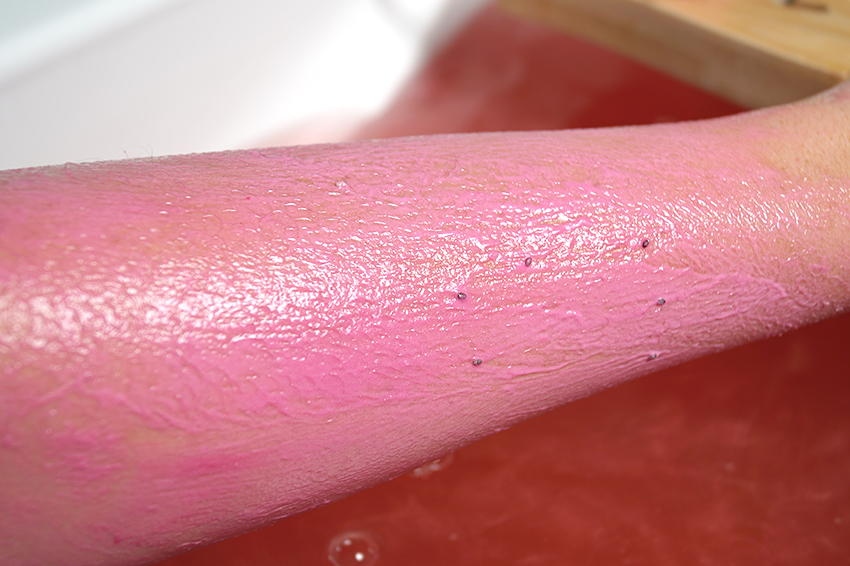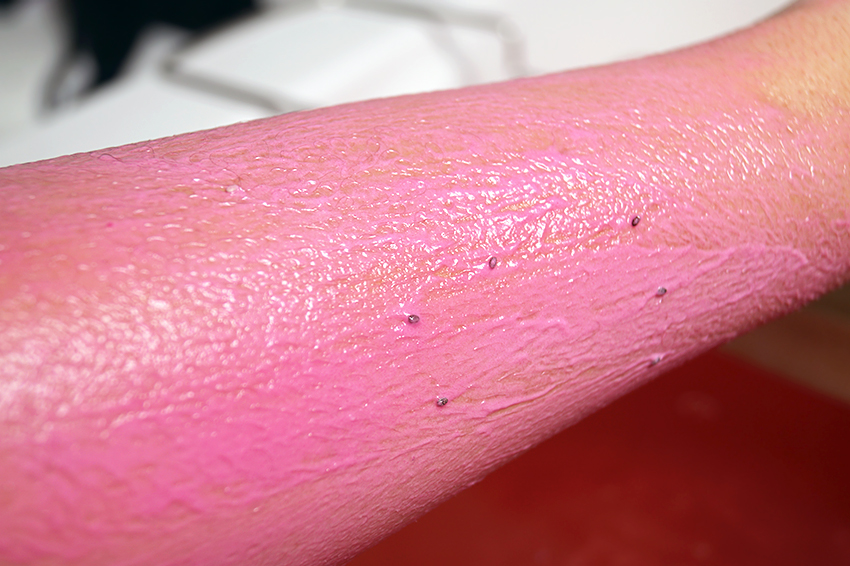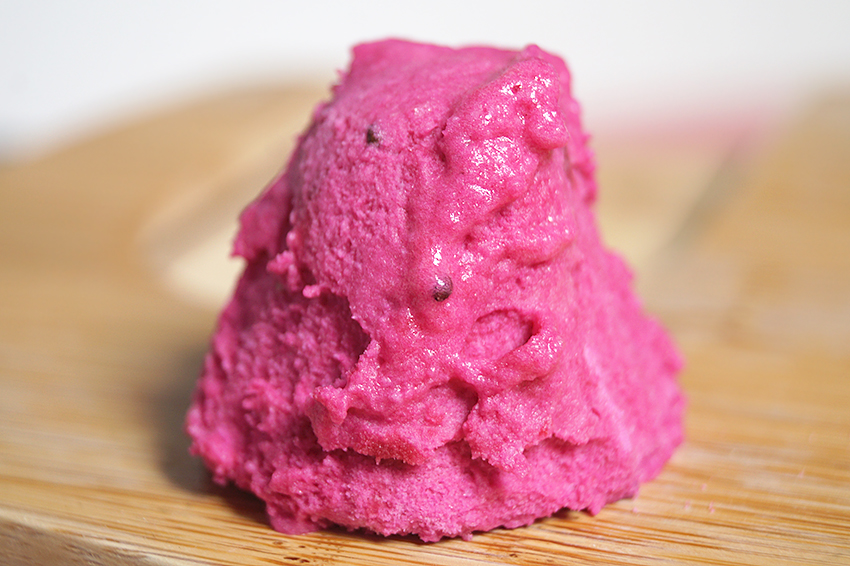 Mijn ervaring
Mijn ervaring met shower bombs is dat als je ze gebruikt en daarna weg legt voor een tweede keer, ze de tweede nooit zo goed op schuimen. Lush raad ook aan ze in één keer te gebruiken, dus dat is wat ik voortaan ook ga doen. Ik heb een aantal shower bombs één keer gebruikt en die liggen nu nog steeds ergens in een doosje. Ik ga dus lekker decadent de shower bomb in één keer op maken. En wat is dat lekker, zeg! Ook bij Comfort Zone komt er een berg dik, zacht en fluffy mousse vanaf als ik wat water erop gooi. Ik schep het eraf en smeer m'n armen er mee in — maar ik heb genoeg voor m'n hele lijf, zoveel schuim komt er van af. Er zit chiazaad in deze shower bomb, die zorgen voor een lichte scrub. De roze mousse op m'n arm ziet er zo vrolijk uit, en ik geef toe dat de zoete bessengeur ook niet heel verkeerd is nu.
Ik ben best verrast. De geur was erg lekker, niet zo zwaar en overheersend. Het roze maakt me vrolijk en de rijke mousse voelt heerlijk aan op m'n huid. M'n huid voelde na afloop mega zacht aan, maar ook glad en gehydrateerd. Ik kon een subtiele bessengeur nog urenlang ruiken op m'n huid. Ik had er per ongeluk twee gekocht, maar dat vind ik helemaal niet erg! Misschien ga ik er wel nog een paar kopen..

Lush Comfort Zone Shower Bomb kost €3,00. Hij behoort tot de vaste collectie.
4 Responses to Review: Lush Comfort Zone Shower Bomb