Review: Lush Brr! & Bam! Shower Slimes
Read this post in
Engels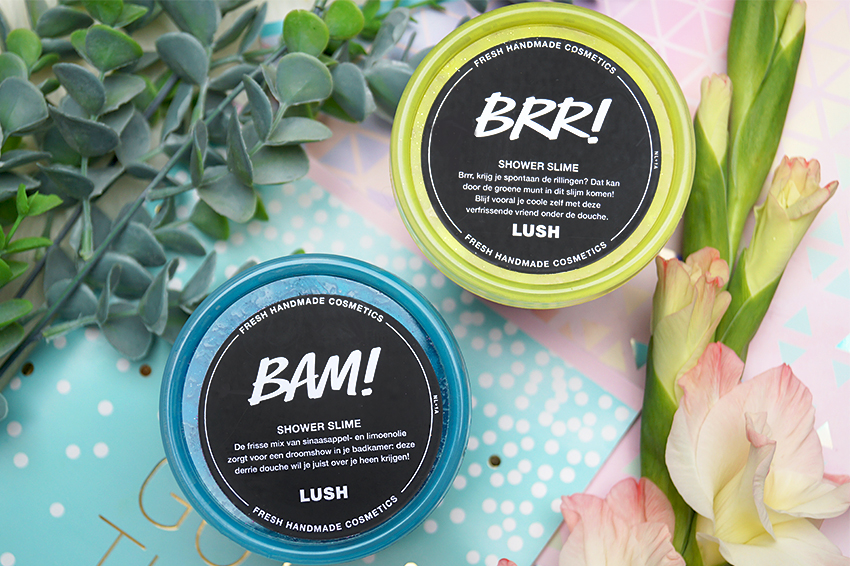 Yes! M'n shower slimes kwamen reuze snel binnen. Afgelopen maandag kwamen ze uit in de Lush Labs (zoals elke maand op de 29e) en gisteren, na twee dagen, kreeg ik ze al binnen! En aangezien er wat vraag was naar een review, besloot ik deze review direct te schrijven. Ik was onwijs benieuwd naar deze slimes, er werd natuurlijk al een week over gespeculeerd. Hoe zou de substantie zijn? Is het een knoeiboel tijdens het gebruiken? Is het niet vies om te gebruiken? Hoe ruiken ze? Vandaag beantwoord al deze antwoorden!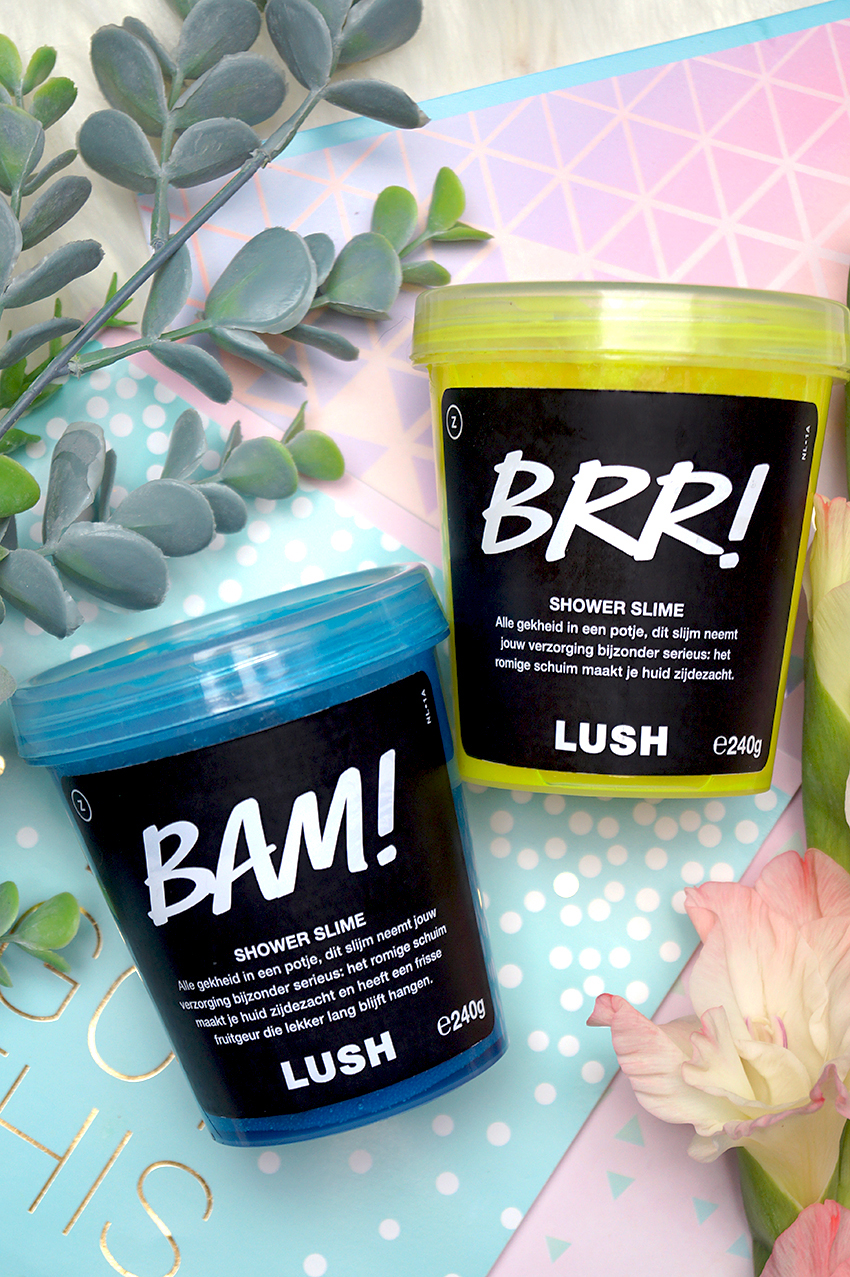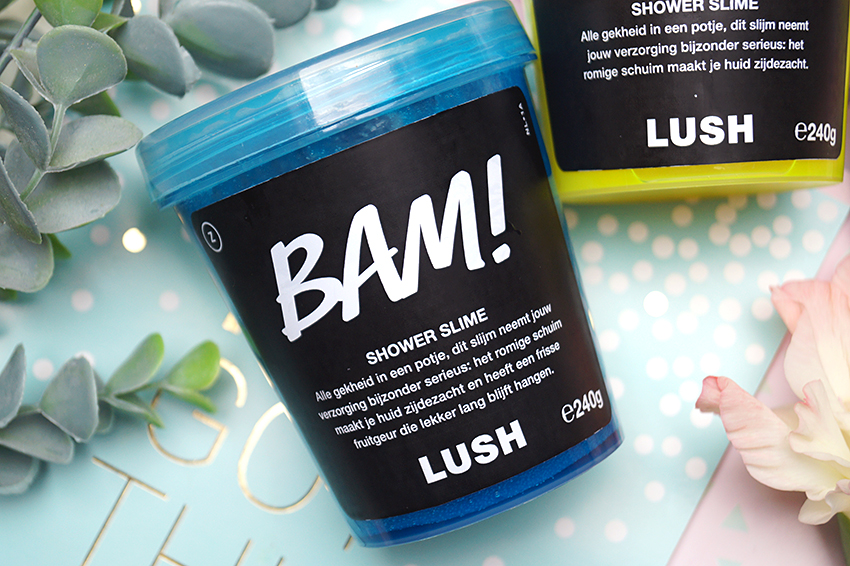 Wat is het?
Lush Brr! Shower Slime en Lush Bam! Shower Slime kosten ieder €16,00 per stuk en zitten in potten van 240 gram. Nog nooit eerder maakte Lush zoiets, het is dus compleet nieuw. In de Halloween collectie dit jaar komt er ook een Shower Slime, een zwarte. Een shower slime is een beetje als een douchegel qua idee — het maakt je schoon. Ook maken beiden je huid zijdezacht omdat ze in contact met water gaan schuimen.
De substantie wordt veel besproken op social media. Ik moet zeggen dat ik eerst ook dacht dat het een vaste klodder slijm zou zijn, net als die potjes slijm van de speelgoedwinkel. Je kent natuurlijk ook wel de satisfying slime videos — ook dat is één vast geheel. Shower slimes zijn echter gewoon een douchegel, maar dan dikker en stroperiger. Het is geen slijm dat je eruit haalt en er weer in kunt stoppen. Het is een onwijs dikke substantie wat totaal niet vies of slijmerig aanvoelt, hooguit iets glibberig. Ik snap de naam slijm, maar deze schrikt je misschien wat af, en dat is totaal niet nodig.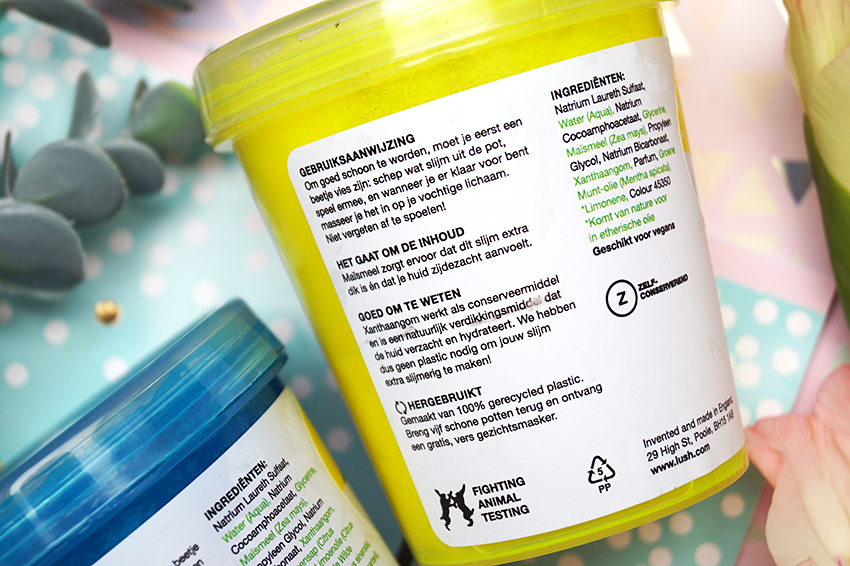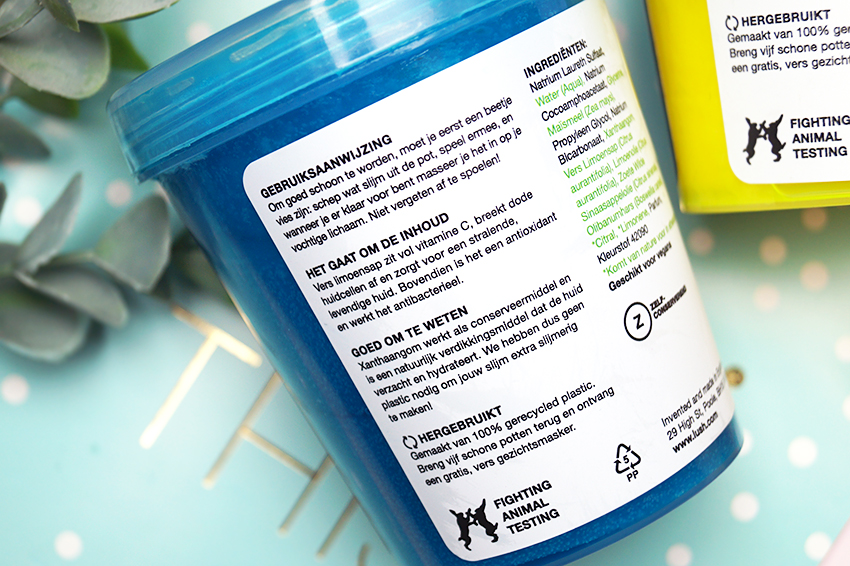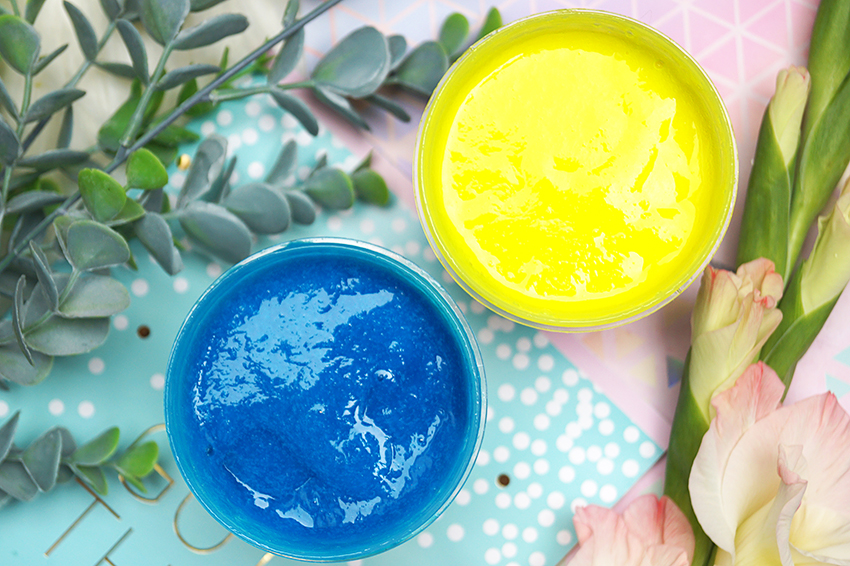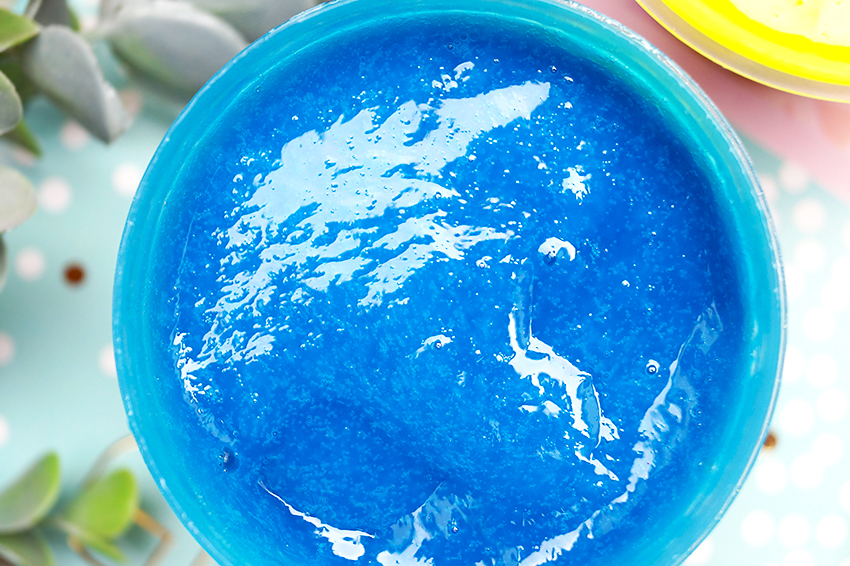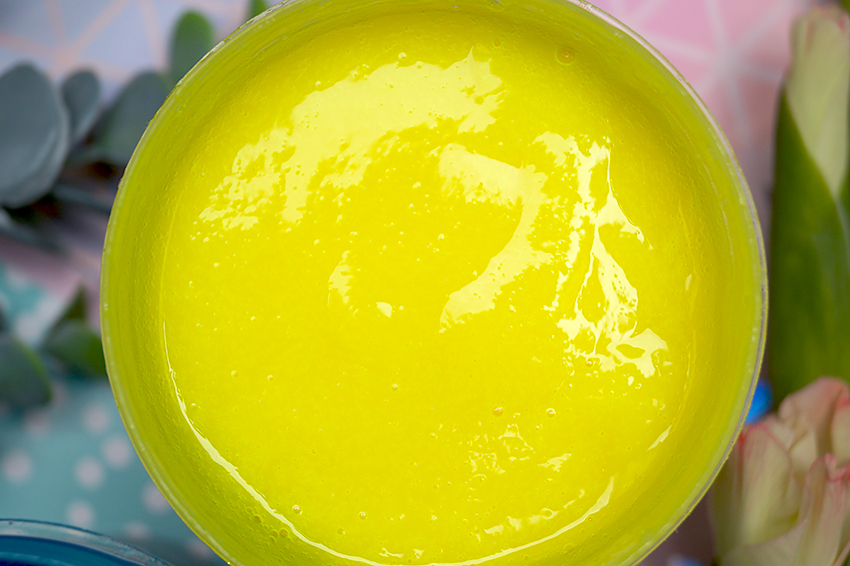 Wat zit erin?
Beide slimes bevatten standaard een aantal ingrediënten, deze zorgen voor de substantie zoals hij is, en dat hij in aanraking met water gaat schuimen. Maïsmeel zorgt voor een extra dikke substantie, maar maakt tegelijkertijd ook je huid glad. Xanthaangom is een conserveermiddel, maar ook een verdikkingsmiddel dat verzachtend en vochtinbrengend werkt voor de huid.
Bam!
Ingrediënten: Natrium Laureth Sulfaat, Water (Aqua), Natrium Cocoamfoacetaat, Glycerine, Maïsmeel, Propyleen Glycol, Natrium Bicarbonaat (Sodium bicarbonate), Xanthaangom, Vers Limoensap, Limoenolie (Citrus aurantifolia), Zoete Wilde Sinaasappelolie, Olibanumhars, *Citral, *Limonene, Parfum, Kleurstof 42090
Behalve deze standaard ingrediënten, bevat Bam! (de blauwe) limoensap, limoenolie, sinaasappelolie en olibanumhars. Bij de die hard Lushies gaat er misschien al een belletje rinkelen, maar deze ingrediënten zitten ook in Never Mind The Ballistics Bath Bomb. Limoen herstelt, beschermt en verfrist — het bevat ook enzymen die helpen dode huidcellen te verwijderen en heeft het een positieve invloed op het humeur. Olibanumhars werkt verzachtend en ontspannend, en sinaasappelolie is anti-bacterieel en verstevigend.
De geur van Bam! is onwijs lekker — het is een snoepjesgeur, echt heel zoet en sappig, en iets fruitig. Hij is echt kauwgomballen-zoet, maar met een frisse ondergrond. Alsof je van dat chemische snoep hebt uit de jaren '90. Je weet wel, die snoepjes vol kleur- en geurstoffen. Heerlijk. In die tijd maakte we ons geen zorgen over natuurlijke ingrediënten. Anyway, het is vrij aanwezige snoepgeur. Een geur die je opvrolijkt, dat sowieso!
Brr!
Ingrediënten: Natrium Laureth Sulfaat, Water (Aqua), Natrium Cocoamfoacetaat, Glycerine, Maïsmeel, Propyleen Glycol, Natrium Bicarbonaat (Sodium bicarbonate), Xanthaangom, Parfum, Muntolie, *Limonene, Kleurstof 45350
Dan hebben we Brr!, de gele slime. Deze is wat saaier qua ingrediënten, want hij bevat alleen muntolie. Muntolie verfrist de huid, maar reinigt deze ook. En.. het is een verfrissende geur, met een zeer positieve werking op het humeur! Overigens deelt Brr! zijn geur met Chocomint bath bomb, maar ik vind hem ook onwijs lijken op Dirty Scrub qua geur.
De geur is zo lekker. Het is een munt-frisse geur, maar wel met een iets zoete ondergrond. Het is dus niet 100% munt, hij heeft net als Bam! ook iets snoeperigs. Er zit een heel licht tintje citrus in ook, lijkt wel. Ik vind deze geur iets lekkerder dan Bam!, maar dat komt ook omdat ik een grote fan ben van muntgeuren.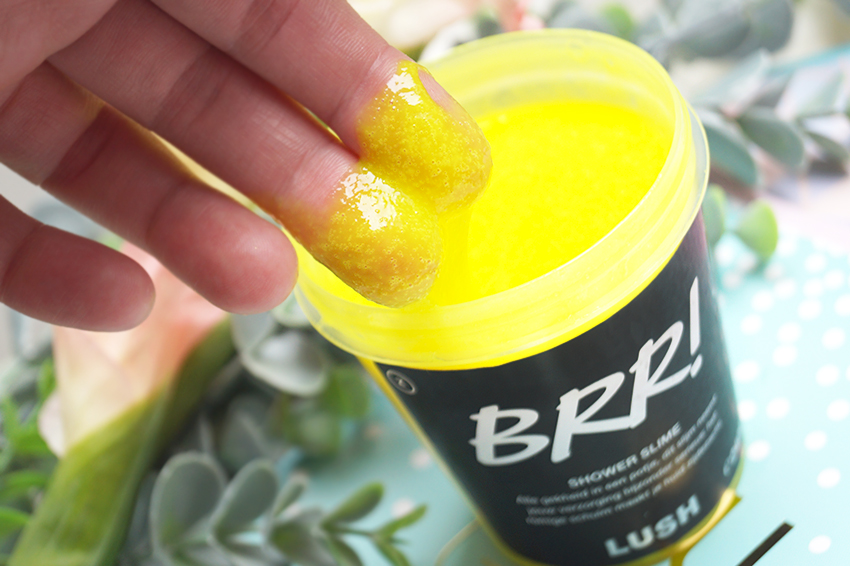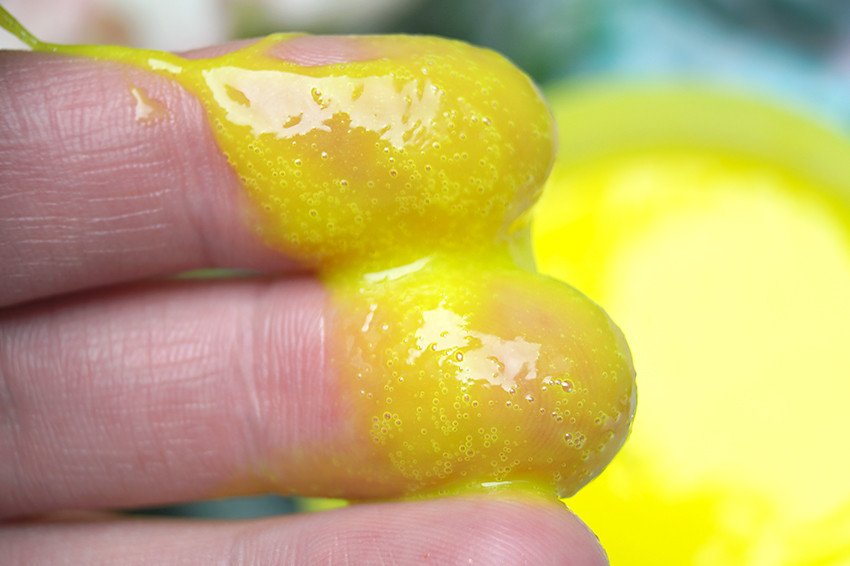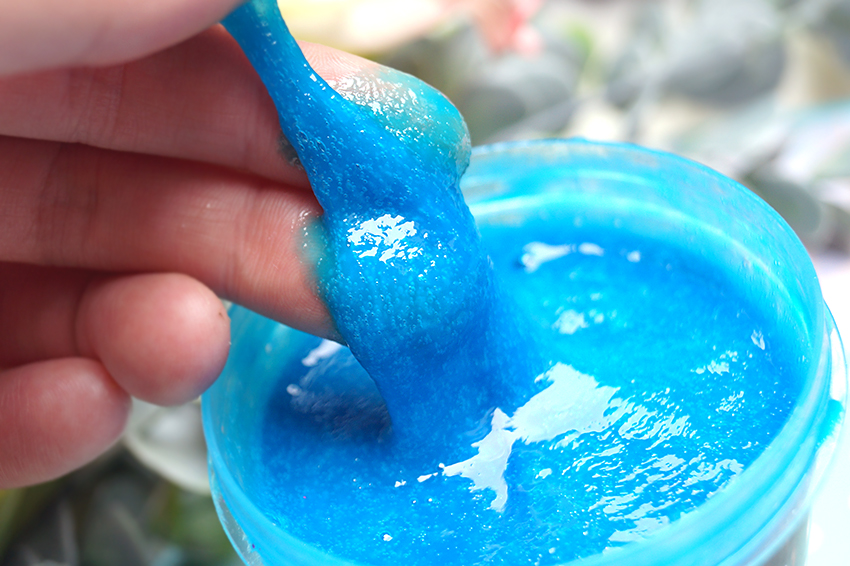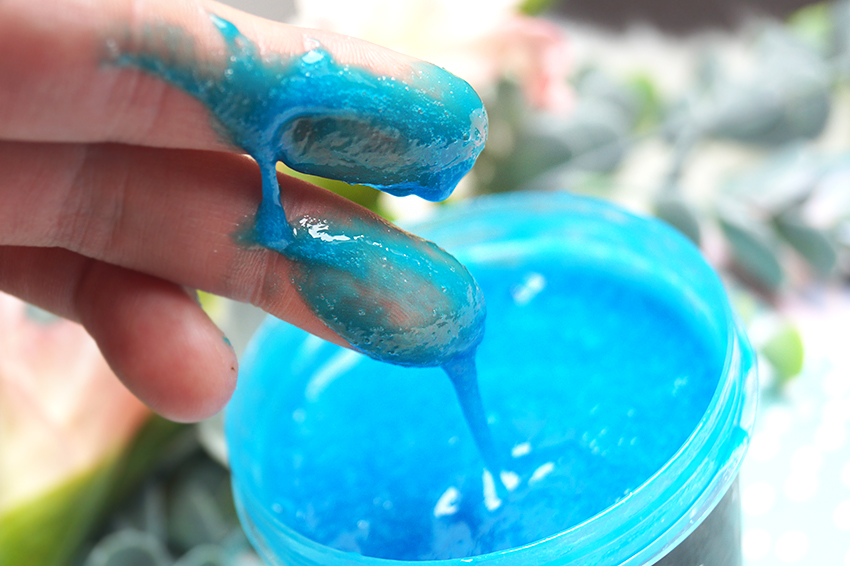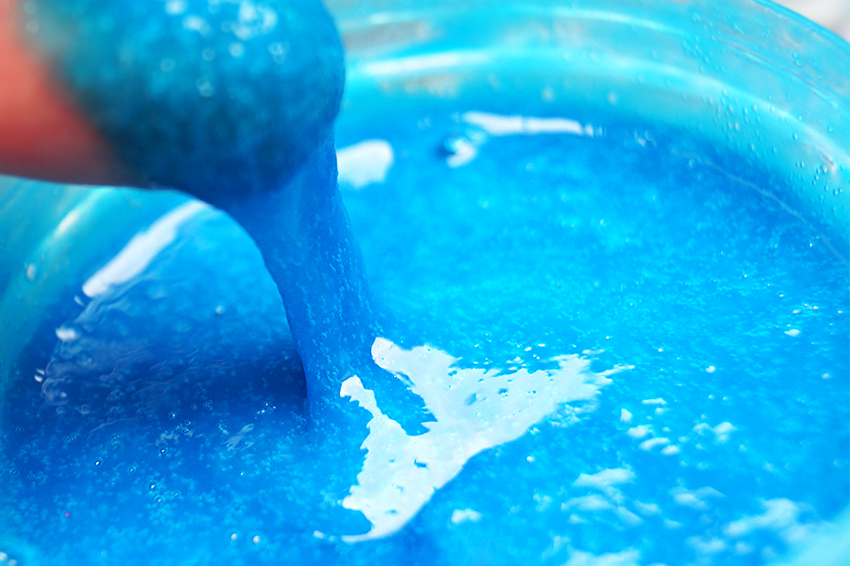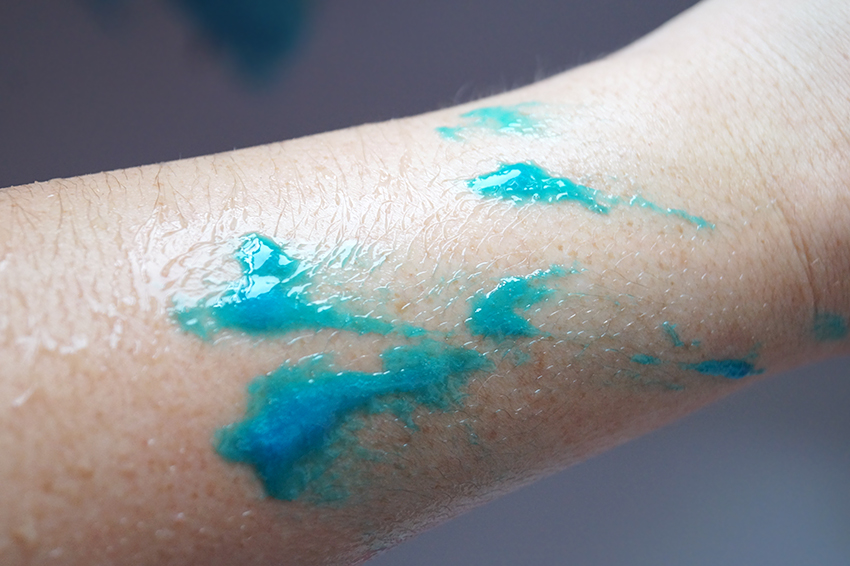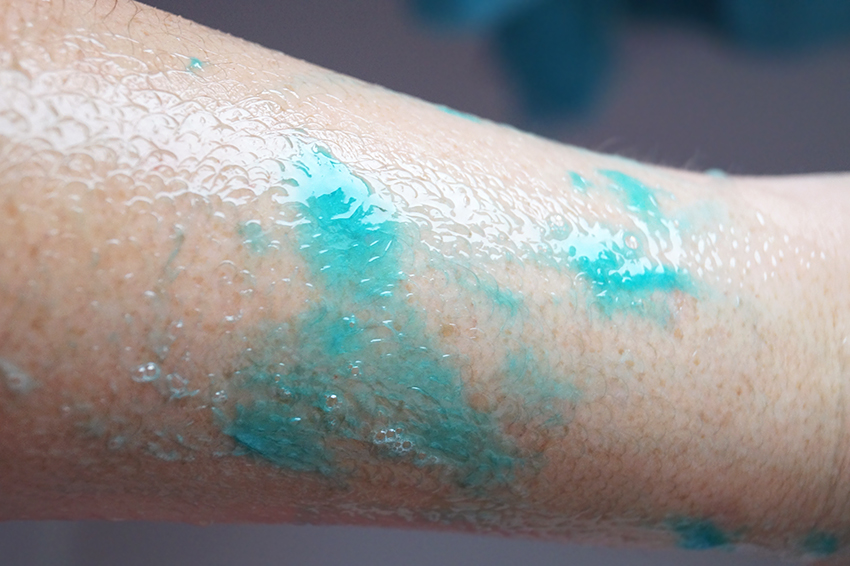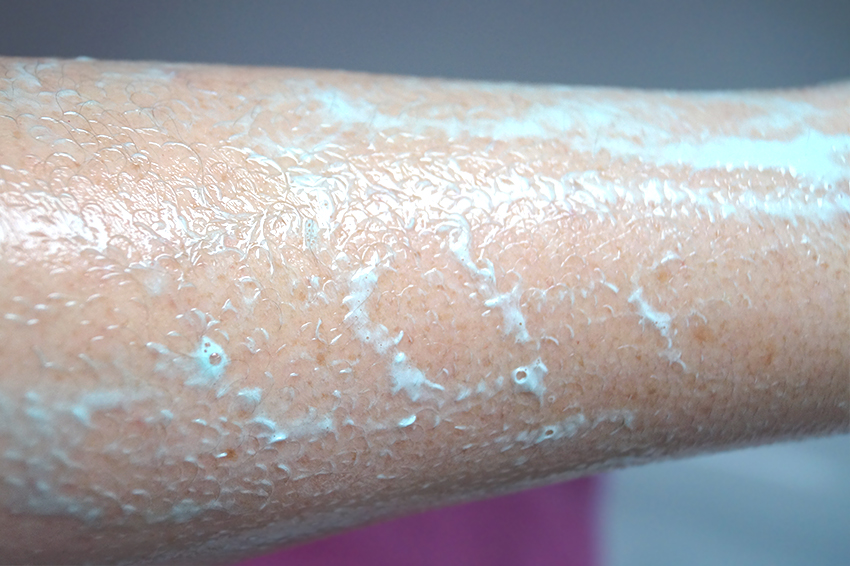 Mijn ervaring
Het gebruik is vrij simpel — met je vingers schep je wat van het slime uit de pot. Nu zegt Lush dat je er nog even mee kunt spelen, maar dat sla ik even over. Doordat het vrij druiperig is, heeft het de neiging uit je handen te lopen, en je wilt natuurlijk niet dat het door het doucheputje loopt. Ik breng het meteen aan op de huid en smeer de substantie uit — door het water wat al op m'n huid ligt, begint het lekker te schuimen, wat het uitsmeren nog makkelijker maakt. Het is eigenlijk gewoon alsof je een douchegel uitsmeert over de huid. Het afspoelen gaat ook erg makkelijk, het spoelt gemakkelijk door en de douche zit niet eens helemaal onder het slijm! Ook dát had ik stiekem wel verwacht. Zo'n slijmbloedbad, weet je wel. Enige minpuntje wat ik kan bedenken, is dat je het slijm niet makkelijk weer terug stopt in de pot. Het loopt door je vingers heen, dus het zit dan overal. Een beetje knoeien is het wel, maar onder de douche of in bad, mag dat gewoon.
De geur is echt intens — van beide! Toen ik Brr! gebruikte en m'n vriend na het douchen de trap op liep, hoorde ik hem zeggen: "hey, het ruikt naar kauwgomballen hier". En dat was nota bene de gele — de meer munt-achtige slime. Toen ik Bam! gebruikte (de blauwe), vond ik hem onder de douche juist weer wat meer munt-achtig, een beetje richting de tandpasta gaan.
Op m'n huid kon hij de geur niet echt terug ruiken, ik héél subtiel. Maar de snoepjesgeur in de badkamer bleef nog uren hangen. M'n huid had een mooie glans, voelde zachter en gladder aan, en leek wat meer soepel aan te voelen. Ik was eerst bang dat het product totaal niet zuinig in gebruik zou zijn, zeker omdat je eerder knoeit, maar ook dat valt mee. Je hebt maar een klein beetje slime nodig voor een berg schuim waarmee je je huid insmeert.
Ik ben echt enorm positief verrast. Nu vertrouw ik toch al snel op de kunsten van de productenmakers bij Lush, maar dit bevestigt maar weer dat ze écht wel weten wat ze doen daar. Ik vind het een geweldige uitvinding en stiekem wil ik er nog een paar inslaan. Ik heb alleen écht een no-buy van mezelf moeten inlassen, dus hopelijk blijven ze nog even staan in de webshop!

Lush Bam! Shower Slime en Lush Brr! Shower Slime kosten €16,00 en bevatten 240 gram. Ze zijn tijdelijk te koop in de Lush Labs.
2 Responses to Review: Lush Brr! & Bam! Shower Slimes