Review: Lush Jade Roller & Sleepy Face Naked Cleansing Balm
Read this post in
Engels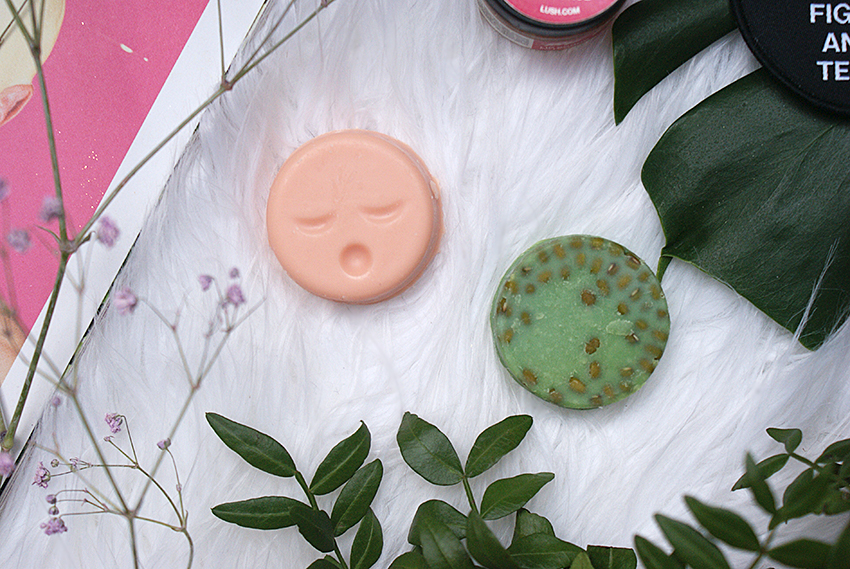 Lush bracht onlangs verpakkingsvrije gezichtsverzorging uit, in de vorm van meerdere diverse producten zoals cleansers, gezichtszeep en facial oil. Ik ben natuurlijk hartstikke benieuwd hoe alles bevalt, maar ik besloot om als eerste twee naked cleansers te proberen. Het reinigen van m'n gezicht is echt een vast onderdeel iedere ochtend en avond, dus dit leek me een perfect product om eens te testen. Lees je mee?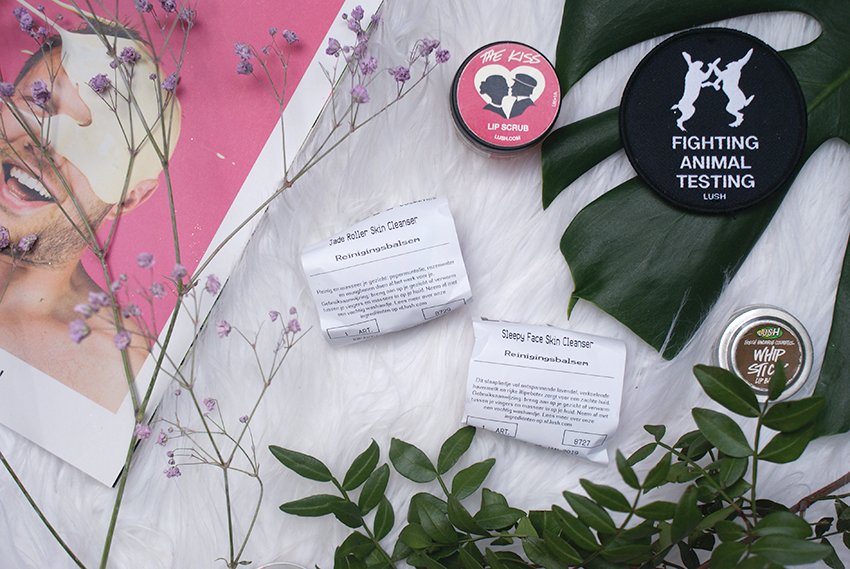 Naked Cleansing Balms, wat is het?
De Naked Cleansing Balms kosten €5,95 per stuk en wegen zo'n 15 gram per stuk. Er zijn verschillende cleansers afhankelijk van welke huidtype je hebt. Jade Roller is zeer geschikt om de huid te hydrateren en te kalmeren, en Sleepy Face is behalve hydraterend ook verzachtend. Mocht je precies willen weten welke cleanser bij jouw huidtype past, ga dan even langs in de winkel. De lieve medewerkers helpen je er graag mee! Je vindt op deze pagina ook veel informatie over de nieuwe cleansers (en andere naked producten!)
Het gebruik van deze cleansers is heel makkelijk. Beweeg hem in z'n geheel over je gezicht, of laat hem een beetje smelten tussen je vingers. De boters en oliën erin warmen snel op waardoor ze lichtelijk smelten, hiermee smeer je je gezicht in. Je kunt er je make-up mee verwijderen, zelfs waterproof oog make-up! Zelf gebruik ik ze dan ook om m'n make-up te verwijderen en vuil te verwijderen. Vervolgens maak ik een wattenschijfje vochtig en wrijf hiermee m'n gezicht schoon, waarmee ik laatste restjes vuil en de cleanser verwijder.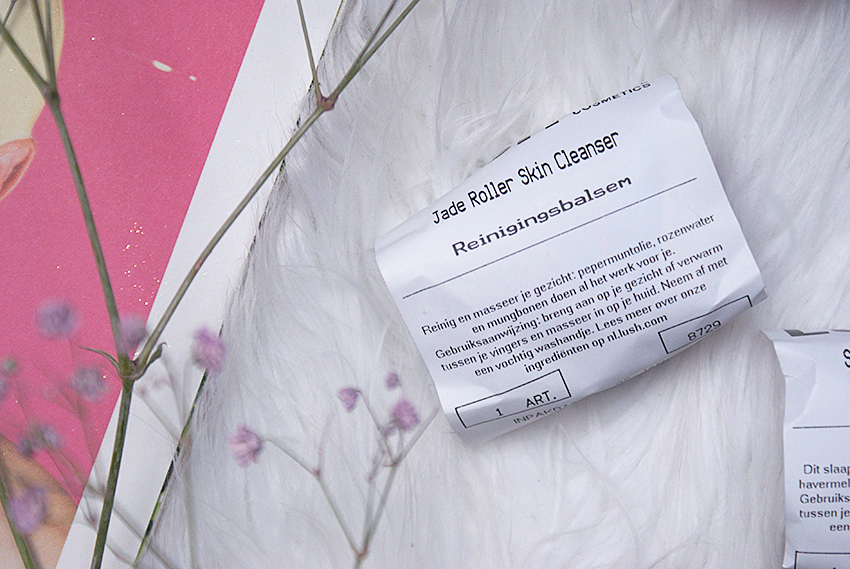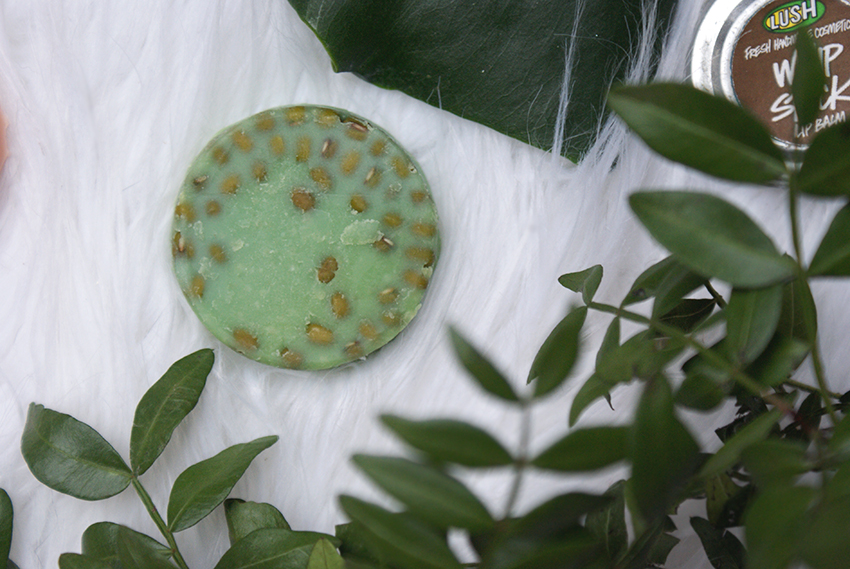 Jade Roller
Jade Roller is een groene cleanser die mungbonen bevat. Reinigen, masseren, en zelfs make-up verwijderen zou er mogelijk mee zijn! De cleansers bestaat uit murumuruboter, marula-olie, sheaboter, kamille-azijn, rozenwater, pepermuntolie, scharlei-olie, eucalyptusolie, geraniumolie en gardenia-extract. Dat is eigenlijk de gehele basis! Er zit een klein beetje water in. Citral, citronellol, geraniol, limonene en linalool zijn ingrediënten afkomstig van essentiële oliën uit vruchten, kruiden, planten en bloemen. Ze worden gebruikt om de producten geur te geven. Verder zit er een klein beetje parfum in, en onderaan de lijst staat Chlorofyl. Dit is de groene bladkleurstof van planten.
(Volgens de beschrijving zit er ook hazelnootolie in Jade Roller, maar deze zie ik niet terug in de ingrediëntenlijst..)
Behalve het reinigen van de huid, masseren de mungbonen de huid en stimuleren ze de bloedcirculatie. Kamille en rozen kalmeren de huid, terwijl de murumuruboter en sheaboter de huid goed hydrateren. Marula-olie is een traditionele Zuid-Afrikaanse reiniger die de elasticiteit van de huid verhoogt.
De geur is typisch Lush, ik ruik de kalmerende kamille erin, verder is hij vrij kruidig. Hoelang je met deze cleanser doet kan ik nog moeilijk inschatten, maar na één week gebruiken lijkt er nog weinig product te missen.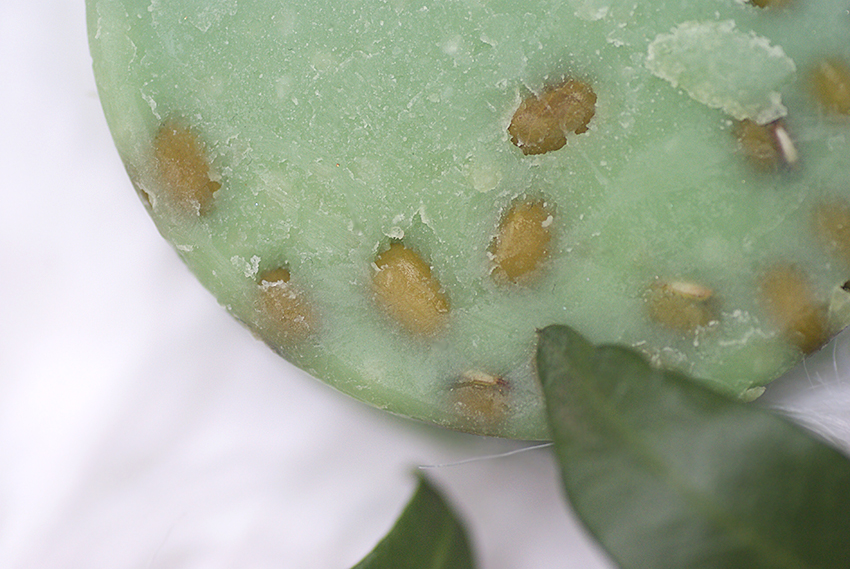 Hoe vind ik Jade Roller?
Wat betreft het gebruik valt me op dat m'n huid vrij gevoelig reageert op de mungbonen erin, als ik hem rechtstreeks op de huid gebruik. Ik zie ook kleine witte stukjes erin, deze scrubben de huid, maar ik heb geen idee welk ingrediënt het nu precies is. Maar de combinatie van de mungbonen en de witte scrubdeeltjes maken m'n gezicht erg rood — vooral op m'n voorhoofd, waar de huid erg dun is. Het doet geen zeer, maar ik ben bang dat de cleanser wat te heftig is voor de huid daar. Een oplossing is dan om de cleanser in m'n handen te verwarmen en vervolgens m'n gezicht in te smeren, maar dit duurt me dan weer te lang.. ja, ik ben nogal ongeduldig 😅
M'n huid wordt wel goed gereinigd en voelt zacht na afloop. De volgende ochtend voelt deze ook erg zacht aan, een beetje hetzelfde als dat ik met Full of Grace heb. Dit product is dan ook een groot favoriet van me, en gebruik ik graag na afloop van een naked cleanser.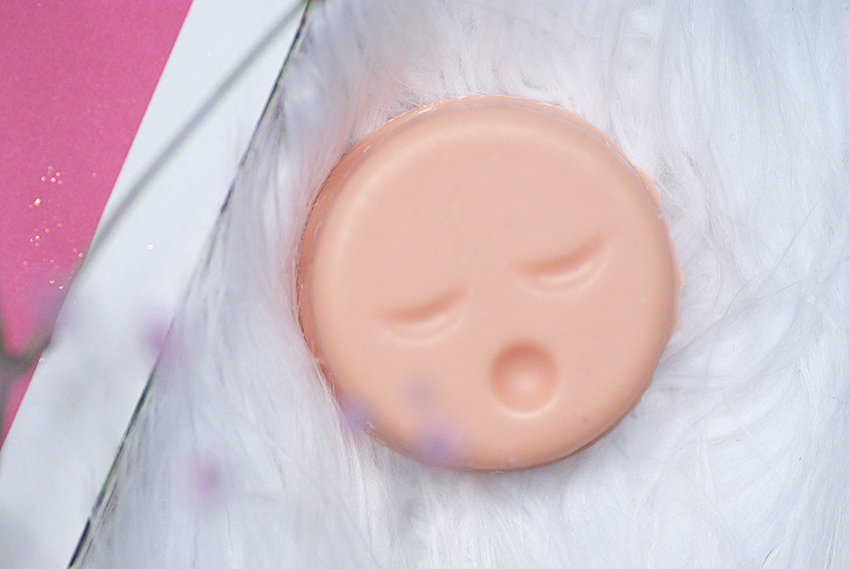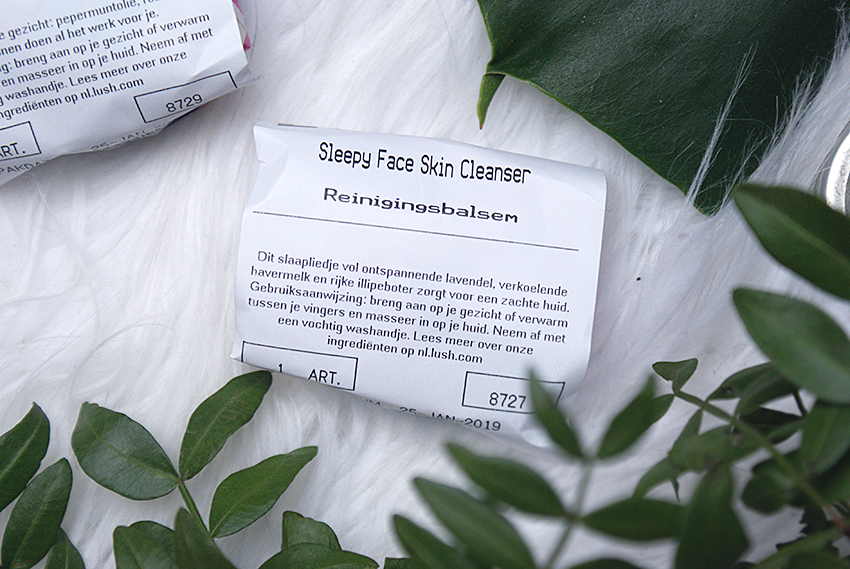 Sleepy
Sleepy is een cleanser met een slaperig gezichtje erop. Erg cute! Sleepy is totaal anders dan Jade Roller. Hij bevat als hoofdingrediënten cacaoboter, sheaboter, en illipeboter — drie enorme hydratatie bronnen. Vervolgens hebben we "alkanet geëxtraheerd in biologische jojoba-olie". Dafuq? Ik moest dit echt even opzoeken, maar kennelijk is alknet "ossentongwortel plant", geëxtraheerd betekent "uittrekken, aftreksels maken". Nog steeds vaag, maar dan heb je een ~beetje~ een idee wat het is.
Vervolgens: havermelk, amandelolie, lavendelolie, lavendel absolue, en dan nog twee bestandsdelen uit essentiële oliën; Coumarine en Linalool.
Qua geur is Sleepy GE-WEL-DIG. Ik ruik echt 50% lavendel en 50% kamille, hoewel kamille er niet in zit! Toch heeft hij een heerlijk ontspannende geur. Heel zacht en warm, gewoon heerlijk voor 's avonds voor het slapen gaan.
Zodra ik hem over m'n huid laat glijden, duurt het een paar seconde voordat hij lichtelijk smelt en dan gaat het glijden erg makkelijk. Ik smeer m'n hele gezicht lekker in met de oliën en verwijder m'n make-up ermee. Tenzij ik echt full-face make-up draag, dan pak ik even een gezichtsreinigingsdoekje om het meeste te verwijderen.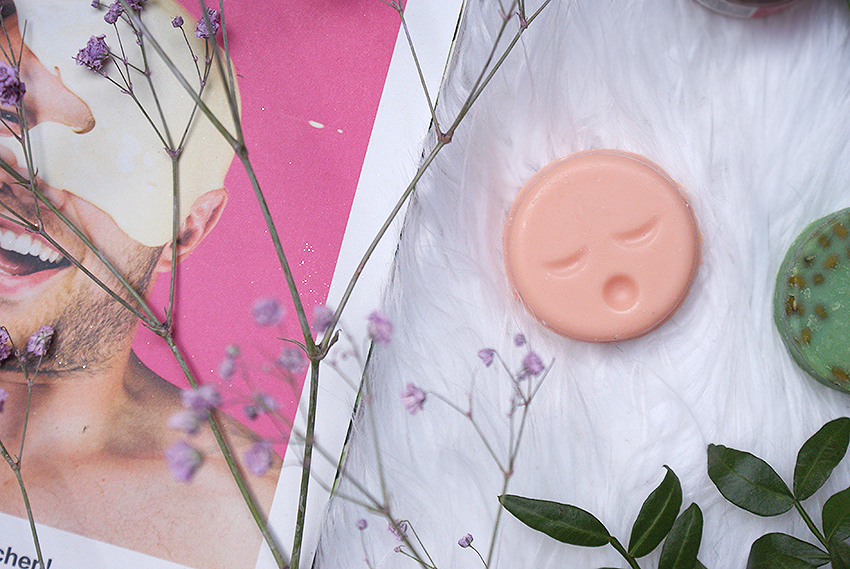 Hoe vind ik Sleepy?
M'n huid voelt zacht, gehydrateerd en heerlijk aan. Eigenlijk net zoals bij Jade Roller, maar ik vind de geur van Sleepy echt heerlijk. Ik geniet oprecht wanneer ik hem gebruik. Sleepy is dan ook echt een product wat ik altijd in huis wil hebben. Ik gebruik hem nu een week lang iedere dag, en er is nog maar weinig product van af. Je doet er dus, afhankelijk van hoeveel je gebruikt, best lang mee. En dat maakt de prijs erg schappelijk voor zo'n heerlijk product.
Conclusie
Over Jade Roller ben iets minder enthousiast, omdat de scrub hierin iets te heftig is voor mijn gezicht. Sleepy vind ik dan weer echt geweldig. Die geur is heerlijk, en het effect is doeltreffend — hij verwijdert waterproof (oog)make-up, laat m'n huid schoon en zacht aanvoelen, en 's ochtends voelt m'n huid een stuk soepeler en zachter aan.
Er zijn meer naked cleansing balms behalve deze twee, ik adviseer je gewoon even langs een Lush winkel te gaan en te kijken welke bij je huid past. Zo is er ook nog Like a Virgin, Gritty Politti en Tea Totaler. Willen jullie een review van deze andere drie cleansers? Laat het me weten in de reacties!
9 Responses to Review: Lush Jade Roller & Sleepy Face Naked Cleansing Balm