Review: Lush Volcano Fun
Read this post in
Engels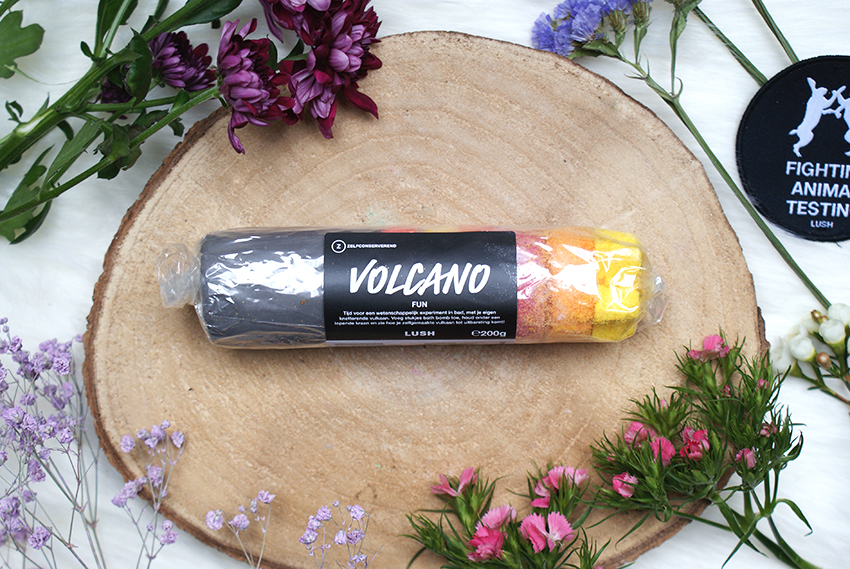 Over 't algemeen loop ik niet warm voor Fun. Ik vind het een gaaf en innovatief product van Lush, maar ik heb er niet zo veel mee. Ik heb ook geen kinderen, zo wel zou ik eerder geneigd zijn het te kopen voor ze, omdat je er gewoon lekker mee kunt kleien. Dat is het hele concept van Fun, eerst kleien en bouwen, vervolgens gebruiken als showergel, bubble bar, shampoo, zeep, noem het maar op. Ach, daar heb ik toch de reguliere producten voor?
Maar toen ik deze Volcano een paar keer voorbij zag komen, trok hij wel m'n aandacht. En dat komt voornamelijk doordat er een stukje bath bomb bij zit, die je erin doet, water erbij — en bruisen maar. Net als een echte vulkaan. Hoe cool? Ik wilde het toch wel graag proberen, dus ik besloot hem gewoon te kopen.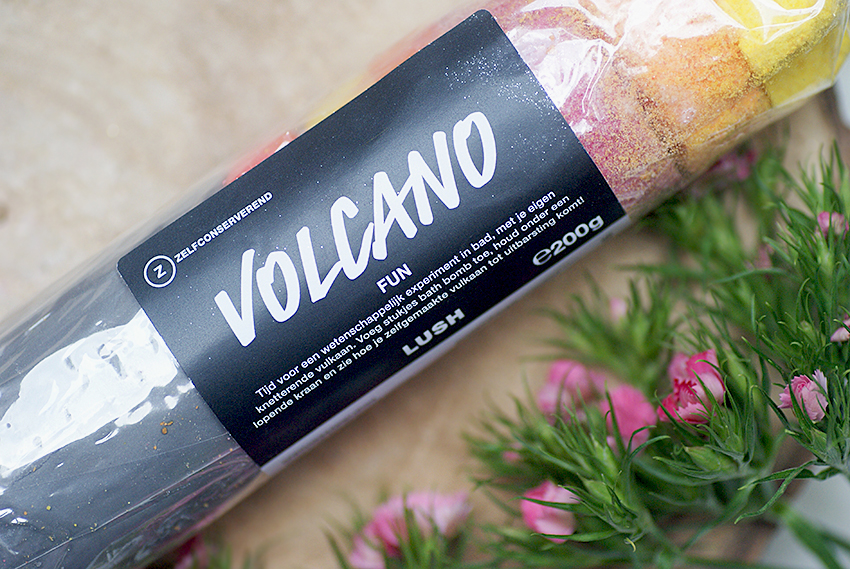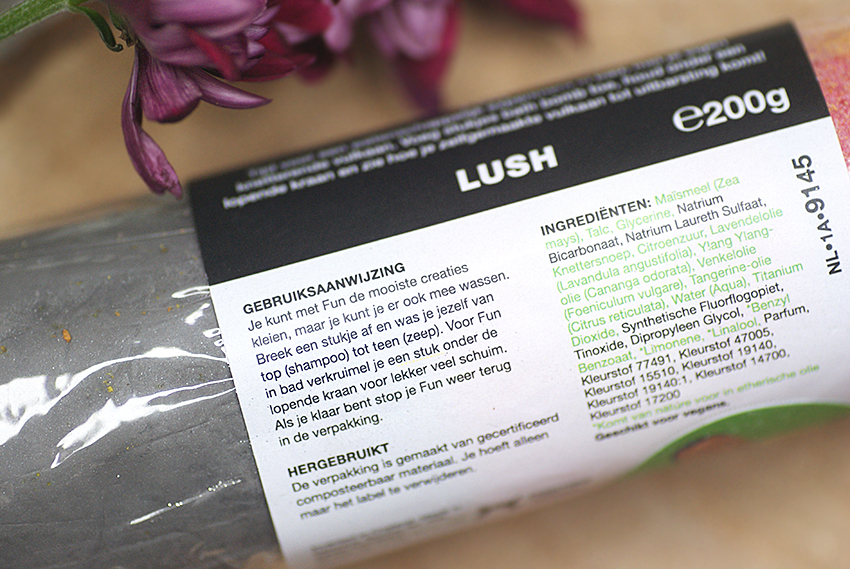 Wat is het?
Lush Volcano Fun kost €10,95 en daarvoor krijg je 200 gram aan product. Hij is onderdeel van de Paascollectie. Deze Fun is iets anders dan je gewend bent, hij bevat behalve Fun ook 3 stukjes 'bath bomb' met knettersnoep erin. Op de foto hieronder kun je het goed zien — het zijn de drie meeste rechtse stukjes. De gele, aan het uiteinde, heeft de vorm van een ster. Het is de bedoeling dat je een vulkaan bouwt met de klei, en dan de stukjes bath bomb erin legt. Wat water erbij, en… uitbarsting! Doordat er water bij de bruis-stukjes met knettersnoep komen, gaan ze bruisen, wat een uitbarsting nabootst. Het geknetter maakt het effect compleet. Nou, hoe cool is dat.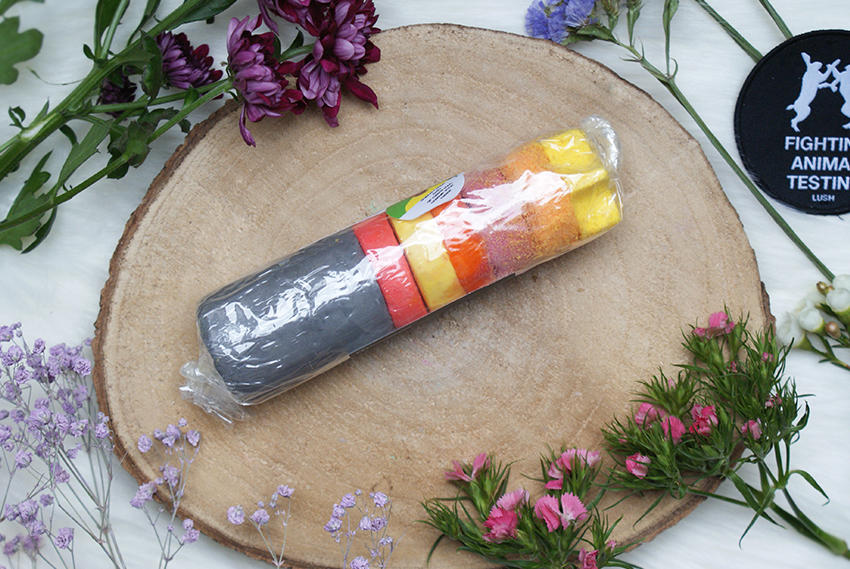 Wat zit erin?
Ingrediënten: Maïsmeel, Talk, Glycerine, Natrium Bicarbonaat (Sodium bicarbonate), Natrium Laureth Sulfaat, Knettersnoep, Citroenzuur (Citric acid), Lavendelolie (Lavandula augustifolia), Ylang Ylang-olie (Cananga odorata), Venkelolie (Foeniculum vulgare), Tangerine-olie (Citrus reticulata), Water (Aqua), Titanium Dioxide, Synthetische Fluorflogopiet, Tinoxide, Dipropyleen Glycol, *Benzyl Benzoaat, *Limonene, *Linalool, Parfum, Kleurstof 77491 (Cl 77491), Kleurstof 47005, Kleurstof 15510 (CI 15510), Kleurstof 19140, Kleurstof 19140:1(CI 19140:1), Kleurstof 14700 (CI 14700), Kleurstof 17200, Kleurstof 45410 (CI 45410)
Volcano Fun bevat o.a. lavendelolie, ylang ylang olie, venkelolie en tangerine-olie. Ik had geen idee hoe hij zou ruiken, maar aangezien ik 90% van Lush lekker vind ruiken, zat dat wel goed. Dacht ik. Maar ik vind hem dus echt niet lekker ruiken, hij ruikt heel sterk naar lavendel. Het gekke is, ik ben dol op lavendel. Maar er zit een andere geur doorheen waardoor de algehele geur gewoon verschrikkelijk wordt. De oranje en gele Fun lijken iets minder naar lavendel te ruiken, misschien is dat juist het gedeelte waar de tangerine-olie in zit? Qua kleur zou dat wel kloppen. Maar het kan ook zijn dat alle stukken Fun dezelfde geur hebben. In ieder geval, ik vind het geen lekkere geur 😖 Terwijl hij vanaf een afstandje, of terwijl hij nog in verpakking zit, al een stuk lekkerder ruikt.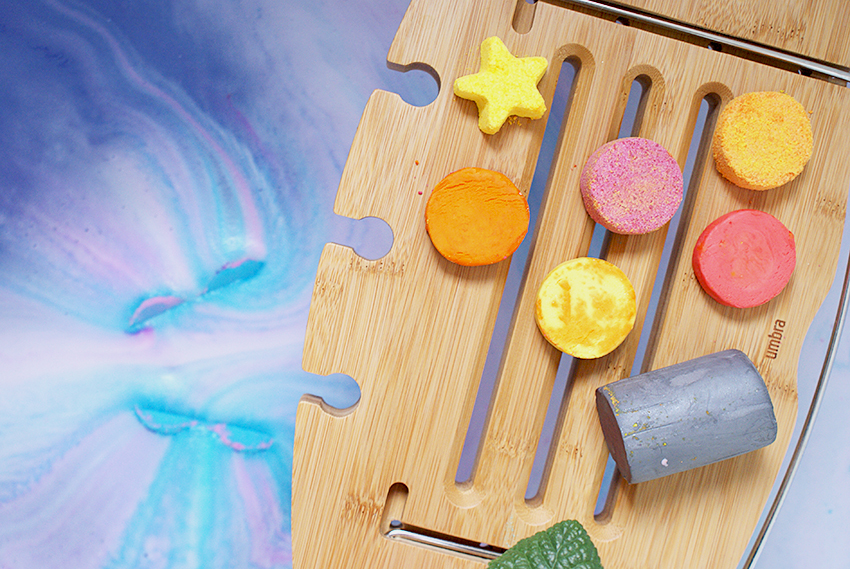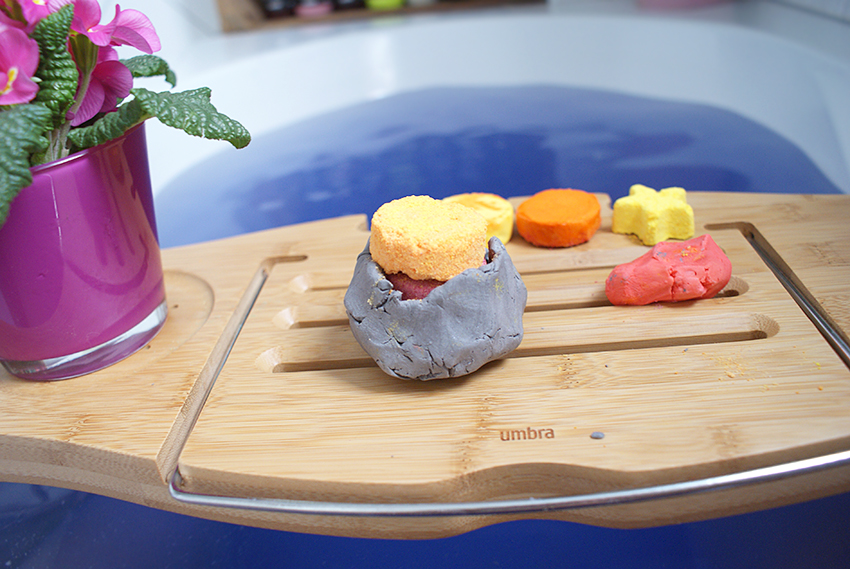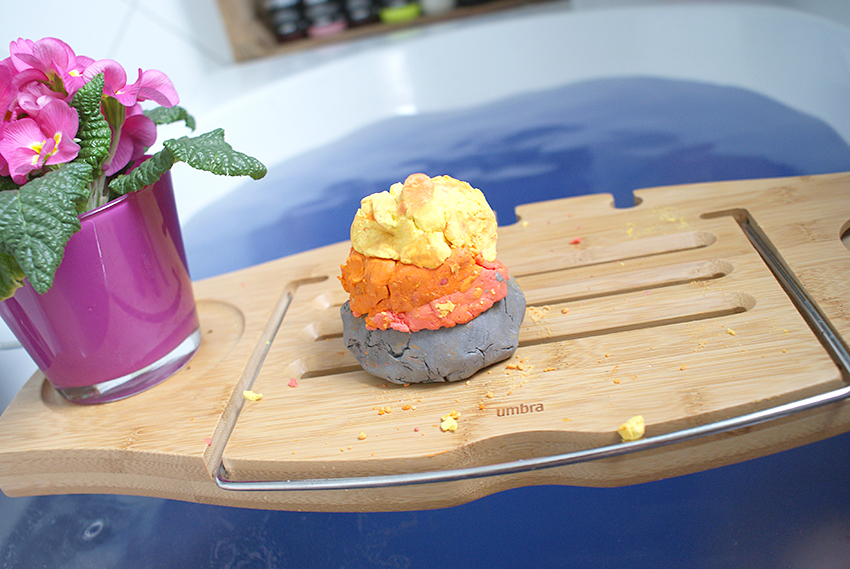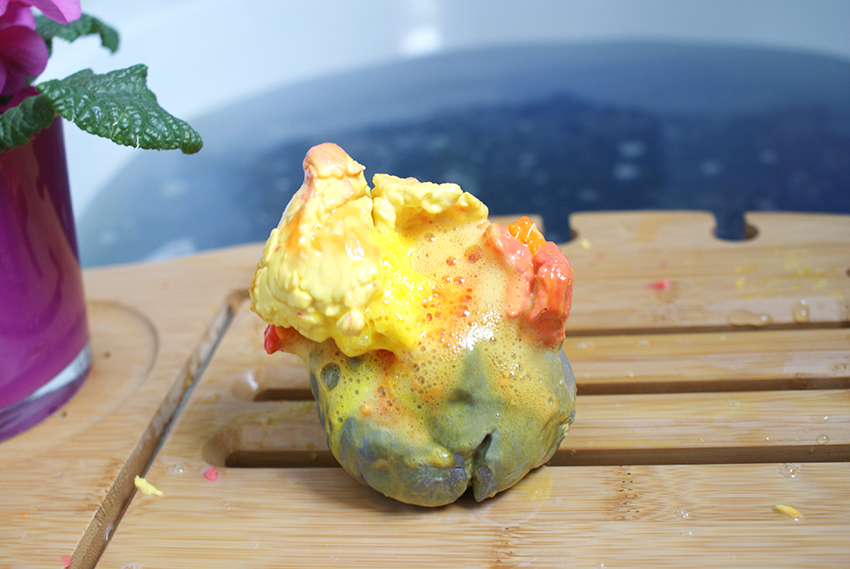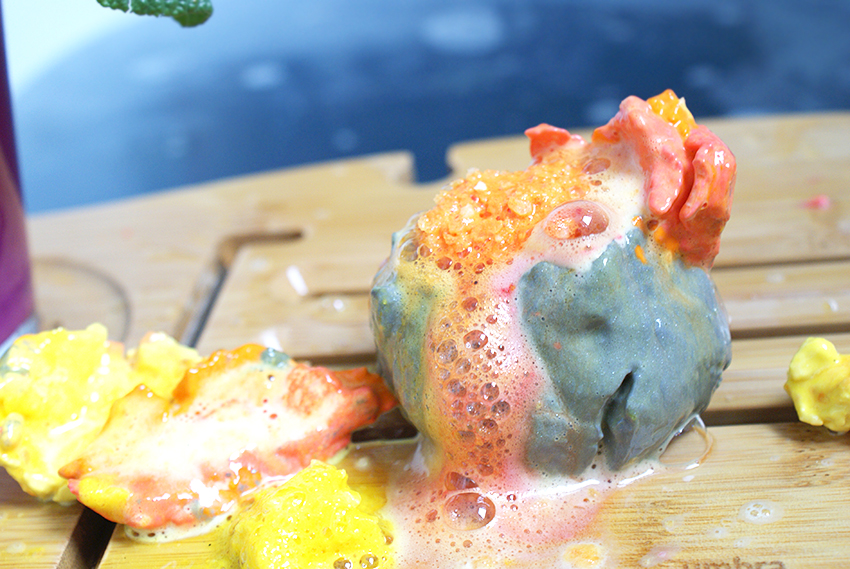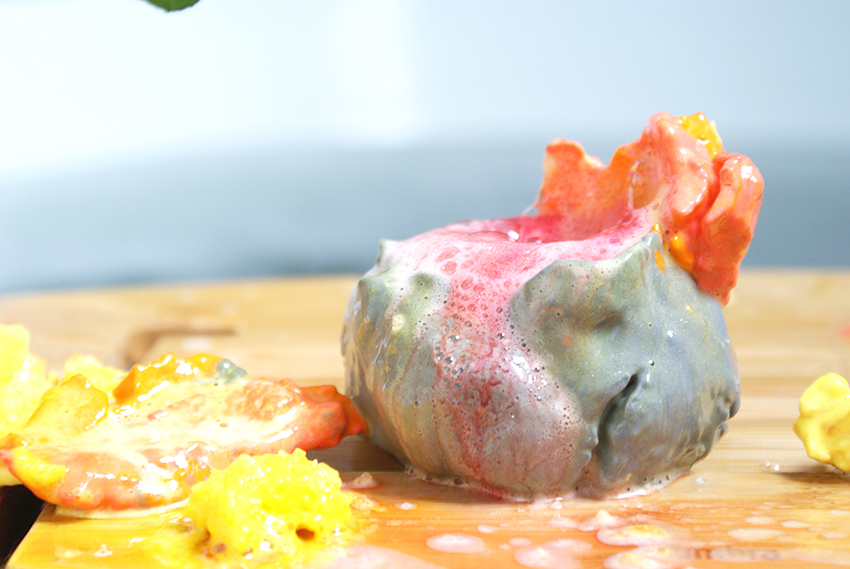 Normaal staat hier dat je de filmpjes in de hoogste kwaliteit moet afspelen en op full screen, maar deze bak ellende wil je écht niet in hoge kwaliteit aanschouwen. Durf je het wel aan, zet ze dan op 2160p.
Mijn ervaring
Hahahahahhahahahahaha kijk nou wat een ramp. Echt, het was een ramp. Misschien ook wel m'n eigen schuld, ik had géén idee hoe ik nu precies een vulkaan moest kleien. Ik besloot in ieder geval om hem in bad te kleien, i.v.m. eventueel knoeien. Ik had toen net m'n bad gevuld met Rose Butterfly.
De klei was erg lastig te kneden en kreeg steeds barstjes, waardoor hij scheurde en uit elkaar viel. Ik had in eerste instantie een prima vulkaan gekleid, maar de opening was niet groot genoeg om de stukjes bath bomb erin te doen. De gele, oranje en rode klei moeten lava voorstellen, maar probeer dat maar eens fatsoenlijk om de grijze klei heen te krijgen. Long story short, het was een hoop gevloek in bad. Maar na 10 minuten geknutsel en geklei was m'n debiele vulkaan eindelijk af. Zoals je kan zien hierboven, lijkt het meer op drie ijsbolletjes. #closeenough
Nu hij in elkaar staat, is het bedoeling dat je wat water in de krater giet, zodat hij gaat exploderen. Take notes: dit moet best veel water zijn. Niet die drie lullige druppeltjes water die ik met m'n vingers erop gooide. Hij ging dus ook niet echt bruisen, waardoor ik maar druppels water bleef toevoegen. Beter is om gewoon een maatbeker met water te vullen en dat rechtstreeks in de krater te gieten. Mijn vulkaan was een beetje lui dus. Net als ik. Dus op zich wel een goede match.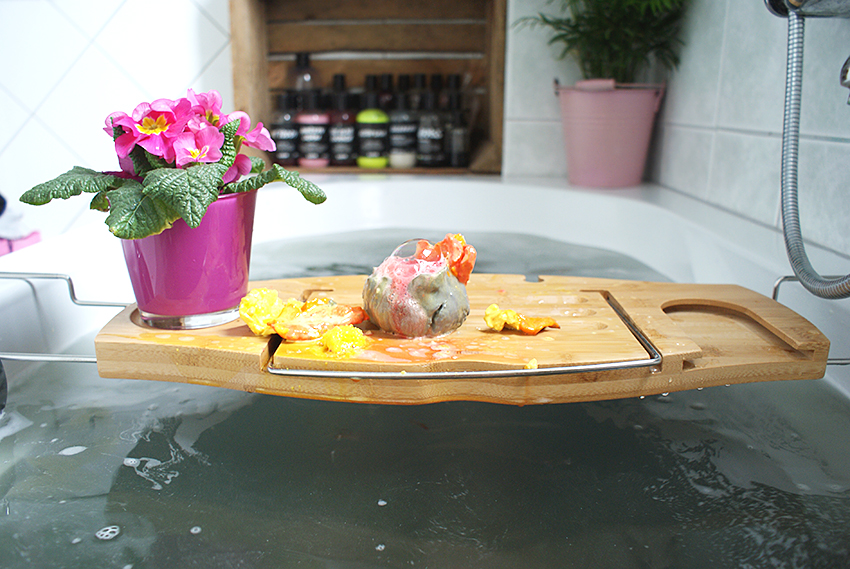 Nou, nadat m'n Fun had gelekt door het badplankje heen, zag m'n badwater er net zo uit als het huidige weer: vies, grauw en grijs. Terwijl het water ZO MOOI WAS!! Echt zonde, en dan rook het ook nog vrij sterk naar die rare lavendelgeur. M'n vulkaan had zo'n achterlijke eruptie, ik wist niet of ik moest lachen of juist moest huilen. Uiteindelijk heb ik het allebei maar gedaan.
Afijn, mijn ervaring met Volcano Fun was geen succes. Hopelijk leer je van mijn fouten, die ik nogmaals zal herhalen: goed kneden, bouw een fatsoenlijke vulkaan en giet veel water in de krater. Anders krijg je zo'n kneus als ik had. En dan is €10,95 wel een beetje zonde — ook al heb ik daarna de restanten tot één grote bal gekneed en bewaart. Gezien de geur denk ik niet dat ik hem nog ga gebruiken.

Lush Volcano Fun kost €10,95 en bevat 200 gram. Hij behoort tot de Paascollectie.
8 Responses to Review: Lush Volcano Fun