Review: Lush Toothpaste Jelly ♥ Tang-O, Tornado, Purple Bananas, Plaque Sabbath & Blue Tooth
Read this post in
Engels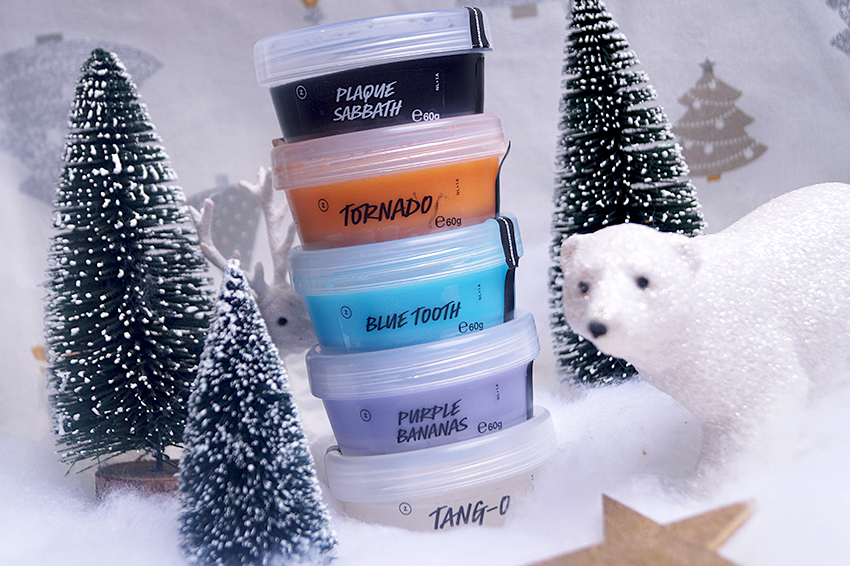 Toothpaste jellies. Ja, je leest het goed. Tandpasta met een glibberige, jelly structuur. Als ik Lush niet zou kennen, zou ik ze voor gek klaren en denken: "Van m'n leven niet!" Gelukkig ben ik wel bekend met Lush, en vertrouw ik erop dat ze weer iets geniaals op de markt hebben gebracht. Aangezien ik tandenpoetsen één van de saaiste klusjes vind, nam ik wat diverse smaakjes mee. Na Candy Cane was ik erg positief, dus tijd om de verzameling eens uit te breiden.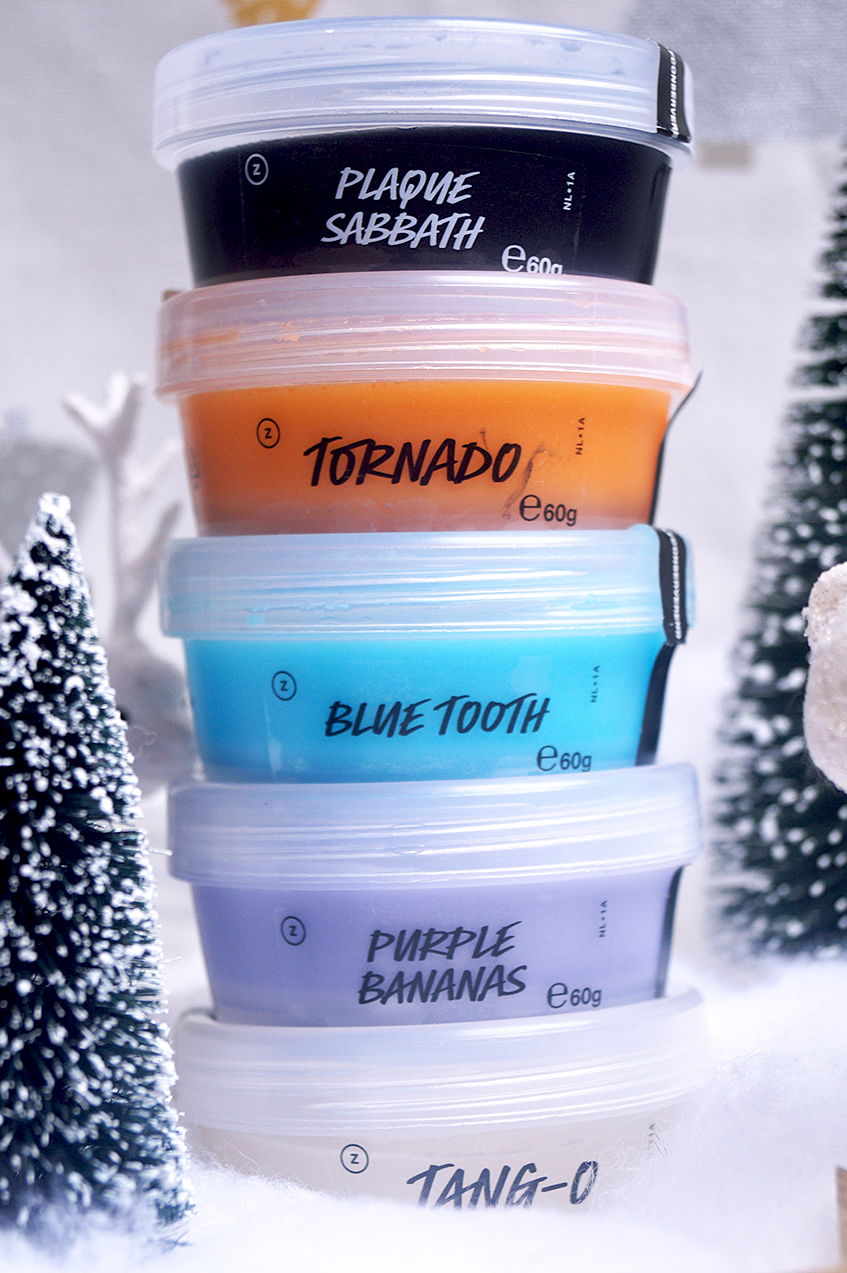 Wat is het?
Lush toothpaste jellies zijn een nieuwe uitvinding van Lush. In de advent calendar zat Candy Cane, die ik ook gereviewed heb. In de Lush Labs kwamen er deze maand 10 nieuwe smaken bij, waarvan ik er 5 heb gekocht om te proberen. Je hebt behalve de smaken die ik ga testen, ook nog Megawatt Smile, Spearmint Bubblegum, Strawberries and Clean, Tooth Fairy en White Fang. Ze bevatten allemaal 60 gram en de houdbaarheidsdatum is 14 maanden. Maar dan heb je hem natuurlijk allang op, denk ik zo! Ze zijn er alleen in 60 gram, en de jellies zitten in kleine, doorzichtige potjes met draaideksel. Het leuke aan meerdere smaken is dat je de smaken kunt combineren! Zo kun je je eigen smaak creeëren.
Even de vaste ingrediënten bespreken! De jellies bevatten standaard het volgende:
♥ Sorbitol — dit is een zoetstof en wordt toegevoegd als smaakstof, zodat de tandpasta lekker smaakt in je mond.
♥ Glycerine — wordt op internet afgedaan als een ingrediënt dat je liever niet in je tandpasta hebt, omdat het een 'coating' (laagje) op je tanden legt, waardoor je tanden zich niet kunnen herstellen. Ik gok dat Lush het heeft toegevoegd vanwege de substantie.
♥ Silica — dit is een schurende whitener, dit ingrediënt zorgt voor gladde tanden.
♥ Xylitol — dit is ook een natuurlijke zoetstof, en vermindert de aanwezigheid van bacteriën.
♥ Natrium Methyl Cocoyl Tauraat — dit is het zout van het vetzuuramide van N-methyltaurine van de kokosnoot. Afkomstig van kokosnoten, dus. Dit ingrediënt zorgt dat de substantie gaat schuimen, en dat het water goed met de oliën mengt.
♥ Stevia — dit wordt gebruikt door Lush om mondverzorging zoeter te laten smaken, zonder dat je er gaatjes van krijgt, omdat het een alternatief voor suiker is.
♥ Agar agar en carrageenanextract — deze zorgen voor de textuur voor de jelly.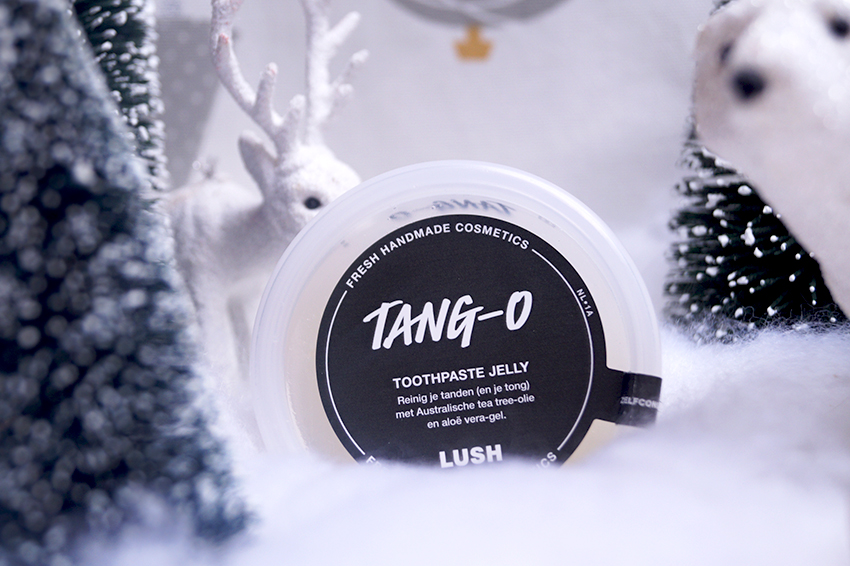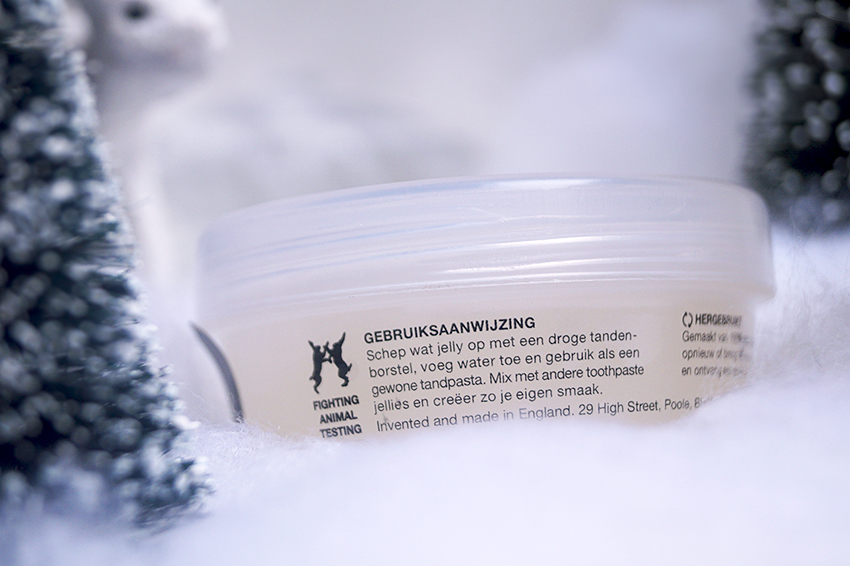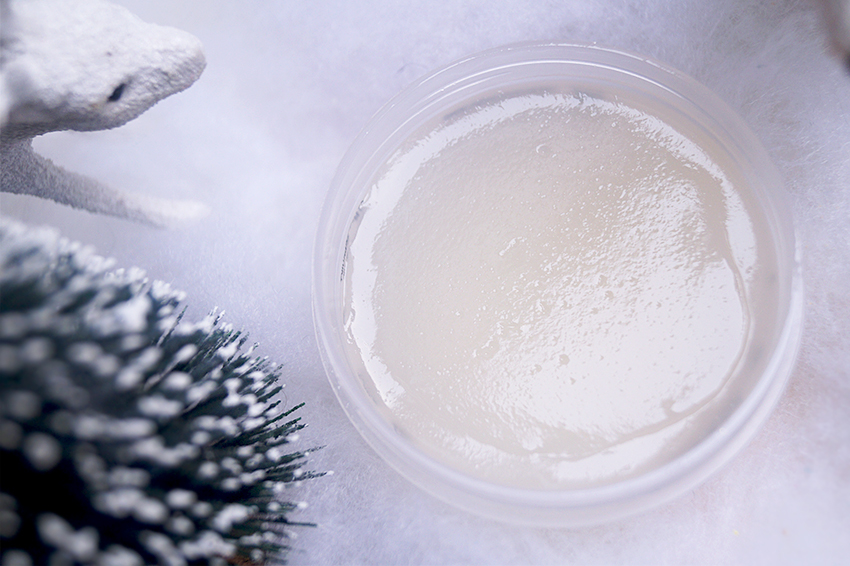 Tang-O
Ingrediënten: Vers Aloë Vera-gel extract, Sorbitol, Glycerine, Silica, Natrium Methyl Cocoyl Tauraat, Xylitol, Stevia (Stevia rebaudiana), Tea Tree-olie (Melaleuca alternifolia), Agar Agar, Carrageenextract, Menthol Kristallen (Menthol), *Limonene
Tang-o bevat aloë vera-gel, tea tree-olie en menthol kristallen. Aloë vera kalmeert tandvlees en verfrist de mond, tea tree-olie is anti-bacterieel en reinigt de tanden en tong, terwijl het een slechte adem tegen gaat, en menthol kristallen zorgen voor frisheid in je muil. De geur is enorm fris, het ruikt precies als Anta Flu snoepjes, of als Vicks Vaporub! De menthol dringt echt je neus in, terwijl tea tree de boel nog frisser maakt. Het is geen 100% pepermunt-geur, eerder menthol met een tintje.
Tang-o smaakt heel fris, maar dat had ik al verwacht. Ik denk dat dit de meest frisse van alle 5 is! Hij smaakt heerlijk, maakt m'n mond en tanden schoon en geeft me een frisse adem na het poetsen. M'n vriend, die ik de rol van mede-tester heb opgedragen, vond deze de lekkerste van allemaal. Tang-o komt het meest in de buurt van originele tandpasta, maar nog met een Lush-twist. Leuk!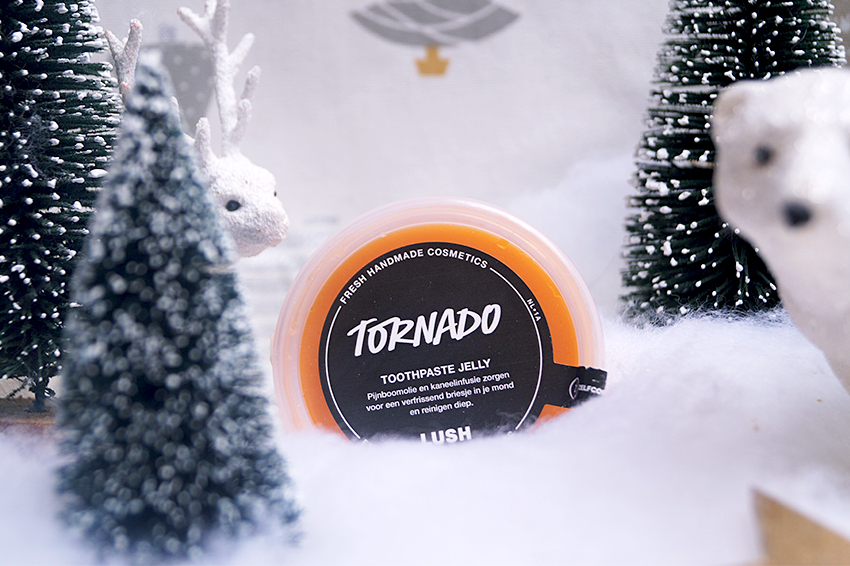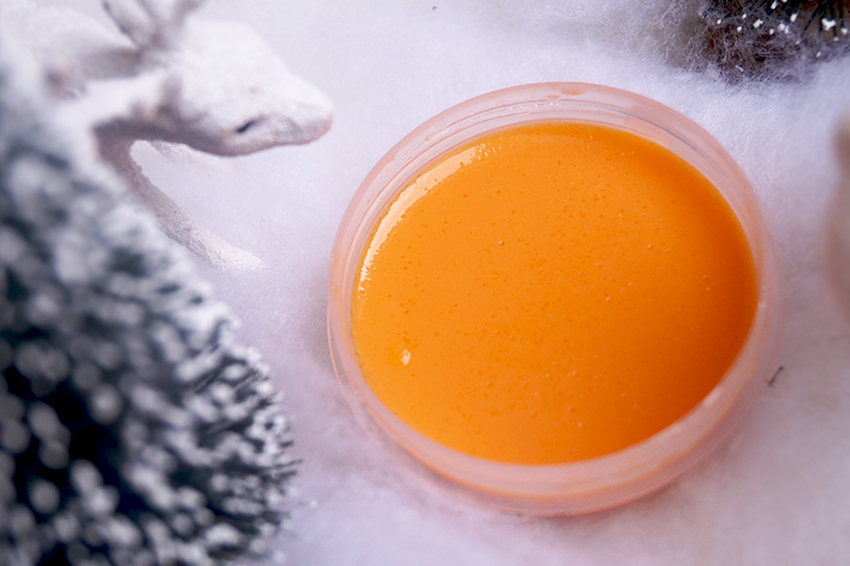 Tornado
Ingrediënten: Kaneelinfusie (Cinnamomum zeylanicum), Sorbitol, Glycerine, Silica, Natrium Methyl Cocoyl Tauraat, Xylitol, Smaakstof, Kaneelolie (Cinnamomum zeylanicum), Groene mandarijnolie, Pijnboomolie (Pinus sylvestris), Water (Aqua), Stevia (Stevia rebaudiana), Agar Agar, Carrageenextract, Titanium Dioxide, Menthol Kristallen (Menthol), Alpha-isomethyl-ionone, Cinnamal, *Eugenol, *Limonene, Kleurstof 15510 (CI 15510)
Tornado bevat kaneelinfusie, groene mandarijnolie en pijnboomolie. Kaneelinfusie heeft een antimicrobiële werking, en houdt mond en tandvlees gezond. Groene mandarijnolie zorgt voor frisheid, en pijnboomolie heeft een reinigende werking. Tornado heeft een heerlijke geur, hij is friszuur, maar met een warme, kaneel-achtige noot. De kaneel haal je er goed uit, maar wordt afgezwakt door de frisheid van de mandarijnolie en menthol kristallen.
Deze jelly is iets minder fris, maar niet minder lekker. De kaneel erin geeft het mint-achtige geheel een kruidig tintje, maar niet op een vervelende manier. Je mond voelt nog steeds erg fris na het poetsen, bovendien vind ik deze zó lekker smaken. Dit is ongetwijfeld m'n favoriet van allemaal, ik vind de kaneel-achtige smaak echt heerlijk. Past ook helemaal bij het koude weer.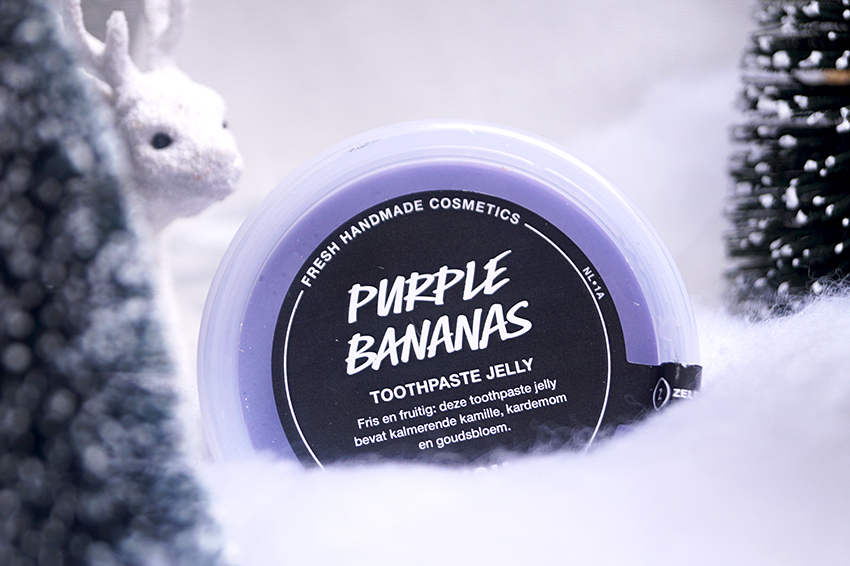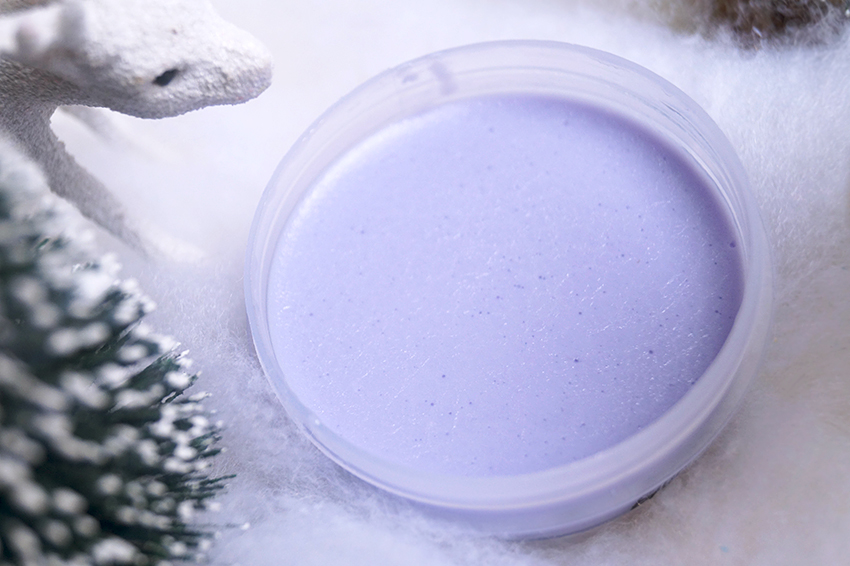 Purple Bananas
Ingrediënten: Goudsbloemblaadjes-infusie (Calendula Officinalis), Sorbitol, Glycerine, Silica, Natrium Methyl Cocoyl Tauraat, Xylitol, Romeinse Kamille-olie (Anthemis nobilis), Kardemomolie (Elettaria cardamomum), Siciliaanse Citroenolie (Citrus limonum), Bananenextract (Musa acuminata), Stevia (Stevia rebaudiana), Agar Agar, Carrageenextract, Titanium Dioxide, Water (Aqua), *Eugenol, *Limonene, *Linalool, Smaakstof, Kleurstof 17200, Kleurstof 42090
Purple Bananas bevat goudsbloemblaadjes-infusie, romeinse kamille-olie, kardemomolie, citroenolie en bananenextract. Goudsbloemblaadjes-infusie is bacteriedodend en het werkt kalmerend. Kamille-olie kalmeert tandvlees, maar werkt ook ontstekingsremmend. Kardemom is antiseptisch en bijzonder verfrissend, waardoor je adem de hele dag fris blijft. Citroenolie zorgt voor een fris bekkie, maar is ook anti-bacterieel. Bananenextract zorgt voor een lekker zoet smaakje, zonder de aanwezigheid van te veel suikers. De geur is wat zachter als de jellies hierboven, iets minder fris, en iets kruidiger. De banaan erin kun je ruiken, maar overheerst niet. (Jammer, want I love me some bananen!)
Met poetsen is dit de minst frisse van allemaal. Hij heeft een iets kruidige smaak, maar ook zoet. Ik vind deze een beetje neutraal, zeker vergeleken met de andere smaken die ik heb geprobeerd. Eigenlijk gewoon een prima tandpasta, maar niet zo bijzonder dat ik hem opnieuw zou kopen.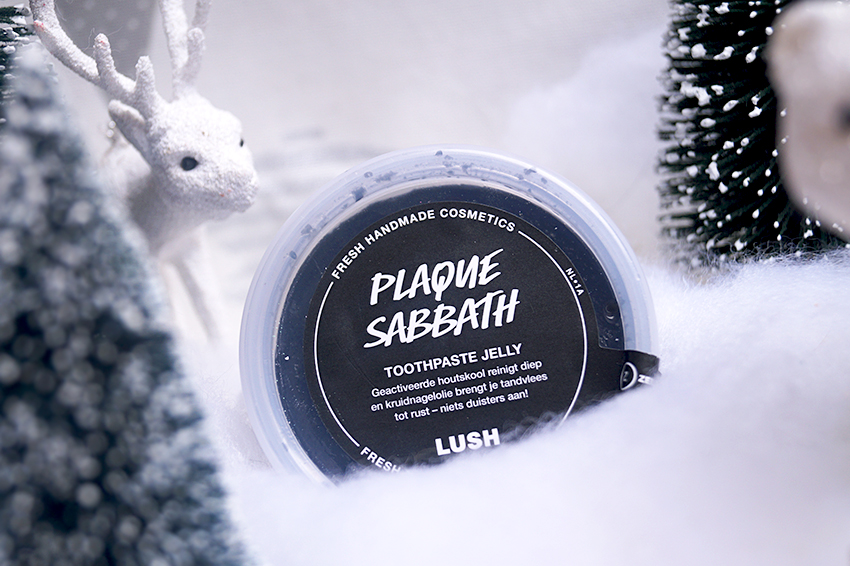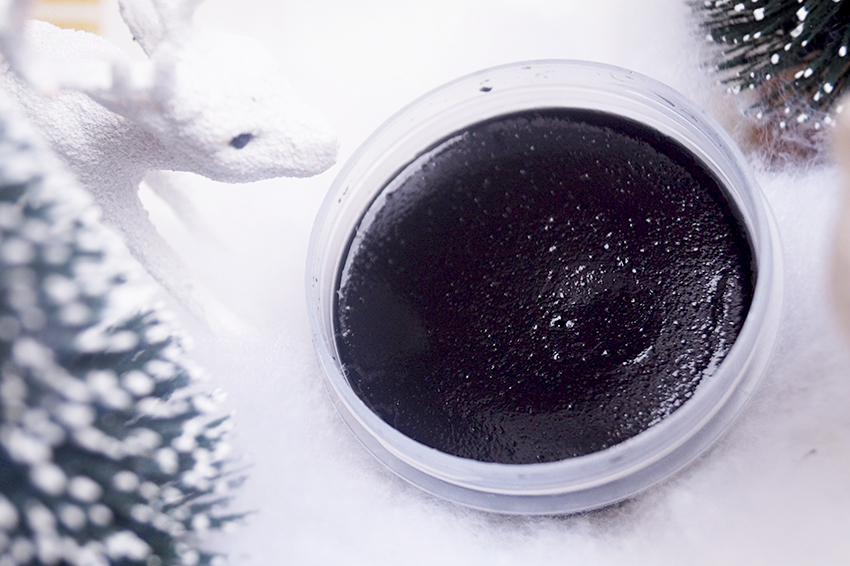 Plaque Sabbath
Ingrediënten: Sorbitol, Glycerine, Silica, Natrium Methyl Cocoyl Tauraat, Xylitol, Kruidnagelolie (Eugenia caryophyllus), Braziliaanse Sinaasappelolie (Citrus sinensis), Tangerine-olie (Citrus reticulata), Geactiveerde houtskool, Stevia (Stevia rebaudiana), Agar Agar, Carrageenextract, Menthol Kristallen (Menthol), Cinnamal, Cinnamyl Alcohol, Citral, *Eugenol, *Limonene, *Linalool, Smaakstof
Plaque Sabbath — mag ik allereerst even een applaus voor de geniale naam? Gebaseerd op de rock/metal-band Black Sabbath, ik vind het geweldig. Deze jelly bevat sinaasappelolie, tangerine-olie, houtskool en menthol kristallen. De geur past totáál niet bij de zwarte jelly, of bij de rock-vibes die je krijgt van de naam. Het is een beetje als de Boo! Shower Slime: een zwarte substantie, met een haast bubblegum-achtige geur. Surprise! De geur is onwijs zoet.
De smaak is fris, maar ook heel zoet! Deze jelly vind ik echt heerlijk. Het is een zoete tandpasta, maar niet vervelend zoet — hij is alsnog fris. De jelly is qua textuur iets zachter dan de anderen, maar verder is het een heerlijke tandpasta. Ik gebruik deze momenteel iedere dag, hij is top!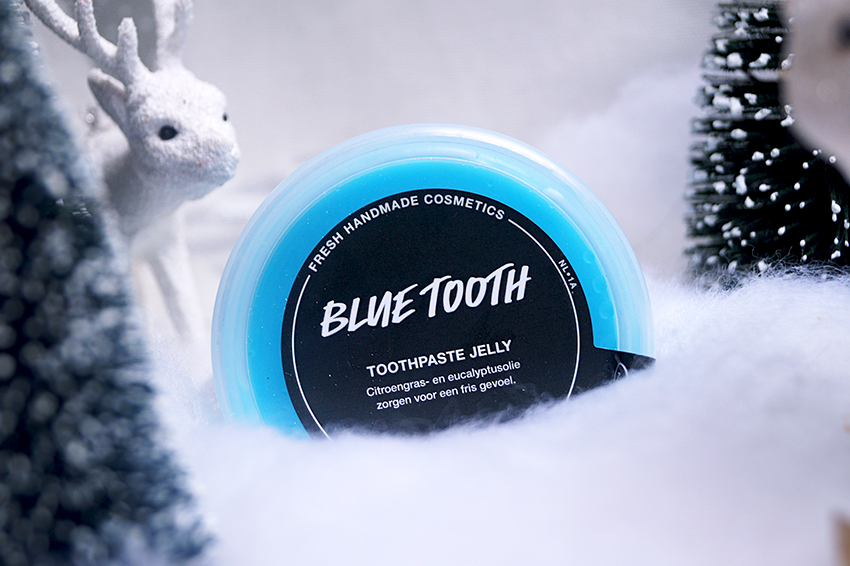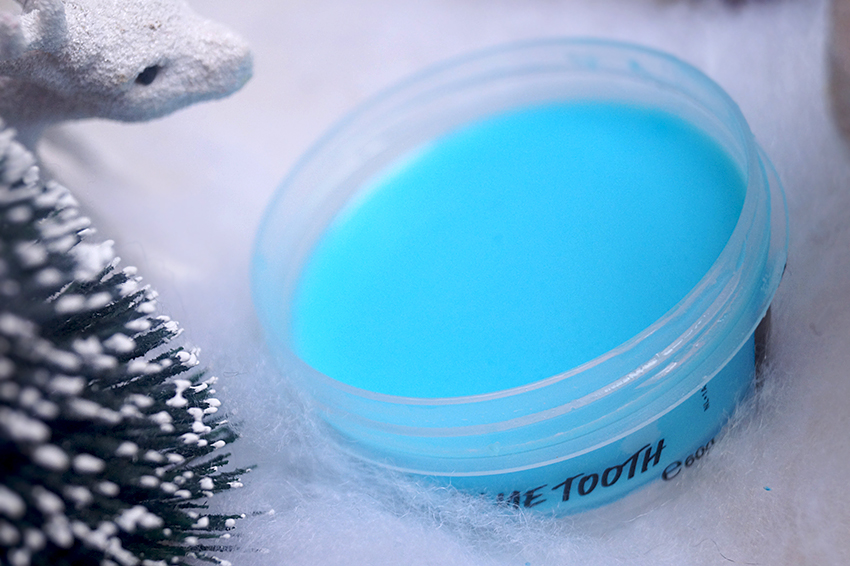 Blue Tooth
Ingrediënten: Verse citroengrasinfusie, Sorbitol, Glycerine, Silica, Natrium Methyl Cocoyl Tauraat, Xylitol, Eucalyptusolie (Eucalyptus globulus), Citroengrasolie (Cymbopogon citratus), Pepermuntolie (Mentha piperita), Stevia (Stevia rebaudiana), Agar Agar, Carrageenextract, Titanium Dioxide, Water (Aqua), Benzyl Alcohol, *Citral, *Geraniol, Hydroxycitronellal, *Limonene, *Linalool, Smaakstof, Kleurstof 42090
Blue Tooth (weer zo'n leuke naam!) heeft niet alleen een prachtig kleurtje, hij ruikt naar Outback Mate zeep! Een frisse wind, vind ik dit. Een vleugje eucalyptus, een beetje citroengras en een snufje pepermunt. Deze 3 ingrediënten zorgen voor een heerlijke, frisse en ijzige smaak in je mond.
Deze tandpasta jelly is wederom een feestje in je mond. Heerlijk fris, met een klein beetje de smaak van citroengras. Als je fan bent van Outback Mate, dan wil je deze zeker eens proberen! Hij liet m'n gebit schoon achter en m'n mond voelde heerlijk fris aan. Het is geen "ijzige, frisse pepermunt" soort fris, maar eerder een héél "lichtzoet citroengras fris". Een aangename afwisseling is dit.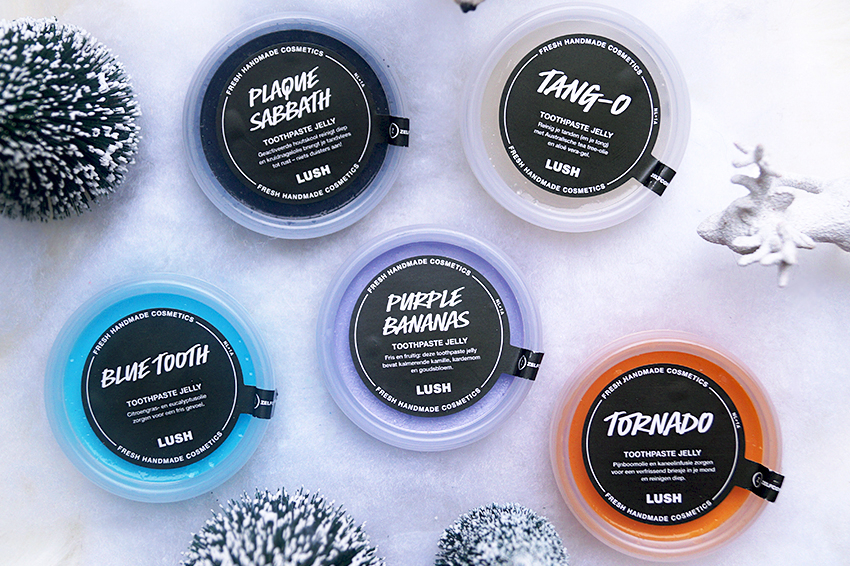 Mijn ervaring
Ik vind de toothpaste jellies echt heel fijn in gebruik. Het is even uitvogelen wat de juiste dosering is, maar eenmaal onder de knie, werkt het net zo makkelijk als een gewone tube tandpasta. Een jelly gaat best lang mee, zeker als je gewoon een beetje van de jelly eruit schraapt met je tandenborstel — niet een hele hap eruit halen! Tandenpoetsen is een stuk leuker dan wanneer je elke dag maar hetzelfde, saaie smaakje hebt. Je kunt de smaakjes ook combineren! Dat ga ik ook zeker nog eens proberen. Ik weet niet of ik ze opnieuw zou kopen, aangezien 8 euro voor een potje wel vrij prijzig is, maar ik zal ze in ieder geval wel met héél veel plezier opmaken.

Lush Toothpaste Jellies kosten €8,00 en bevatten 60 gram per stuk.
5 Responses to Review: Lush Toothpaste Jelly ♥ Tang-O, Tornado, Purple Bananas, Plaque Sabbath & Blue Tooth