Review: Lush Bûche de Noël Fresh Cleanser
Read this post in
Engels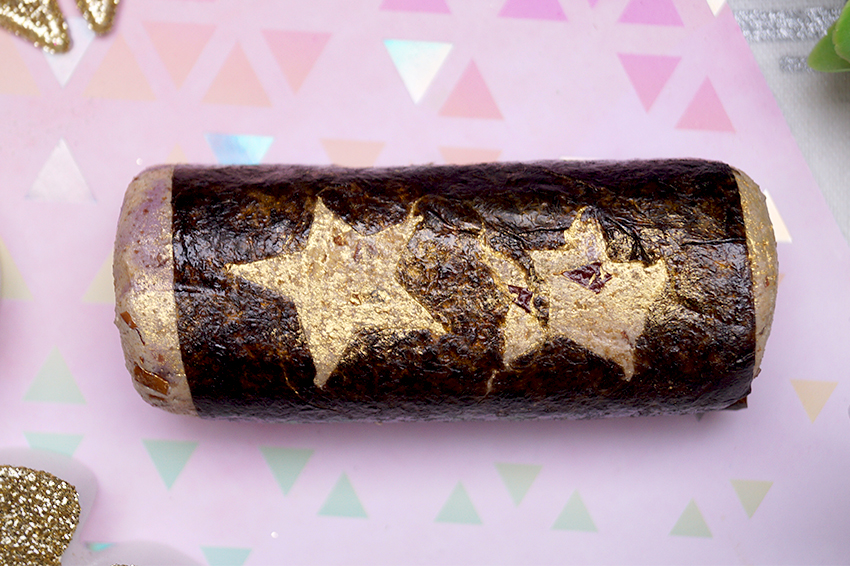 Dit jaar gaat m'n favoriete Kerst cleanser naakt. Bûche de Noël zat voorheen in een zwarte pot, nu krijg je hem in een stuk zeewier. Ik was heel benieuwd of het gebruik of sterker nog, het resultaat, zou verschillen van voorgaande jaren. Ik heb hem uitvoerig getest, en vandaag lees je m'n oordeel! Ben je benieuwd.. lees dan snel verder.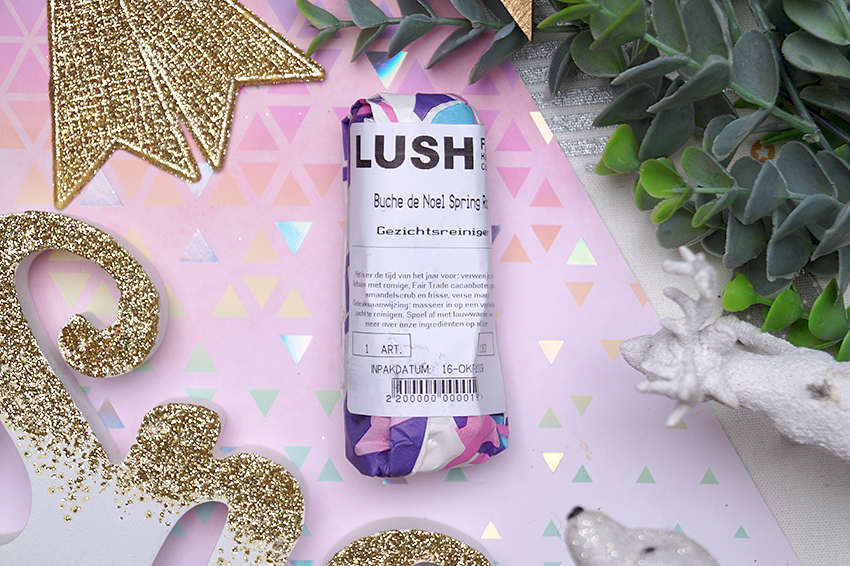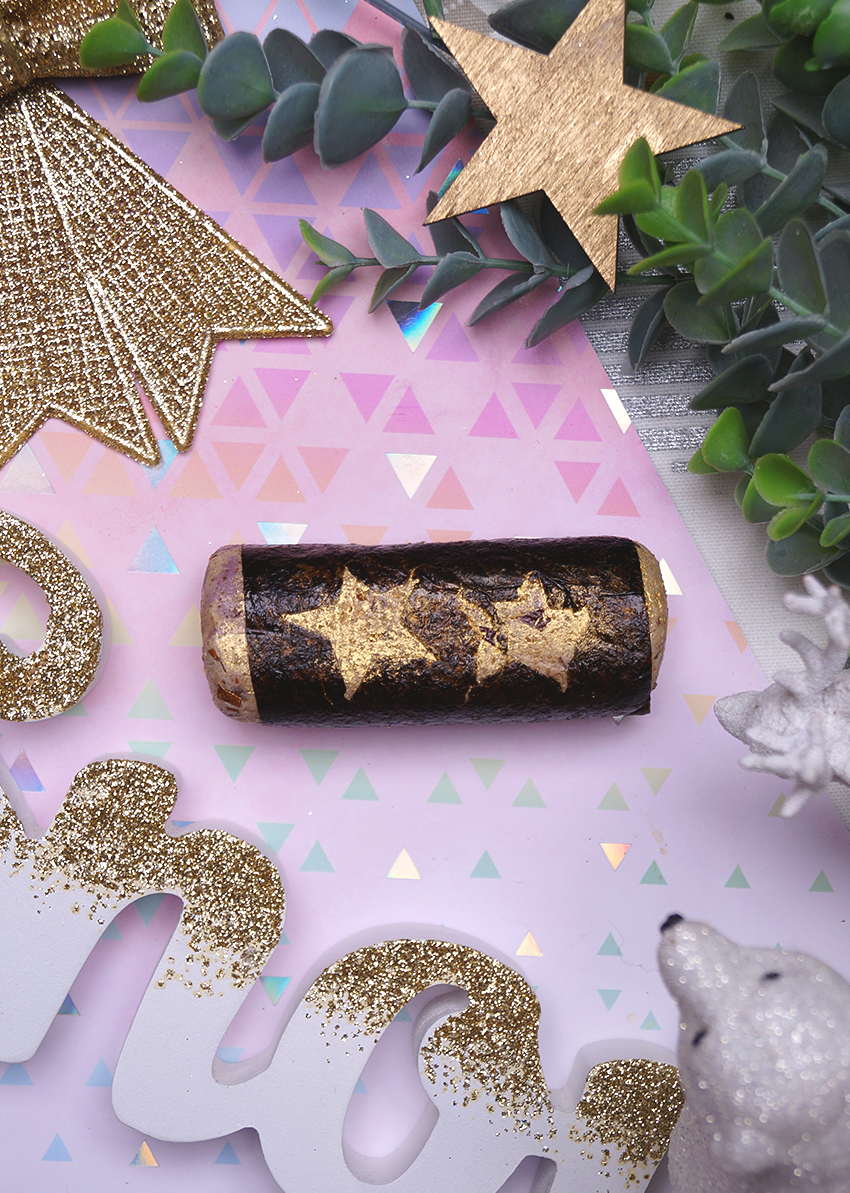 Wat is het?
Lush Bûche de Noël Fresh Cleanser kost €11,50 voor 100 gram. In tegenstelling tot vorig jaar is Bûche de Noël dit jaar verpakkingsvrij. Vorig jaar zat hij in een zwarte pot, nu koop je hem in z'n blootje. Je kocht toen 100 gram voor €10,95 en nu krijg je ook weer 100 gram, dus er is een mini prijsverhoging. Het is de enige face cleanser in de Kerstcollectie, en hij is er alleen in dit formaat. Bij aankoop zit de cleanser verpakt in een papiertje met sticker erop, waarop precies staat hoe het product gebruikt dient te worden.
Bûche de Noël is bedoeld om je gezicht te reinigen, zacht te maken en te hydrateren. Ik vind deze cleanser vooral in de winter erg fijn, omdat m'n huid dan wat droger is. Ook is de geur erg Kerstig, wat het gebruik helemaal toepasselijk maakt!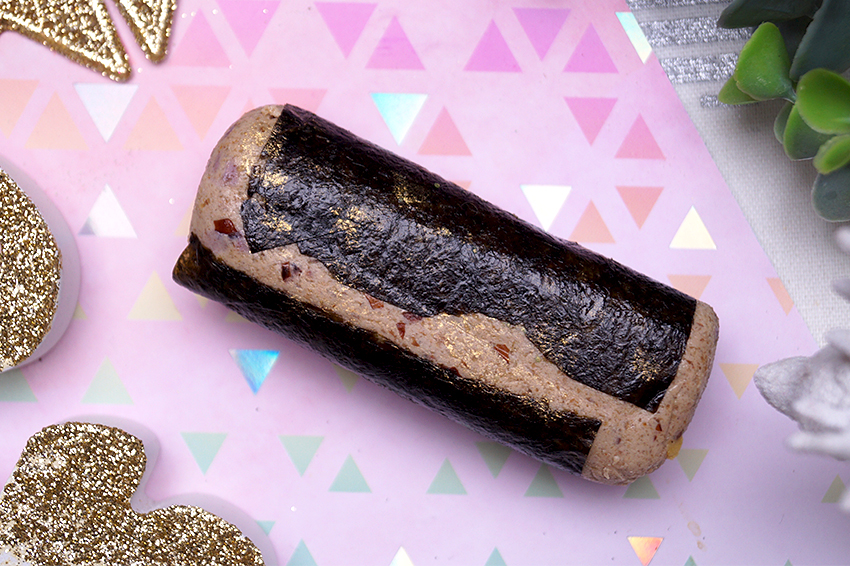 Wat zit erin?
Ingrediënten: Gemalen Amandelen (Prunus amygdalus dulcis), Kaoline (Kaolin), Glycerine, Verse Mandarijnen, Dried Cranberries, Fair Trade en Biologische Cacaoboter, Brandewijn, Etherische Amandelolie, Vetiverolie, Cederhout Absolue (Cupressus funebris), Nori Zeewier (Fucus vesciculosus), Titanium Dioxide, Tinoxide, *Linalool, Parfum, Kleurstof 77491
De cleanser op gemaakt op basis van gemalen amandelen, in combinatie met water ontstaat er een lichte scrub. Kaoline reinigt de huid diep en verwijdert onzuiverheden, ook altijd fijn. Verse mandarijnen verheldert de huid, maar werkt ook reinigend voor de huid. Gedroogde cranberries zijn ideaal om de huid lichtjes te scrubben, ook bevatten ze veel vitamine e. Cacaoboter hydrateert de huid, maar maakt deze ook lekker zacht. Brandewijn is een antioxidant (ja, echt!) en beschermt en verheldert daardoor de huid. Nee, ik zou niet de fles brandewijn van je vader nu op je gezicht leeggieten, dat is iets too much. Amandelolie is een topingrediënt — het kalmeert, verzacht, hydrateert én beschermt de huid. Vetiverolie herstelt de kwetsbare en vermoeide huid. Cederhout reinigt de huid en helpt de talgproductie te balanceren. Tot slot nori zeewier, dat de naakte cleanser bij elkaar houdt.
De geur
Op het moment dat ik de verpakking losmaak, komt er een vrij sterke geur me tegemoet, het eerste waar ik aan denk is vis. Na goed ruiken lijkt het wel kamille te zijn? Het blijkt het zeewier-velletje te zijn, die heeft een beetje een zee-lucht ofzo. Nu liet ik het m'n vriend ruiken en die rook totáál geen vis, dus waarschijnlijk doet mijn neus gewoon weer raar. Hoe dan ook, als ik aan de cleanser zelf ruik (zonder het zeewier-velletje eromheen) ruik ik de vertrouwde Bûche de Noël geur weer — zoet en kruidig, met amandelen duidelijk te ruiken, maar ook een vleugje brandy om het geheel wat feestelijker te maken.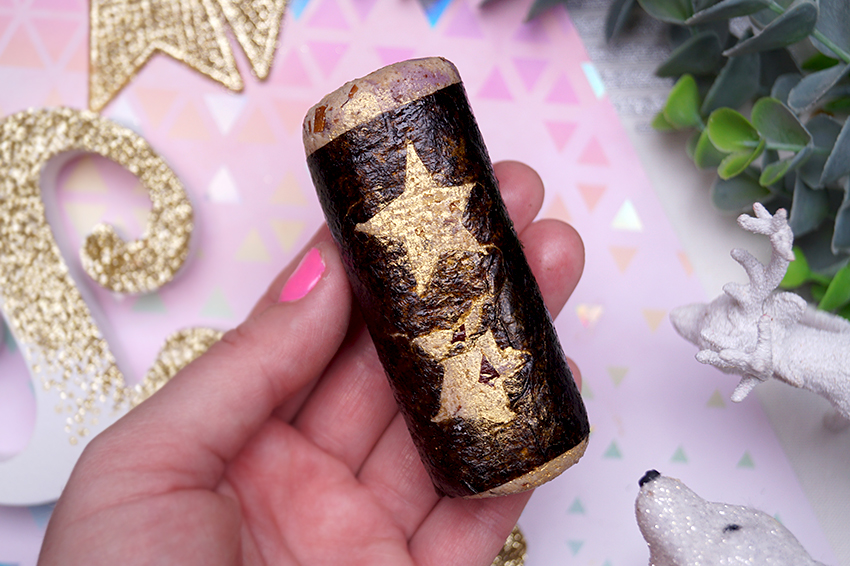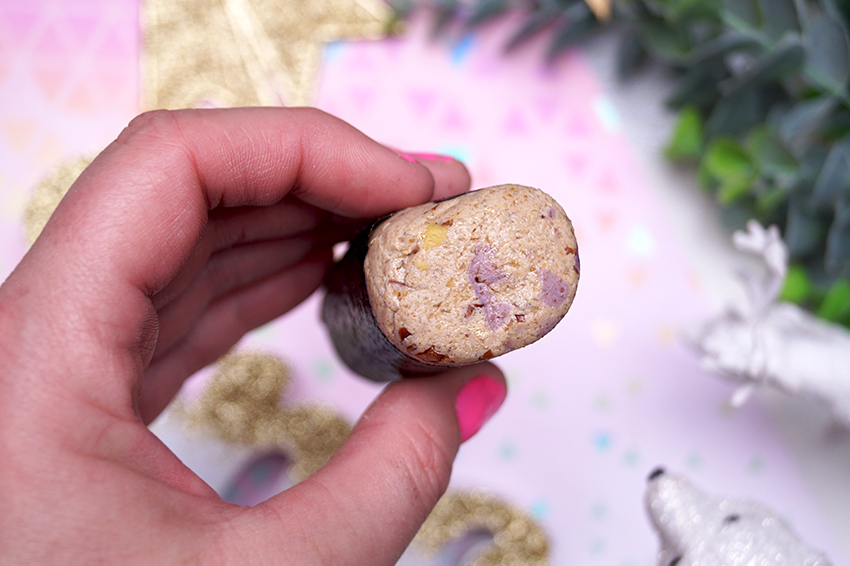 Mijn ervaring
Gebruik is vrij makkelijk: breek een stukje af, gooi in handpalm, smijt er water bij, meng tot een pasta en kwak op je (natte) smoel. Eventjes goed scrubben, en dan afspoelen met lauw of warm water. Het is eigenlijk precies hetzelfde als in het potje, daar moest je ook een stukje uitpakken om vervolgens te mengen tot een pasta. Ik gebruik dit soort cleansers het liefst onder de douche, dan maakt het niet uit als ik knoei. Wat ik toch altijd doe. Ik leg op de wastafel een stukje Bûche de Noël neer, tijdens het douchen pak ik die dan. Ik kan tijdens het scrubben de geur erg goed ruiken, en hij ruikt zó lekker! Hij heeft een warme, Kerstige geur.
Na afloop voelt m'n huid een stuk zachter aan, maar ook gladder. M'n gezicht voelt en oogt schoon, en het lijkt een een mooie glow te hebben; het glimt iets meer, maar op een mooie manier, niet op een 'kwartier uitsloven in de sportschool' manier. Ik zie duidelijk verschil wanneer ik hem niet gebruik, en weet weer precies waarom ik zo dol ben op dit product. Hij is lief en goed voor mijn huid, is heerlijk in gebruik en geeft goede resultaten. Het is mijn vaste cleanser momenteel, en ik gok dat deze verse rol snel op is!

Lush Bûche de Noël Fresh Cleanser kost €11,50 en bevat 100 gram. Hij behoort tot de Kerst collectie.
5 Responses to Review: Lush Bûche de Noël Fresh Cleanser