Review: 3x Kruidvat gezichtsmaskers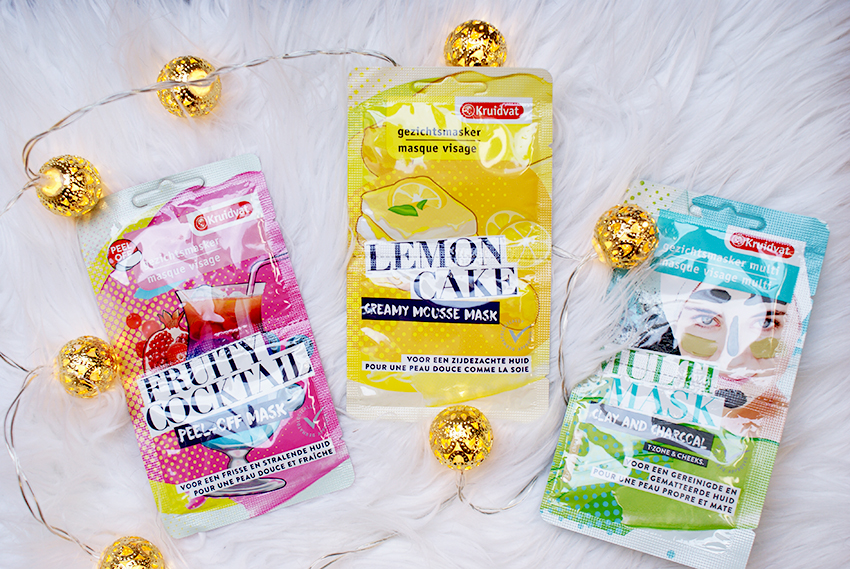 Lekkere maskertjes, wie houdt er niet van? Soms moet ik mezelf echt eraan herinneren om een maskertje te nemen, soms heb ik een periode waarin bijna dagelijks naar een maskertje grijp. Nu het buiten kouder wordt, merk ik dat mijn huid wel wat extra verzorging kan gebruiken. Ik kwam deze (vegan!) gezichtsmaskers tegen bij Kruidvat, voor natuurlijk een geweldig prijsje. Dat moet getest worden, vind je niet?
Lees snel verder!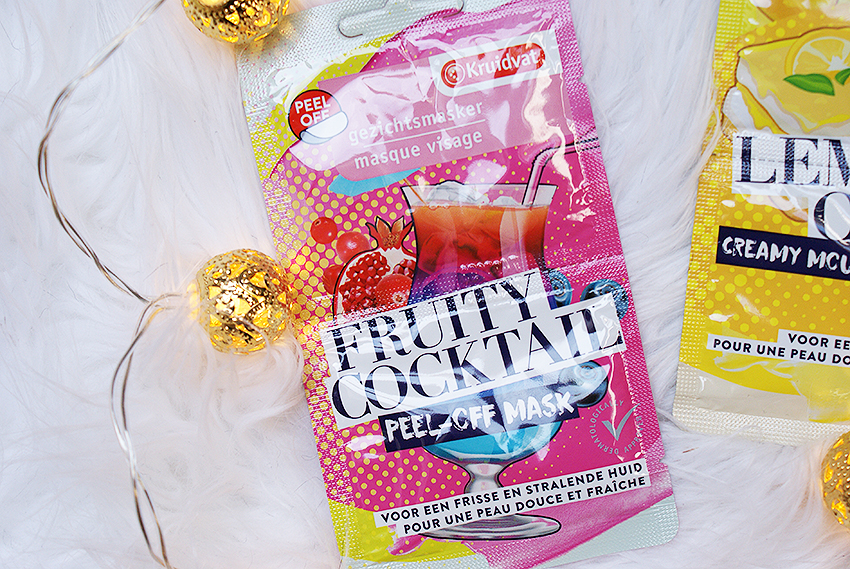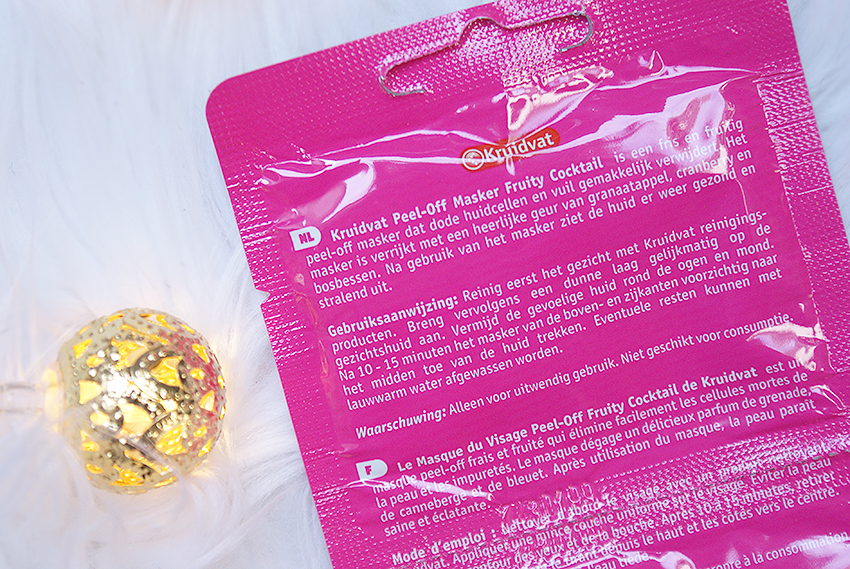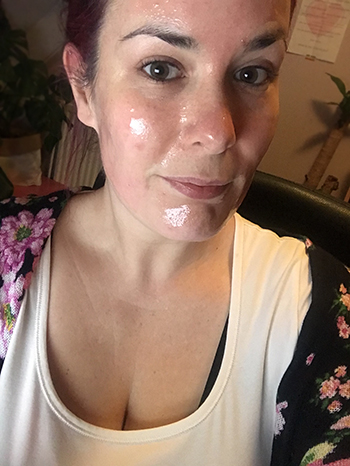 Fruity Cocktail ♥ Peel-off Mask €0,89 – link
Ik ben geen grote fan van peel-off maskers, omdat ik altijd ervaar dat een deel in m'n haar terecht komt, waardoor ik –tijdens het eraf trekken– haren mee trek. En wat dacht je van het oneven verdelen over het gezicht, waardoor sommige delen zó droog zijn, en andere delen na een half uur nog nat zijn, waardoor je ze halfnat van je huid af moeten rollen. Brrr. Echter besloot, heel dapper, toch dit masker te testen. Wat ik wel niet over heb voor jullie. Echt hoor.
Ingrediënten. Vrij simpel — water, alcoholsoorten, glycerine, vitamine b5, parfum, cranberry-extract, blauwe bosbes-extract, granaatappel-extract en nog wat ingrediënten die voor de substantie en het opdrogen zorgen.
Het verdelen van het masker doe ik met een foundationkwast. Ik doe dat al jaren zo — ideaal. Grote blij. Geen geplak aan m'n vingers en het is veel makkelijker te verdelen. Wat me opvalt is dat het masker erg fruitig ruikt, best logisch, maar toch. Het is een lekkere geur en als je het masker op hebt, ruik je er niets van. Ik ben ook verbaasd dat er daadwerkelijk fruit in zit! Cranberry, bosbes en granaatappel. Pluspuntje hoor.
Het masker droogt na zo'n 6 á 7 minuten goed op. Aangeraden wordt echter om het na 10 tot 15 minuten eraf te halen. Het eraf peelen gaat makkelijk, maar dat komt ook doordat ik hem goed heb laten drogen. Ik kon hem er in vrijwel één bewegingen eraf halen. M'n huid voelde na afloop echter niet zachter aan, dus hij lijkt voor mij vrij weinig te doen.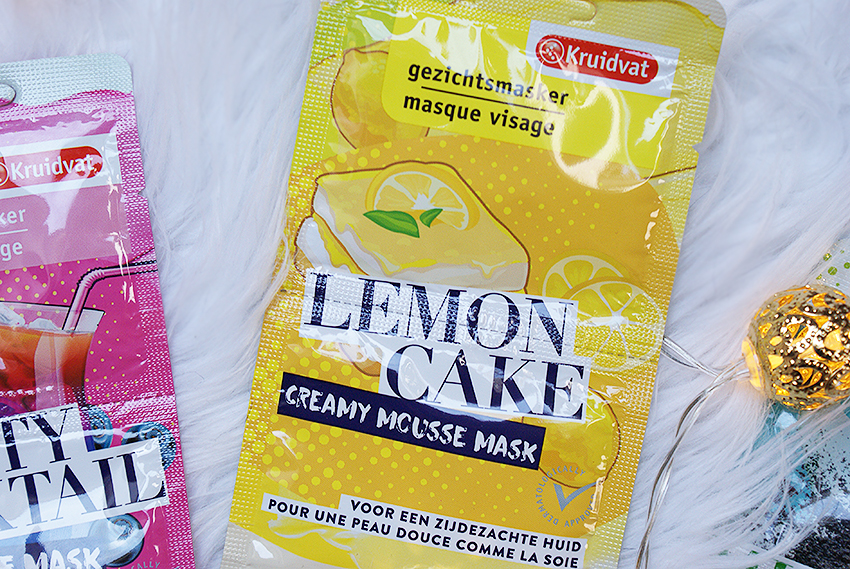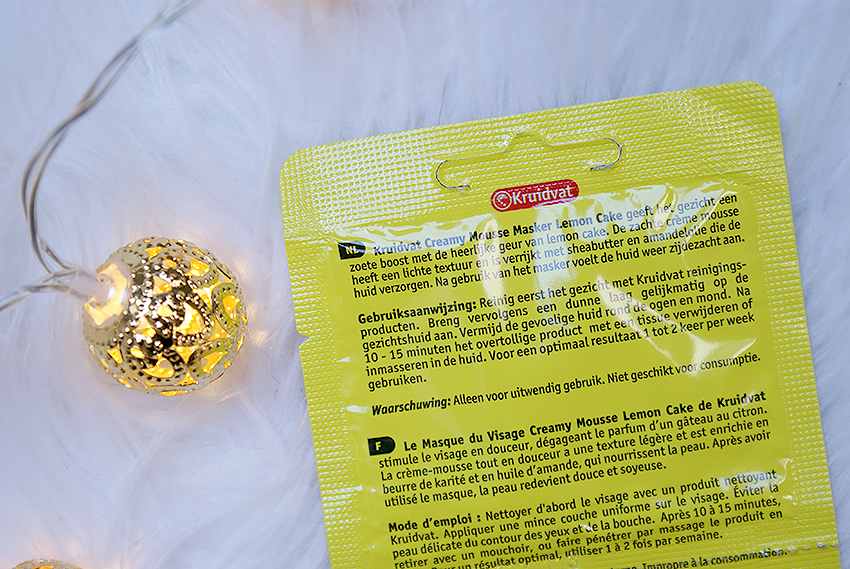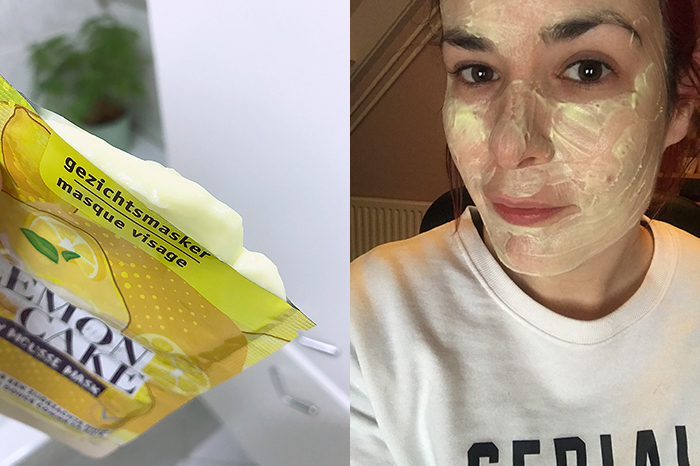 Lemon Cake ♥ Creamy Mousse Mask €0,89 – link
Ik ben verslááfd aan lemon, dus ik was erg blij dit masker te zien! Met zijn vrolijke verpakking viel hij echt op in de schappen. Dit masker is speciaal bedoeld om een zachte huid te creëren. Hij bestaat uit twee zakjes, beide bevatten 8 ml. Één zakje is precies genoeg voor één keer.
In de ingrediëntenlijst spot ik –qua goede ingrediënten– glycerine, amandelolie, sheaboter, vitamine b5, zonnebloemolie, vitamine e. Qua mindere ingrediënten zie ik alleen parfum halverwege staan. De rest bestaat uit emulgators, organische verbindingen, conserveringsstoffen en geurstoffen.
De substantie is niet echt een volle mousse, eerder een luchtige crème. De geur is erg lekker! Lemon kan altijd vrij sterk ruiken, maar in dit geval is het niet vervelend of te aanwezig.
M'n huid voelt na het afspoelen zacht, maar verwacht geen wonderen. Voor dit prijsje is het natuurlijk hartstikke leuk om eens te gebruiken. Vooral voor tieners en jonge meiden is maakt dit ook een heel leuk cadeau!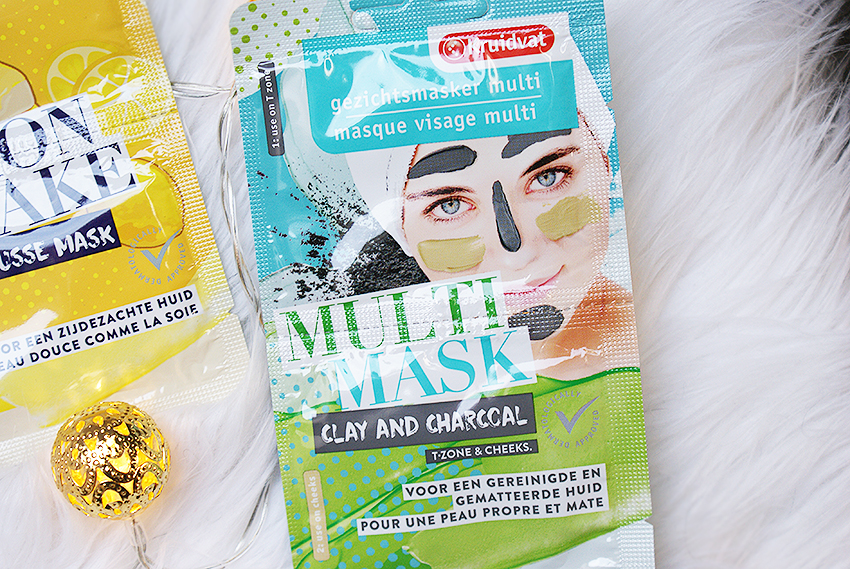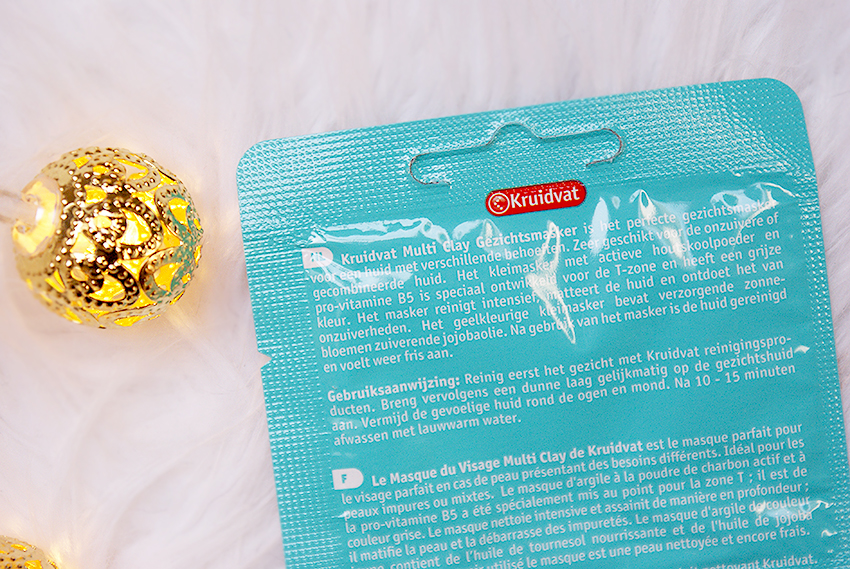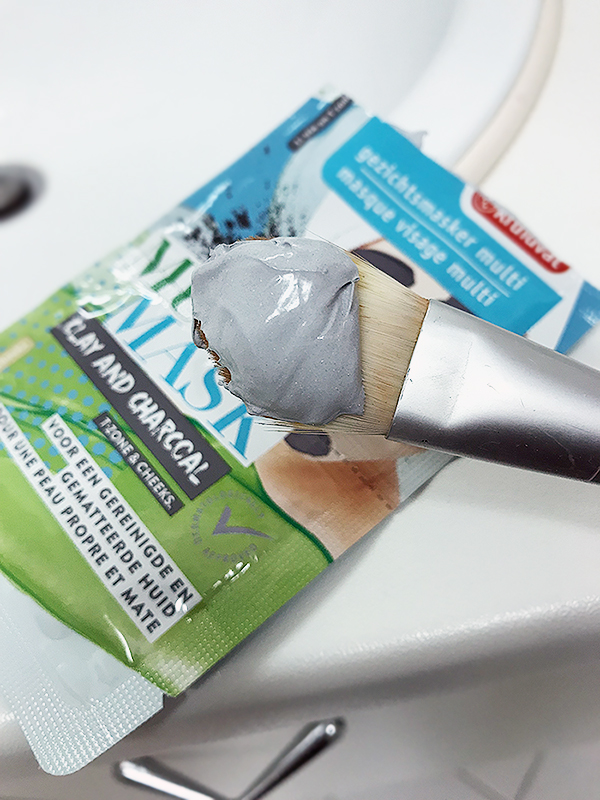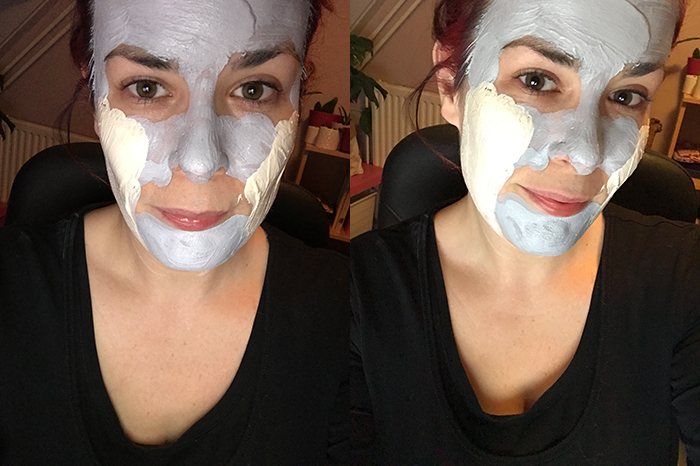 Multi Mask ♥ Clay and Charcoal €0,89 – link
Houtskool in verzorging, het is helemaal hip. Veel merken spelen in op deze trend, zo ook Kruidvat. Dit masker bestaat uit twee delen — bovenin zit het houtskoolmasker, wat je dient aan te brengen op de T-zone van je gezicht. Kortom, alle vette gedeelten, omdat het masker deze reinigt, onzuiverheden weghaalt en matteert. Het onderste deel is voor je wangen — dit gedeelte verzorgd de huid juist.
Het houtskool-gedeelte van het masker bevat actieve houtskoolpoeder en vitamine b5. Het onderste gedeelte bevat jojoba-olie.
Mijn ervaring is dat dit masker net even teveel bevat voor één keer, oeps! Zoals je op de foto's ziet, heb ik echt m'n hele gezicht onder gesmeerd. Je hoeft bij dit masker alleen de vette T-zone te voorzien, en een beetje van het onderste deel op je wangen. Je kunt dus makkelijk twee keer met de inhoud. Wat betreft de werking deed hij, net als de twee hierboven, vrij weinig voor m'n huid. Ja, deze voelde iets zachter aan, maar dat is ook alles.
---
Het zijn leuke, goedkope maskertjes maar verwacht er geen wonderen van. Desondanks zijn ze wel leuk, ze ruiken lekker en zijn erg goedkoop. Slechts 89 cent per stuk, en dan hebben ze momenteel ook een 2+1 gratis actie. Dit zijn leuke cadeautjes voor tieners, zeker bij slaapfeestjes. Leuk voor in een surprise of pakket, voor in de schoen met Sinterklaas, of gewoon als tussendoor cadeautje.
6 Responses to Review: 3x Kruidvat gezichtsmaskers