Review: Yes To.. Tomatoes 2-Step Nose Kit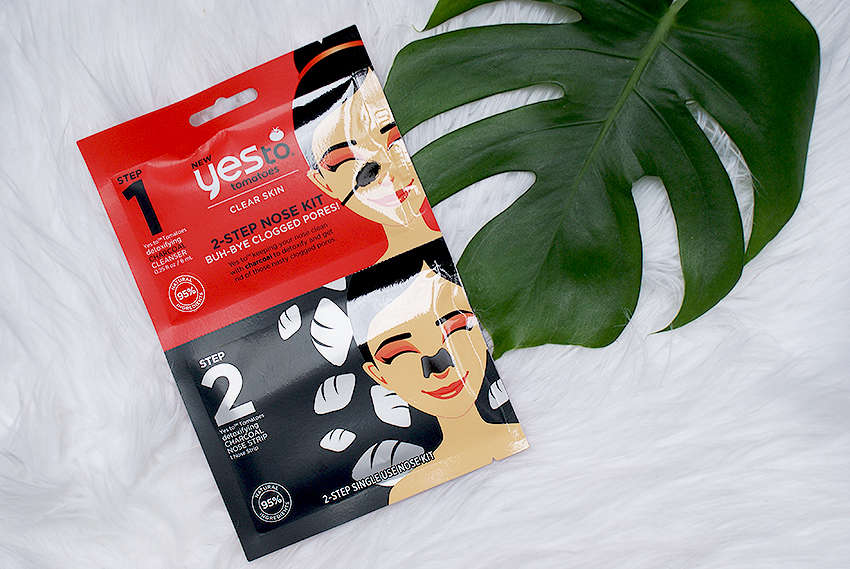 In mijn zoektocht naar vegan verzorging, kwam ik de Tomatoes lijn van Yes To tegen. Ik ging eerst even op onderzoek uit, en het blijkt dat er in deze lijn van Yes To geen dierlijke producten zitten. Hoera! Ik kocht een aantal producten en vandaag laat ik je zien hoe deze 2-step kit werkt! Dit tweedelig masker is bedoeld om verstopte poriën, eh… leeg te halen? Sorry, dat klinkt heel ranzig, maar zo werken dit soort maskers wel. Lees je mee?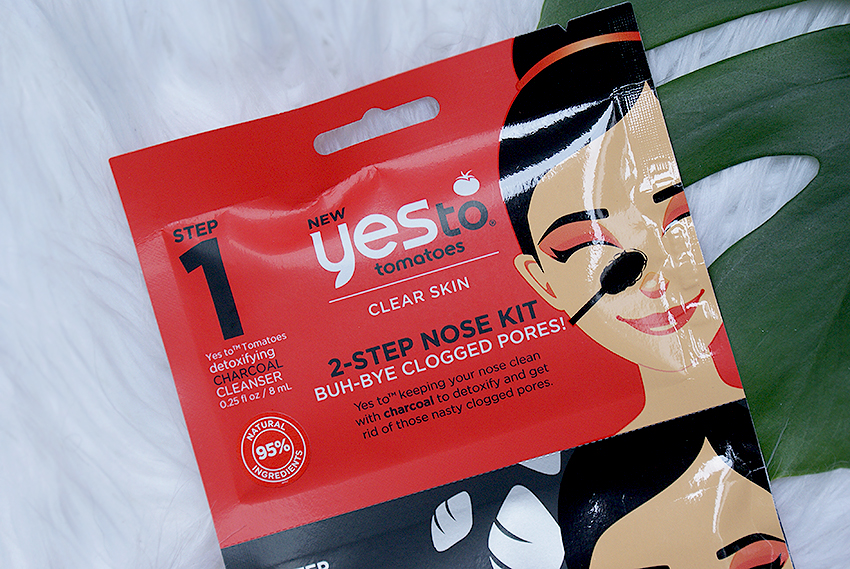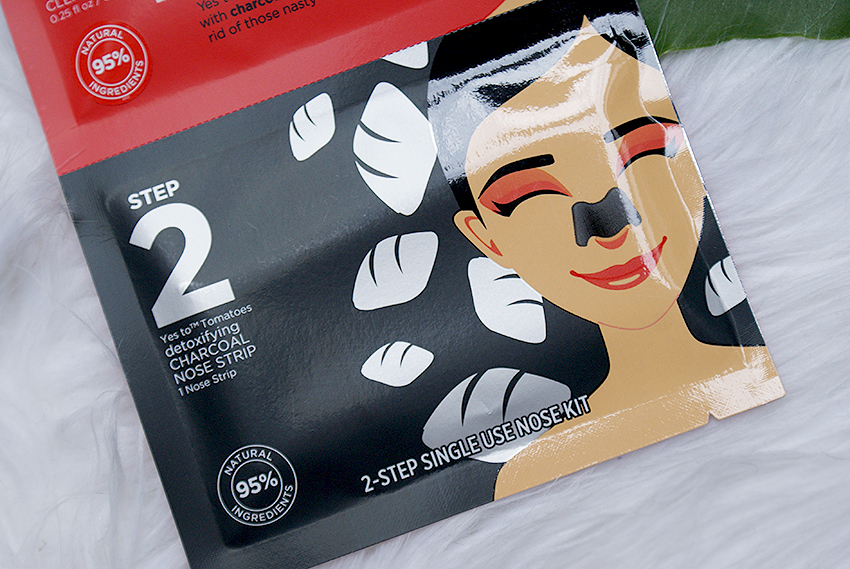 De 2-step Nose Kit kost €5,95 en is goed voor één keer gebruiken. Het masker bestaat uit twee stappen — eerst het rode zakje, dan het zwarte zakje. Best logisch, toch? In het rode zakje zit de cleanser. Dit is een borsteltje, waarmee je je neus.. masseert.. ofzo. Je moet eerst je neus nat maken en dan dit XL wattenstaafje erover heen halen. Deze stap is bedoeld om je poriën te openen, zodat stap 2 beter werkt.
In stap 2 ga je namelijk een neusstrip aanbrengen. Op zich niets spannends, ik denk dat iedereen deze wel kent. Een plakstrip die je aanbrengt, even laat zitten en vervolgens eraf haalt. Als het goed is, trek de plakstrip alle viezigheid uit je poriën. Veel mensen vinden dit doen of dit zien, heel bevredigend. Je trekt namelijk letterlijk die gele kleine wurmpjes uit je poriën. Goed, op naar de volgende stap, want ik heb een enorm zwakke maag. (En behoor overigens ook niet tot de doelgroep dat filmpjes kijkt van puisten uitknijpen 🤢)
Nog eventjes de ingrediënten snel doornemen. De cleanser bestaat o.a. uit houtskoolpoeder, tomaat, rooibos, kamille, pompoen en jojoba-olie. Er zit een klein beetje alcohol en parfum in. De neusstrip bevat o.a. glycerine en houtskoolpoeder. Geen spannende dingen dus!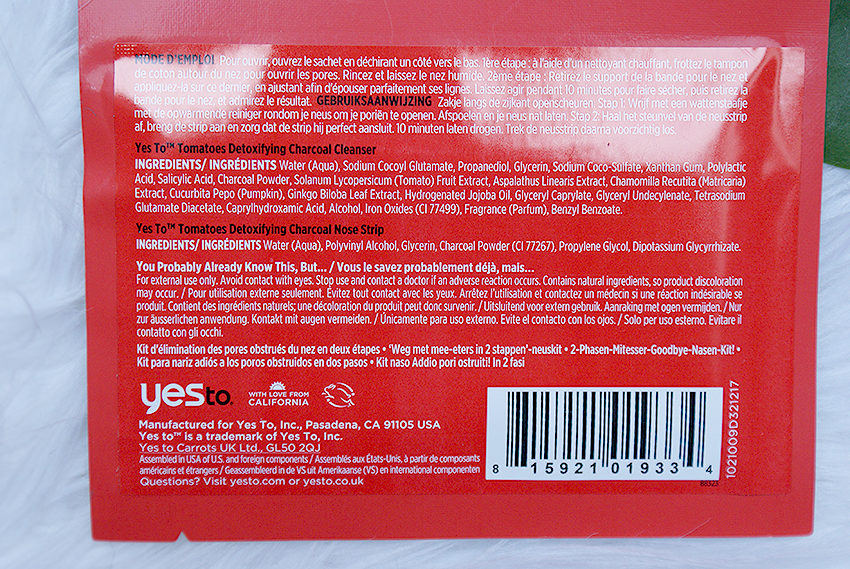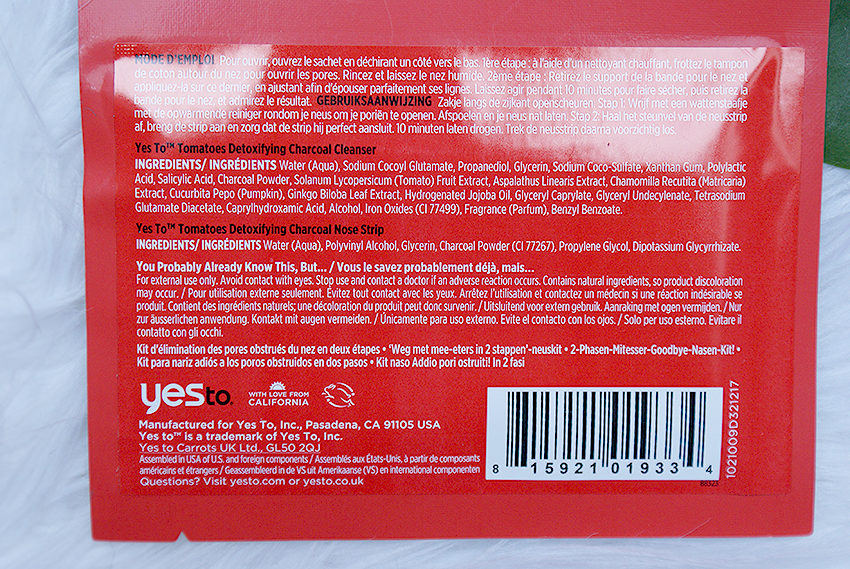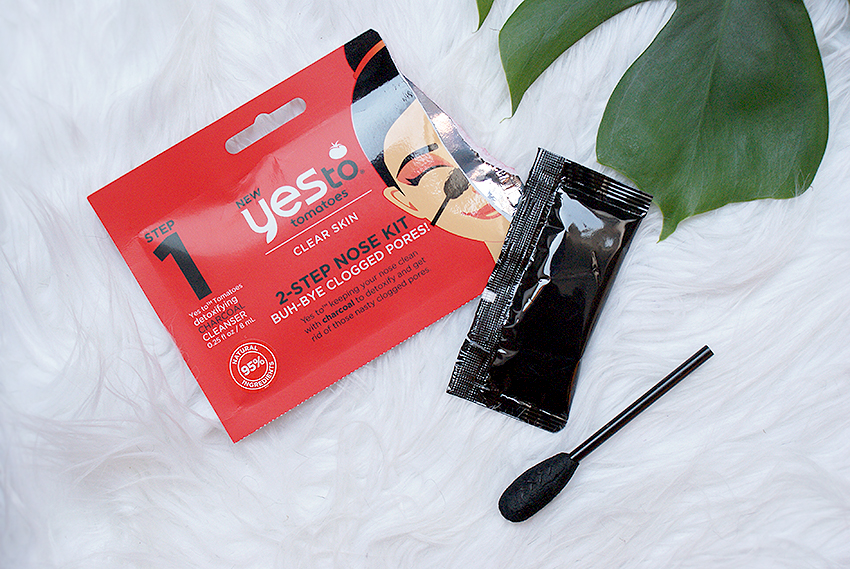 In het eerste zakje zit het volgende:
Soort gigantisch wattenstaafje
Zakje cleanser
Ik verklap alvast: in het zakje cleanser zit veel te veel! Je hebt echt maar een kwart nodig ervan. Je maakt je gezicht nat met warm water en brengt vervolgens de cleanser aan, door middel van het borsteltje. Vervolgens spoel je het eraf en droog je je neus niet. Je brengt nu de poriënstrip aan op je neus. Zorg ervoor dat hij goed stevig zit vastgeplakt! Als hij goed zit, laat je hem tien minuten zitten. Vervolgens trek je de strip er heel langzaam af — niet snel, want hoe langzamer je het doet, hoe beter hij de poriën leeg kan trekken.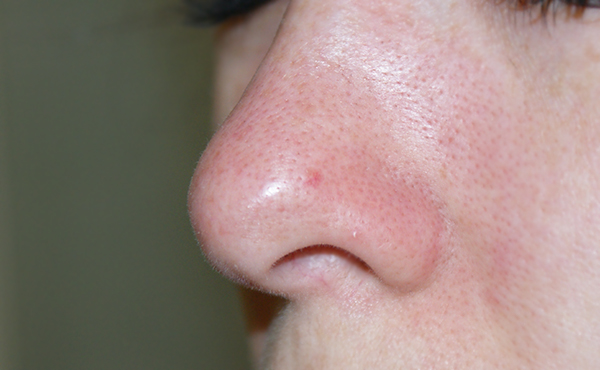 Excuses voor mijn neus zo expliciet in beeld, ik heb de foto expres al iets kleiner gemaakt. Op de foto kun je goed zien dat vrijwel alle poriën leeg zijn. Dit is dan ook de eerste neusstrip ooit waarvan mijn neus zo glad aanvoelt

Ik blijf er maar aan voelen. Hij is zo glad en zacht als wat! In enkele porie zat nog wat troep, maar over het algemeen zijn de meeste poriën leeg na het gebruik van deze strip. Wat een wonder!
Ik ben super tevreden over dit product. Ik had niet verwacht zoveel verschil te merken met andere poriënstrips. M'n poriën lijken kleiner en m'n neus voelt glad aan. Ik vraag me af of die cleanser hieraan zou hebben bijgedragen? Hoe dan ook — een aanrader! Het is geen goedkoop product, aangezien je bij de Action een pak neusstrips voor een euro haalt, maar deze werkt wel echt stukken beter. Just give it a try!
12 Responses to Review: Yes To.. Tomatoes 2-Step Nose Kit