Review: Urban Decay All Nighter Longlasting Makeup Setting Spray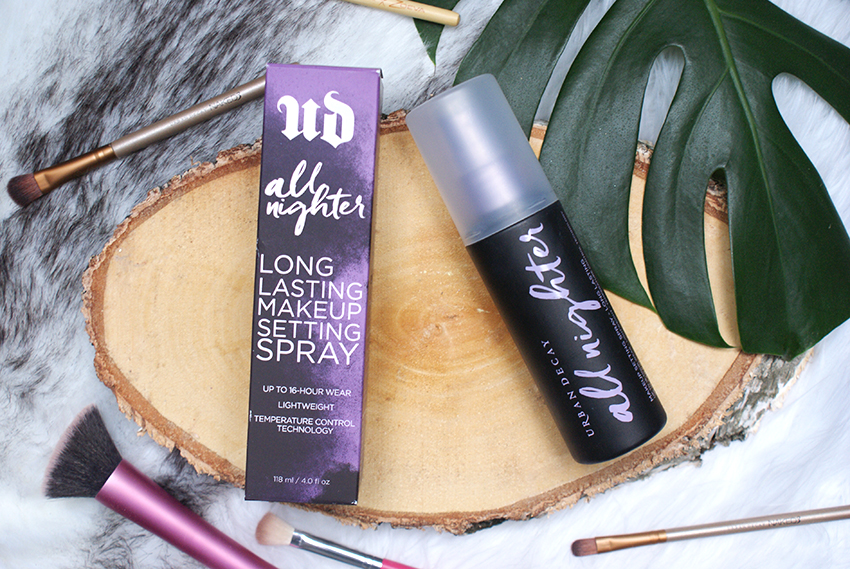 Normaal ben ik niet zo van de duurdere make-up, met drogisterijmerken zoals Essence en Catrice ben ik heel tevreden. Echter zocht ik al een langere tijd een goede setting spray, want mijn make-up doet altijd de grote verdwijntruc na een paar uurtjes. (Echt, Houdini is er niets bij) Ik heb al diverse setting sprays geprobeerd, in de hoop dat m'n make-up aan het einde van de dag nog steeds mooi zat, maar helaas. Toen ik meerdere reviews las over deze setting spray van Urban Decay, waarin ik zeer lovende woorden las, besloot ik hem gewoon te kopen. Vandaag ga ik hem zélf uitproberen voor je!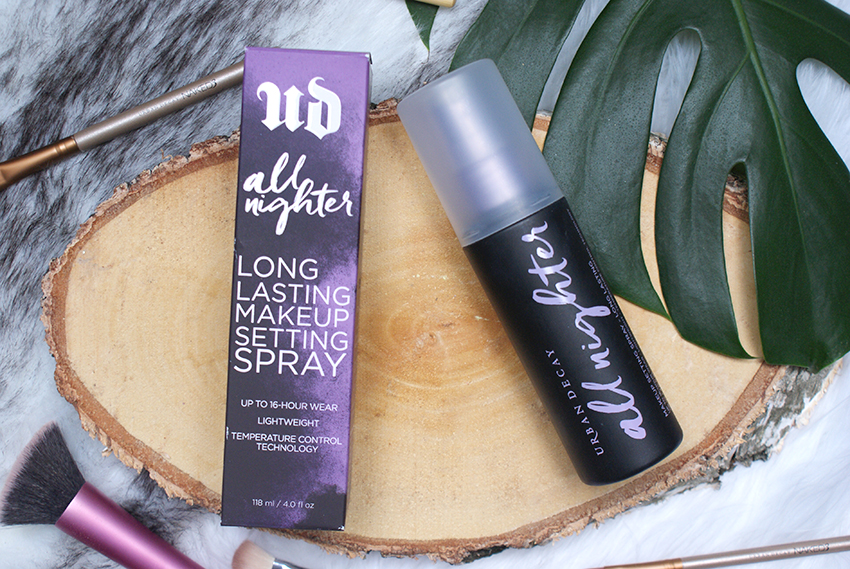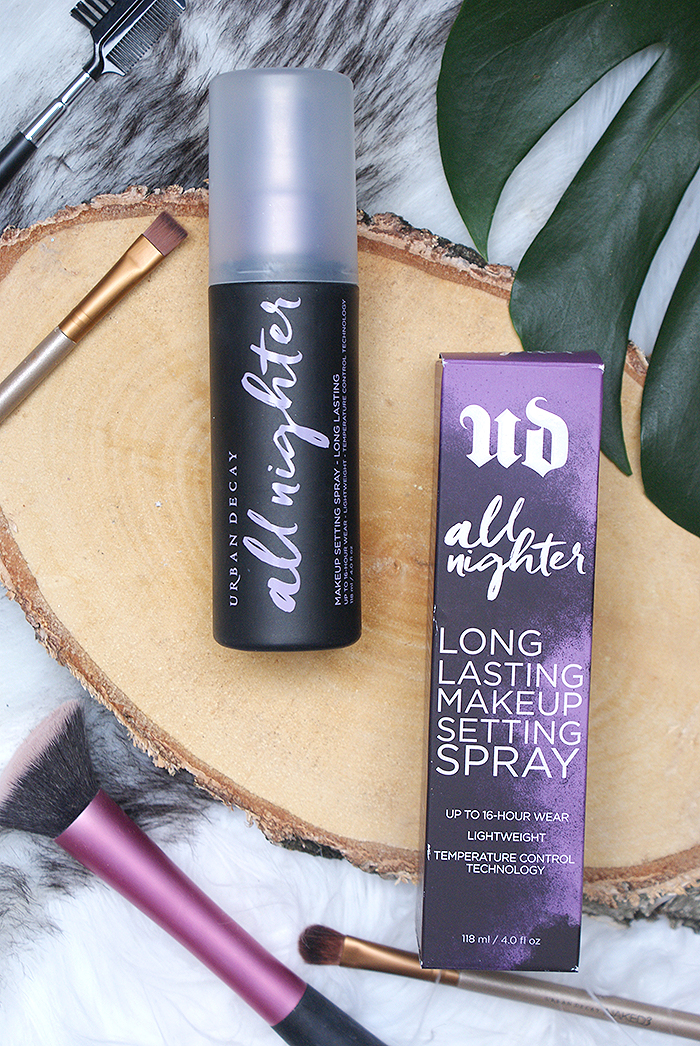 Ingrediënten: Aqua / Water, Alcohol Denat., PVP, Dimethicone PEG-7, Phosphate, PPG-3 Benzyl, Ether Myristate, Polyhydroxystearic Acid, Dipropylene Glycol, Isononyl sononanoate, Ethylhexyl Isononanoate, Caprylyl Glycol, Sodium Cocamidopropyl PG-Dimonium Chloride Phosphate, Methyl Methacrylate Crosspolymer, Glycereth-5 Lactate, Sodium Hydroxide, Phenylpropanol, Parfum / Fragrance, Propanediol, Methyl Diisopropyl Propionamide, Poloxamer 407, Aloe Barbadensis Leaf Juice Powder, Maltodextrin, Hexyl Cinnamal, Linalool, Citronellol, Limonene, Benzyl Alcohol, Tocopherol, Potassium Sorbate, Sodium Benzoate, BHT.
Urban Decay All Nighter Longlasting Makeup Setting Spray (..even op adem komen) kost €27,45 voor 118 ml. Dit is een vrij grote flacon en ik kan je dan ook vertellen dat dit een flinke inhoud betreft waar je écht wel lang mee doet! Dit rechtvaardigt de prijs al iets meer 😉
Er is ook een All Nighter travel size van 30 ml, deze kost €14,00 en is ideaal als je hem gewoon eens wilt proberen. En, heel slim gedaan, voor de diehard fans is er ook een All Nighter Jumbo XL versie, deze bevat 240 ml en kost €39,95. Dan heb je OOK nog de All Nighter Pollution Protection die je make-up langer mooi houdt én je huid beschermt tegen vervuiling van buitenaf. What a time to be alive.
Qua ingrediënten zijn het voornamelijk moeilijke woorden. Alcohol Denat. is een ingrediënt wat ontvettend werkt — oftewel wat natuurlijke vetten in de opperhuid opneemt, maar ook de substantie van de spray dunner maakt, de houdbaarheid verlengt, en zorgt dat de spray snel droogt op je gezicht. Omdat het een uitdrogende alcoholsoort is, wordt het vaak vermeden. Echter is het in dit soort producten vrij essentieel, wil je dat het product echt goed z'n werk doet.
Verder zie ik siliconen, chemische en organische verbindingen, parfum, maar ook een beetje aloë vera en vitamine e. Kortom, het ziet eruit als een vrij 'enge' lijst, maar het is niet gevaarlijk of schadelijk voor de huid. En het product werkt, dus kennelijk zit het qua ingrediënten wel goed.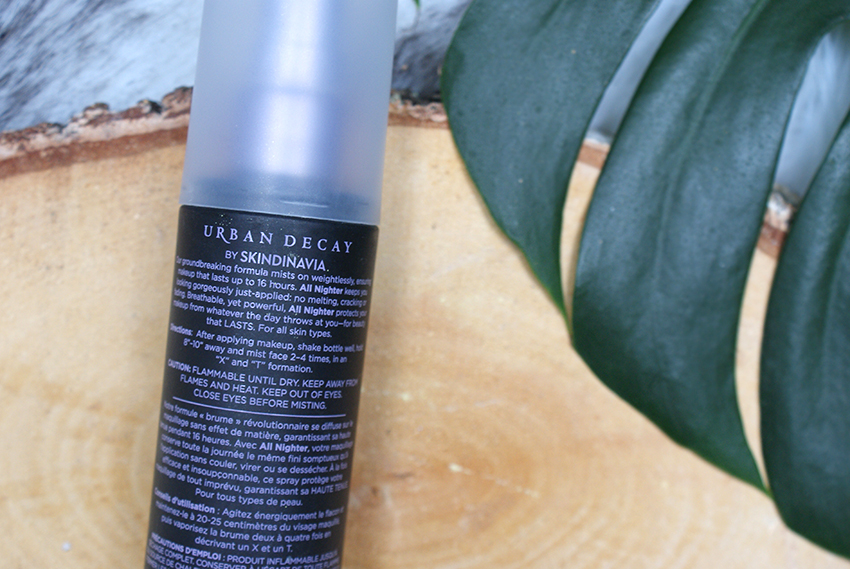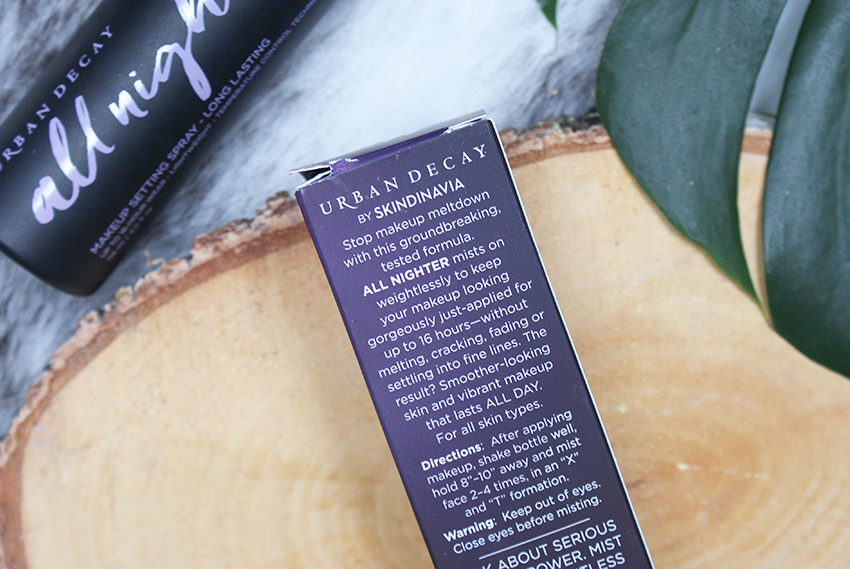 Deze setting spray zorgt ervoor dat je make-up niet uitloopt of vervaagt gedurende dag. Dit gebeurt dankzij de Temperature Control Technology, wat de temperatuur van de huid verlaagt waardoor make-up niet uitloopt en beter blijft zitten. Verdere belofte is dat de make-up tot 16 uur na aanbrengen mooi blijft op de huid — zonder te smelten, te vervagen of in de fijne lijntjes of rimpels te gaan zitten. Nou, ik vind het helemaal mooi.
De flacon wordt geleverd in een kartonnen doosje. Ook heeft de flacon twee doppen, zo ~extra~ is hij. De spray heeft een fijne nevel die een subtiele geur heeft, eentje die snel vervliegt en dus gelukkig niet terug te ruiken is op je gezicht. Als je eenmaal je make-up hebt aangebracht, spray je een paar keer op je gezicht, bij voorkeur in een X of T vorm, zodat alle delen van je make-up voorzien zijn van een verfijnde nevel. Na ongeveer 10 seconden is het helemaal opgedroogd en ben je good to go.
Voor de ultieme vergelijking breng ik op dag 1 m'n make-up om 09:00 aan zonder de All Nighter en check ik om 15:00 hoe m'n make-up eruit ziet. Dit doe ik de volgende dag ook, met evenveel make-up op hetzelfde tijdstip, en dan breng ik wel de spray aan op de huid. Klaar voor het oordeel?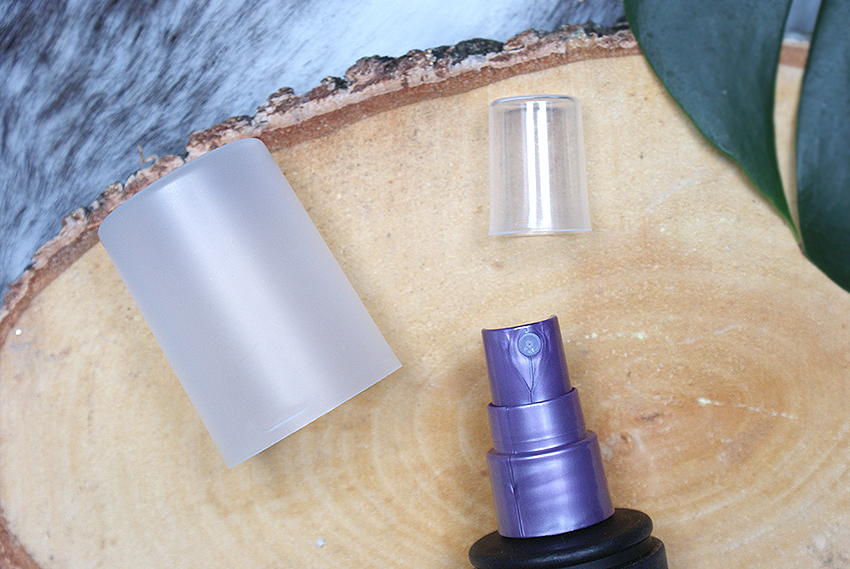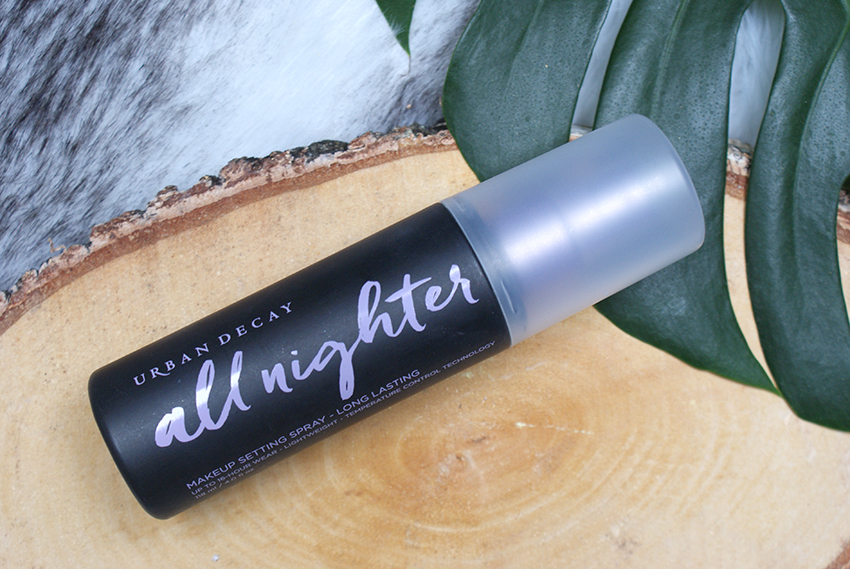 M'n make-up blijft mét spray langer zitten. Joehoe! Normaliter is, nadat ik m'n make-up aanbreng, uren later m'n blush ver te zoeken. Maar als ik de spray gebruik is hij 's middags nog zichtbaar — en dan niet eens vervaagd of vlekkerig; hij zit echt nog zoals ik hem aanbracht! Het is natuurlijk geen wondermiddel, want na een dutje of regenbui kun je gewoon je make-up weer bijwerken, maar als je geen gekke dingen doet kun je echt wel langer genieten van je make-up. Bij mij blijft m'n foundation en blush uren langer zichtbaar en hoef ik niet meer rond het middaguur alles bij te werken. Ik kan oprecht zeggen dat alle lovende reviews terecht zijn. Ik ben blij dat ik eindelijk een setting spray heb gevonden die m'n make-up langer en mooier laat zitten! 😍
Ik zou zelf veel baat hebben gehad bij een vergelijkingsfoto, maar ik kon het gewoon niet duidelijk op de foto krijgen. 😕 Het verschil in gebruik leek nihil op de foto, zo stom! Dus jullie moeten me maar op m'n bruine ogen geloven dat ik vind dat deze setting spray zeker z'n werk doet. 😊
Heb jij ervaring met deze setting spray, of met een andere setting spray?
7 Responses to Review: Urban Decay All Nighter Longlasting Makeup Setting Spray